As an Amazon Associate, we earn from qualifying purchases. We may also earn commissions if you purchase products from other retailers after clicking on a link from our site.
Before taking a catamaran out for a cruise on the seas, every sailor needs to equip themselves with knowledge and information. One of the best ways to prepare to helm or sail a cruising catamaran is to read manuals and guidebooks. There are several popular books that will help sailors–aspiring and experienced alike–learn more about cruising catamarans. Researching this article, I asked thousands of sailors through online forums, "which are the best cruising catamaran books?" and here are the results!
Some of the best books about cruising catamarans include The Cruising Multihull, Cruising Catamarans Made Easy, and Cruising in Catamarans. These books explore the features, maintenance, and design of catamarans. Books about cruising catamarans should cater to novices and experienced sailors. 
This article explores the 15 best books about cruising catamarans, and while some are about catamarans in general, others are about the technical and electrical equipment on catamarans, as well as how to ensure successful cruising, with chapters dedicated to cruising catamarans. This article also considers each book's authors, explaining why the information they write about is both well-informed and relevant. 
My Recommendation For Beginners
If you are new to catamaran cruising and dont have time to read the entire article, then I would recommend that you start with getting this ASA book, I found it very educational and a good starting point to understand the more advanced books further below.
Published by the American Sailing Association (ASA), this is a 90-page textbook used as a course companion for the ASA 114 cruising catamaran certification.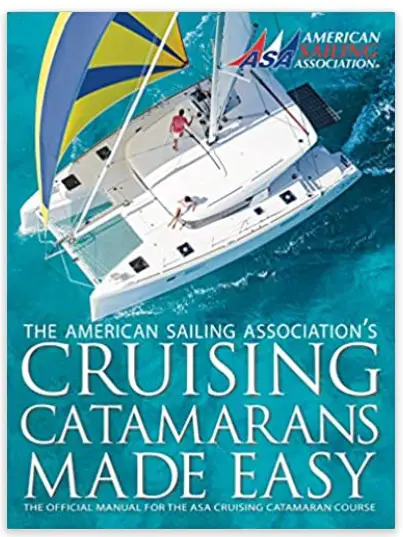 However, even if you are not doing the course, this is an excellent book if you are looking to introduce the world of cruising catamarans. 
The book explores the difference between monohulls and multihulls and introduces the vocabulary of multihulls. It also provides step-by-step instructions for using various catamaran features, including the stern rail and the bow spirit. Each page of the book has helpful, detailed diagrams. 
Cruising Catamarans Made Easy is available on Amazon in a paperback version. 
---
What The Sailors Answered
The internet had its say on the best sailing books; it ranges from technical maintenance to more inspirational content. Pick your favorite, and let's keep moving towards making the dream a reality!
The sailboat maintenance manual is a visually heavy manual that is a step-by-step guide to maintaining a sailboat. It is written by Don Casey, who has voyaged worldwide and contributed to several sailing magazines and publications. His information is informed by his research and his own experience maintaining his sailboat, Allied Seawind.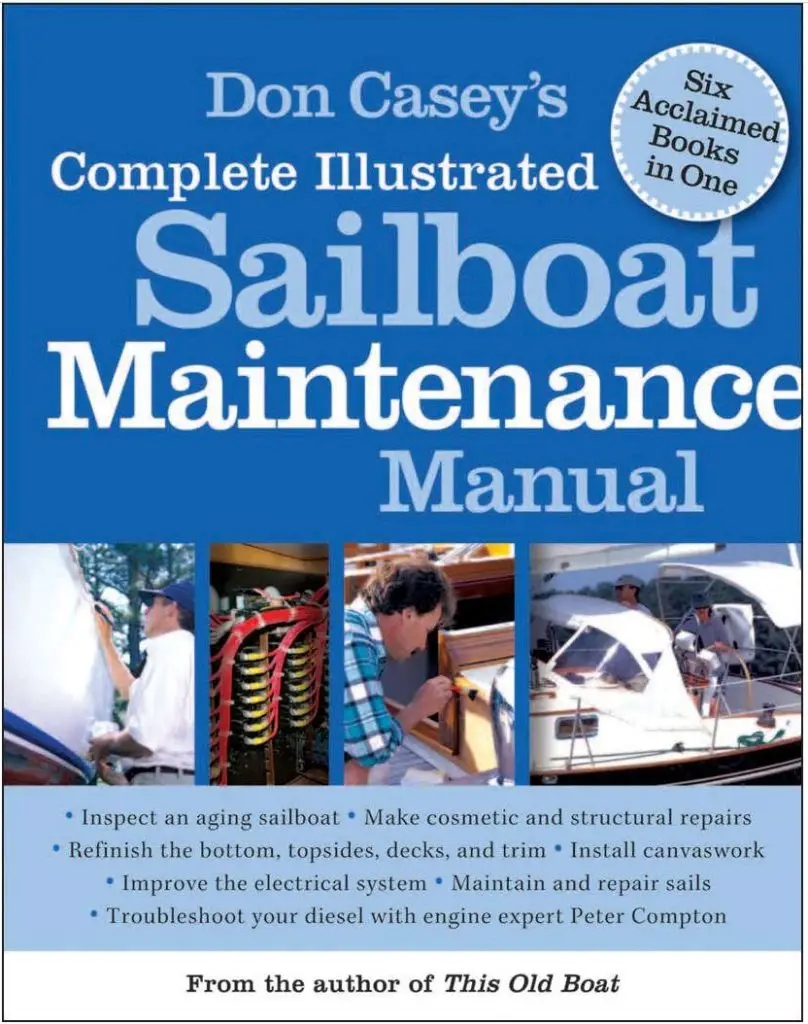 While this manual does not explicitly focus on catamarans, it focuses on how to maintain several features of a catamaran. Topics covered include: 
How to improve a sailboat's electrical system 
How to keep and repair the engine system and the sails 
How to evaluate the condition of a second-hand boat you are looking to purchase.
The manual has more than 2500 illustrations that take the reader step by step through various maintenance processes. It is incredibly extensive as it has six volumes and 1810 pages. 
The sailboat maintenance manual is available on Amazon in a Kindle and hardcover format. 
Chris White authored The Cruising Multihull in 1996, but this book remains one of the best cruising catamaran books on the market. White is a multihull designer who has designed several popular catamaran models, including the Juniper, the Discover 20, and the Atlantic 50.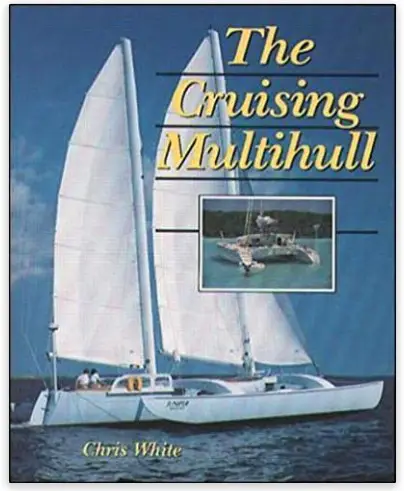 White begins the book by explaining why catamarans are one of the best cruising vessels, delving into the catamaran's history. He then explores the catamaran's structural and design details and highlights the impact of design choices on speed and stability.
It has insights for those looking to buy or charter a cruising vessel, discussing the advantages of catamarans and a trimaran's advantages (a ship with three hulls). It also has information on building a catamaran from scratch, considering the techniques and materials required. 
The book is excellent for those who are new to the world of catamarans, but experienced sailors can also read it to refresh their knowledge. It is a wonderful addition to an onboard library. 
The Cruising Multihull is available in both paperback and hardcover on Amazon. 
Cruising in Catamarans by Charles Kanter is a complete 'how-to' guide on all cruising catamarans.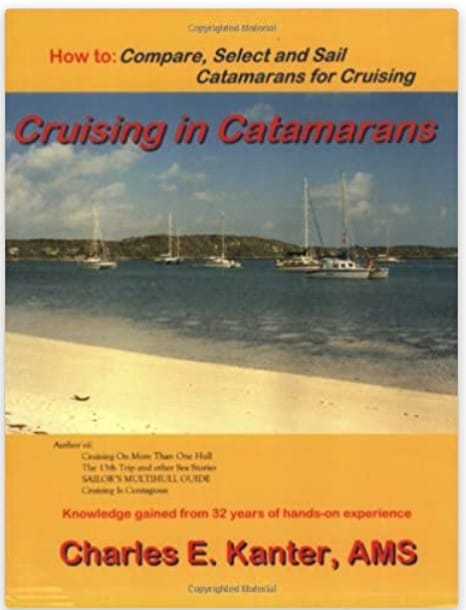 The book begins by exploring information about the production of cruising catamarans. This introduction gives the reader an excellent context into the next part, highlighting how the reader can assess different cruising catamaran features and models. 
The book also has advice on how to handle, steer, and anchor a cruising catamaran. It has an extensive glossary of nautical terms and phrases and even has diagrams to help the reader better understand the information presented. 
Kanter is a US marine surveyor specializing in multihulls, a lecturer, and a marine consultant, making him well-positioned to offer advice on cruising catamarans 
Readers have appreciated the book both for its depth of information and Kanter's conversational writing style. 
Cruising in Catamarans is available in paperback on Amazon. 
This book by Gavin Le Sueur has been written and designed specifically for multihulled sailors. Le Sueur began his offshore sailing experiences in Australia and has participated in the Around Australia Yacht Race. Multihull Seamanship includes references to Le Sueur's experiences and expertise, captaining various cruising catamarans.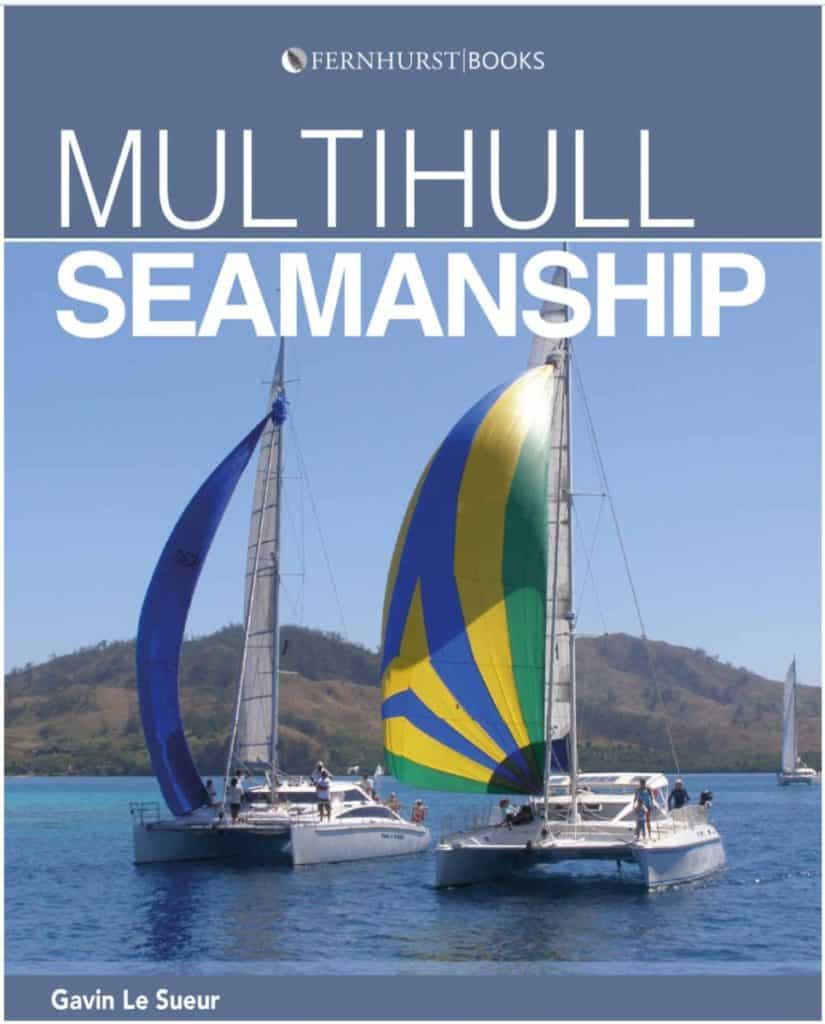 The book is a true A-Z of information, with chapters arranged in alphabetical order. Chapters include 'Anchoring,' 'Beaching,' 'Cargo,' 'Storm Sailing,' and 'Towing.' It also has a glossary of multihull terms and a section for notes. 
There are several positive industry reviews of the book. For instance, Yachting Monthly suggests that Le Sueur's 'Seamanship Rules' in the book are beneficial. At the same time, the Royal Cruising Club notes that it helps the reader understand more about the external forces that can impact a cruising catamaran. 
The book is suitable for beginners; more experienced sailors may already know much of the information presented in it. 
Multihull Seamanship is available in Kindle and paperback on Amazon. 
Authored by Phil Berman, this book is for beginner and semi-experienced cruising catamaran sailors.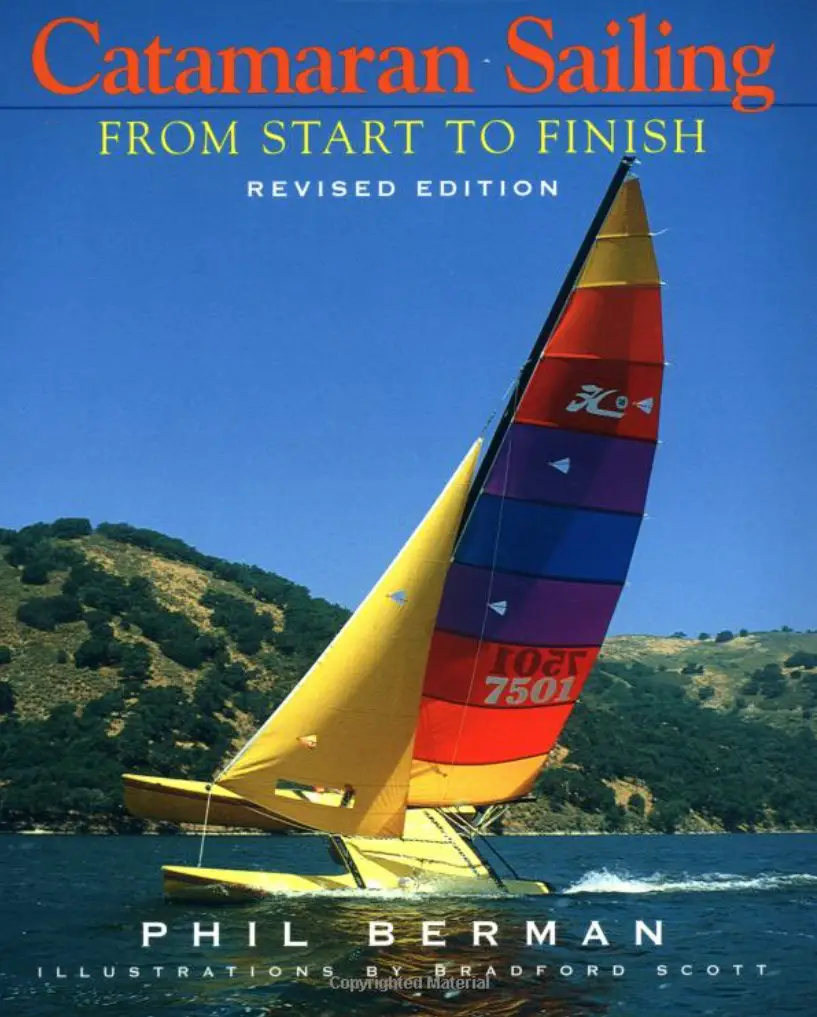 This book includes chapters on shopping for a catamaran, a catamaran's structure, launching a catamaran, and tips on getting back to the harbor and anchoring. It also includes racing tactics and information about maintaining the catamaran and ensuring it is safe. 
While the book does contain line drawings and photographs, some readers have noted that the diagrams can be challenging to read and understand. However, the written text is clear and detailed. It was written in 1999, but much of the information is still extremely relevant. 
Catamaran Sailing is available on Amazon in paperback. 
The World Cruising Handbook by Jimmy Cornell is packed with information about cruising around the world. It does not focus only on cruising catamarans but instead explores all the information a sailor would need when sailing.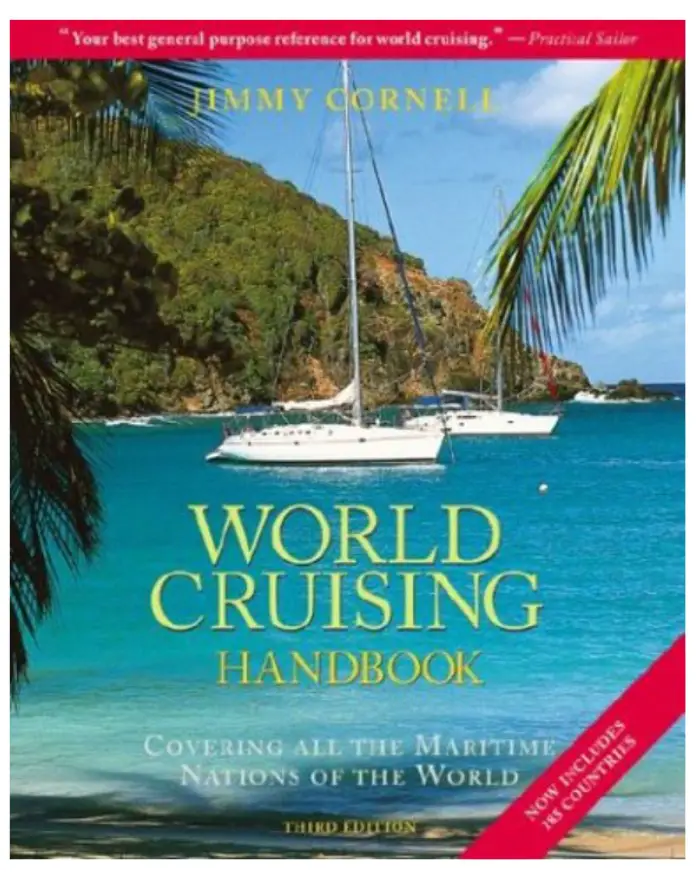 The first section of the book focuses on practical cruising information, such as details on how to communicate from cruises and what health precautions the crew and passengers should take. 
Section two explores the nautical details about 185 maritime countries globally. These details include:
Their ports, permit, and immigration information
Public holidays
The local currency
Local customs and anchoring etiquette 
The book also has translations of nautical terms and vocabulary in several languages. This handbook should be stored aboard all cruising catamarans and read in conjunction with books dedicated to cruising catamarans' technical features. 
The World Cruising Handbook is available on Amazon in hardcover. However, Jimmy Cornell also maintains a website, which has continuous updates about a range of cruising information. 
While it is not only focused on catamarans, this manual is essential to have onboard every catamaran. Written by Nigel Calder, it details information about electrical and mechanical equipment on catamarans and how to maintain them. 
Calder is very familiar with the 'nuts and bolts' of boats. He was a diesel mechanic, a boat builder, and a machiner. In this book, he is able to use his experience to provide easy-to-understand and practical instructions.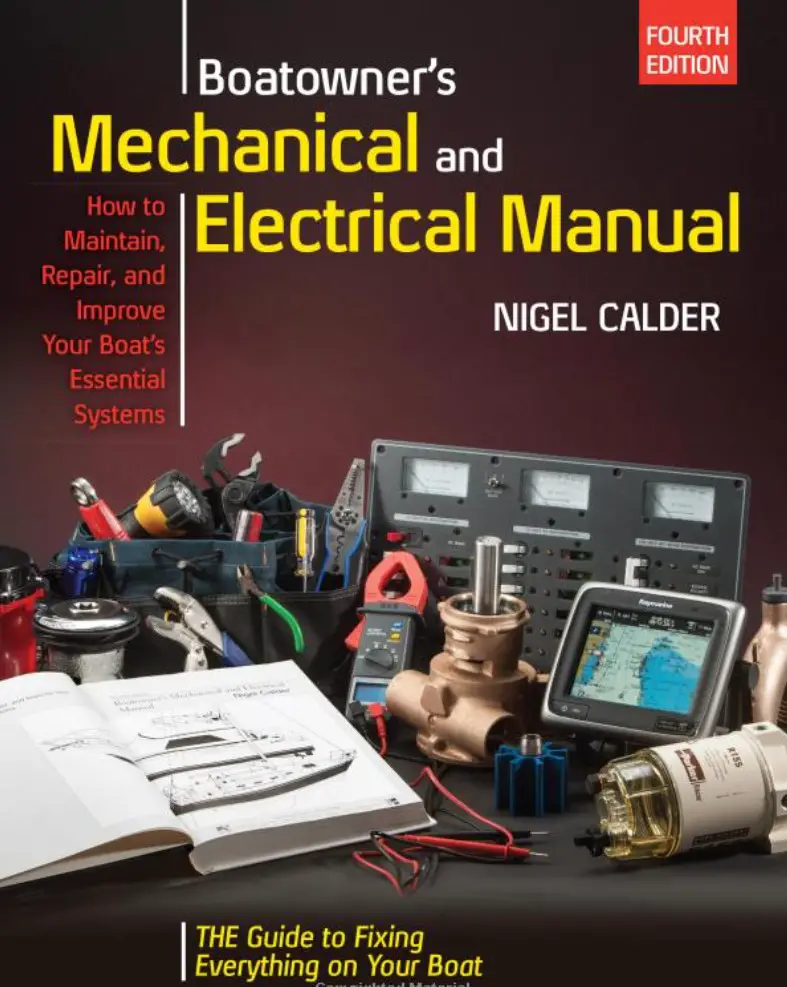 Some topics in the book that are especially relevant to catamaran sailors include:
Improving boat energy efficiency
Tips on how to protect equipment against lightning and corrosion 
Information on maintaining hulls 
Technical information on autopilot systems, steering, marine electronics, and networking systems
The book has received positive reviews across the catamaran industry. The Boatowner's Mechanical and Electrical Manual is available in Kindle and hardcover on Amazon. 
Written by Thomas Firth Jones, this is a 224-page book. It stands out thanks to its first-person narration, where Jones relates his experiences. However, he also uses his experiences to lead into tips and advice about catamaran cruising.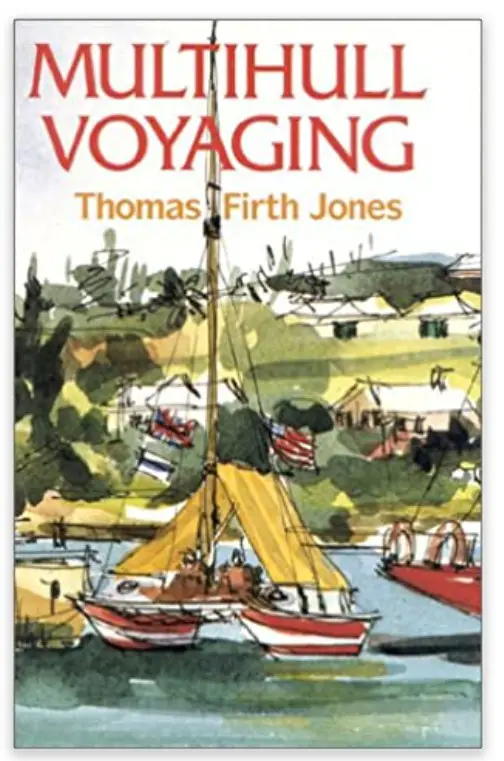 Firth Jones's preference for multihulls is apparent in this book. He explains the benefits of multihulls and explores the details of a variety of multihull cruising models. The book also includes information on preparing for sailing, provisioning, and managing emergencies. It is an excellent read just before you set off on a cruise! 
If you would like to explore Firth Jones's writing style or understand more about his experience with catamarans before purchasing the book, it is worth visiting his website. 
Multihull Voyaging is available in hardcover format from Amazon.
Written by Gregor Tarjan, this book is a popular resource for catamaran sailors. The book includes information about the advantages and benefits of a catamaran, focusing on cruising catamarans' stability, speed, and spaciousness.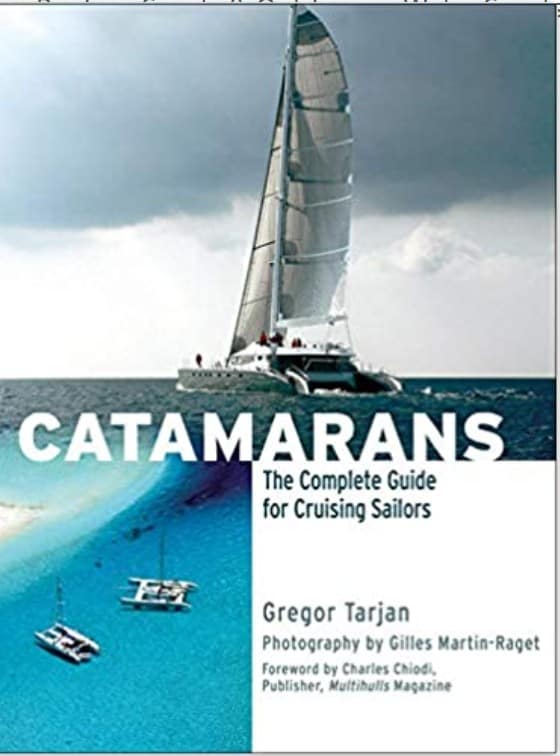 The book also examines some tips and tricks for sailors who are steering a cruising catamaran and delves into some of the most popular catamaran brands on the market. The information is interspersed with beautiful photographs, which make it a great coffee table piece. 
Gregor Tarjan has an expansive career as a sailor. He is a merchant marine officer who has commanded both and the founder and president of Aeroyacht Limited, a boutique yacht dealership. It is this vast experience and knowledge that Tarjan brings into his book. 
Some readers of this book have noted that it may be more suited to more experienced sailors. In addition to this, it was written in the 1990s. While it is still relevant, it is worth cross-referencing the information with other books about cruising catamarans. 
Catamarans: The Complete Guide for Cruising Sailors is available on Amazon in both a Kindle and a hardcover version. 
This book, written by Michael Domican and David Blacklock, explores everything you need to know about catamaran cruising in the Caribbean. The Caribbean is arguably one of the world's most popular—and beautiful—sailing destinations. Understandably, there are several cruising books and guides dedicated solely to the place; this is one of the best available.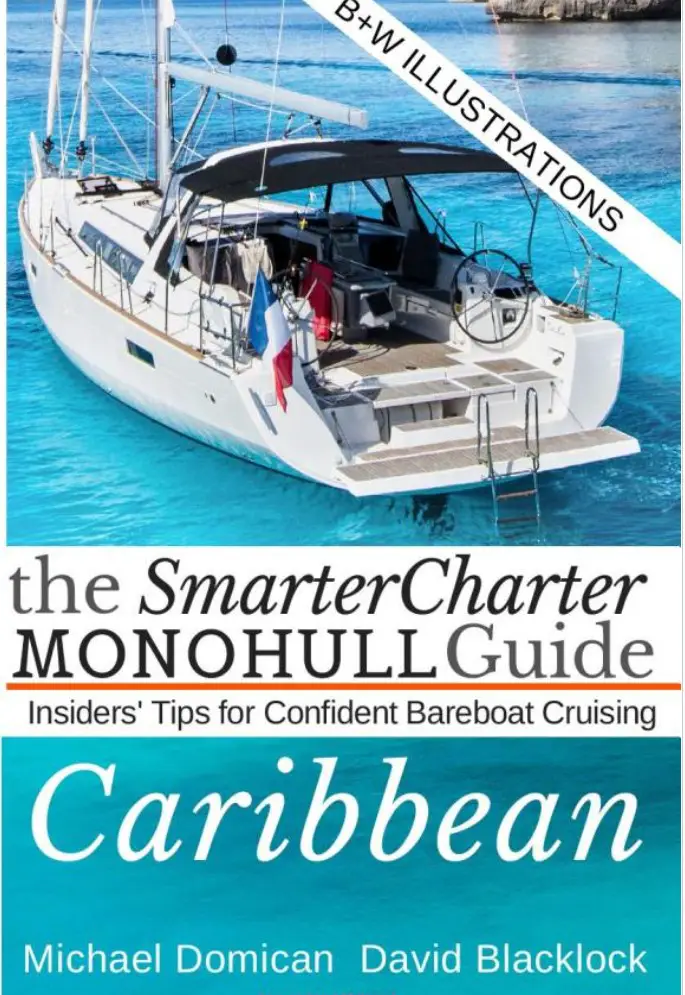 However, the book also provides valuable insights and tips into cruising in general. It explores signs and signals that a sailor may need, navigation tips, gear to bring, and navigating in difficult weather conditions. 
As well as technical and sailing information, it provides essential passenger information. For instance, it discusses what to pack, what to wear, and how to ensure safety. It has several recommendations for passengers with children. 
Domican and Blacklock have been in the Caribbean charter industry for over 20 years, and they share an abundance of local knowledge that will prove useful when navigating through the Caribbean. This book is written in a conversational style with lots of beautiful photos and illustrations, making it an enjoyable read. 
The book was updated in 2020, making it a current and relevant read. Buy The SmarterCharter Monohull Guide in paperback on Amazon.
This book has been authored by father and son duo Brian Phipps and Tom Phipps. The Catamaran Book is divided into four sections, each of which delves into another aspect of catamaran sailing.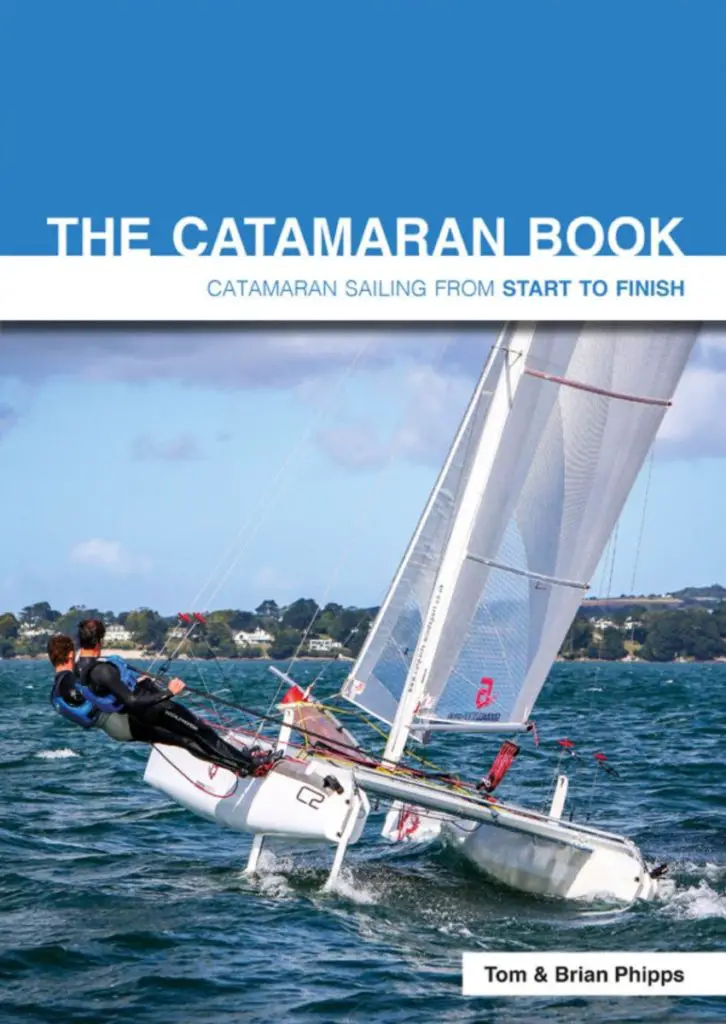 The first section, entitled 'Getting Started,' explores different catamarans, catamaran care, and how to assemble a catamaran. The second, 'Skill Development,' focuses on sailor skills involved in crewing a catamaran, including launching, reaching, tacking, and landing a catamaran. 
Part 3 explores high-performance catamarans and advanced skills, while the final section focuses on new developments within the catamaran world. The book was published in 2017 and offers relatively current and topical catamaran knowledge. 
Both the authors of the book are incredibly experienced sailors. Tom Phipps has been sailing catamarans since he was ten years old and has won several catamaran sailing championships. 
Meanwhile, Brian Phipps has been involved in the catamaran industry since 1978. His experience involves manufacturing, sailing, and racing catamarans. He also runs an organization dedicated to providing young sailors with guidance and training on sailing catamarans. The authors use their combined experience to share in their book.
The Catamaran Book: Catamaran Sailing From Start To Finish is available on Amazon in Kindle and Paperback versions. 
This book is a handy guide authored by Mark Johnson that focuses on the techniques and equipment needed for anchoring and mooring catamarans.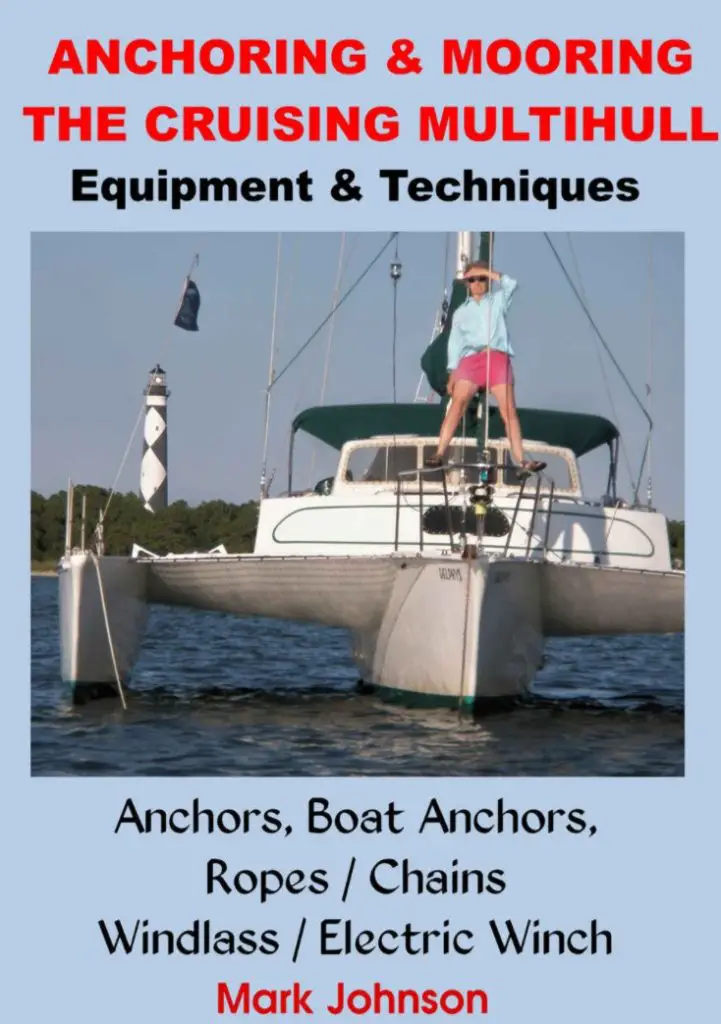 Some of the information explored in the book includes:
Potential anchors to use and their advantages and disadvantages 
How to maintain equipment that is connected to mooring and anchoring so that it lasts for several years
Techniques for anchoring in a range of different sea vegetations
How to secure a boat in all weather conditions
This book will equip sailors with the information they need to ensure their catamaran is anchored and harbored safely and securely. 
Anchoring & Mooring the Cruising Multihull is available on Kindle and in paperback on Amazon. 
In this guide, John Marples explores a range of multihulls, including catamarans, trimarans, and proas. It is handy for catamaran owners to learn more about catamarans and also learn how catamarans differ from other multihulled vessels.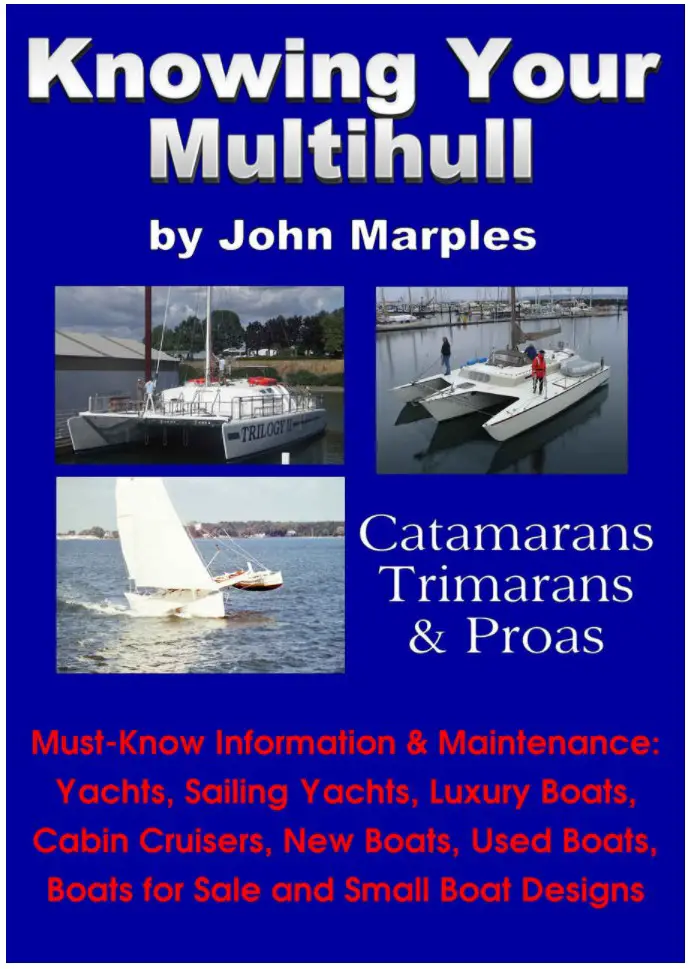 Some of the areas the book covers include the following: 
Information about sailing safely, including details on how to recognize danger signs and in catamarans
Equipment suggestions for engines and hulls
Steps to perform maintenance on equipment and the catamaran as a whole 
While this book was published in 2014, much of the information is still relevant and useful. It is available both in Kindle and paperback formats on Amazon. 
In this book, author and craftsman Tim Weston chronicles his experience of building Tokyo Express, a catamaran.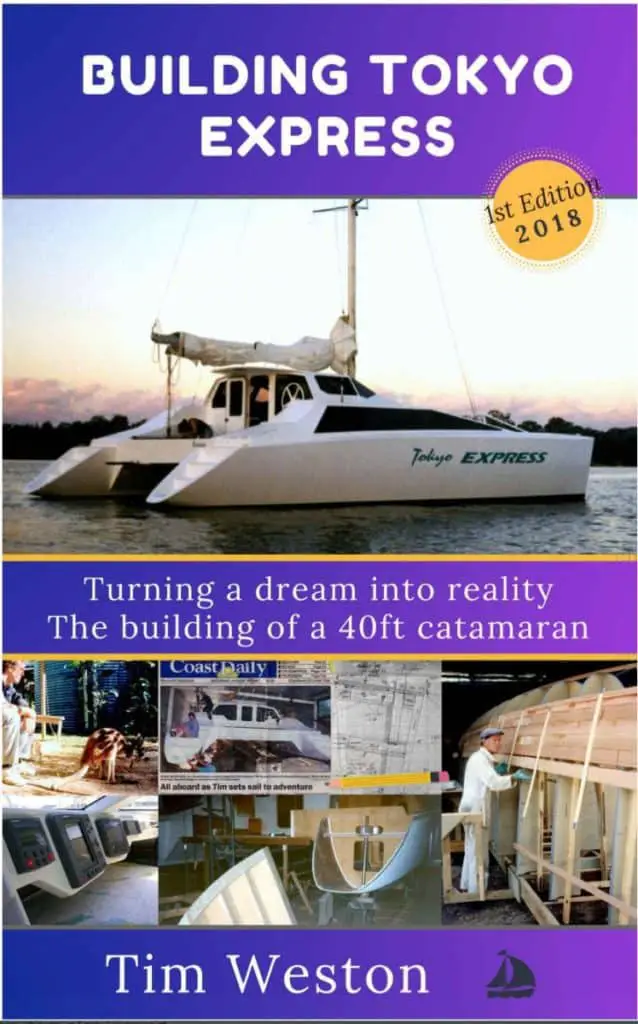 While it is not specifically about cruising a catamaran, it includes a bounty of information about a catamaran's structure. If you are considering trying to build or restore a catamaran, this book is well worth reading. 
Building Tokyo Express details how to build a catamaran hull, the equipment needed for constructing a motor, the steering station, and the generator. It also focuses on the interior design and the aesthetic appeal of a catamaran. 
Readers have applauded the book as an inspirational, engaging read. The book is available on Amazon in Kindle or paperback. 
Conclusion
There is an abundance of books about cruising catamarans. There are books for novice or aspiring sailors which explore the basics of catamaran cruising, and there are books for more experienced sailors with in-depth illustrations, maintenance, and advanced sailing techniques.
Besides books specific to catamaran cruising, it is worth reading some books about cruising in general.