As an Amazon Associate, we earn from qualifying purchases. We may also earn commissions if you purchase products from other retailers after clicking on a link from our site.
Having a boat costs a lot of money, even when you are not using it, marina fees, etc. And once it is in the water most sailors never go very far from their "home marina" and sailing will be somewhat restricted. However, what if you could fold your trimaran and put it on a trailer, store it at your house, and go to a new sailing spot the next time?
Here are 6 of the best trailerable trimaran:
The Dragonfly series
F-22
Corsair Series
Astus
Weta 14.5
Windrider 17
Choosing the best trailerable trimaran (a multi-hull with three "hulls") will depend on crucial factors like speed, durability, design, and ease of transportation. This article is here to help you get started with your research and hopefully help you on the way towards your dream boat!
Cruising Trimarans That Can Be Transported
Cruising boats are made for multiday sailing either on the coast of your favorite sailing area or full-out blue-water ocean crossings. Extended living should be a priority in these designs.
1. The Dragonfly 25 and 28 (Dragon Fly Series)
Dragonfly is in the business of making the "best foldable trimarans on the planet" many would agree with this statement. Dragonfly is known for its commitment to easy trailering and ease of use, shown in designs for the Dragonfly 25 and Dragonfly 28.
The "Swing Wing" system on the linchpins is one of the key features of the dragonfly series. The system's application makes it possible for the trimaran to narrow its beam as much as 50%.
Attesting to its Scandinavian manufacturing, most parts of the trimaran are made in-house. This guarantees quality and ensures that all used parts are above standard.
You don't need to look further than the Dragonfly 25. Its centerboard slightly offset to port. Extra space is created in the main hull's interior with a trunk buried under a settee. Performance-wise, the low drag and narrow hull shape allow the boat to reach blistering speeds.
Dragonfly 28 In Numbers
Length: 8.75m
Beam folded: 2.54m
Max crew: 5-7 people
Max Speed: 22+knots
Dragonfly 25 In Numbers
Length: 7.65m
Beam folded: 2.30m
Max crew: 4-6 people
Max Speed: 21+knots
---
2. Farrier F-22
New Zealand enters the trimaran manufacturing race with this premium sea goer. The vessel comes in two different versions: a performance variation with more horsepower and a full cabin cruising version. 
Compared to the dragon series the F-22 has the biggest allowance for space.
The F-22 is known for being one of the easiest trimarans to fold and load.
The sports version of the F-22 has some really good performance to offer. It has an aggressive spirit: you can mount a sail while leaving plenty of space for the boat's fine entry and flared forward sections. The build quality is also topnotch—a lasting memorial to a principle that Ian Farrier always worked by: excellence.
Farrier F-22 In Numbers
Length: 7.0m
Beam folded: 2.5m
Max crew: 3-5 people
Max Speed: 20+knots
---
3. Corsair Series
This boat series has an exciting history. Farrier created it to promote his trailerable tri concept. However, the series is now independent with a top-class vehicle to its name.
The Corsair 760 is listed as providing some of the best performance and safety benefits to sailors.
Building off the spirit of excellence of the founder, the Corsair 760 has created a boat with comfort and racing potential. The boat can be tricky to handle at first, but it will be a breeze once you get the hang of it.
It is also worth noting that the corsair 37 is the largest trailerable trimaran on the market today.
---
Daysail Trimarans That Can Be Transported
Boats that are made for dayssailing are usually smaller, cheaper and more easily handled. They are perfect for those looking to enjoy a full day on the water in calm weather, but are usually less suitable for multiday events or rough sea sailing.
4. The Astus Models (20ft, 22.5ft, and 24ft)
If you're looking for something small but still capable of doing day sailing, this 22.5-foot trimaran is for you. Built for speed and maneuverability, the Astus 22.5 has optional foils to optimize speed.
The modern design, coupled with the spacious interior, can fit up to four beds. Accordingly, this trimaran is suited for family outings. 
The Astus brand specializes in transportable trimarans, worth noting is that some models need a specific trailer whilst the smaller boats use a standard trailer.
---
5. Weta 14.5
The 2019 Weta trimaran is a 14.5-foot (4.4-meter) trimaran featuring a carbon frame, centerboard, rudder foil, and rudder shock. The hull is made from fiberglass and foam. The Weta is built for strength and speed based on these lightweight materials. 
The 2019 Weta trimaran is easy to sail and is worth considering whether you want to take a quiet sail, race with your friends, or take kids to a sailing lesson. It has a simple design and is easy to set up independently.
The small size makes it more suitable for daysailing in good weather rather than multiday cruising, although more experienced sailors will of course push the limits of this boat.
---
6. WindRider 17
The 17.4-foot (5.3-meter) WindRider 17 is one of the more versatile trimarans in the market. It packs high performance for a low cost. This trimaran has a light rotating mast to boost performance, and a full-battened mainsail optimizes visibility. 
This sailboat is made from rotomolded polyethylene, which is more durable than fiberglass and demands less maintenance.
The WindRider 17 has a comfortable interior and can fit six adults. This is an ideal choice for social sailing for a couple or a family and friends. It's easy to ride, and a shallow draft allows easy maneuverability. 
---
What's the Largest Trailerable Trimaran?
The largest trailerable trimaran is the Corsair 37, this multihull is built for single-handed cruising while still maintaining the ability to comfortably seat 6 people.
The Corsair 37 provides comfort, speed, and safety. It also contains just enough space to accommodate amenities like a propane stove, a sink, and other equipment.
The vessel is designed to be a performance cruiser. It features an aluminum rotating wing mast, carbon fiber bowsprit, and premium deck hardware. The corsair can still cut through the water with ease despite its size, putting the wind in your sails.
What Is a Catamaran?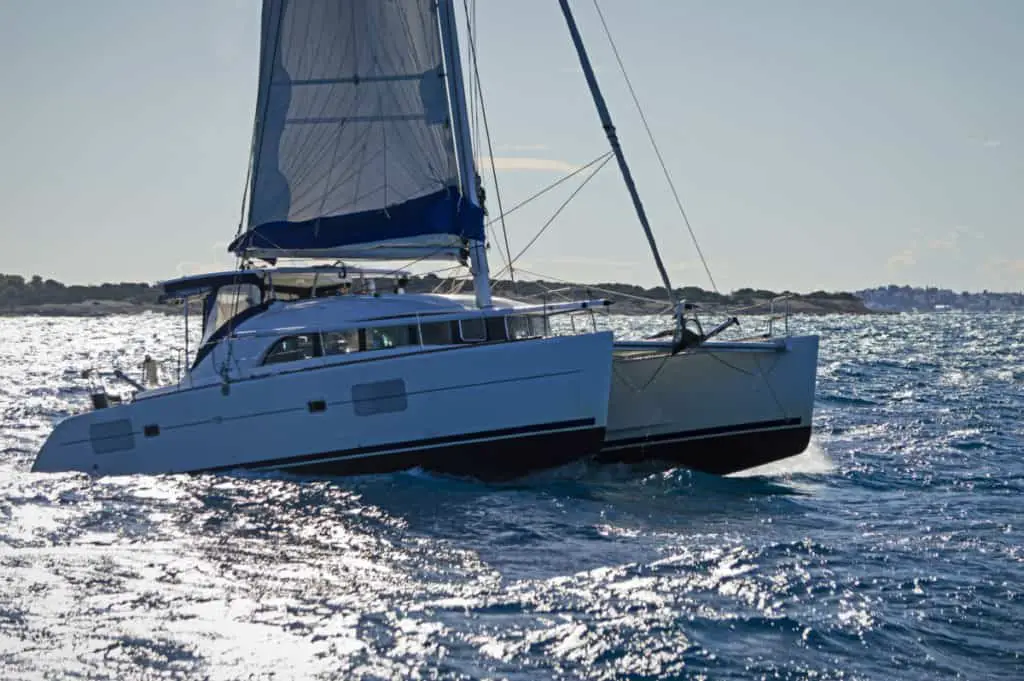 A catamaran is a boat with two hulls (a trimaran has three) connected by a bridge deck. Catamarans usually offer more space than both monohulls and trimarans of the same length. The catamaran is usually somewhat slower than a trimaran but faster than a monohull. They are usually made of fiberglass or carbon fiber.
Catamarans come in all shapes and sizes. You can find straightforward sailing catamarans, perfect for those who are only starting their sailing journey. Larger sailing catamarans have become extremely popular for long-distance sailing.
There are also power catamarans, they have huge diesel-powered engines (sometimes electric) and no sails. Also called "power cats", these boats can reach 30+kts.
Can a Trimaran Be Trailerable?
As discussed above, some trimarans are possible to put on a trailer and move to another sailing area or to be stored at home. This is usually not possible with catamarans but is sometimes possible with the trimarans that are fitted with foldable amas (the two outer "floats" or "hulls").
Some trimarans can be trailerable, this is mainly due to the ability to drastically decrease the vessels beam, sometimes as much as 50%. This allows the trailer plus trimaran to be below the legal requirements of the road.
Final Thoughts
It has proven difficult to beat the trimaran in terms of speed. Through the ages, this type of vessel has proven to be immensely enjoyable in all kinds of sailing activities. These can range from sea adventures to waterborne relaxation in your free time.
Trimarans come in various types, foldable, for cruising or racing, etc. However, there is a common factor: many of the small ones are trailerable. This makes them easier to move than most other types of boats.