Living in a boat can be a thrilling, once-in-a-lifetime experience; however, knowing how to choose the right vessel to sustain the lifestyle you want to achieve can be crucial in making the most out of this unique living situation. In this article, I'll be taking you through several of the most popular alternatives. 
The best kind of boat to live on are catamarans. Catamarans are stable, spacious, and reliable; however, they're one of the most expensive alternatives. Cabin cruisers and trawlers are best suited for inshore or lake liveaboards, while adventure-seeking enthusiasts might prefer a sailboat such as a monohull or catamaran.
In the following sections, I'll dive into the best-suited alternatives for any given lifestyle, taking time to explore each of their characteristics, advantages, and drawbacks. Additionally, I'll take you through some of the most important considerations to keep in mind throughout the decision-making process.
The Best Kinds of Boats To Live on Depending on Your Lifestyle
As I briefly mentioned, the best kind of boat for you to live on will depend on your needs, preferences, and lifestyle choices. While some family-friendly options are bigger and designed for calmer waters, others offer the thrill and excitement that adventure-seekers require. The best types of boats to live on include:
Catamarans
Cabin Cruisers
Monohulls
Trawlers
What Is a Catamaran?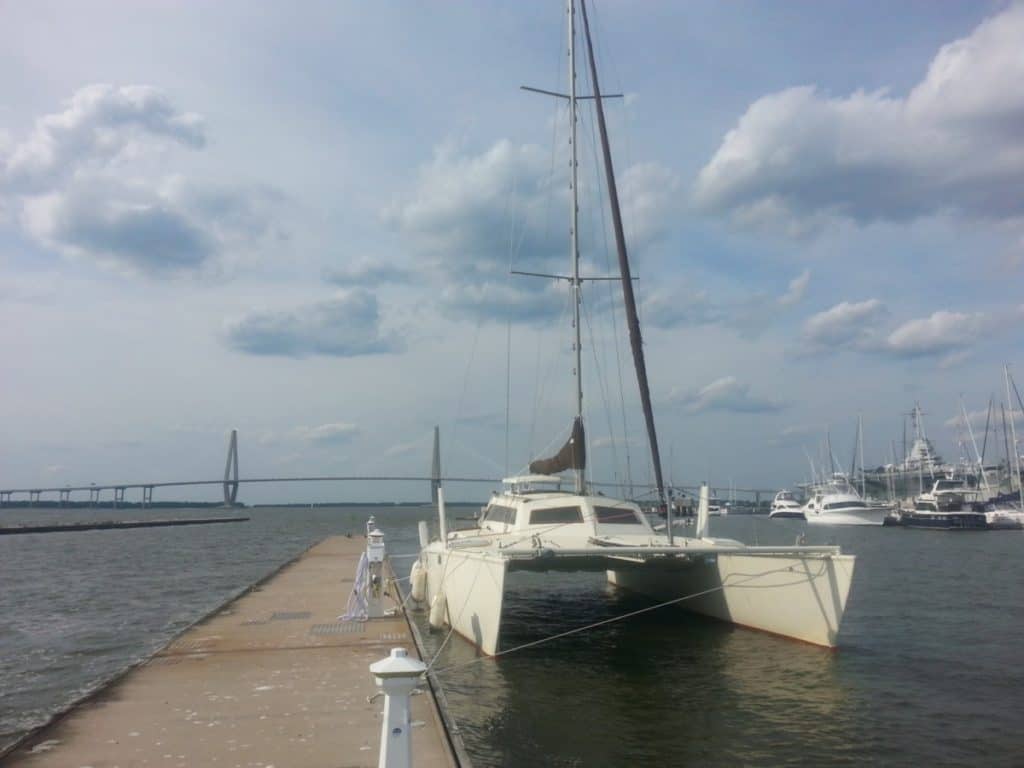 A catamaran is an engine or sail-powered vessel that features a double hull. Due to its wide beam, the craft provides significantly more stability than other similarly-sized vessels.
For this reason, catamarans are an all-time favorite among liveaboard enthusiasts. Their ability to maintain optimal equilibrium even in the roughest waters makes them an excellent choice for those trying to build a living space but also go cruising.
The feature that sets these boats apart from their counterparts is their unique double-hull structure, these support structures are the reason why the vessel offers unparalleled stability to its sailors. 
Furthermore, most catamarans are pretty spacious, a quality that makes them excellently suited to sustain a living experience. Not only will you have plenty of storage space and comfy rooms, but you'll also be able to enjoy a sizable outdoor area that allows you to take in the beauty and thrill of the experience.
In comparison to the monohull, the catamaran "sits" on top of the water allowing for better views of the scenery from within the cabin.
Moreover, these vessels' highly efficient sails are backed up by two engines as well, providing you with exceptional control in the marina. 
Overall, catamarans are one of the best choices for those looking for a liveaboard vessel. They're spacious, durable, reliable, and can be navigated through difficult waters. While they can be a pricey investment, for those determined to pursue a water-based lifestyle, they're more than worth it.
Pros and Cons of Living in a Catamaran
Pros:
They offer stability
They are fast
They have spacious interiors and exteriors
They provide ample storage space
They offer good views from inside the cabin
Cons:
They're expensive
They take up much dock space
They're unable to handle a lot of weight
What Is a Cabin Cruiser and How Does It Differ From Catamarans?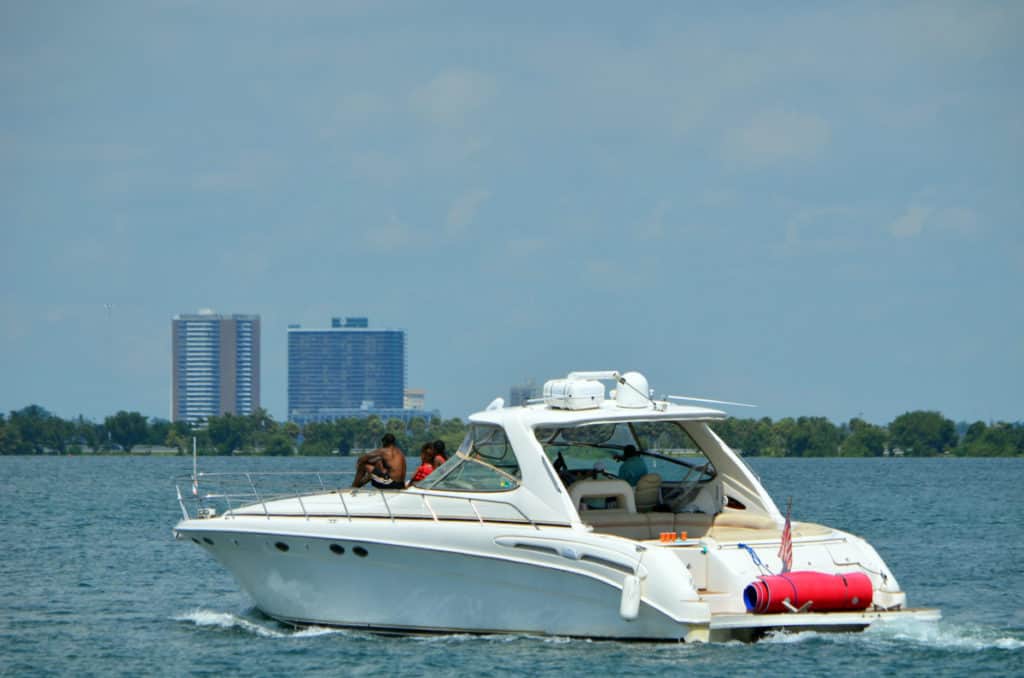 A cabin cruiser is a type of powerboat designed to provide comfortable accommodation to its occupants. While catamarans feature two hulls, cabin cruisers only feature one, making them sleeker-looking, but also less spacious.
Cabin cruisers are probably the first option that comes to your mind when it comes to liveaboard boats. The flat-bottomed vessel is stable, safe, and a great investment for families or quiet-seeking enthusiasts looking to enjoy the peace and calm that only a serene body of water can offer.
These boats are also an excellent alternative for those looking to establish a long-term residency. Cabin cruisers are designed to accommodate your day-to-day living needs.
However, keep in mind that these types of vessels are not made to go offshore, or into heavy weather. Since they are engine-powered they and therefore quick to change location, they are perfect for those looking to explore new locations or who get bored staying in one place for too long.
Pros and Cons of Living in a Cabin Cruiser
Pros:
Cabin cruisers have a sleek design
There's a full range of amenities
They're very comfortable
Cabin cruisers have that luxurious-feeling
They're easy to dock
They're an excellent option for long-term residency
Cons:
There isn't a lot of storage space
They don't do well in rough waters
They're expensive
What Is a Monohull?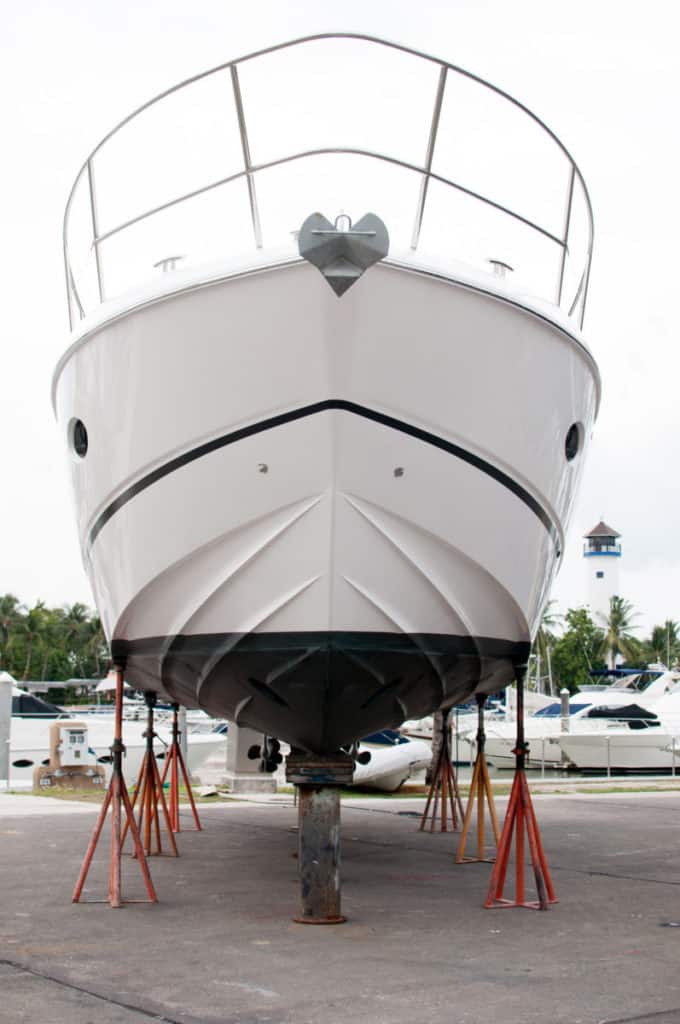 Monohulls are a type of vessel that features one hull. Their bottom can be round, flat, or v-shaped, and they're usually larger and heavier than other types of boats.
Unlike catamarans, monohulls, as their name suggests, only feature one hull. They often get a bad rep that they tend to be unstable at anchor. However, as technology has progressed, engineers have been able to design exceptionally balanced monohulls through the strategic placement of the vessels' center of gravity. This limits the rolling motion that otherwise can disrupt a beautiful night at anchor.
in comparison two the catamaran, the monohull is also easier to maintain, it only features one engine, one rudder, and has a lot of less underwater surface that needs to be cleaned.
Pricewise the cat is usually half the price of the same length mono.
As far as looks go, you won't find a more striking, good-looking option than the monohull.
Pros and Cons of Living in a Monohull
Pros:
They're cheaper
They're easier to maintain
They're durable
They have a striking aesthetic
Cons:
They can be difficult to dock
They're not spacious
What Is a Trawler?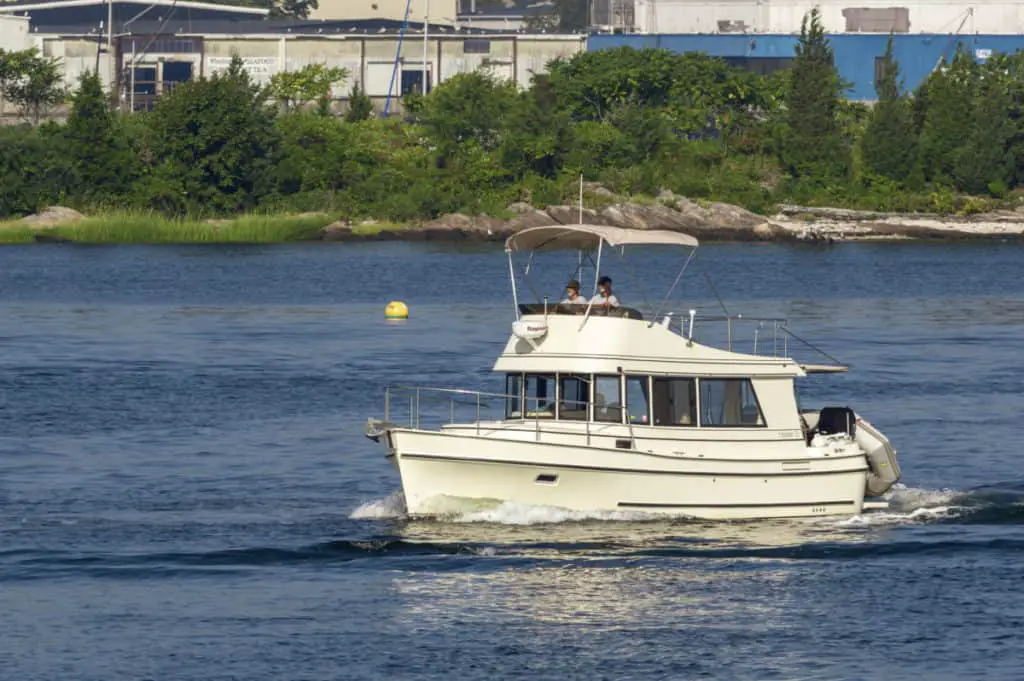 A trawler is an engine-powered vessel that can accommodate a liveaboard lifestyle. The craft was originally designed as a type of fishing boat, and while it's an excellent choice for shipping expeditions, it can also be used as a simple cruising vessel.
Trawlers are another excellent liveaboard alternative. They're somewhat stable, comfortable, spacious, and can handle excessive weights effortlessly. Therefore, they're a perfect liveaboard vessel for families or those looking to establish a long-term residency.
These boats are designed for long-range leisure cruising, meaning those who find thrill in a vessel's speed and agility might be better off choosing another alternative. Additionally, due to their size, trawlers can be noisy and challenging to maintain.
However, these drawbacks don't take away from the vessel's attractive features that have quickly turned it into a favorite among liveaboard enthusiasts. Even though trawlers might not be the best choice for those looking to circumnavigate the globe, this doesn't make them boring.
From fishing to night cruising, the range of experiences you can enjoy in a trawler is endless. Not to mention that you'll be able to do so in a spacious, comfortable space that never lacks loading capacity.
Pros and Cons of Living in a Trawler
Pros:
They're comfortable

They're spacious
Trawlers are well-suited to a wide range of water-based activities
They can handle excessive weights
They're easy to handle
Cons:
They're not very agile
They're not very fast
They can be noisy
They can be challenging to maintain
Sailboat vs. Motorboat
Both sailboats and motorboats make for excellent vessels when it comes to pursuing a liveaboard lifestyle. However, they each provide a different set of advantages and disadvantages you'll want to consider before making a choice.
Sailboats (whether cat or mono) offer the ability to almost completely eliminate your fuel cost and potentially a very environmentally friendly way of traveling.
On the other hand, powerboats are faster and easier to operate and require significantly less maintenance, making them a better choice for people strapped on time.
Here's a comprehensive table that might help you better understand the advantages and disadvantages of each alternative:
Sailboat 
Advantages
Sailboat
Disadvantages
Motorboat
Advantages
Motorboat
Disadvantages
Able to sail
High-maintenance (sails, rigging)
Low-maintenance (no sails etc)
Low fuel costs
Slow
Fast
Expensive (Fuel, price of buying)
Requires experience in both motoring and sailing
Easy to operate
Environmentally-friendly
Reliant on longer weather windows
Not reliant on long weather windows
Not environmentally-friendly
Can cover longer distances
Difficult to dock (mono)
Beginner-friendly
Quiet
Less spacious
More spacious
Loud
What To Look For in a Liveaboard Boat?
It's best to look for a liveaboard boat that is adequately sized, has the proper amenities to fit your needs, and is practical to use.
Now that you've learned more about some of the most popular liveaboard alternatives and how each of them fit within the context of different lifestyles, it's time to dive into some of the considerations you'll want to keep in mind when browsing for the vessel that would fit your unique needs and requirements best.
A Liveaboard Boat Should Be Adequately Sized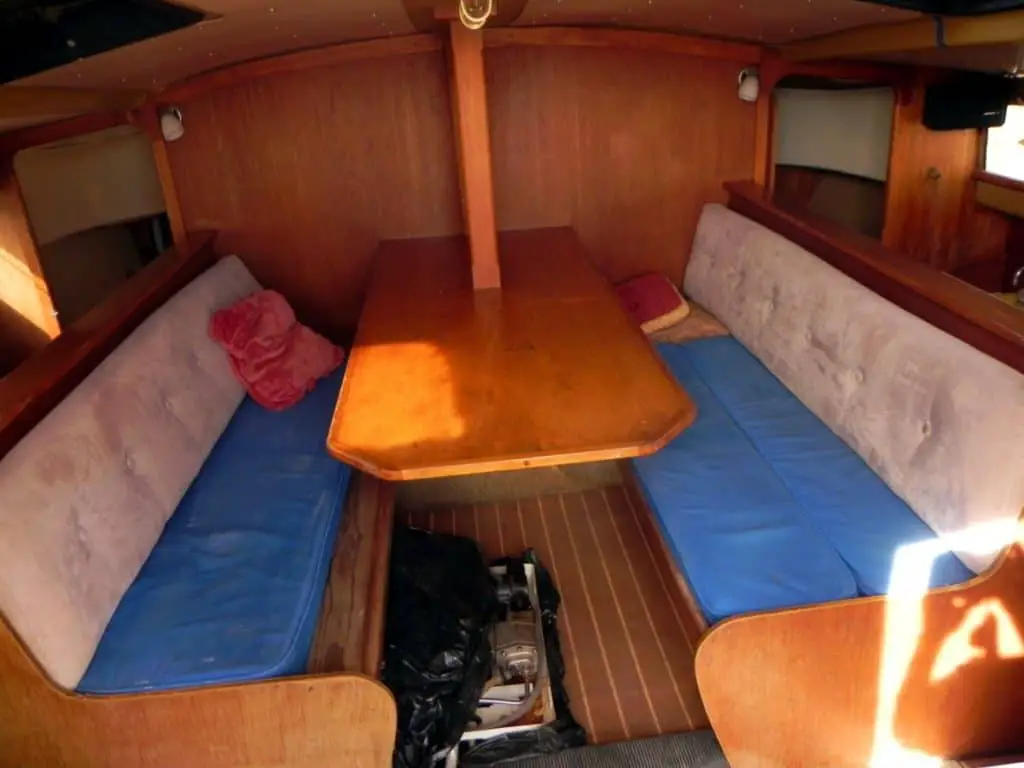 As you might've already guessed, size is the most crucial factor to consider when choosing a boat to live on. Throughout the decision-making process, you should keep in mind that you'll be building a life within this vessel, and this is especially important to consider if you're contemplating long-term residency.
Pro tip from a liveaboard: You'll be able to enjoy yourself in far less space than you think!
Most popular liveaboards usually range between 30 and 50 feet. Depending on the number of people occupying the vessel, you'll want to adjust your budget and expectations accordingly.
This might seem like a vast range to choose from, making your decision-making process feel even more overwhelming. However, each individual's needs, along with their definition of what constitutes an "adequately-sized liveaboard vessel," can widely vary.
While some prefer spacious rooms, others tend to look for boats with fishing platforms and outdoor space. Those looking to build a living area for their families might have to make room on their budget for both.
A Liveaboard Boat Should Have the Proper Amenities
Given that you're thinking about creating a life experience within a vessel, its amenities are an essential factor to consider. How can you expect to enjoy your thrilling adventure without proper temperature control or a non-functional galley?
First and foremost, you'll want to ensure that the vessel you choose is equipped with a heater and air conditioning. Maintaining a comfortable temperature within your living space is non-negotiable in traditional homes, and it doesn't have to be any different in a liveaboard, offcourse this is very dependent upon where in the world you are.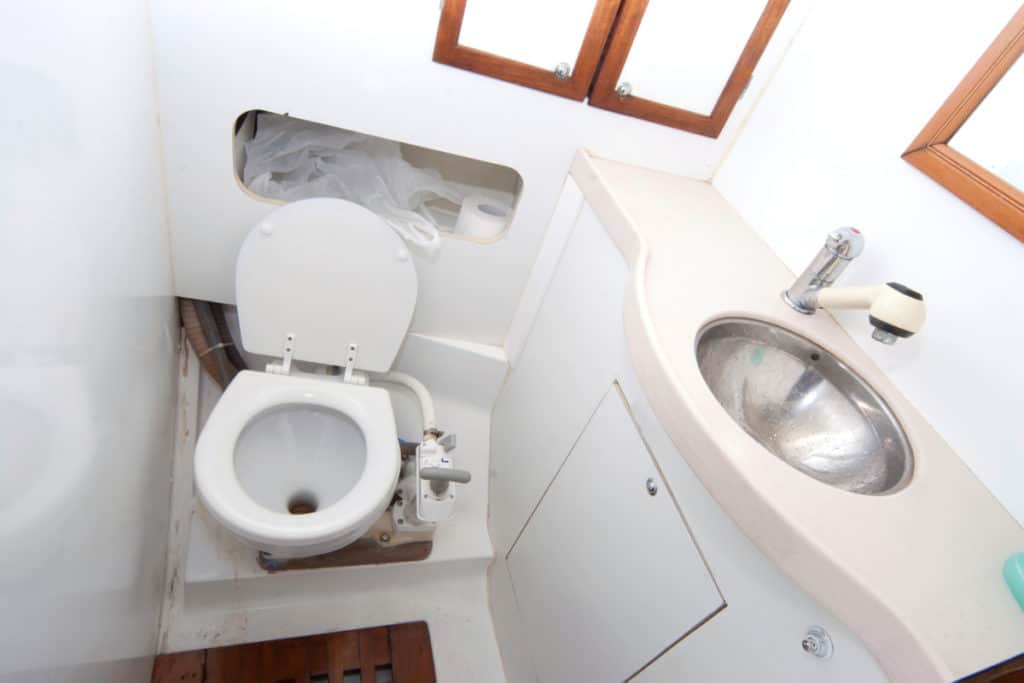 Other than the basics such as air conditioning, running water, etc., each individual should also think about their personal requirements and features without which they feel their life quality would suffer. Take the time to think about what you need from your living space and make a list to refer back to throughout the decision-making process. 
For example, if a large freezer or two (heads) toilets are of importance to you, don't forget to bring up these needs throughout your decision-making process. These are the details that can ultimately make a difference between a failed project and an excellent one.
Here are some additional amenities you might want to look out for:
Fully functioning kitchen
Ample storage space
Comfortable showers
Laundry facilities
A comfortable eating area
Ultimately, treat finding the right liveaboard with the same importance as you would finding a house; after all, they'll both be serving the same purpose, having the same significant effect on your quality of life.
Conclusion
The best kind of boat to live on will depend on each individual's needs and lifestyle preferences. Generally speaking, catamarans are the most popular liveaboard vessel due to their ability to also travel the world.
However, if your budget doesn't allow for a pricey catamaran, you'll still be able to choose between a wide range of excellent, easy-to-handle vessels, each of which will fit a unique type of lifestyle.