Trimarans are growing in popularity worldwide, due to their light construction and high stability these multihulls are even faster than catamarans. Trimarans are still one of the lesser-known boat types so in this article ill be checking out some of the most popular models.
The best trimarans include: 
The Neel 43 
The Neel 47 
Rapido 60 
Dragonfly 28 
The Pulse 600 
Corsair 37 
These tris are built with your safety in mind while also packing powerful speed and a wide array of comfort features to optimize your sailing experience, some are even foldable making them possible to load on a trailer and transport to the sailing destination of your choosing.
In this article, I have created a list of the 16 best trimarans in the market and their unique features. You'll also learn the best options for different purposes such as circumnavigation, weekend sailing, racing, and more. 
What Is a Trimaran?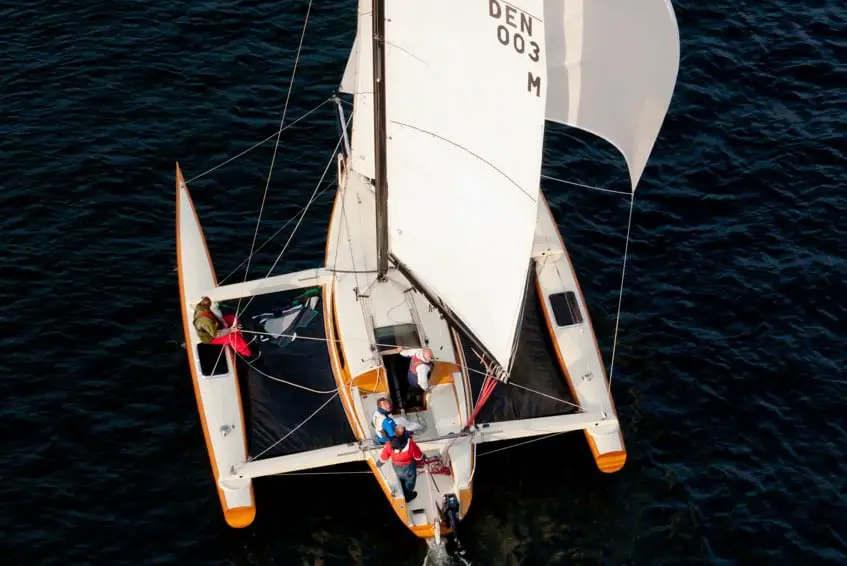 A trimaran is a multi hulled sailboat with three individual hulls; the main hull (vaka) and a pair of outrigger hulls (amas). These smaller outrigger hulls are attached to the main hull using beams. 
While trimarans have a rich history dating back nearly four millennia, these types of sailboats have only gained popularity in the late 1900s and early 2000s. 
Trimarans are primarily used as personal boats for sailing enthusiasts or racing. These sailboats draw their versatility from their lightweight design, making them faster and easier to handle at sea when compared to single-hulled boats (monohulls). Additionally, the three hulls also contribute to better stability, making it very hard to capsize (although more likely than a cat according to this study)
Trimarans come in various sizes, and some can be as small as 19 feet (5.8 meters) in length, while others go up to 60 feet (18meters). They're also used for different purposes. Most trimarans are used for racing and recreational purposes, although some units are still used as ferries.
As with all things, to find out which is the best we need to understand what it will be used for. There is a big difference in requirements between a boat used for daysailing compared to offshore around the world sailing.
The list below highlights the best trimarans for different purposes.
Best Trimarans For Cruising, Liveaboard and Sailing Around The World
1. Neel 43
The Neel 43 is a French trimaran best suited for cruising. Its key features include: 
Speed 
Safety 
Easy maneuverability on the open sea by only a small number of crew members 
This unit is also built for comfort, ideal for more extended travels. This 43-feet (13-meter) trimaran is also made with recyclable and bio-sourced materials, highlighting the manufacturer's commitment to environmental consciousness. 
This trimaran has a base price of  €329,000 excluding VAT. This translates to approximately $370,138. 
2.Neel 47 Possibly The Best
Named the best full-size multihull for 2020, the Neel 47 is a strong contender for one of the best trimarans in the market. This 47-foot (14.3-meter) long trimaran features optimized exterior and interior ergonomics for a unique design and look. 
Still on design, the Neel 47 is ideal for couples looking to take a weekend off or spend some time as liveaboard. It has a spacious owner's cabin and two bedrooms. It also features a spacious living room and kitchen and is optimized to ensure comfort for a couple. 
The Neel 47 also has two basic guest cabins so your friends or children can tag along on your sailing adventure. Accordingly, this unit is ideal for those looking to explore the sea for the sheer joy of sailing. 
The Neel 47 comes at a 571,139 euro ($643,600) price tag, excluding VAT. 
3. Rapido 60 The Fast and Comfortable Circumnavigator
The Rapido 60 offers a blend of performance, safety, and luxury, making it one of the best options for bluewater sailing. Measuring 59.3 feet (18 meters) in length, the Rapido 60 is an imposing unit. It's made from lightweight sandwiches and carbon materials that provide speed and strength, allowing it to stand up to strong ocean currents. 
The Rapido 60 also has spacious living spaces and is built for comfort at all points of the sail. Its design also optimizes safety. While it's an ideal option for circumnavigating, it's also an excellent choice for racing due to its speed. 
This is also the same boat that The Youtube channel La Vagabond just purchased.
The Rapido 60 retails at $1,400,000. 
4. Rapido 40
The Rapido 40 measures 39.4 feet (12 meters) in length and is ideal for cruising around the world. The Rapido 40 features twin "C" foils, which provide added lift, enhancing its speed and performance whether you are sailing downwind or upwind. 
Because it has C foils, this trimaran doesn't have a central daggerboard, increasing interior space. Accordingly, it's an excellent option for couples looking to cruise and enjoy great performances.
The Rapido 40 is made from high-tech all-carbon materials for a lightweight yet sturdy design. This material is also used for the countertops and furniture, and the cork flooring adds a touch of style.
This trimaran retails for $595,000, making it a cheaper option than the Rapido 60. 
5. Dragonfly 40
The Dragonfly 40 measures 40 feet (12 meters) in length. It features high-comfort standards, making it one of the best trimarans in the market for taking your family for a cruise. Because of its larger size, it has a better capacity, being capable of accommodating six to eight people, so you can bring your family and friends along. 
It's easy to navigate and extremely safe. With a maximum speed of 24 knots (44.5 km/h), this trimaran also provides fast speeds to make your cruise even more exhilarating. 
The Dragonfly 40 retails from €509,000 exclusive of VAT, which rounds up to $572,000. 
6. Dragonfly 32
The Dragonfly 32 is a high-performance cruiser. Like the Dragonfly 28, this unit features a contemporary design for racing. This trimaran can accommodate five to seven crew members. 
Although slightly longer than the Dragonfly 28 with its 32-foot (9.8-meter) length, the Dragonfly 32 has a max speed of 23+ knots (42.6+ km/h), making it one of the fastest trimarans for racing. This unit also has comfortable accommodation, which makes it an ideal option for a weekend cruise with family and friends. 
The Dragonfly 32 has a base price of $350,000. 
7. Corsair 37
Thanks to a variable draft with a retractable rudder, the Corsair 37 is an ideal choice for shallow water exploration. This 37-foot (11.3-meter) long trimaran features advanced foam-cored construction designed for safety, making it virtually unsinkable. 
The carbon hulls minimize weight, this makes for a lightweight ocean exploration sailboat with blistering speeds. One of its selling points is that this trimaran has previously been used for Arctic expeditions, possibly marking it as one of the better options for circumnavigation and offshore sailing in the northern waters. 
This trimaran has a base price of $189,000 but can go up to $204,125.
Best Trimarans For Day/Weekend Sailing
8. Dragonfly 28
The Dragonfly 28 is a 28-feet (8.75-meter) long sailboat that can accommodate up to five people. It comes in two versions: 
Touring version: This version is ideal for families.  
Performance version: This is built to provide optimal performance for the sports enthusiast within you. 
It clocks a maximum speed of 22+ knots (22+ km/h) and is beam-folded. It's an excellent option if you want a high-performance, comfortable yet smaller unit for your day or weekend cruise. 
The Dragonfly 28 starts at  €188,280 inclusive of VAT, which comes to around $211,600. 
9. Dragonfly 25
Like other trimarans under the Dragonfly brand, this 25-foot (7.62-meter) trimaran is great for both racing and short term cruising. However, this high-performance boat delivers easy handling, making it perfect for couples looking to take a ride out over the weekend and seasoned sailors looking for an exhilarating racing adventure. 
The Touring version features a lightweight build and offers comfort and accommodation to keep you, and the few guests you can fit, comfortable during the ride. This trimaran also has a Sport version, which is optimized for racing. 
The Dragonfly 25 retails from EUR 86,800. 
10. Pulse 600
The Pulse 600 trimaran is a compact sailboat. It's made from lightweight, carbon-reinforced construction and vacuum-formed materials for optimal speed. This trimaran is an ideal option if you are looking for speed. 
It also features ample deck space, greater stability, and volume than most trimarans of similar size and build. 
This trimaran measures 19.8 feet (6 meters) in length and can be sailed single-handedly by one person with minimal effort. The Pulse 600 has a base price of $38,800, which places it in the lower price range. 
11. F-22
The F-22 is one of the smaller trimarans in the market. Developed in New Zealand, the F-22 is a folding trimaran built for speed. The hulls are made from narrow fiberglass tied together using fiberglass beams and aluminum, minimizing bulk while optimizing speed. 
The F-22 is roomy and is not as pricey as other models in the market. This trimaran has two main versions: 
12. 2019 Weta Trimaran
The 2019 Weta trimaran is a 14.5-foot (4.4-meter) trimaran featuring a carbon frame, centerboard, rudder foil, and rudder shock. The hull is made from fiberglass and foam. The Weta is built for strength and speed based on these lightweight materials. 
The 2019 Weta trimaran is easy to sail and is worth considering whether you want to take a quiet sail, race with your friends, or take kids to a sailing lesson. It has a simple design and is easy to set up independently. Thanks to its collapsible design, this trimaran is easily stored away with minimal space demands. 
13. WindRider 17
The 17.4-foot (5.3-meter) WindRider 17 is one of the more versatile trimarans in the market. It packs high performance for a low cost. This trimaran has a light rotating mast to boost performance, and a full-battened mainsail optimizes visibility. 
This sailboat is made from rotomolded polyethylene, which is more durable than fiberglass and demands less maintenance.
The WindRider 17 has a comfortable interior and can fit six adults. This is an ideal choice for social sailing for a couple or a family and friends. It's easy to ride, and a shallow draft allows easy maneuverability. 
14. Astus 22.5
If you're looking for something small but still comfortable, this 22.5-foot trimaran is for you. Built for speed and maneuverability, the Astus 22.5 has optional foils to optimize speed. The modern design, coupled with the spacious interior, can fit up to four beds. Accordingly, this trimaran is suited for family outings. 
This trimaran also has a foldable design, collapsing to only 16 feet (4.9 meters) for easy storage. 
15. Multi 23 Trimaran 
The Multi 23 trimaran has a contemporary design, featuring a vinyl ester and PVC foam core construction. The section below the waterline is made of solid glass for a sturdy base.
The beams are made of lightweight carbon, and the trimaran features a 33-foot (10-meter) aluminum rotating wing mast for optimal harnessing of the wind. While ideal for weekend excursions with family, once rigged with the asymmetrical spinnaker will get your heart pumping.
This trimaran packs high performance at a lower cost than most other options in the market. It's a good choice if you are looking for a high-performing unit without spending an arm and a leg. 
16. Challenger Class Trimaran
The Challenger Trimaran 15 is the best choice for persons with disabilities. It's designed to provide disabled sailors an opportunity to explore their passion for sailing without worrying about aspects like safety or operation. 
A man named Geoff Hold circumnavigated the British Isles in 2007, becoming the first disabled person to achieve this feat. He had quadriplegia. 
Living up to its name, the Challenger can withstand harsh weather conditions while blending performance with speed. 
Final Thoughts 
Admittedly, no trimaran is best for everyone. But whether you are looking to race with your friends, take your loved ones or friends for a cruise over the weekend, or circumnavigate the ocean, you can rest assured that these lightweight trimarans will deliver speed, safety, and comfort to make it worth your while. 
These brands are innovatively designed and feature intricate safety mechanisms that make them virtually unsinkable. Give them a shot and begin your ocean adventure. 
Sources