As an Amazon Associate, we earn from qualifying purchases. We may also earn commissions if you purchase products from other retailers after clicking on a link from our site.
I thought sailing gloves were something for only hardcore racers, but during my second crossing of the gulf stream, I realized that this is not the case. Today I will discuss what I have learned through my own experiences and by talking to other sailors about the use of gloves during sailing.
I have also added some other sailing glove-related tips and tricks. Here is the short answer:
You don't need to wear sailing gloves while sailing. However, sailing gloves do have their benefits. Sailing gloves prevent blisters and rope burns on the hands, which can be uncomfortable and cause major damage. Make sure sailing gloves fit properly before using them.
Now that you know that sailing gloves are not required to go sailing, you are likely wondering about what they do and why some people wear them. Keep reading to find out.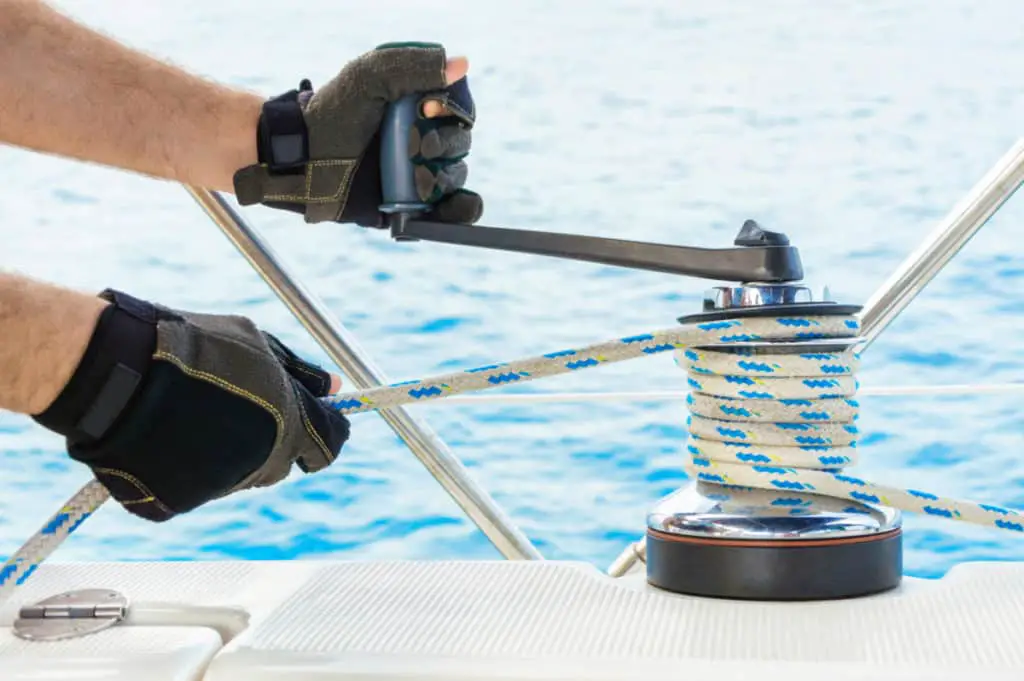 Circumstances/Benefits To Using Sailing Gloves
Gloves protect our hands, which is why we wear them in many circumstances, not just sailing. The purpose of sailing gloves is to protect your hands from blisters and rope burn. Those ailments oftentimes happen when you're pulling rope. If you choose not to use gloves, it might just take some time for your hands to toughen up and get used to the work you do with them.
Getting blisters on a day sail might not be a big problem since you will have plenty of time on land to recuperate before you go out to sea again, but during a longer crossing blisters might render your hand close to useless unless properly protected.
One Reddit user and avid sailor shared "I have a small boat with small lines and I don't want calloused hands. Smaller lines cut you more than big lines. I never want to be caught out wishing I had gloves when I need to act." Better safe than sorry.
Some benefits of sailing gloves include:
Protection! Any good pair of gloves will act as a preventative measure against things like rope burn, blisters, and cold.
Various designs are available for your choosing.
Can increase your efficiency as your hands will be safe, protected and not irritated or hurt which can hurt your performance.
Good for long voyages which can be hard on your hands as it is.
Assists in good grip.
Keeps your hands warm.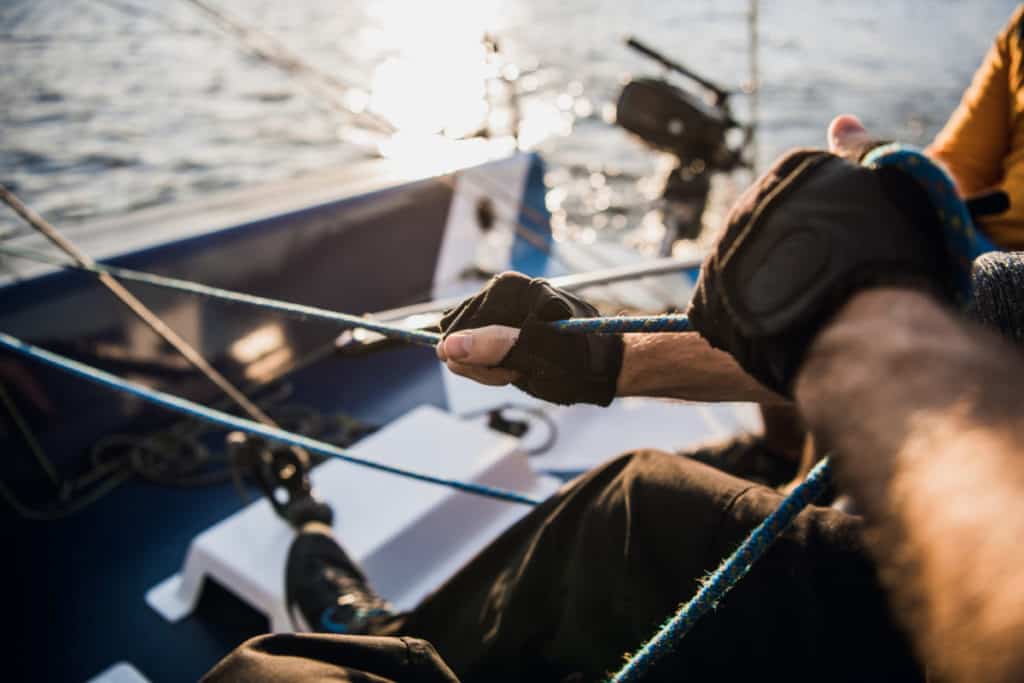 How to Choose the Right Sailing Gloves
The sailing gloves that you choose should be not too snug and not too loose. You want to make sure they fit your hand just right. You should be able to make a first without the glove becoming extremely tight, but you shouldn't be worrying about the glove falling off either. It is best to be able to try a pair on before purchasing.
Here are some steps to choosing the right gloves:
Start off by measuring your hand. You can do this by making a fist with your dominant hand and using a tape measure below the knuckle, this is the width you'll need. To find the length measure from your the bottom of your palm until the middle finger tip.

Go to your local Sportsman's Warehouse, Cabela's, Ace Hardware, Home Depot/Lowes to check out and try on gloves in your size. If you live in an area that doesn't have access to those stores, you can shopp online. Many of those businesses have online stores, and you can try Amazon as well.

Consider the material and design. For materials consider if you want real vs synthetic leather vs neoprene. Synthetic works for short periods but wears easily. Real leather is more durable but can feel tougher and neoprene seems to be the best option as it is breathable and wind and waterproof.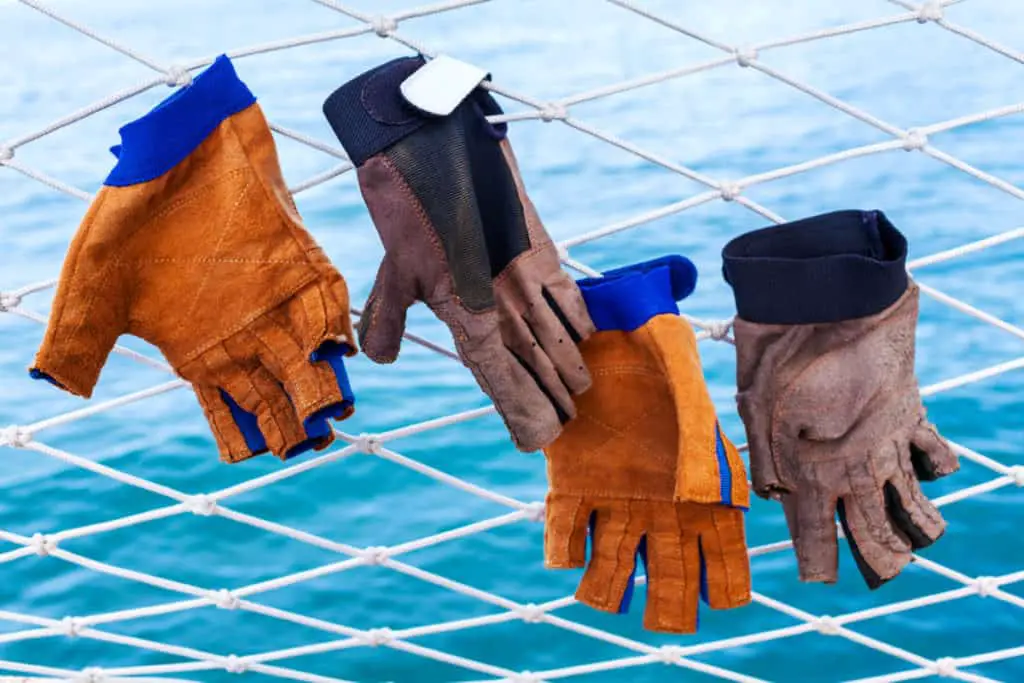 What To Consider
Consider your options available such as full finger, half finger, and even 3 finger gloves, in addition to the season you'll be using them in.
Full finger: Protects all your fingers yet can reduce your movement and flexibility.
Half finger AKA 3/4: Most popular choice, covers palms but not fingers and that provides more flexibility but not good for cold weather.
3 finger: Covers all fingers except index and thumb and provides protection and warmth.
Users on the SailingNet, an online sailing community, stated a lot of opinions such as how the best gloves don't have to necessarily be the most expensive and there are a lot of inexpensive options out there. Of course, everyone had differing opinions on which ones they thought were the "best". The most notable gloves mentioned were Harken gloves, Gill Pro, Atlas, and more. View the thread here: Sailing gloves question | SailNet Community.
5 Top Rated Sailing Gloves: Pros & Cons
The same Reddit user and sailor as mentioned above also shared that "I like the 'Pro' gloves from Gill with short fingers. I find the lesser grades deteriorate too quickly. Spending a little more money gets me 3x or more the lifespan out of them."
My Recommendation: Best Balance Between Price and Performance
Gill Pro: This glove is made of neoprene and as we learned from above, that material seems to be the most ideal for most sailors. This glove also has benefits such as gripflex, extended elastic cuff, and is stretchy for easy movement and lightweight. The con to this glove is that the gripflex, though superior for grip, wears off easily. $50
Best Known Brand
Harken: Is known to be a reliable brand as they are simple, high quality yet durable. Other benefits include a good grip and overall comfortable! The con is that they might be on the pricier side. $36
Best Breathable Glove
Musto Performance: This short finger glove is known for its breathability, nice fit, and nice protection. The cons of this glove include only hand washing and on the pricier side. $50
Best For Hot Climates
WindRider: Another highly rated glove by sailors as the glove is well ventilated allowing it to dry fast when wet. It allows your hand to feel comfortable as well as keeps them cool. The downside of this glove though is that though it dries fast, it is not waterproof and has been known for sizing to run small. $20
Best Overall Glove
Helly Hansen: This is a 100% polyester glove which makes it well ventilated if you are sailing, especially in the summer. It is also machine washable which can make taking care of it quicker and easier. Some cons of the glove are that it is not that waterproof and is on the pricier side as well. $33
Whether or not you wear sailing gloves is ultimately up to you, but if you do choose to wear them you need to make sure they fit comfortably and will last for a long time.