Catamaran charters are a popular way for families and friends to vacation or take sailing holidays. They provide a safe, comfortable, and relaxing cruising experience for sailors looking for a mix of freedom and authentic sailing as they tour incredible destinations. But traveling in these luxurious vessels must cost an arm and a leg, right?
The cost to charter a catamaran varies from $2,500 to $35,000 per week. For $1200 you can rent a cabin. The price depends on the type of catamaran, size, number of people, cabins, extras, and trip duration. Some cats are available for bareboat chartering, while others come with crew.
This article contains detailed information about how much it costs to charter a catamaran and answers some frequently asked questions about cat charters. It also discusses different types of charters, various fees, and other factors to consider when selecting a charter for yourself.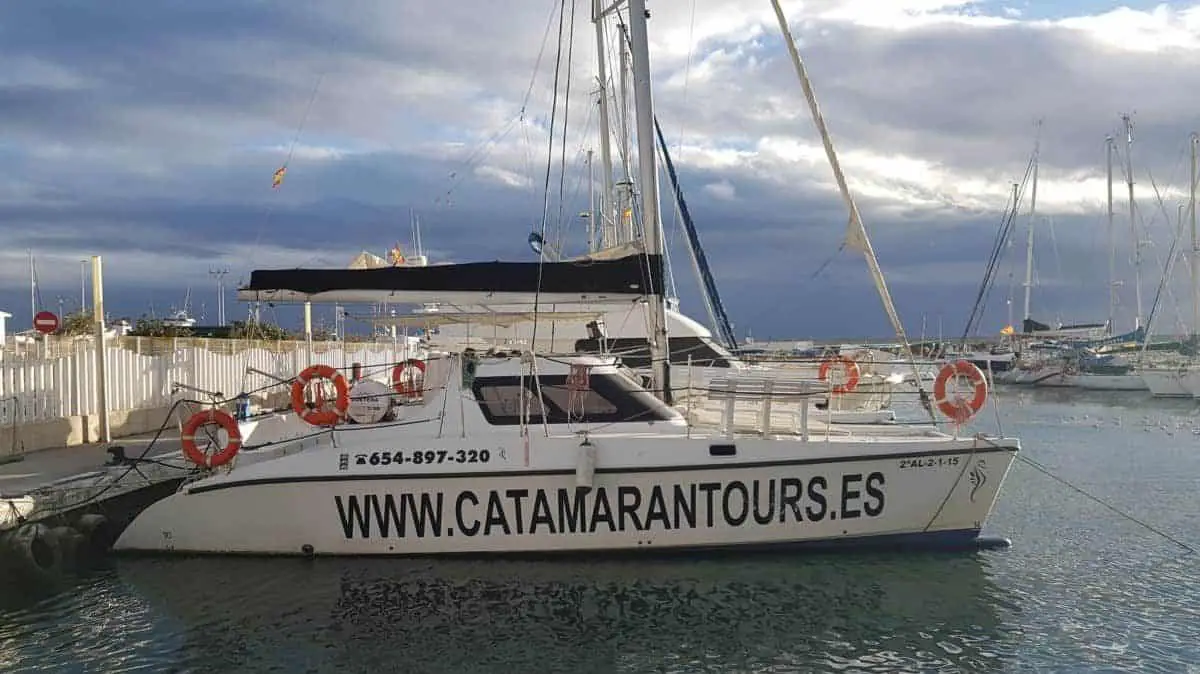 The Different Types of Catamaran Charters
There are a number of reasons you may prefer one kind of charter over another and several different types of catamaran charters to choose from. Let's discuss the various features of these charters and how those features impact the overall costs. 
Crewed Catamaran Charters
A crewed catamaran charter is ideal for sailors who want to kick back and relax. The vessels come with a dedicated, competent crew whose work is to navigate your itinerary while attending to your every need. Furthermore, the crew is knowledgeable about the boat and charter waters hence can sort any issues that might arise.
The crew typically includes a skilled skipper at the helm and a hostess to clean, cook, and maintain the catamaran. They have separate quarters, so you still maintain your privacy.
Luxury Crewed Catamaran Charters
For the ultimate family holiday or couples' getaway, luxury crewed catamaran charters sure hit the spot. These charters combine the undeniable thrill of sailing with the best of luxury; utmost comfort, excellent service, delectable cuisine, and top privacy. You also get to enjoy the winning combination of sailing, outstanding comfort, and deep relaxation in exotic destinations, such as Greece, Seychelles, and the BVI.  
Onboard the state-of-the-art yacht provided for your charter, you find a proficient crew ready to attend to your every need. They cook delicious dishes and offer in-depth information on your charter area, providing more depth to your sailing experience. In addition to charting your course, the skipper monitors weather conditions to ensure everyone's safety. If you wish, you can take the helm under the skipper's guidance too.
You have access to resort-like accommodation and an impressive array of water toys such as snorkeling gear, water skis, kayaks, paddleboards, and diving equipment. Also, there are swim platforms and a ladder provided for easy access to the water.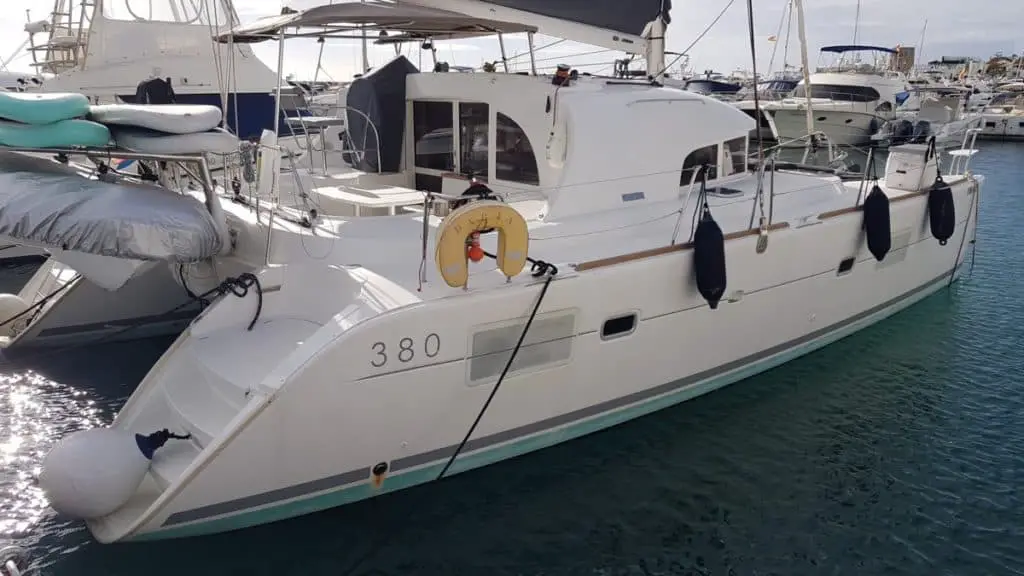 Private Catamaran Charters
Private yacht charters offer a whole new level of privacy, flexibility, and freedom. There are no timing restrictions or uncomfortable companionship with complete strangers like in a standard cruise ship. Furthermore, there are no extra charges for resort amenities like private dining or water sports equipment. 
Bareboat Catamaran Charters
If you prefer to do all the sailing on your own – with no crew to lend a helping hand – then your charter option becomes the bareboat catamaran charter. This type of charter is most suitable for experienced sailors looking for a thrilling experience. It's also great for two or three couples if just a few are qualified to sail because the rest of the group can assist. Here, you cater for all your expenses, including fuel and food.
The beauty of bareboat charters is that you get to enjoy real freedom planning your route and having full control of the vessel. However, to charter a bareboat, you need to have a sailing competence certificate or documentation from charters done previously. Note that you can add a skipper plus host to your bareboat charter if you don't have a sailing license or have zero experience sailing a catamaran.
It's important to point out here that a catamaran is incredibly safe. Since it's simple to navigate, a lone sailor can handle it with ease, making it excellent for bareboat charter.
Cabin Charters
Did you know that you can charter a single room instead of an entire catamaran? Though priced per person, cabin charters are pretty affordable and quite ideal for singles or couples. For example, with Dream Yacht Charters, all you need to do is book your double cabin plus a private bathroom, and they take care of everything else – including preparing your meals. And guess what? You can charter a cabin to Bali or Mauritius for 7 days from $1,200 per person!
Cabin charters offer you the chance to discover exciting destinations on a set itinerary. You also share the catamaran with guests booked in the rest of the cabins.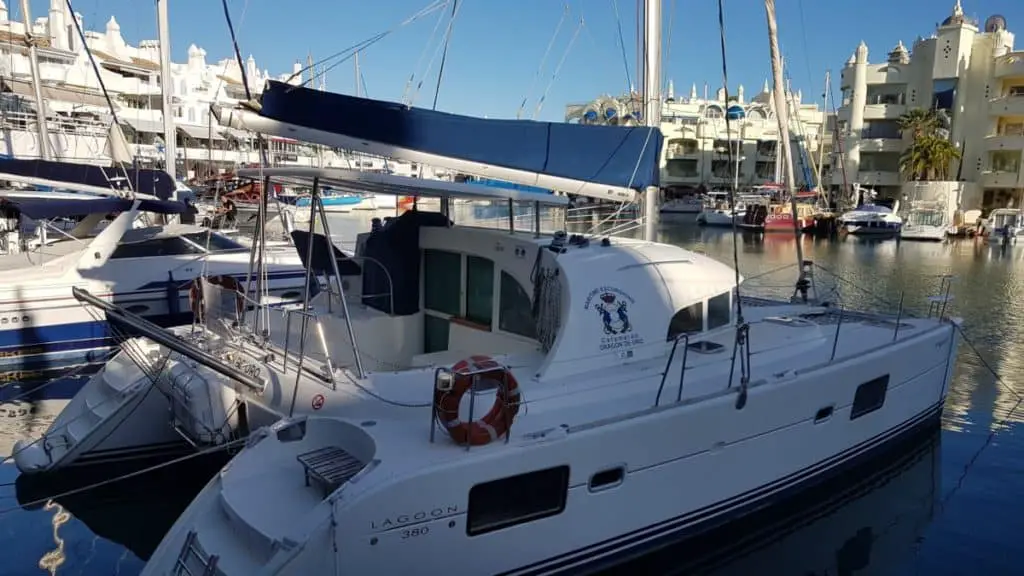 The Cost of a Crewed Catamaran Charter
Crewed catamaran charters like the BVI Crewed Catamaran Charter provide some of the best deals you could find in the most exotic destinations. This is because food, drinks, crew services, open bar, and amenities form part of the charter fee, which means the rates are all-inclusive. A one-week stay in the impressive Lagoon 560 ALTESSE, for instance, goes for $27,000. The vessel contains three rooms with a sea view.
Here, charter prices start from about $4,000 per couple per week. The rates could go higher depending on the size of your catamaran and the luxuries you wish to indulge in. For a luxury crewed catamaran in the Caribbean, the rates could go up to $28,000 – $33,000 a week for 8 guests staying in 4 cabins. Luxury superyachts command up to $150,000 a week.
The Cost of a Bareboat Catamaran Charter
Bareboat catamaran charters are the most affordable chartering option. Week-long charters in locations like Greece, the Bahamas, and Thailand could go for $5,000 or less. As mentioned earlier, you cater for all your expenses.  
In general, when you charter a catamaran, the rate is pegged on a base price. This means that when compared to booking multiple hotel suites, the cost per couple is quite reasonable. What's more, you enjoy the privacy of a luxury villa, with different destinations every day. For instance,  4 couples chartering a bareboat catamaran in the British Virgin Islands would pay as follows:
Charter fee per week             From $10,000
Price per couple per day $357
Price per couple per week $2,500
How Much Does a Private Charter Catamaran Cost?
Believe it or not, the total cost of a private charter is considerably less than a land-based vacation in a high end hotel. Plus, chartering a private yacht is way more exciting than vacationing in a resort, given that you receive the exact preferences you request for. 
Most private crewed catamaran charters start from around $10,000. However, you can get lower rates on smaller boats. For instance, you can charter a catamaran with 3 cabins for approximately $6,900 with The Moorings. This cost covers a week-long trip around St. Lucia in August 2021 (the price doesn't include the amount for a cook or skipper).
What Factors Affect a Catamaran's Charter Fee?
Private charters tend to be costlier than other charters mainly because of their exclusivity. Attending these charters is similar to staying in your own home along with your family. The high demand for such luxury also keeps their prices up. 
Other factors that affect the cost of chartering a catamaran include: 
The type of catamaran. This is a key price determinant. The cat's size, design, number of cabins, and guest capacity greatly influence the charter fee. The vessel's age, reputation, and whether it's a sailing or high-performance power cat could also result in a higher price tag. Standard cats can accommodate 6-8 people, while larger ones can fit 12 guests plus the crew.
Your choice destination. Locations with established chartering activity are often less expensive than remote, uninhabited, and difficult to reach destinations, like the Galápagos Islands.
The yachting season. Chartering a catamaran during the high season is usually quite expensive. This also depends on the destination. For instance, Mediterranean charters are pricier during summer, while Caribbean yacht charters get pretty steep between December and March. Charters that take place at the end of the high season are less expensive, but the weather is less dependable.
The water toys included. These include kayaks, paddleboards, jet skis, and diving equipment. Some catamaran charters also come equipped with sea pools and slides. 
The trip duration. Most charter companies limit charter bookings to a minimum of 5 days. A typical charter usually lasts a week.
Charter extras. Depending on your charter option, these could range from a hired skipper and cook, provisioning services, onshore excursions, travel insurance, and watersports rentals. Free Wi-Fi is usually available in most charter destinations as well as entertainment centers like flat-screen TVs and DVD players.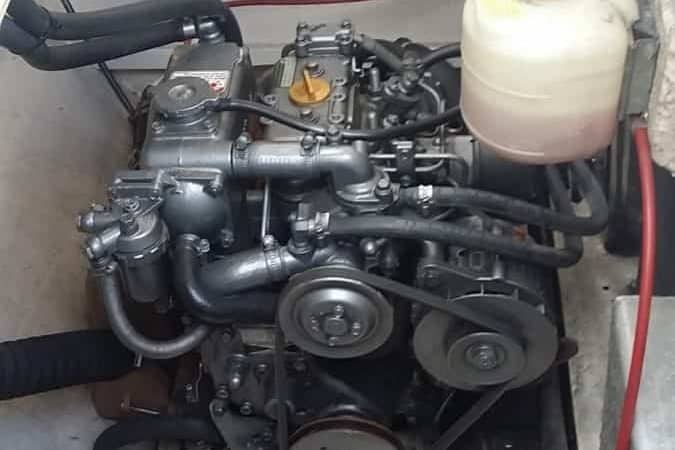 Which Are the Best Catamarans for Charter Services?
All catamarans make excellent sea-faring vessels. While every model has its own distinctive features, the most popular models for catamaran charters include the Lagoon, Fountaine Pajot, Voyage, Sunreef, Nautitech, and Catana. Most of these can accommodate up to 10 people plus the crew. 
Factors To Consider When Choosing the Perfect Charter Catamaran
When looking for the best catamaran to charter, you need to consider a number of factors. For starters, the boat size will depend on how many people you'll be sailing with. It also depends on your budget and the type of amenities you want included in the charter. You also need to figure out the number of cabins you require as well as the catamaran brand and model. 
The other things you need to keep in mind include the below:
Only work with a reputable charter company.
Go for a vessel that's six years and below.
Your skipper license must be valid in the country of sailing. If not, you'll need to choose a skippered charter instead.
If you go for a skippered catamaran, note that there's usually a gratuity of 15-20% of the skipper fee given as appreciation for superb service.
Should You Use a Charter Broker?
A charter broker can be a crucial asset because they can help you get the most out of your charter program by sourcing for the ideal yacht to match your requirements. The brokers work closely with central charter agents (boat managers), owner-operators, and fleet managers, to locate the right catamaran for you.
Many of them offer valuable firsthand information gathered from yacht charter shows, industry seminars, and visiting both yachts and destinations. Furthermore, the majority have beautiful crewed catamarans in top charter destinations across the globe. They also go a mile further to view the boats and meet the crews, and since they receive their commission from boat owners, their fees don't affect your charter price.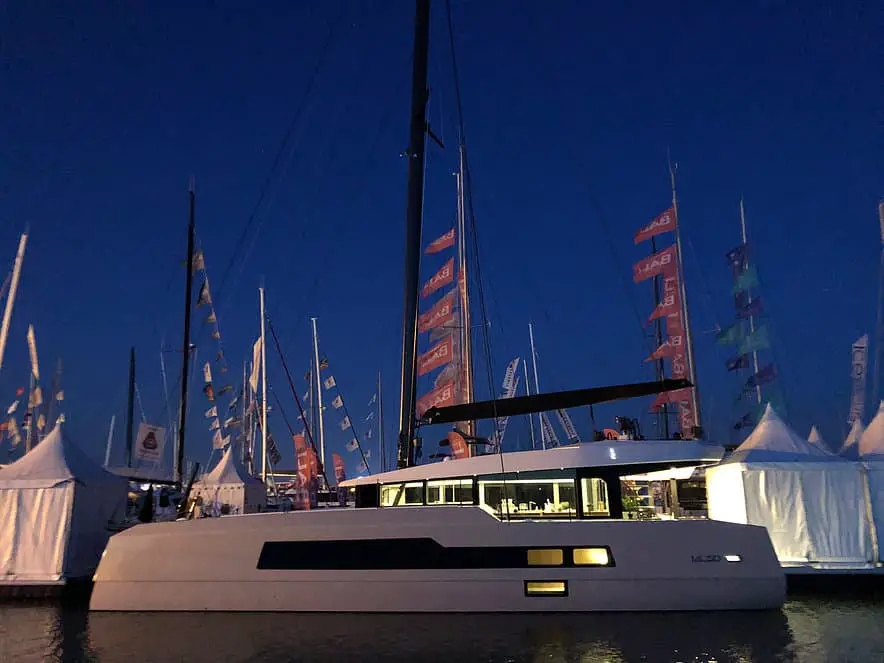 Why Are Catamaran Charters Popular?
Catamaran charters allow you to holiday in top destinations, such as the British Virgin Islands BVI, Italy, Croatia, Greece, and the Bahamas. These multi-hulled vessels are ideal for both avid sailors and amateurs since they're easy to handle. In general, catamarans hold great appeal as charter vessels, and with good reason: 
They're spacious. Cats have a broad beam that makes them pretty stable and incredibly spacious. This means they can hold large groups without anyone feeling overcrowded. The bright, well-ventilated interiors add to the light, airy feel, enhancing your overall comfort. And since cats don't heel, you're less likely to suffer motion sickness while onboard – or spill your drink.
They provide excellent livability. A catamaran's saloon is quite spacious, providing ample room for relaxing and entertaining friends and family. The sleeping areas are separate from each other, allowing for more privacy when traveling with guests, and are typically doubles – ideal for couples or families with kids. Also, the flybridge offers panoramic views and additional space for relaxing and entertaining.
They're well-built. Cats boast stylish layouts that allow for great comfort on board. Expansive sun decks offer comfortable lounging space on the deck, while the lavish trampoline is an excellent spot for sunbathing. You have endless dining options with minimal separation between the galley and the cockpit. The salon forms a natural wind blocker for the back deck, so you can enjoy spending time here even when it's windy.  
They're fast. Catamarans are fast vessels that can achieve top speeds, particularly when sailing downwind. And if the weather takes a turn for the worse, they can avoid the worst of it by outrunning the storm.
They have shallow drafts. Owing to their twin engines, cats are easy to dock or maneuver into standard marinas. They can also sail in shallow waters. This means you can venture much closer to secluded beaches, enabling you to discover beautiful bays, explore treasured coves and get as close to the water as possible.  
They boast modern furnishings. Catamarans come equipped with unique and sophisticated furnishings and fittings. This gives them a luxurious feel quite similar to motor yachts. 
Frequently Asked Questions
Can I Find a Catamaran Charter That Fits My Budget?
You'll be delighted to know that a yachting vacation can cost as much or even less than a resort vacation on land. You'll also have privacy and the chance to create your own adventure. Alternatively, you can charter a cabin and get the catamaran yachting experience at a fraction of the cost.
Is There Internet and Wi-Fi Onboard?
There's free Wi-Fi on all crewed and luxury catamaran charters, though availability might depend on the cruising grounds. However, in most cases, you can still send emails and stay connected with friends and family while on your cruising vacation. 
Is It Necessary for Me To Get Insurance?
All the vessels are insured against all risks as per the charter regulations. However, we strongly advise you to get appropriate travel insurance to cover any unexpected cancellation. Do verify that the insurance covers sailing. 
Can I Bring My Children Along?
You can bring your kids on catamaran charters. There are no age restrictions, and the vessels are incredibly safe for them. There are also amazing amenities to suit all ages. An experienced crew is on hand to offer any necessary assistance in using water toys like snorkeling gear and kayaks while the chef's menu can accommodate everyone's preferences. 
However, the cabin charter packages have age restrictions. Thus, they're not suitable for families with kids. 
Can I Book a Catamaran Charter Even if I Don't Have Any Sailing Experience?
If you wish to book a bareboat charter but lack sailing expertise, you'll need to hire a skipper. But for the Crewed or Luxury Catamaran charter, you can relax, as these charters include a skipper to do all the sailing and navigation. 
Final Words
Catamaran charters allow you to explore some of the world's most stunning destinations onboard state-of-the-art cruising vessels. The yachts are safe, spacious, super comfortable, tastefully furnished, and fitted with all the amenities required to guarantee the perfect vacation for you and your loved ones. 
While they can be expensive, catamaran charters are available in a wide range of price points, enabling you to choose a holiday that fits your budget. Besides, it's hard to beat the great value, freedom, and unforgettable memories that a catamaran charter delivers.
Sources