Around 12 years ago, I spent my first night on a sailboat; before, I had only been on big cruise ships where they have plenty of space and full-sized rooms. On a smaller vessel such as a sailboat or yacht, it proved to be very different!
Although the comfort varies greatly, it is possible to sleep on all types of boats. Vessels longer than 22ft almost always have a dedicated space for sleeping. One exception is racing-type boats. On some ships, you will have a bed of your own, and in others, you might have to use a hammock.
The issue is not so much if there is a place to sleep as the sleeping arrangement is like and how it is to sleep on a continually moving bed. Whether you call it boat camping or simply sleeping on your boat, it can be a magical time if done right!
Sleeping Arrangements On A Boat
The bed on a boat is called a berth, not to be confused with the berth where you park your boat. The berth is located inside a cabin or room; sometimes, this room has a daytime use and a nighttime use.
Foldable Beds (Tables, Seats)
Like the one on the picture below of my old monohull, a standard setup utilizes the dining table as a collapsable bed. The table is stowed in between the seats to make a bed. Usually, the cushions will make up the mattress. Pro tip: Use the large ones under your back and the short ones under your legs; this will increase your comfort!
This setup type is most common on smaller boats(below 35ft), especially on monohulls where space comes at a premium.
Fixed beds
If you are on a bigger boat or a catamaran, you probably will find a set of fixed beds located inside the hulls; these can be very comfortable, especially if the cat is of a charter version where clients expect a good night sleep.
The owner's versions are sometimes fitted with narrower hulls and won't accommodate a queen-size bed. The clip below shows a Lagoon 380 2012 where you can clearly see the layout and what to expect.
Most people prefer fixed beds since they resemble what they have back home on land. This also means that you can outfit your boat with your favorite standard mattress.
Hammocks
A third alternative is a spare way of doing it, but that can be very cozy if done right. A hammock stows away very small and can be set up in under ten minutes.
If positioned outside, it can offer some fantastic stargazing while you slowly rock yourself to sleep. The temperature drop at night time can be significant, so make sure you have a lot of warm blankets, and dont forget the mosquito net!
Prepare to wake up with the sun and start your day by taking one step to port and jumping in the water! Perfect beginning!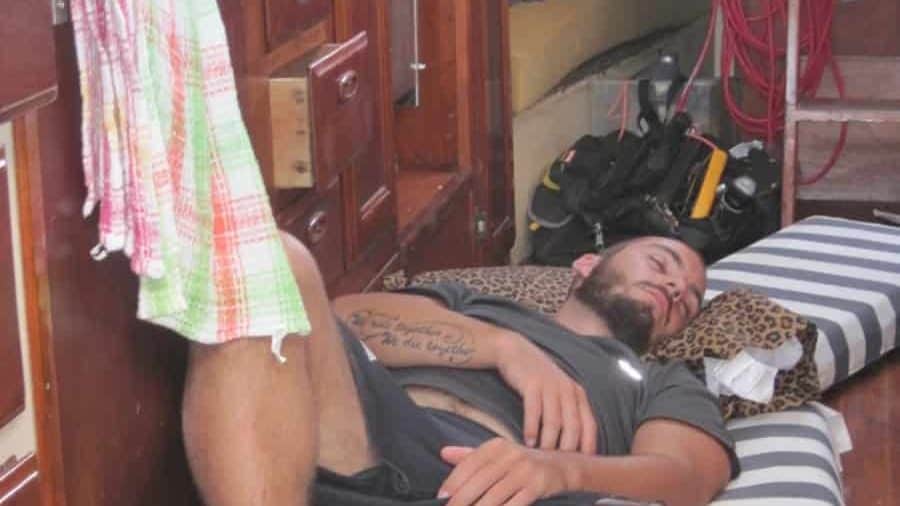 Location of The Berth Inside the Boat
There's a difference in comfort depending on where on the boat you are sleeping; due to boat balance, some parts will move more than others. On my monohull, there could be a roller coaster ride in the foremost cabin, while sleeping in the galley in the middle of the boat would be a soothing rocking sensation.
This is something that the captain will be fully aware of, so ask him or her for some pointers, and maybe you can bargain for a good spot that suits your needs.
Find The Quiet Spots
Some parts of the bot can get very noisy; a common area for a lot of noise is where the waves hit the hull; this is, of course, dependent on wave direction, current, and wind.
Another very noisy factor is the chain connected to the anchor starts tapping (but it sounds like banging) on the hulls. This tapping gets reinforced by the echo chamber that is the glass fiber hull, and it's basically like living inside a drumset. Okay, I'm exaggerating this part, of course 😉
Choosing a Good Spot To Anchor
Something that might be out of your control is where the captain parks his boat for the night; there is nothing more relaxing than staying at a protected anchorage in the middle of nowhere to listen to the waves and watch the sunset.
Just make sure that your anchorage is protected from the swells and shifting winds that probably will happen during the night.
Sleeping On a Boat In The Middle of The Sea
While crossing over a large body of water, you will have to keep sailing through the night. A boat does not stop in the middle of the night; but instead, the crew will take turns to maneuver the ship.
If you are on a small boat, you will probably be asked to stay on watch, and that means you will have to get up in the middle of the night for maybe an hour or two to make sure everything is going as planned and if not, your job is to wake the crew up.
Once it is time for you to sleep, you will notice that it might be hard to rest depending on the waves and noises of the sea, many are also a little nervous, but that is okay; you are on an adventure, so a bit of tension is part of it 🙂
Most people say that the first night is the hardest, and after that, it just gets easier and easier until you don't want to sleep on land anymore! That's when you have caught the bug of sailing! Welcome!
Hot Or Cold?
Boats are very susceptible to the climate, and depending on the boat; you might not have any AC; if you're on a European boat, you most certainly will not, but if you are sailing in the US, then chances are the ship will be outfitted with AC and your life a little less sweaty.
In hot climates, I would recommend you bring your mosquito net and open all the ventilation,so that you can get a fresh breeze to wherever you are without being eaten up by bugs!
Wintertime it gets freezing, and many boats have small heaters that can heat specific areas of the ship, but unless you are on a big boat or a small one that is very well equipped, you will probably want to bring a lot of warm clothes.
Avoid Seasickness
Seasickness happens to everybody sooner or later; it makes you feel a little queasy, and some people throw up. This is usually very easy to fix, and there any many tips and tricks you can implement before and during your trip.
Some tips include watching the horizon, getting some fresh air, and drinking or eating ginger in various forms.
Want to prevent seasickness? check this out