Whether you're a sailing enthusiast or have recently adopted an interest in yachts, you've probably heard of catamarans. It can be confusing as the term seems to describe boats, ships, and even massive-cruise vessels. So, what is a catamaran?
A catamaran is a boat with two hulls and a bridge between them. Catamarans can be designed as sailboats or motorboats. A catamaran stays stable since it has a wide base, it does not have a deep keel as on a monohull. Cats are known for not heeling, increased comfort, more space, and faster speeds.
In this article, we will explore everything you need to know about this design, including its origin and its advantages.
Catamaran: A Basic Overview
The term catamaran comes from a 17th-century Tamil term kaṭṭumaram. The Tamil word stands for "tied wood," but those vessels do not share the same working principle as catamarans. 
Even though most "tied wood" rafts in the 17th century India used two logs to keep the deck afloat, the logs acted more like pontoons than catamaran hulls. However, the commonality of two logs translated to catamarans, as these vessels generally have two hulls.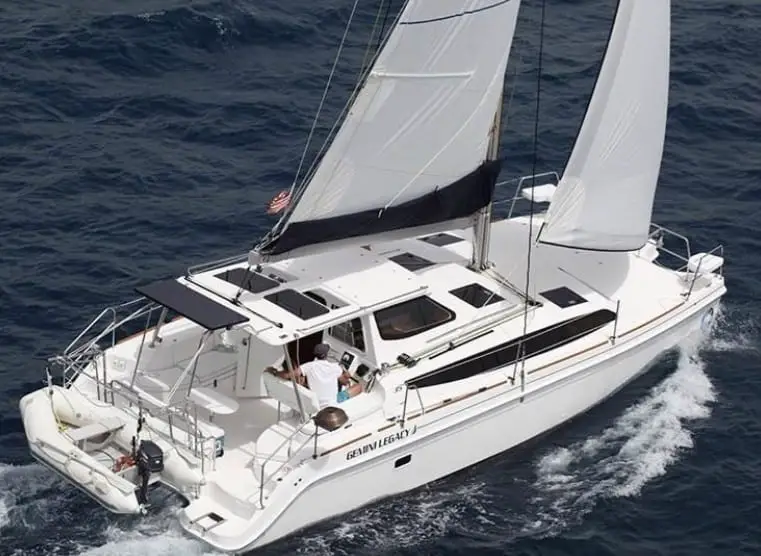 Since the term refers to the design, it is correct to refer to any vessel with two hulls connected by a bridge as a catamaran. However, technical accuracy doesn't necessarily mean general-use correctness. While cruise ships can have catamaran design and small rafts may feature two hulls, the term is most often used for yacht-sized cruising sailboats.
Buyers who would not previously afford any vessel close to a mid-sized yacht can easily order a brand-new catamaran. Even investors interested in collecting income from catamaran renting opt for medium scale catamarans to hedge against depreciation and damage. Therefore, the term catamaran has become synonymous with medium-scale yachts with two hulls.
For the rest of this article, we'll use the term to reflect these vessels, and if a catamaran-style cruise-ship or smaller boats are brought up, the distinction will be highlighted. It is also worth noting that even when dealing with manufacturers and industry literature, the word will refer to medium-sized yachts unless specifically differentiated.
What Are Catamarans Made Of?
One of the most interesting subjects in the overall catamaran conversation is the materials used to manufacture these vessels. That's because different brands use different technology to compose the materials required for the hulls and other areas of a catamaran. 
Hulls of a Bali catamaran are built with sandwich infusion technology using polyester and closed-cell PVC. The brand's catamarans are fitted with daggerboards, and material variety includes Kevlar in regions of impact and carbon fiber in the lower-weight areas.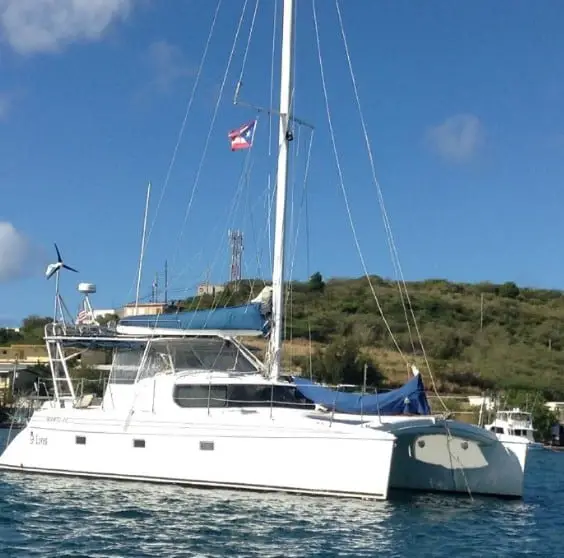 Lagoon catamarans have a history of using solid glass below water level, but newer models have a balsa core in the submerged region. While the specifics of composting technology and materials may vary from brand to brand or even model to model within the same brand, the fact that most of these vessels are made of composite material remains consistent.
Parts of a Catamaran
One cannot ask what a catamaran is without getting curious about the various parts of such a vessel. Here is a breakdown of the various parts that go into this vell's construction:
Hulls
Unlike monohulls, a catamaran has two of these. They're usually hollow and fitted out with beds and even a glass window to look out into the water since they're not submerged. The hulls' function is to push down on the water, so the water reacts by pushing the vessel up. Therefore, they play an essential role in the catamaran's buoyancy.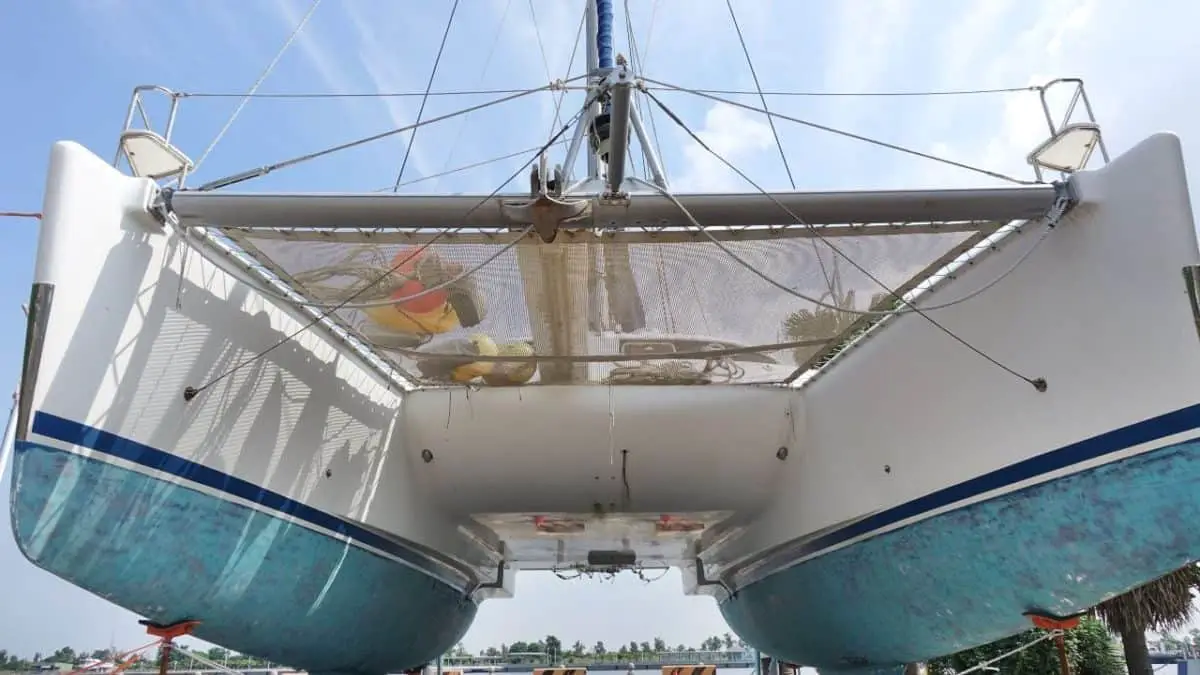 Cross Beams
Because the hulls exert force on the water, there needs to be something that ensures the water's reaction (upwards force) doesn't break the deck. Crossbeams serve as connectors between the two hulls and hold them together such that water's upward force is distributed evenly across the surface between the hulls.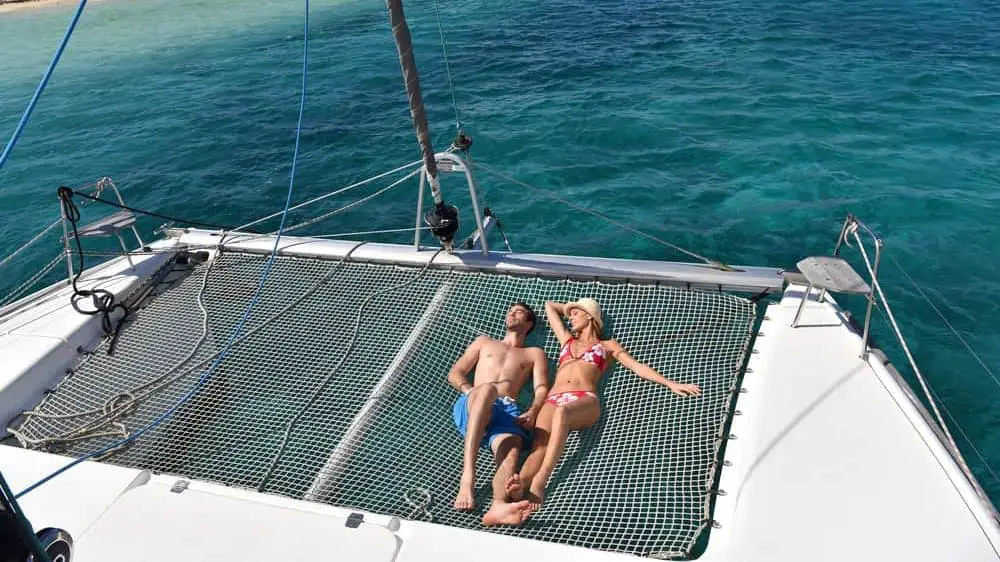 Depending on the size of the vessel, the number of cross beams may vary. Some of the critical characteristics of cross beams include high density and low surface area. 
Bridgedeck
A bridgedeck, as the name suggests, is a deck that serves as a bridge between the hulls. Manufacturers make a compromise between space and sailing efficiency when deciding how to design a bridgedeck for their catamarans. A bridgedeck is given significant clearance to allow for smooth sailing but not too much to leave behind, only the deck for living space.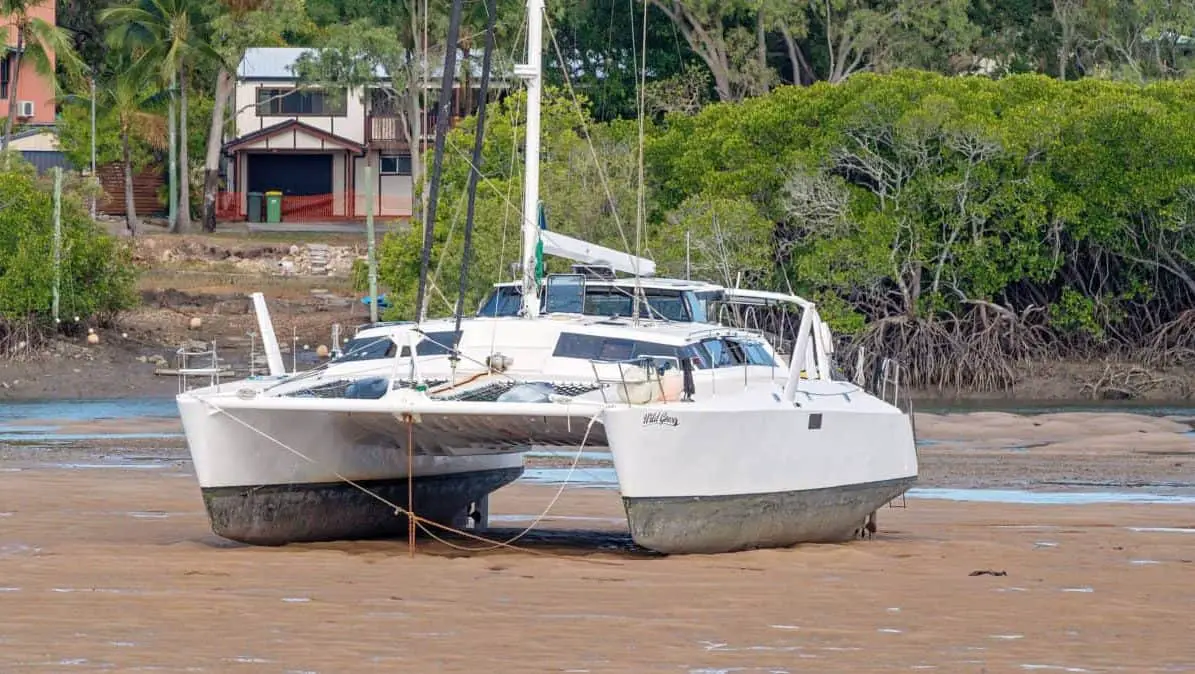 What you should keep in mind about a bridgedeck is that the smaller its clearance, the more water hits its bottom, causing discomfort for those sailing and dealing damage to the vessel. Also, you can't minimize the bridgedeck without affecting the hull size, which means you have to compromise between the two.
Bridge deck slamming explained
Other Parts
While the aforementioned parts are key to a catamaran's construction, they are by no means an exhaustive list of every vessel's component. 
Catamarans have a topdeck, oftentimes a saloon, and separate chambers depending on the size. The standard vessel will have the interior fitting of a yacht of a similar size. Since none of these parts are specific to catamarans, a detailed breakdown of each isn't necessary.
How Long Does a Catamaran Last?
Since catamarans aren't impulse-buys, you must consider the longevity of the specific model you wish to buy. If you go with a boutique manufacturer without knowing about materials and construction, you may be sold a vessel that may last only seven years. 
On the other hand, brands that list their construction methods with transparency regarding materials used are more confident in their product, which has five times the longevity of a cheaply manufactured catamaran.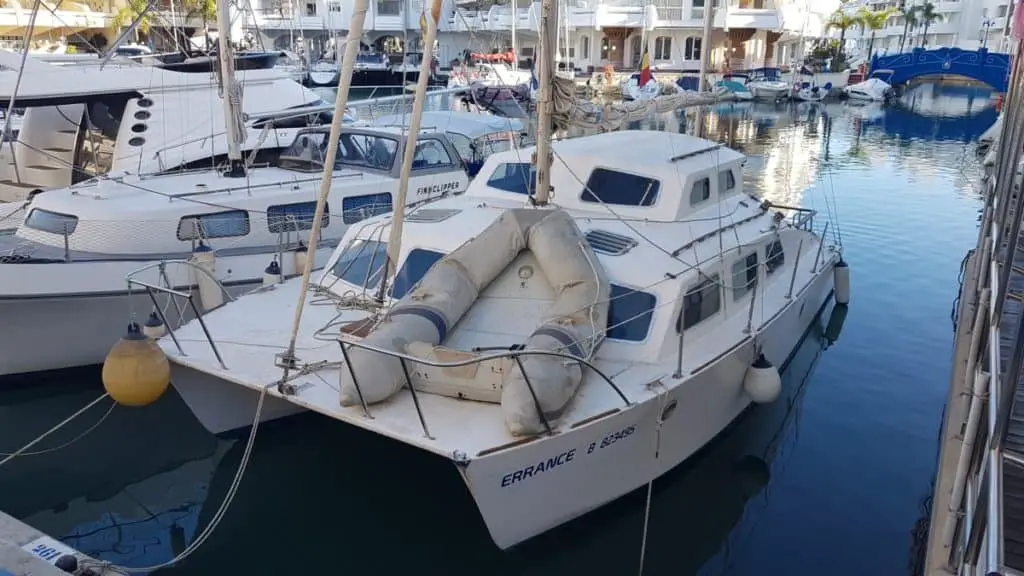 Suppose you wish to purchase a catamaran you want to have for 15+ years. In that case, you may avoid buying a "performance" catamaran that focuses on lightweight in favor of sailing speed and effortlessness on the waves. This conversation becomes more complicated when you consider sailing frequency and its impact on different vessels.
Generally speaking, expecting your catamaran to remain functional and smooth sailing for fifteen years is reasonable. That doesn't mean any catamaran you purchase will fit this criterion but only suggests that you will find vessels with this longevity with relative ease.
Is It Easier to Sail a Catamaran?
It is essential to address different sizes of catamarans when this question arises. Sailing a catamaran sailboat is different from captaining a standard (yacht-sized) catamaran. Since yacht-sized catamarans can come with an autopilot, as can their monohull equivalents, the question becomes more about the sailing experience.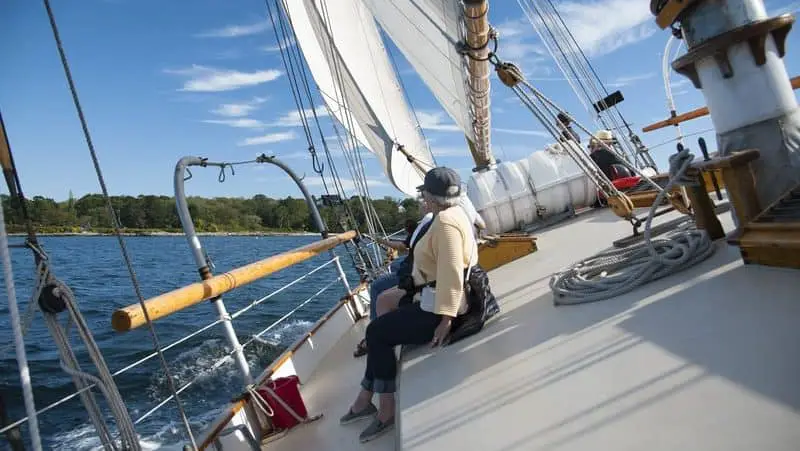 Your guests are more comfortable in a catamaran as the sailing experience doesn't translate water resistance and wind to the vessel's interior as much as it does in a monohull. Monohulls get hit by waves that pass between the two hulls of a catamaran.
As for physically sailing a catamaran-design vessel, the experience is different but not objectively easier. For instance, if you're a seasoned monohull sailor, you'll find what you're used to much easier than adjusting two catamarans. 
Final Thoughts
Catamarans are self-balancing and easy to learn, making them a preferred sailing choice among novices and time-strapped sailing enthusiasts. They have recently become symbols of luxury with comfortable interiors and ample living space.