Performance cruising catamarans are impressive-looking vessels that focus on speed above comfort. These fast boats are ideal for racing and long cruising vacations. But with the numerous brands and models on the market, how do you know which is the best one?  
The best high-speed performance cruising catamarans are the Outremer 4x, McConaghy MC50, Nautitech 44, Gunboat 62, Balance 526, and Marsaudon Composites ORC50. All these boats deliver outstanding speeds and are light in weight, relatively comfortable, and incredibly safe.  
If you are interested in knowing which catamarans are the absolute fastest, then I recommend you read this article, There you will find a speedchart and some interesting info.
This article will explore the brands and models that I believe have the best combination of performance and comfort. We'll look at their speeds and what makes them cruise so fast. We'll also examine the factors to consider when shopping for a performance cruising cat.  
Please note that catamaran speed depends upon a multitude of factors. Speeds mentioned in this article are based on manufacturer statements and interviews with owners. This article should act as a guideline rather than exact science. 
How Fast Are Performance Cruising Catamarans? 
Cruising catamarans are generally faster than monohulls of similar lengths. This means most well-built and well-balanced cats will arrive at their destination much sooner, and the cruise is much more comfortable. Performance cruising cats like the Nautitech include deep daggerboards and rudders, narrow waterline beams, hull chines, and big sail plans that allow for faster sailing than a standard cruising cat.
| CATAMARAN | SPEED (Knots) |
| --- | --- |
| Outremer 4X | 20 |
| McConaghy 52 | 22 |
| Nautitech 44 | 17 |
| ORC 50 | 23 |
| Balance 526 | 20 |
| Gunboat 62 | 20 |
| Privilege Signature 510 (For reference) | 13 |
| Fountaine Pajot Astréa 42 (For reference) | 10 |
Outremer 4X
Outremer Catamarans are well-known for their high speeds. These exciting cats sport brilliant designs, narrow bows, and large rigs. Built in Southern France, the vessels are strong and long-lasting since their structures feature materials such as carbon, glass, and vinyl ester. 
The Outremer 4x is a stable and comfortable high-speeding cruising catamaran that performs ocean crossings and confronts any weather with remarkable ease. Named the European Boat of the Year in 2017, this 48-foot (14.6 m) bluewater cruiser sails faster than wind speed and attains maximum cruising speeds of 20 knots.
The 4x is an upgrade of the extremely popular Outremer 45, thus retaining Outremer's core values of speed, safety, and comfort. It's built for maximum performance and enjoyment, with the lightweight, carbon fiber structure allowing for additional speed under sail. 
Featuring comfort typical of much larger vessels, the Outremer 4X features 4 double cabins, hot water showers, a full kitchen, spacious storage, and excellent ventilation. There's also an expansive deck, an unobstructed cockpit, and large trampoline areas. Most importantly, your safety is assured through the cat's unique features including a robust structure, offshore design, stability, and unrivaled speed potential.
The 4x's cutting-edge design makes it ideal for competitive racing or blue water cruising, and it does both without compromising your comfort, safety, or onboard livability. However, to sail at maximum speed, the boat must remain lightweight, requiring your interior to be fitted out quite minimally. The other downside is the high price tag; the Outremer 4X commands a price between $912,322 and $1,202,945.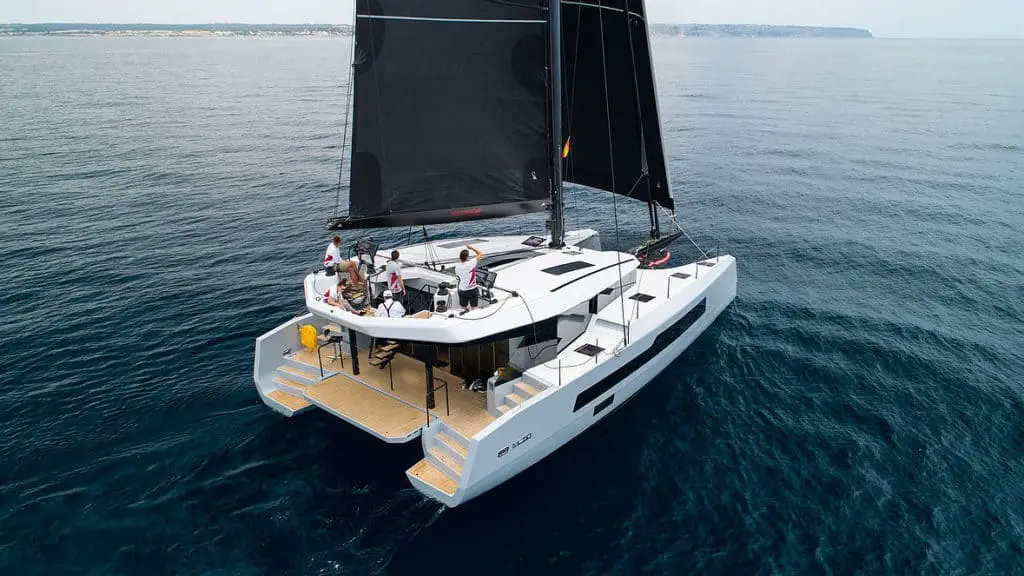 The McConaghy MC52 is a performance luxury cruising cat reflective of McConaghy's 50 years of experience in building high-tech composite projects. The luxurious boat features a flybridge, retracting centerboards, optimized hulls, and an open space bridgedeck combining the salon with the cockpit. You can also customize the boat to your specifications.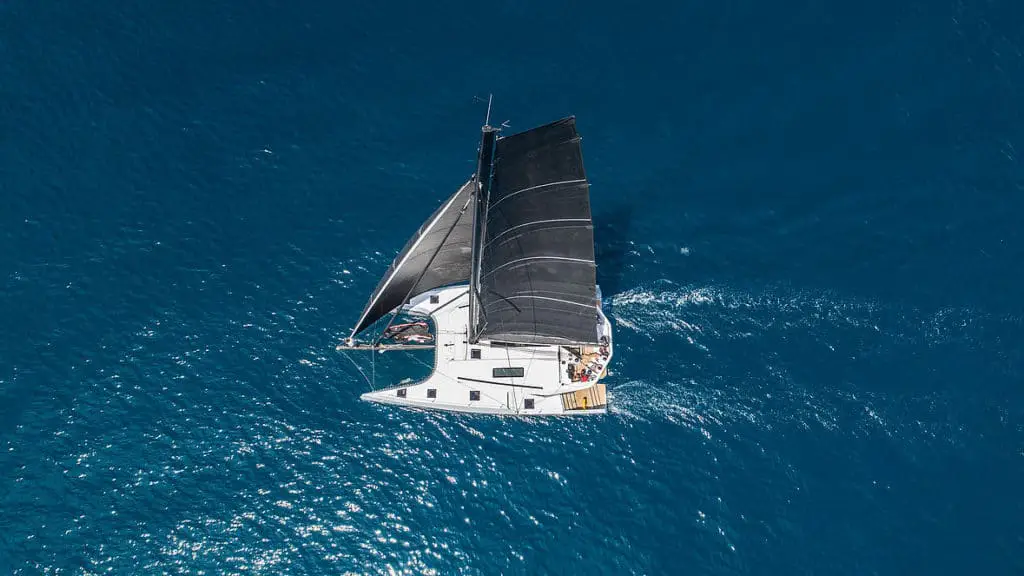 This hi-tech cat comes with sizeable sliding salon windows and frameless doors that provide fantastic views. Its wave-piercing bows can cut through waves, thus helping to increase performance by minimizing pitch resistance, while still retaining a smooth ride. Also, the saloon offers spacious dining space for up to 8 people, and the galley area is more like a penthouse.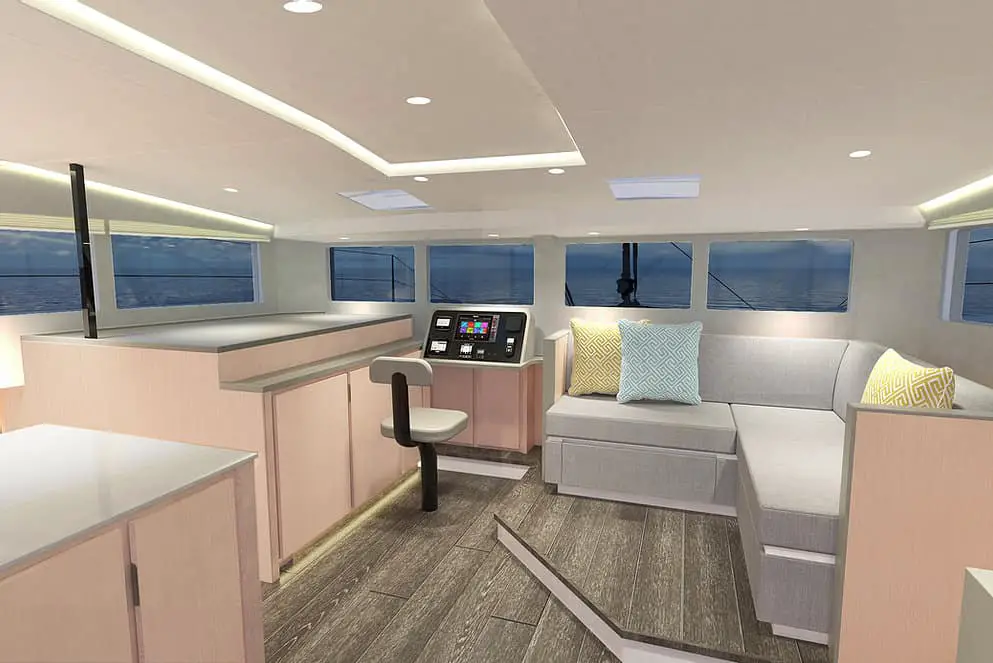 The manufacturer's background in building high-end racing yachts has resulted in an incredibly strong and lightweight vessel capable of reaching 22 knots (40.7 km/h or 25.29 mph). The main downside to this boat is the boom placement on the mast, which is much higher than other high-performance cats. This makes accessing the mainsail somewhat challenging. It also increases the MC50's center of gravity and center of effort.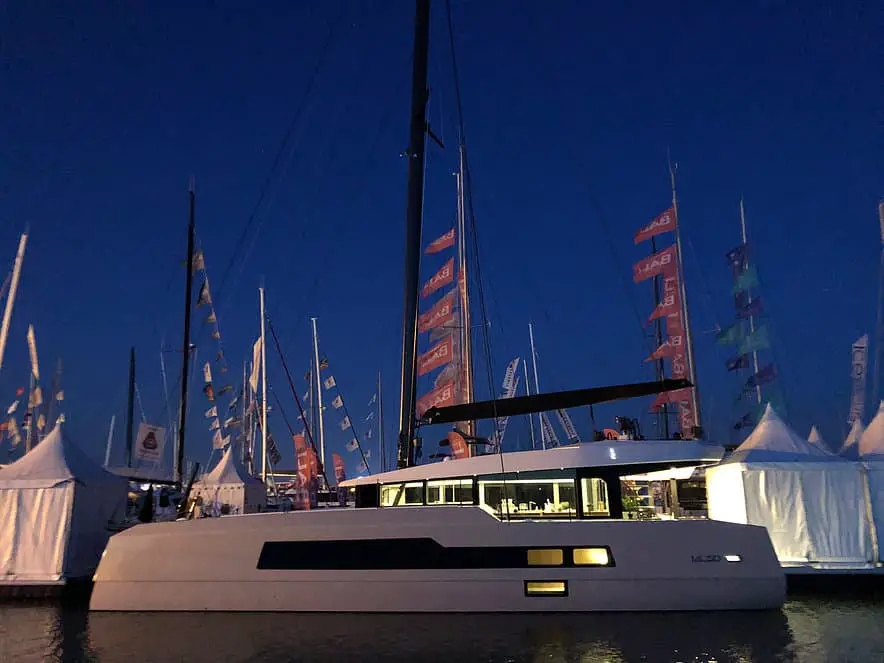 You can get the MC52 for about $1.6 million.
Nautitech 44
The Nautitech 44 easily blends comfort and fun to deliver an impressive sailing performance, whether you take short trips or long ocean crossings. The boat offers a good balance under sail, and it features helming stations on each hull. Plus, there's an integrated hardtop bimini complete with sunroof opening. Slim hulls translate to higher speeds, with the vessel reaching up to 17 knots (31.4 km/h or 19.51 mph).
The well-laid-out interior boasts a functional design, ample storage space, plus all the equipment you require for ocean cruising, such as a fridge, watermaker, and solar. 
Nautitech 44's twin helms give you the real sailing experience with a fantastic view of the sails and great visibility when maneuvering into port. However, you might not appreciate being stuck in the aft helm position without protection in lousy weather or during hot days.
Nevertheless, the boat's responsiveness makes sailing more pleasurable. Plus, it's affordable; the price is between $236,000 and $334,000.
Marsaudon Composites ORC50
Marsaudon Composites vessels are ideal for both racing and cruising. The sporty-looking ORC50 comes with large inverted bows, an angular coachroof, a high freeboard, and a sturdy rotating carbon mast. In addition, the vessel is light which allows it to accelerate quickly, while the angular coachroof offers lots of space and excellent visibility. 
The ORC50 can attain 23+ knots (42.5+ km/h or 26.41+ mph) and is among the fastest high-performance livable multihulls. It's capable of doing more than 350 miles (563.27 km) per day.  
The downside to the ORC50 is it's a bit technical to sail, thus requiring a skilled sailor. Furthermore, its immense power and speed can be intimidating to less experienced sailors. Solely designed for speed, the ORC50's interior is simple, less roomy, and somewhat spartan; hence the boat might not be all that comfy. Still, it'll get you where you want to go pretty fast, and it's an excellent value for money at approximately $787,751.25.
Gunboat 62 
The Gunboat 62 is a true high-speed catamaran capable of sailing at 20 knots (37 km/h or 23 mph) over true wind speeds and known to notch up speeds of 36+ knots (66.7+ km/h or 41.45 mph) on a surf. The initial 3 Gunboat 62 boats featured epoxy, E-glass, and carbon fiber construction, but the fourth vessel was all carbon, sported a taller rig and a more expansive sail area. 
These structural features made the Gunboat 62s extremely light, and they formed the original luxury high-performance cruising cats.
This multihull sailboat boasts a carbon mast, round hull sections for a minimized wetted surface area, high-aspect rudders, and retractable daggerboards. The steering station offers 360-degree visibility and sports overhead hatches that you can use to monitor the mainsail trim. The boat also contains 3 private cabins with queen berths, 2 spacious heads with showers, an aft cockpit, galley, and lounge.
On the downside, Gunboats are pricey cats; hence they're also expensive to maintain. The Gunboat 62 isn't that spacious either as it's more focused on speed, but it's extremely comfortable, plus there's plenty of space for hanging out. You can buy this catamaran starting from $2 million.
Balance 526
Built with a combination of carbon fiber, E-glass, epoxy, closed-cell foam, and composite bulkheads, this boat is strong, light, and can withstand terrible weather. The retractable daggerboards allow for good upwind performance. All high load areas contain carbon fiber, while furniture and cabinets feature cored sandwich construction, producing the lightest yet most robust catamaran. 
A Balance 526 will reach speeds of up to 20knots without stressing the rig too much.
The boat is available in various layouts and comfortably accommodates 6 people. The spacious aft cockpit and saloon provide panoramic visibility. And since Balance 526 can handle the extra weight, you get performance plus all the creature comforts you desire.
Still, Balance 526's pricing is on the higher end, beginning at $1,440,000. Also, the slender hulls result in less space down below. Nevertheless, the boat lives up to its name, achieving the perfect balance between superb performance and comfort.
What Makes Performance Cruising Catamarans So Fast?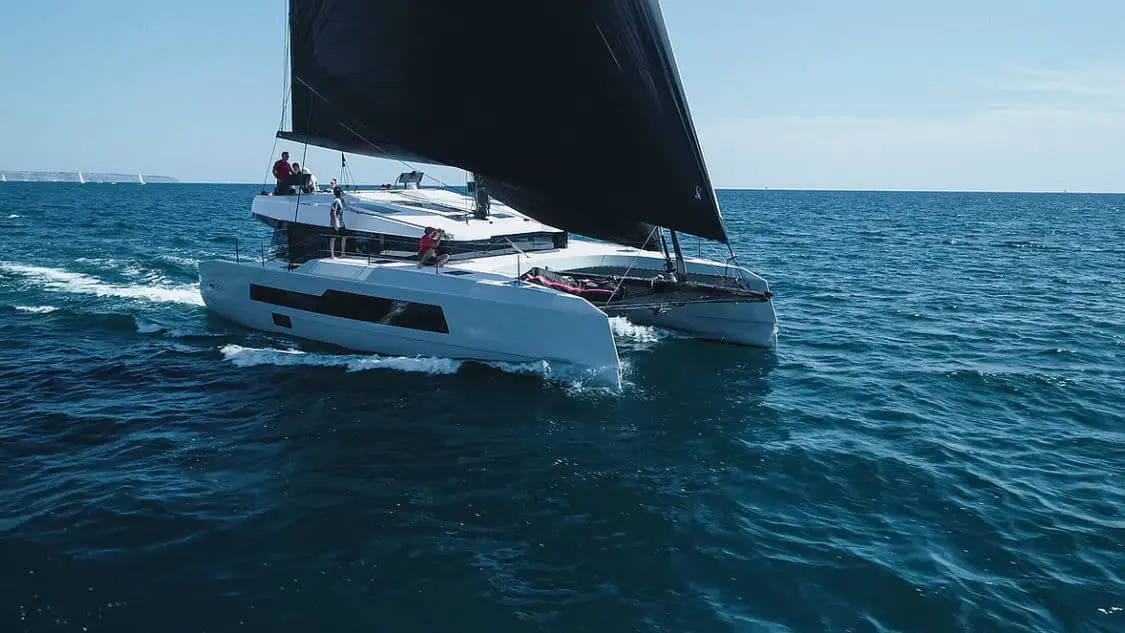 Performance Cruising Catamarans Have Narrow Hulls 
Performance catamarans contain two small narrow hulls, which cause them to have less water resistance. Smaller hulls mean the vessels have much smaller bow waves to fight, allowing them to move extremely fast. In addition, the less hull area is underwater, the faster the boat is capable of moving since there's less drag.
Having said that, it's important to note that a narrow hull is more prone to burying its bows in rough seas. The wider the hull, the more buoyancy it offers, but only up to a given point. After which, the excessive width becomes unmanageable and performance suffers. The key lies in finding the right balance.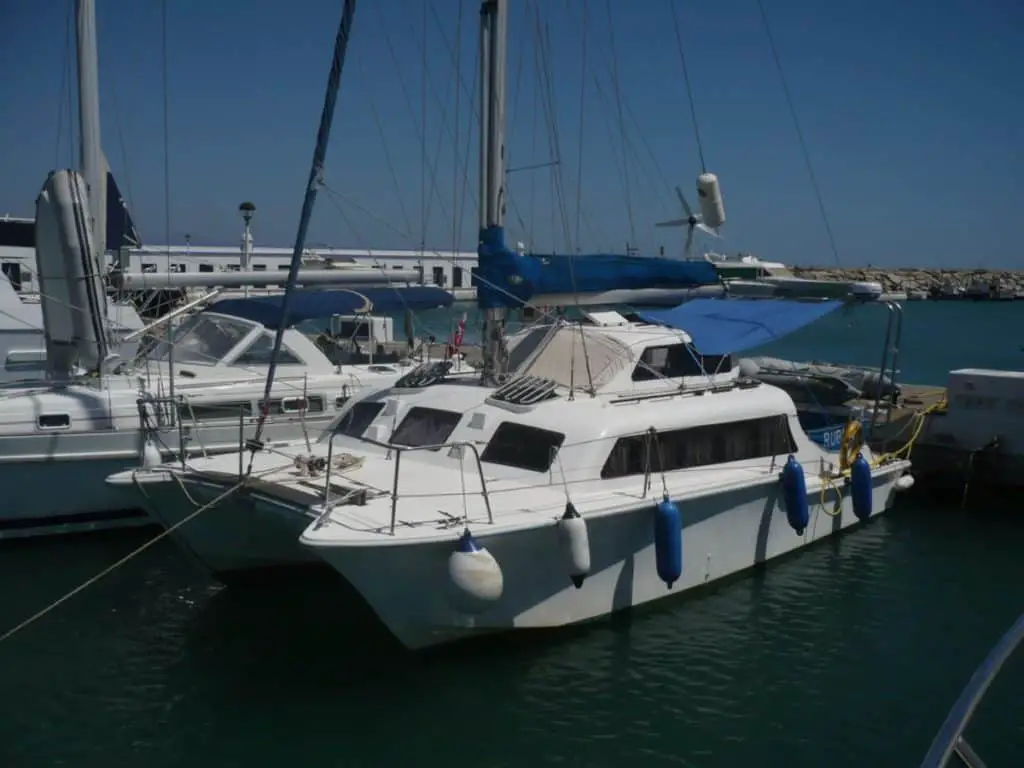 Performance Cruising Catamarans Have Considerable Length
The longer a cruising cat is, the faster it'll move. While each vessel bears a maximum hull speed, in most cases, the lengthier the boat, the higher the speed it can reach. The length of the hull (length on the waterline) also has a significant impact on the speed performance. Thus, the cat attains maximum speeds when the wavelength is equal to the length on the waterline (hull speed).
Therefore, the longer the length of the hull, the better the performance of a high-speed cruising cat. You can also compare two cruising cat's speed based on this measure. 
Performance Cruising Catamarans Have Quality Builds
Modern cat manufacturers continue designing more innovative high-performance cruising cats that deliver a new blend of performance and cruising features. They achieve this by using advanced construction materials, better daggerboard designs, and creative weight allocation. They also keep a keener focus on onboard amenities. For instance, asymmetrical daggerboards placed midships in each hull can help achieve proper balance and hull trim.
The overall goal is to design cruising cats that offer high speeds, outstanding performance, and enough offshore comfort. 
If you are wondering what daggerboards are, I suggest you read this article where I explain how they work and how they differ from a centerboard.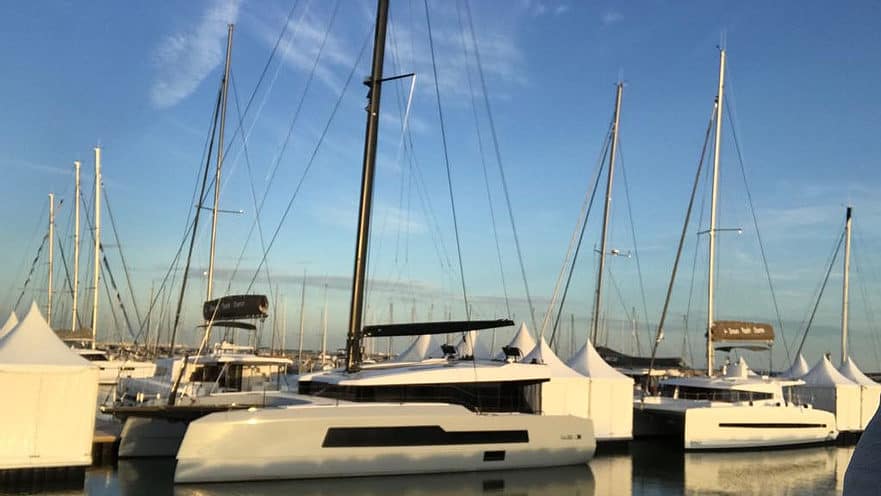 Performance Cruising Catamarans Are Light-weight
The lighter a cruising catamaran, the greater its performance. And some of the most popular high-performance catamarans find optimal balance between performance and comfort. As a result, modern performance-based cruising cats have embraced the use of carbon composite construction for hulls, daggerboards, and rigging, instead of the somewhat heavier glass fiber materials.
A weighed-down cat produces less speed, which means excess immersion of the hulls renders the boat sluggish. The hull submersion also reduces the bridge deck clearance, promoting uncomfortable hull slamming.
You won't find much difference in top speed between performance catamarans bearing similar lengths because they all have displacement hulls and mostly sail to hull speed with occasional surfing. This means that under skilled hands, these cats should exhibit roughly the same performance. A cruising cat's performance is also highly dependent on the state of the sea, wind direction, and speed amongst many other factors.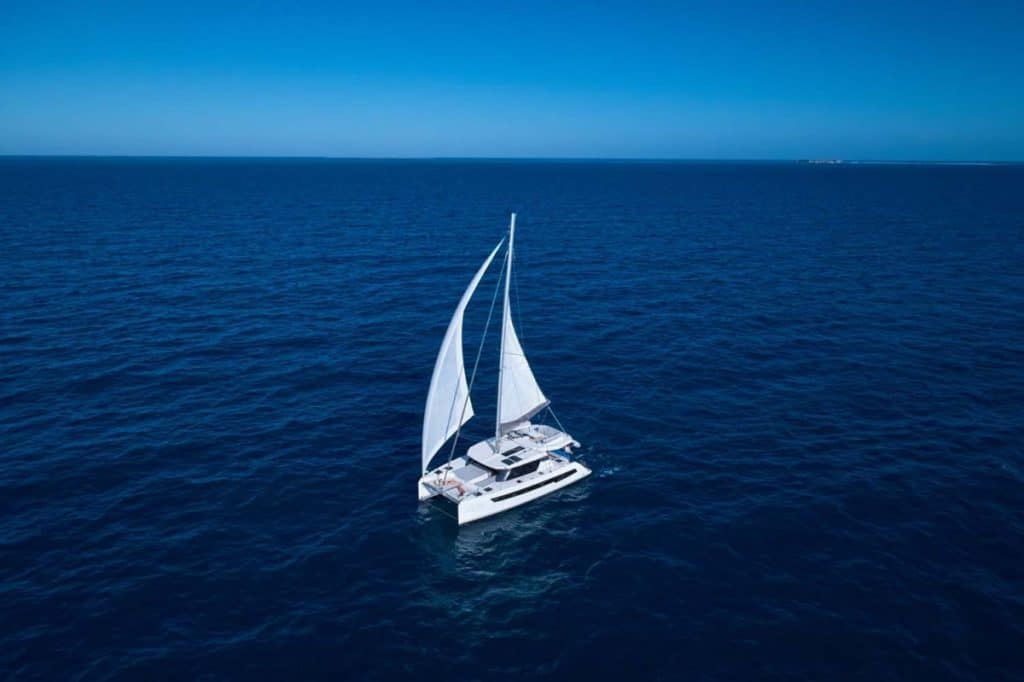 What To Consider When Choosing a Performance Cruising Catamaran
Speed is the number one consideration when choosing a high-speed cruising cat. Yet there are other factors just as important since they contribute to the overall cruising performance, including:
 What you'll use the vessel for and where. Are you planning on doing coastal cruising or serious offshore cruising? Consider the number of people that you'll be sailing with and the activities you'll engage in. This also helps determine the size catamaran you'll need.  
Comfort. While some racing enthusiasts might prefer spartan accommodation plans, most enjoy relative comfort on the high seas. In any case, modern high-speed cruising cats are designed to provide a certain level of creature comforts. And since most performance cats are custom-made, new boat owners may decide precisely which features to include in their cats. 
Quality. To produce light boats, builders employ the use of fine resins, carbon, epoxies, foam cores, and fiberglass. They build using a combination of vacuum-bagged techniques, foam cores, foam composite bulkheads, and make furniture and cabinetry with cored sandwich construction. 
Livability. One cannot underrate the appeal of sailing in a vessel with no heeling, not to mention the high privacy attained from separate living and sleeping areas. Panoramic views and exceptional deck space for lounging and entertaining are also essential in ensuring maximum cruising comfort. Fortunately, most high-speed cruising cats offer all these features and more.
Equipment. Sailing upwind is a challenge for cruising cats since they tend to make lots of leeway. To make things easier, high-speed cruising cats come equipped with bigger rigs and either daggerboards or centerboards. However, this also means skilled sailors are required to operate them. 
Cost. Catamarans are generally expensive, but a cat built with longer, leaner hulls and less costly materials can still give an outstanding performance. Such materials include foam cores, epoxy bulkheads, and epoxy resins. Furthermore, it's not necessary to use only carbon to build a lightweight boat. 
Final Thoughts
Performance cruising catamarans are built using exotic, high-tech, lightweight materials to deliver an electrifying sailing experience. And as we've seen from the above list, these boats deliver performance plus much more. They're not only speed cruisers, but they also provide a smooth, comfortable, and enjoyable cruising experience. 
So, whichever option you go for – from the luxurious Gunboat 62 to the much more affordable Nautitech 44 – you're sure to get a boat that suits your needs. 
Sources