Cruising steadily and relaxing without a care in the world may sound like a fantastic idea. However, you need the right boat and the right support from the builder. I believe that catamarans are the way to go, but which brand should you go with? Today I have chosen a little bit different perspective on how to evaluate the best catamaran brands.
The best cruising catamaran manufacturers have fair prices, safe and easy to handle cats, and offer an adventurous experience. Leopard boasts the best family-friendly vessels, Antares is all about comfort, Fountaine Pajot provides an unforgettable cruise, and Nautitech offers the best performance.
If you're ready to buy yourself a high-end cruising catamaran, read on. Prepare yourself to spend some money and land the life of your dreams. Pack your sunscreen, lean back, and relax—adventure is on its way!
If you are on the hunt for a catamaran (just as I am), I would recommend you check out my other articles, and maybe they can help you find the boat that suits your needs the best.
---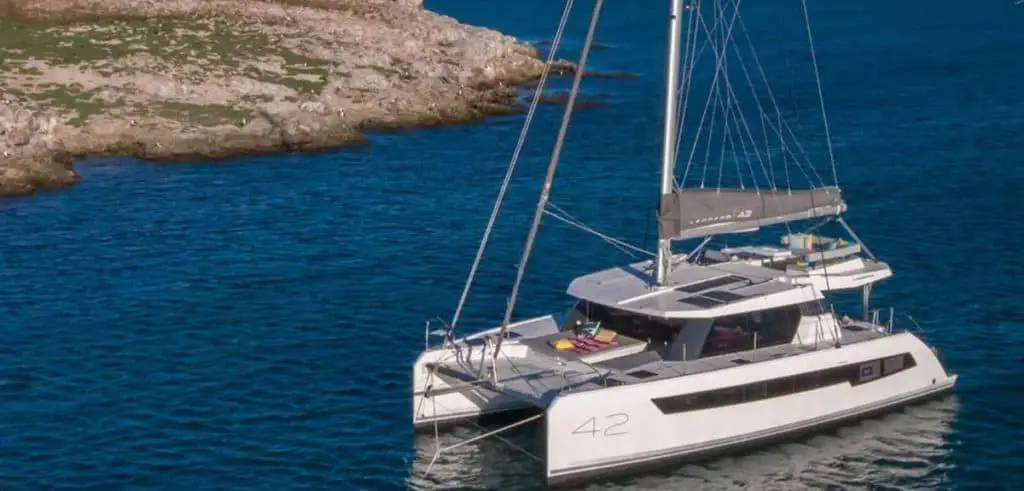 Best for Families: Leopard Catamarans
Coming in at number one, we have Leopard Catamarans, best known for their Leopard 48, which has a great design and easy handling. The brand is also known for pushing the standards of catamarans well past industry norms.
Leopard catamarans are known for being very sturdy and great oceangoing vessels; this sturdiness and high build quality have made leopard a somewhat pricier alternative than, let's say, lagoon. But as we have come to learn the recent years (with bulkhead problems on the Lagoons), this price increase is probably something that you will save in the long run anyway.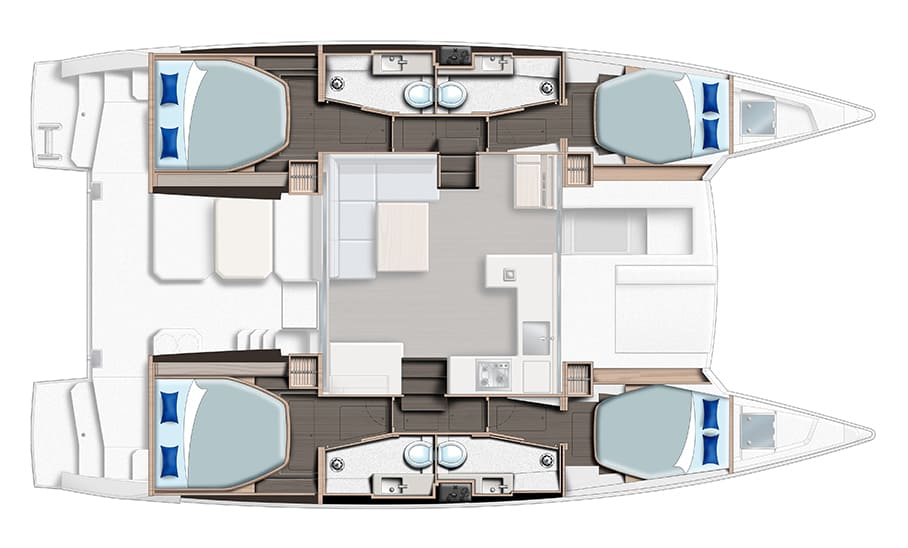 Looking at the Leopard 42 above, we can see that comfort and space are offered in plenty; there are also other versions, but the most common is for the owner to make their own modifications suiting their specific needs.
---
Best for Comfort: Antares Catamarans
When it comes to vacations, you want to relax, but doing so comes with a price. You still need to focus on safety, and Antares takes that cruising aspect seriously. If you decide to buy a catamaran from Antares, you will find that they recommend you "get to know" your boat.
With a brand new design that focuses not only on space and comfort but also on electrical systems, it's clear that Antares wants the best experience for its cruisers. They even redesigned the electrical systems so you can cruise without having to worry about running low on battery power. Something that is all too common on cruising cats that are underpowered.
A few of their unique features include a lightweight cherry wood interior, Corecell construction, and superior steering and autopilot system. This company clearly stands for comfort, relaxation, and safety. So, if you just want to lean back as your cruise, go for Antares. 
---
Best Overall Experience: Fountaine Pajot
Fountaine Pajot states that their boats are designed for the best living space to provide comfort to help you enjoy the cruising experience the right way.
They have the Catamaran Isla 40 for family cruising, the Catamaran Astrea 42 for togetherness, the Catamaran Elba 45 to exceed expectations, the Catamaran Saona 47 known for its majestic traits, and even more. 
With features such as sunbathing areas, well-designed kitchens, comfortable cabins, Italian-style bathrooms, and more, this brand clearly focuses on making sure you get the best experience. So, if you're looking to sit back and let the boat speak for itself, buy a boat from Fountaine Pajot. Remember that your comfort is their number one priority. 
---
Best Performance: Nautitech
Nautitech has a variety of catamarans such as the 40 Open, the 46 Open, the 46 Fly, the 54, and the 47 Power. The 40 Open is known as the perfect balance between performance and lifestyle, with fun experiences and smooth sailing. The 46 Open has a reputation for its unique experience with great safety and luxurious interiors. As for the 46 Fly, it's best known for elegance and comfort.
According to their website, Nautitech is known as a brand that keeps in touch with the living at sea experience, all while providing immense comfort. Nautitech was the first to create the idea of living open onboard by combining the saloon and cockpit into a large and functional living space. After all, their catchphrase on the opening page is "elevate your dreams." 
While they focus on comfort, the power behind it all sets it apart from other companies. With 200 employees producing 80 boats per year, you would almost assume the quality wouldn't be as good. That's where you'd be wrong. It operates at the perfect speed so you and your friends or family can enjoy ocean life.
So, if you want a catamaran with immense comfort and exciting history, get ready to sail with Nautitech. 
---
Best Customer Experience: Lagoon
Online shopping for catamarans can be complicated, but when it comes to Lagoon, they make sure you can easily navigate to find the right boat for you. The front page advertises their newest additions along with an educational blog.
When you go shopping, Lagoon reminds you that delivery may be difficult due to the pandemic. However, they are committed to making sure you're still able to enjoy your experience. Their cat variety is nice, but the features are even better. They even include products other than their boats, like namesake shirts and jackets.
Lagoon even has something called Club Lagoon, which provides extra benefits, including privileged events and personalized meetings. The main goal of Lagoon is to establish a friendly experience with their buyers. It's quite clear that Lagoon sees you as more than just a customer. 
They make sure that you feel comfortable and prove they care about you, not just your money. So, if you're ready for a friendly experience, go with Lagoon!
---
Best Online Experience: Outremer
When you first look at Outremer's website, you'll find that everything is well organized. The first thing that may catch your eye is their virtual nautic experience. Included in this experience is an opportunity to meet and chat with the sales team, watch videos, and attend conferences. You can even download a brochure to learn more!
Their models include the Outremer 45, the Outremer 51, the Outremer 4x, the Outremer 5x, and the Outremer 55. Each one is known for its speed and comforting interior. If you want a more personal experience, you can scroll to the bottom of the catamaran of your choice and click on different parts. This way, you can look around and see if that catamaran is right for you.
Outremer also has a social hub on their website, which includes personal experiences from buyers with different Outremer models. It's quite clear that they are dedicated to making sure you find all the information you need online. This way, you have less trouble deciding which catamaran is best for you, and your vacation doesn't have to wait any longer. 
So, if you're tired of putting your vacation on hold and you're ready to go online shopping for a comfortable catamaran, shop with Outremer. You'll have a simple online experience, and your vacation will be smooth sailing. 
---
Best Reviews: Catana Catamarans
"Performance by Nature" is the phrase that'll catch your eye when you look at Catana Catamarans. They focus entirely on making sure you have the best experience and comfort on their vessels. However, their ranking on this list is based on their review section of the website. If you scroll past the first part of the site, you'll find a customer reviews list.
The main review states that they fell in love with Catana due to two separate comfortable experiences. The reviews are fantastic!
The first model advertised is a new model by the name of Ocean Class. According to the website, it took two years to create. The interior features a comfortable lounge area, kitchen, and more, and the luxurious exterior features yet another lounge area and a nice space to appreciate the ocean breeze.
The second model, the Catana 53, took several months and several architects to create. The interior features windows for fun outside view, several tables and lounge spaces, a spacious and beautifully designed modern kitchen, small yet luxurious bathrooms, and a spa area—the exterior features many lounge areas, including couches with storage underneath and many tables with cozy chairs. 
If you want a comfortable experience with endless relaxation and a luxury feel, you may want to purchase a catamaran from Catana. After all, your review could be on their front page. How nice would that be?
---
Most Popular: Gemini Catamarans
With a fantastic guide on how to own their catamarans and many ways to save money, it's no surprise that Gemini is the most popular on this list. For nearly three decades, their Gemini 105mc has been the most popular catamaran ever built. According to the website, the Gemini 105mc surprises newcomers with its legendary performance.
When you're ready to purchase a catamaran from Gemini, they have a great variety. They have three catamaran brochures, five new catamarans, seven pre-owned, and 30 sold. While a new catamaran sounds like you'll get more bang for your buck, a pre-owned catamaran isn't too shabby either. The prices are lower, and there are precautions taken. You'll end up paying less for something that is just as high quality as a new catamaran.
When it comes to their new catamaran line-up, they have the Hull 1227, Hull 004, Hull 012, Hull 106, and the Hull 1223. However, some are already under a contract, so you'll want to get to their website quickly to reserve your dream cat. While the prices may be high, they offer discounts, and they recently announced they'd have price drops.
Sure, the shopping experience is great, but it may be fun to look at their different models and explore the various features they're best known for. The first model is the popular Gemini 105mc that has been a legacy since 1981. It's spacious, light, and airy, so you can enjoy the sea experience without being cramped up. It's also very safe and stable, so you don't have to worry about any big mishaps; simply cruise.
Another model would be the Gemini Legacy 35. While it's not as popular as the Gemini 105mc, it still has some unique features.
They also have the Gemini Freestyle 37, which is best known for its flexibility. It can be tailored as a basic family catamaran, day-charter boat, or a simple getaway. If you crave a relaxing experience, you're in luck. This boat includes chaise lounges, an outdoor galley, and a wraparound bar. It also has a low base price and can be tailored to suit all of your needs for the perfect cruising vacation.
In addition, they have the Gemini Freestyle 399 Power. It's essentially a power version of the Gemini Freestyle 37. This new catamaran includes several storage areas, comfortable cabins, a vanity unit, a lounge area with seating for up to six people, and air conditioning. 
This would be the perfect catamaran for a group of friends or family on a weekend sail. Of course, this can be renovated to suit your needs for the perfect vacation.
---
Best Marketing: Privilege Catamarans
If you're looking for a personable sales & marketing team that will help you find the perfect catamaran for you, Privilege Catamarans may be your best bet. There are four different people that you can call who will help you decide on the right boat. This includes the owners, Richard Laselle and Helen Goulet, Rob Poirer, who is in charge of sales & marketing, and another marketing person, Salwa Farah.
The website also includes links to various social media platforms that include a wide variety of photos. This tactic may help you get to know the brand and what they have in a more personal way. In my eyes, their marketing strategy is well done. 
The first boat on their website is the 510 Signature, which includes protection for all types of weather, simple sail management, a large variety of storage spaces, comfort, safety, and ventilation. This truly is the best catamaran experience, considering how well it's advertised.
They also have the 580 Signature, which includes a forward lounge with shade and soft cushions, forward-facing navigation, and more. It has a reputation as the most comfortable and easiest to navigate on the website. 
But comfort can only go so far, right? Wrong! The 640 Series includes adjustable furniture so you can have the best and most comfortable experience. With a spacious and comfortable layout, you truly can't go wrong with this cruise. 
The last catamaran on their website is the 740 Series. It is the most unique design on their website, including five ensuite cabins and one wonder's cabin. There is a variety of activities you can participate in on the exterior. The interior can be as comfortable as you please since you will work with the team at Privilege Catamarans to figure out what is best for you. 
So, if you want a high-luxury experience for you and the family, check out Privilege Catamarans.  
---
Best Affordability: Manta
Last but not least, we have Manta. This fantastic brand has eight different models that range from coastal to offshore cruising.
On the website, the main Manta catamarans for sale are the Manta 44 Powercat, Manta 42 MK II, Manta 42 MK I, Manta 40, and the Manta 30. The prices are fair, and the features are fantastic.
There is also a Manta owners club which doesn't seem to be very active at the moment as far as I can tell.
Final Thoughts
As we've seen, the best cruising catamaran brands focus on comfort just as much as they focus on safety. With luxurious experiences and tons of opportunities to relax, who wouldn't want to cruise away? However, other brands focus more on being personal with their buyers. 
I asked catamaran sailors what their favorite books are, Here is the list: 15 Best Books about Cruising Cats!
Regardless of what brand you choose, you're sure to enjoy a nice, relaxing vacation or lifestyle if you choose to move onboard. Whether it's with your partner, friends, or the whole family, you'll have loads of nice memories to look back on.