Cruising steadily and relaxing without a care in the world may sound like a fantastic idea. However, you need the right boat and the right support from the builder. I believe that catamarans are the way to go, but which brand should you go with? Today I have chosen a little bit different perspective on how to evaluate the best catamaran brands.
Leopard, Nautitech, and Catana are some of the best cruising catamaran manufacturers. They offer safe and easy to handle cats with impressive speeds. Leopard boasts the best family-friendly vessels, Antares is environment friendly, and Nautitech offers impressive performance.
If you're ready to buy yourself a high-end cruising catamaran, read on. Prepare yourself to spend some money and land the life of your dreams. Pack your sunscreen, lean back, and relax—adventure is on its way!
If you are on the hunt for a catamaran (just as I am), I would recommend you check out my other articles, and maybe they can help you find the boat that suits your needs the best.
This article is based on a poll with over 479 participants. The results from that poll was combined with interviews together and research to give you this collection of the most appreciated catamaran brands. I have also added two "Bonus boats" at the end.
| | | |
| --- | --- | --- |
| Catamaran Brand | Number of Votes | % of Votes |
| 1. Leopard | 95 | 20% |
| 2. Outremer | 72 | 15% |
| 3. Lagoon | 57 | 12% |
| 3. Seawind | 57 | 12% |
| 4. Fountaine Pajot | 45 | 9% |
| 5. Catana | 20 | 4% |
| 6. Nautitech | 19 | 4% |
| 6. Balance | 19 | 4% |
| 7. Privilege | 16 | 3% |
| 7. Antares | 16 | 3% |
| Other | 63 | 13% |
| Total | 479 | 100% |
Best catamaran brand poll
---
1. Best for Families: Leopard Catamarans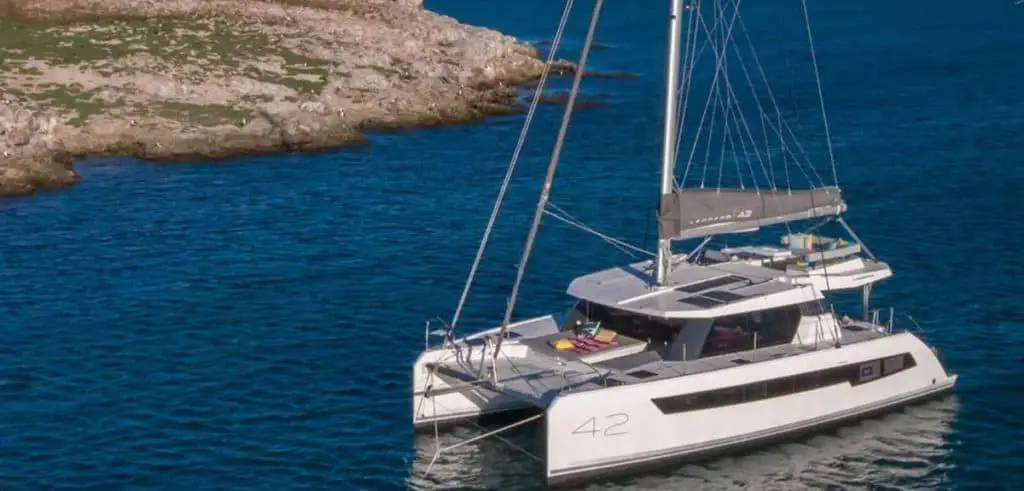 20% of the respondents answered that Leopard catamarans are the most preferred catamaran manufacturer. This puts Leopard at the top of this list! 
As a fine example of build quality, we have the Leopard 48, which has an excellent design and great handling. The brand is also known for pushing the standards of catamarans well past industry norms.
Leopard catamarans are known for being very sturdy and great oceangoing vessels
This sturdiness and high build quality have made leopard a somewhat pricier alternative than, let's say, lagoon. But as we have come to learn the recent years (with bulkhead problems on the Lagoons), this price increase is probably something that you will save in the long run anyway.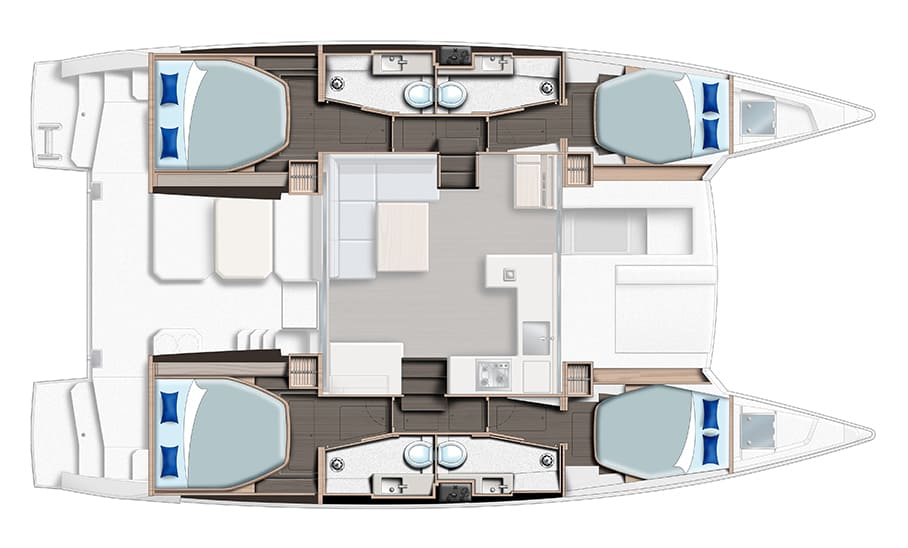 Looking at the Leopard 42 above, we can see that comfort and space are offered in plenty; there are also other versions, but the most common is for the owner to make their own modifications suiting their specific needs.
---
2. Best Racing-Cruising Experience: Outremer
Even though Outremers haven't built nearly as many cats as Leopard they definitely have managed to build a reputation equally as strong. Outremer, even though low in production numbers, comes in 2nd place in this poll of the best catamaran brand.
When you first look at Outremer's website, you'll see the words:
"Ultimate Blue Water Cruiser"

outremer.com
For many this is true, for those of you who follow the youtube channel La Vagabond, they have an Outremer 45 and beautifully showcase how this vessel operates in all types of conditions.
Outremer is famous for continually improving and producing high-performance cruising catamarans in the ranges of 45 to 55ft. This can be seen by their after sales reputation which is said to be next to none.
Outremer also has an interesting perspective on being environmentally friendly, just read this quote from outremer's commercial director:
"If you can sail at 5kts, you can sail 95% of the time"

Matthieu Rougevin-Baville
Slow windspeed sailing is a priority for Outremer, this means less motoring, less noise, less pollution and opens up for better electric propulsion alternatives?
---
3. Best Customer Experience: Lagoon
Unsurpisingly the Lagoon brand takes the 3rd place in this poll, there is a strong owners club and plenty of vessels sailing the world at any given moment!
Online shopping for catamarans can be complicated, but when it comes to Lagoon, they make sure you can easily navigate to find the right boat for you. The front page advertises their newest additions along with an educational blog.
"[You should get an] Early 2000s Lagoon. We own a 2001 Lagoon 470. Incredible boat"

Jacob, Lagoon 470 owner
When you go shopping, Lagoon reminds you that delivery may be difficult due to the recent pandemic. However, they are committed to making sure you're still able to enjoy your experience. Their cat variety is nice, but the features are even better.
Lagoon even has something called Club Lagoon, which provides extra benefits, including privileged events and personalized meetings. The main goal of Lagoon is to establish a friendly experience with its buyers. It's quite clear that Lagoon sees you as more than just a customer. 
Lagoon has come in some bad weather for the bulkhead issues of the L450, but to be fair this is only one model of many ever produced. Lagoon still stands as one of the top catamaran manufactures in the world.
They make sure that you feel comfortable and prove they care about you, not just your money. So, if you're ready for a friendly experience, go with Lagoon!
---
4. Best Overall Experience: Fountaine Pajot
Fountaine Pajot got 9% of the votes and this landed them a 4th place, respondents commented on the brand as a great liveaboard and fun to sail.
Fountaine Pajot states that their boats are designed for the best living space to provide comfort to help you enjoy the cruising experience the right way.
"Fountaine Pajot – been living aboard our Astrea for 6 months and love it. Easy living, fun to sail, rides well."

Jay, poll respondant
With features such as sunbathing areas, well-designed kitchens, comfortable cabins, Italian-style bathrooms, and more, this brand clearly focuses on making sure you get the best experience. So, if you're looking to sit back and let the boat speak for itself, get a Fountaine Pajot. Remember that your comfort is their number one priority. 
---
5. Best Reviews: Catana Catamarans
Catana only gets 4% of the votes and this puts them in the 5th postion. For a catamaran of this caliber, this came as a surprise to me.
Much like the Nautitech, Catana designs their cat with a somewhat more open and "unprotected" helm oftentimes seen in racing, this allows for great visibility but can be stressful on the crew during long passages.
Catana remains one of the fastest production catamarans out there and you got to love their slogan:
"Performance by Nature"

Catana.com
Everywhere you look, on Youtube, websites, or talking to owners, almost all of them love the Catana, some might not favor the helm position (but usually those are people who haven't actually sailed a Catana) but all love the general feel and look of the boat.
The Catana is one the highest praised catamarans that I have researched but for some reason this doesn't reflect in the poll.
---
6. Best Performance: Nautitech
The Nautitech brand gets 4% of the votes and that lands them the 6th position on this list, respondents said the boats are fast and easy to sail.
Nautitech has a variety of catamarans such as the 40 Open, the 46 Open, the 46 Fly, the 54, and the 47 Power.
The 46 Open has a reputation for its unique experience with great safety and luxurious interiors. As for the 46 Fly, it's best known for its revolutionary flybridge on a sailing cat.
"Nautitech 46. Simple to sail. Great safety. Easy docking single handed. Fabulous access to engines water maker. Calorifier. Fast boat if kept light."

Alan, poll respondant
According to their website, Nautitech is known as a brand that keeps in touch with the living at sea experience, all while providing immense comfort.
Nautitech was the first to create the idea of "open living" onboard by combining the saloon and cockpit into a large and functional living space. After all, their catchphrase on the opening page is "elevate your dreams." 
While they focus on comfort, the might behind it all sets it apart from other companies. With 200 employees producing 80 boats per year, you would almost assume the quality wouldn't be as good. That's where you'd be wrong. It operates at the perfect speed so you and your friends or family can enjoy ocean life.
So, if you want a catamaran with comfort and exciting history, get ready to sail with Nautitech. 
---
7. Best Semi-Custom: Privilege Catamarans
Privilege only scored 3% of the votes and got a shared 8th and last place together with Antares. 
Make no misstake these are not bad boats, but they are somewhat more rare to be seen and as such numbers will always lean towards the more common brands.
If you know what you want it's a pretty high likelihood that privilege will be able to construct it for you, the brand is known as the midway between custom and production cats. Bringing benefits from both worlds into its own genre of boats.
The list of customizations is impressive and I would be surprised if you didn't find what you were looking for, just remember, with custom boats comes custom problems, so maybe with semi-custom boats, you get semi-custom problems?
In some ways, this model is the opposite of let's say Lagoon 380, which has hundreds of identical vessels and a large community of people around it.
Privileges are usually not the fastest cats out there, but if you are prepared to give up a little bit of speed you will most definitely enjoy sailing in great comfort on this masterpiece.
---
8. Best For Environment: Antares Catamarans
Antares comes in as number 8 in our poll with only 3% of the votes, make no misstake Antares are great boats and even though it might not be the favorite of the majority I would personally love sailing one.
When it comes to vacations, you want to relax, but you still need to focus on safety, and Antares takes that cruising aspect seriously. If you decide to buy a catamaran from Antares (here´s a buyers guide), you will find that they recommend you "get to know" your boat.
"As far as actual cruising cats I love my Manta and getting a solid blue water boat under $300k is amazing. But I've been on a Antares. Wow."

Jim, poll respondant
Antares is known for building blue-water capable vessels that are sturdy and excellent for liveaboards.
With a brand new design that focuses not only on space and comfort but also on bringing modern technology onboard and making it environmentally friendly, it's clear that Antares wants the best experience for its cruisers and for the planet.
They redesigned the electrical system to create a diesel hybrid so you can cruise without having to worry about running low on battery power, all while doing your part in protecting the planet.
Something that is all too common on cruising cats is their poorly sized battery and electrical system making cruisers more often than necessary rely on the genset. With 1800w of solar panels, this is no longer an issue.
A few of their great features include a lightweight cherry wood interior, Corecell construction, and superior steering. This company clearly stands for comfort, relaxation, and safety.
---
Bonus Boat: Most Popular For Coastal Sailing, Gemini Catamarans
Even though the poll didnt include the Gemini brand, there is no way denying that this is a very popular catamaran manufacturer. The company has produced and sold more than +1200 boats (source). 
For nearly three decades, their Gemini 105mc has been the most popular catamaran ever built (measured by number of units sold).
According to the website, the Gemini 105mc surprises newcomers with its legendary performance. I would take this with a grain of salt, or two, or maybe a bucket full.
Although Geminis aren't as beautiful or fast as the other cats on this list, they are much cheaper and smaller. Some Geminis even fit inside a regular monohull slip which will save you tons of money in marina fees.
These are no bluewater I-am-going-to-sail-the-world type of boats, but they are perfect for coastal and inshore cruising whether it be a weekend or full-on liveaboard.
Theese boats are so interesting that I have written an entire article on the topic that you can read here.
When it comes to their new catamaran line-up, they have the Hull 1227, Hull 004, Hull 012, Hull 106, and the Hull 1223. While the prices may still be high, they offer discounts, and they recently announced they'd have price drops.
The popular Gemini 105mc that has been a legacy since 1981. It's spacious, light, and airy.
Another interesting model is the Gemini Legacy 35. While it's not as popular as the Gemini 105mc, it still has some unique features.
They also have the Gemini Freestyle 37, which is best known for its flexibility. It can be tailored as a basic family catamaran, day-charter boat, or for single-handed sailing. It also has a low starting price and can be tailored to suit all of your needs for the perfect cruising vacation.
In addition, they have the Gemini Freestyle 399 Power. It's essentially a power version of the Gemini Freestyle 37. This new catamaran includes several storage areas, comfortable cabins, a vanity unit, a lounge area with seating for up to six people, and air conditioning. 
This would be the perfect catamaran for a group of friends or family on a weekend sail.
---
Bonus Boat: Best Affordability, Manta
Manta only got 7 votes and didnt even make the poll results, BUT, this brand is still worth mentioning since it is one of the best bluewater capable catamaran you can get for under $300k.
This fantastic brand has eight different models that range from coastal to offshore cruising.
If you want to know more about the amazing and affordable Manta i recommend this post: Manta 42, Why its better than its pricetag.
Mantas are one of my favorite boats, but as soon as they show up for sale, they are gone.
There is also a Manta owners club which doesn't seem to be very active at the moment as far as I can tell.
---
Final Thoughts
As we've seen, the best cruising catamaran brands focus on comfort just as much as they focus on safety. With luxurious experiences and tons of opportunities to relax while also experiencing the adventure of a lifetime, who wouldn't want to cruise away?
Here are Some of My Favorite Catamaran Cruising Resources
Thank you for reading this article. I hope you found it helpful as you hopefully start your sailing adventures. Here are some resources that I use as a sailor that I hope you'll also find helpful. These are affiliate links, so if you do decide to use any of them, I'll earn a commission. But in all honesty, these are the exact things that I use and recommend to everyone, even my own family.
Books: For getting started, I really like Cruising catamarans made easy. It is actually a textbook from the American sailing association it is used to get a cruising catamaran certification. there are some other great books and you can find my complete list here.
Communication: Being out on adventures, whether it be sailing or climbing mountains, good communications are essential to being safe. I recommend two things Google fi (incredibly simple cellular data all over the world) and Garmin inreach mini (for text and voice in remote areas without cell coverage)
Sailing courses: Online sailing courses are great for beginners starting out their sailing career, it's an efficient way of learning the basics of navigation, throttle controls, and maritime safety. I suggest starting with two free courses from NauticEd.
To see all my most up-to-date recommendations, check out this resource that I made for you!