Reading forums, watching youtube, and listening to yacht salespeople, I got the sense that there are no good Catamaran boats under USD 200 000. I sincerely believe that this is wrong, and hopefully, after you have read this article, you will have a better understanding of which boats under 200k are worth looking into.
The 12 Best Catamarans you can buy for under USD 200 000 (Read below to understand why):
Lagoon 380
Gemini Legacy 35
Dean 440
Lagoon 410
Manta 40
Prout 38
Leopard 38
Leopard 3800
Seawind 1200
Voyage 430
Leopard 47
Fountaine Pajot Bahia 46
Below I will present more in-detail information about some of these boats; I have chosen the ones that I have studied myself and feel confident enough to talk about.
This article is a result of the research I am doing; I am looking for a Catamaran in between $100k and $200k; the list above includes some of the most exciting examples that I believe also are the best options if your budget is under 200k. As I learn more about each catamaran on the list, I will update this post and share the knowledge with you guys!
If you are unsure of wheteher or not a catamaran of this price can be safe, then i recommend you read my article on Why catamarans capsize! That article will give you the knowledge to judge for yourself.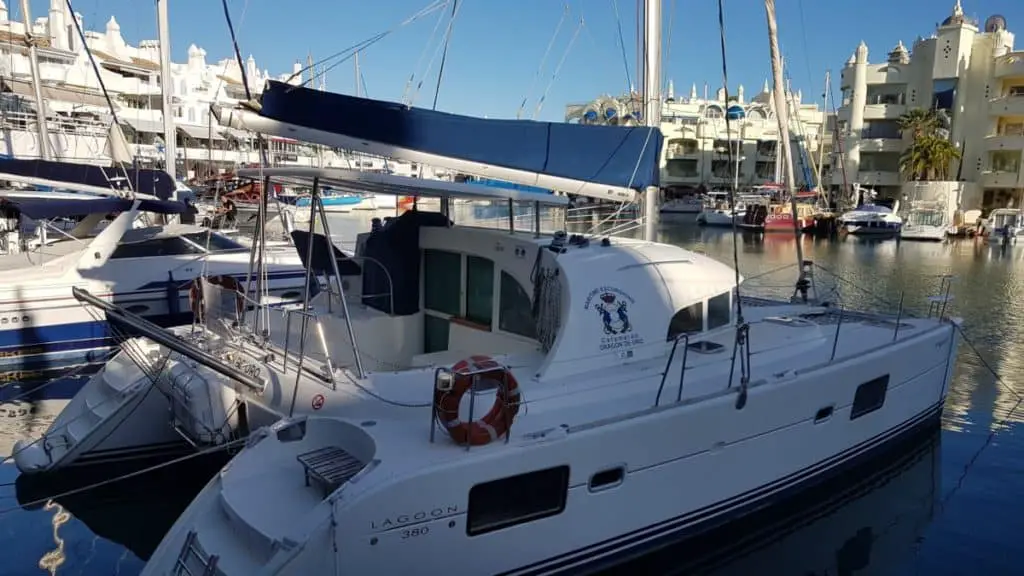 2002 Lagoon 380, $160 000
Known For:
This is the most famous and well know of all Catamarans; it's been around for many years and has a large community built around the boat. It is easy to understand why this is the most sold catamarans of all time. Using that community to your advantage when it comes to repairs and general knowledge is excellent since it will save you a lot of money and time since many others have already made all the mistakes, so you dont have to.
It is known for being easy to handle and a stable platform both during ocean crossing and sleeping at anchor.
Blue Water:
The L380 is known to be a slow catamaran, this is due to the wide hulls and spacious interior, another concern I have is the somewhat low bridge deck clearance. The low bridge deck clearance makes for a lot of noise while going upwind but it is also what makes the saloon so roomy. Taking the Lagoon out for day trips I found this boat very comfortable with a well-planned interior (video below) but a little on the sluggish side for me.
If you want to better understand what makes a good blue water catamaran i suggest reading my article named: What is a Blue water catamaran.
In summary, i believe this catamaran is perfect for coastal sailing and totally ok for Ocean Crossings.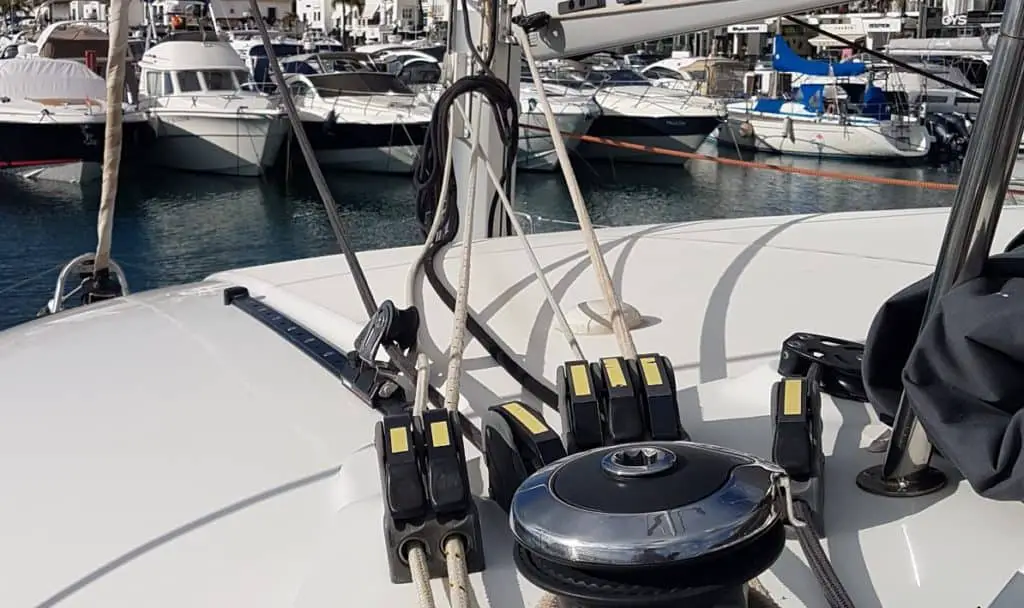 Safety:
The Lagoon 380 is not in any way an unsafe boat, but I would like to discuss a few things that I have come across during my research of this boat.
The L380 doesn't have dedicated bilge pumps; this might be true for newer designs, but they are nonexistent for the older ones.
As a rule of thumb, when it comes to safety, you want back-ups because when you need a safety device such as a bilge pump, you want it to work and operate effectively. I have experienced this firsthand when I got a big hole(long story for another time) in my boat, and I had to use all the pumps I could. What happened? of course, one pump broke, but since I had back-ups, including a manual hand pump, we were able to stay afloat.
If I hadn't had any backups, this story would be very different.
The video below shows a Lagoon 380 i visited a few weeks ago and why im now looking for something different!
Liveaboard:
The Lagoon 380 is by many the preferred options when it comes to making a boat your home. It is roomy and allows for wide berths(beds) and a big galley(kitchen).
It is also known for being an easy Catamaran to maintain and service. One example is the ease of doing repairs on your engines. To exemplify this ill, give you a quote from the owner of a lagoon 380 called Indigo Moon
"… I can change the entire seawater cooling pump on one of my yanmars in less than five minutes, literally."

Owner of Indigo Moon discussing the simplicity of engine repairs
Known for:
The American made Gemini known for its small beam, making it fit in a standard slip and making it possible to be lifted out with a regular travel lift found in many marinas.
This also means that it can be transported by truck across the country, which is very uncommon in the catamaran world. They are built by the thousands, and due to their small draft (34 inches) can go right up to the beach.
The Legacy gives the owner the possibility to enjoy warm coastal waters in a cheap and manageable way. For this type of circumstance, it is for many the perfect choice. The boat is easy to sail and a walk in the park to operate in the marina.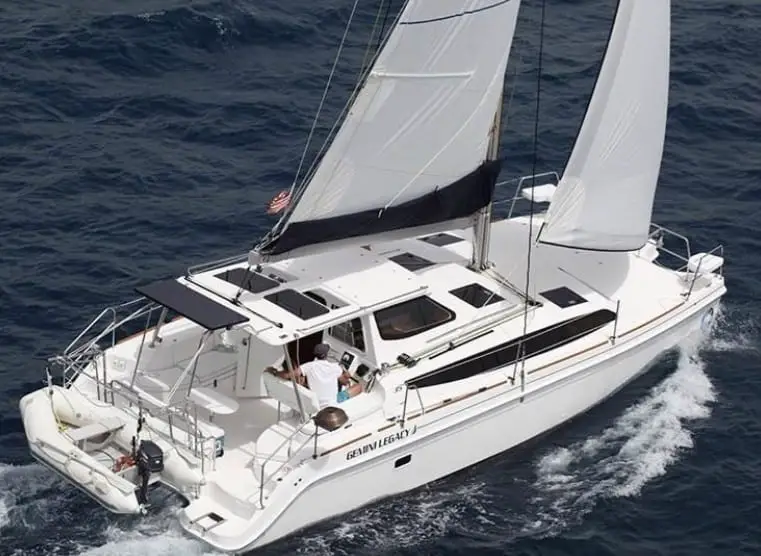 Safety:
Although it has been done, the Gemini is not really up for the task of serious bluewater sailing, so having a discussion of safety needs to be in the context of coastal waters.
I believe that the Gemini Legacy is very well suited for coastal waters, where the need for handling big waters is a minimum. If it were in the blue water category, I would discuss trampolines instead of the solid deck.
If you want to better understand why trampolines are an important safety factor i suggest you read another one of my articles.
But for coastal waters where there is a higher risk of running aground than of big seas, the small draft really is useful since it will allow you to go to places where monohulls can not allowing you for a safer and better experience.
The small bridge deck clearance is also something that is more suitable for coastal weekend sailing!
This doesn't mean that you can't go to the Bahamas or BVI from Florida; it only means that you have to plan your trip to make sure you dont get into bad weather offshore.
Liveaboard:
It is definitely possible to live aboard a Legacy and enjoy it; it's not a giant boat, but it has been done, and this couple is an interesting example of that.
The cockpit is big and allows for much more social activities than on let's say an offshore monohull, which is tiny compared.
Where to live aboard your boat? may i suggest some locations in this article: Best spots to live aboard a catamaran!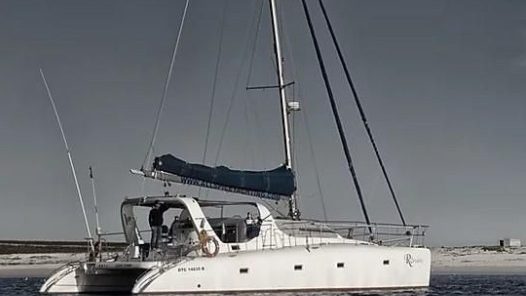 Known for:
Just as many other "small" boat builders, Dean Catamarans are built out of South Africa. South African catamarans tend to have less bridge deck clearance, but this is probably one with the biggest, and as far as I understand, it is not a big issue with bridge deck slamming on the Dean 440.
Safety:
Dean Catamarans are known for their excellent build quality and structural integrity, making them great for big ocean passaging and heavy weather.
Liveaboard:
In combination with the reputation for speed, this makes for a great cruising catamaran; the only downside might be the volatility in price compared to the more commons boats such as Lagoon or Leopard, which tend to be more stable price-wise.
Ensure you get a reasonable price on your Dean, so you get all of that money back! And if you are on the hunt for a smaller Dean cat, I suggest you check out this sailing couples channel Sailing Lady Africa.
Check out my Catamaran Buyers Guide if you want to get the right boat at the right price!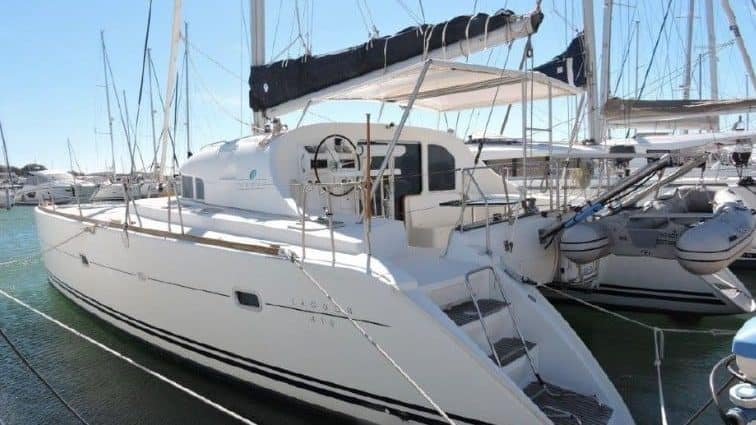 Known for:
Much like its little brother, this boat is loved by many, it is very spacious and like its brother also not the fastest thing you can get. Sailing upwind will also not be the most exciting thing you will do on this cat.
Researching this boat read a review stating that this specific model tends to pitch less than other ships of the same size, I'm not sure but if you are prone to seasickness then maybe this might be something to dive a little deeper into
Read this if you want to Want to know more about seasickness on a catamaran and how to prevent it!
Safety:
The lagoon 410 employs big trampolines instead of a solid deck; this is a big deal for big ocean sailing. One possible catastrophic situation is to bury the bows in a wave and then have the boat pitchpole, creating a potentially deadly situation.
Want to know more about the difference between trampolines and a solid deck? read this post
Liveaboard:
Many would argue this cat is perfect; it's big, with plenty of room for storage such as scuba gear, surf gear, etc.
With its eight berth layout, you can bring your family plus the neighbors family and still have plenty of room left. I think this is one of the coolest boats around.
And with those giant sugar scoops at the back, there is nothing id like to do more than go for a swim and then climb back up on one!
NOTE: Lately, there have been some issues with Lagoon bulkheads, so make sure you check them thoroughly before buying. For more information, I recommend you watch this lagoon 450 owners youtube channel.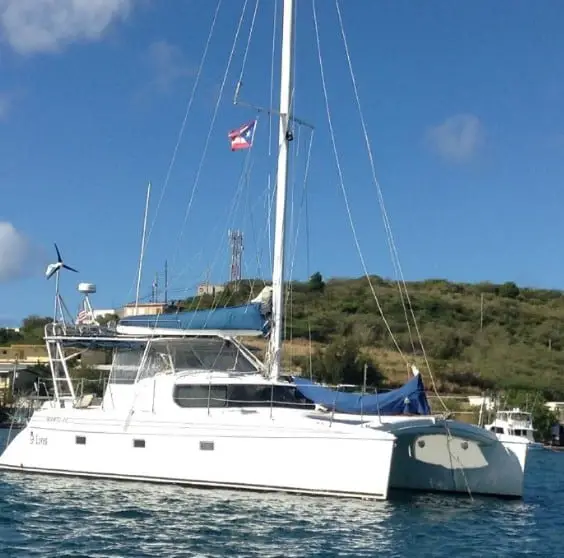 Known for:
The Manta is a well-built boat able to cruise around the world; compared to the Lagoon 410, it's smaller and offers less space for your gear. In addition, it is said to be one of the most sturdy builds in the 40ft length region.
The Manta also has a very shallow draft, at 3 feet 8 inches; it gives the captain the ability to go almost anywhere without the risk of running aground.
The boat also offers ease of servicing since the engines are located under the bunks in each hull, and access is excellent even if you're a tall person.
So now that you have a great boat for sailing around the world, how is it actually done, check this article out on how to sail around the world! 
Bluewater:
Equipped with the correct offshore gear and skillset of the crew, this cat will take you wherever you want to go.
The Manta 40 is not a "true" 40 ft boat. It is more of a stretched out 36 ft since the older ones where almost flat at the stern, and adding sugar scopes made it the few extra feet to qualify as a 40.
The Manta has a higher bridge deck clearance than many, which reduces the well familiar pounding noise from a cat heading into the waves.
Safety:
The boat is configured for short-handed sailing, which means that all the lines go all the way to the cockpit; the lines are color-coded and stay clear of the seating area.
All the adjustments you need to do underway can be made from the cockpit, thus minimizing time outside the cockpit's safe zone.
Liveaboard:
Compared to other boats in the same length category, the Manta is narrower and offers less space to store your gear, but at 65″ headroom in the hulls and standing headroom, there is plenty of room to stand tall.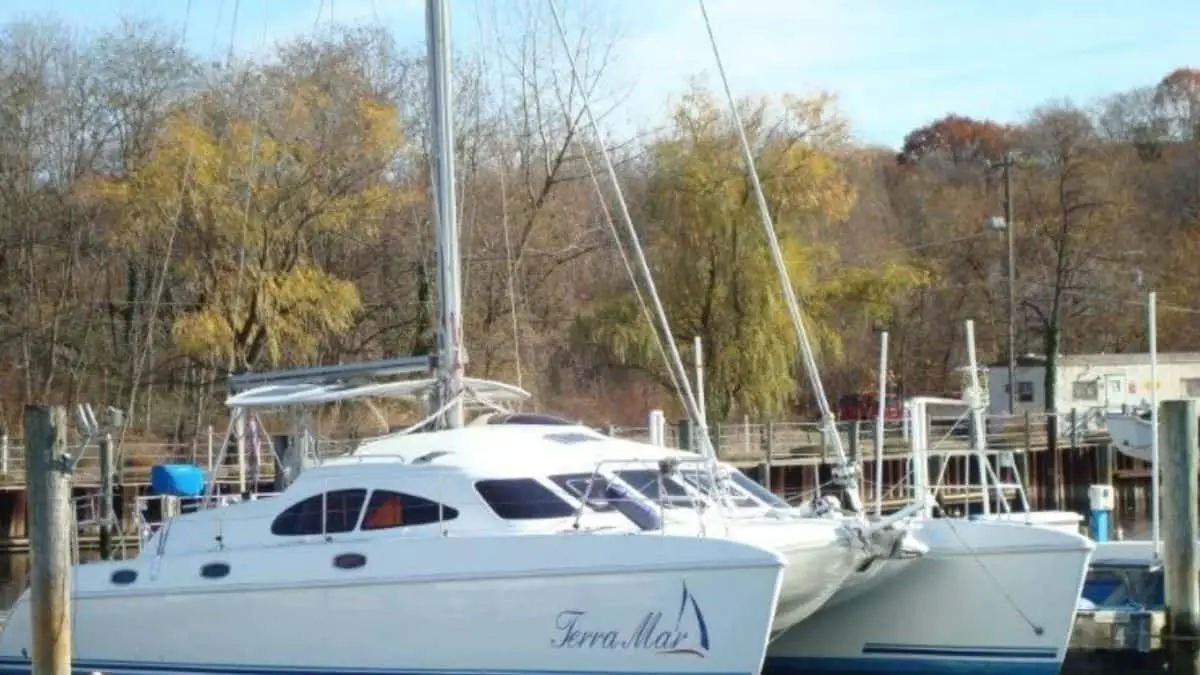 Known for:
Prouts is and old English manufacturer that went bankrupt a couple of years ago. They are well known for their durability and excellent build quality. 
They are not the fastest thing you can find, not even compared to other cruising catamarans, but they probably are amongst the boats with the best reputation.
Bluewater:
The Prout 38 is a true and tried bluewater boat with many circumnavigations under its belt. Its bridge deck clearance is low, which should mean a lot of slamming, but according to the review of a couple of owners, it supposedly isn't a big thing.
The reason for the low bridge deck clearance and the odd-looking nacelle under the boat is to get a more stable boat; they moved the center of gravity lower.
Prout achieved more headspace and lowering the center of gravity by reducing floor height.
Safety:
The boat is a massive and sturdy thing; some might even say over the top sturdy. The Prout also uses fixed kells which is an excellent way to protect your propeller when beaching the cat(or running aground)
A solid deck is used in place of trampolines. But instead of a squared full deck, they have cut out the foremost part making the bow have a three-edged look.
This reduces the deck area, which is useful for removing water but is unfortunate since it also removes living space.
As I have mentioned, the sturdy build adds structural integrity and keeps the boat from falling to pieces, but the downside is that the ship is cumbersome and doesnt have that excellent loading capability.
This means slower speed and not being able to outrun lousy weather as good as a faster boat.
Liveaboard:
Prout made the 38 models be able to fit three couples; id says it is possible, but you shouldn't expect as much room as you will get on a Lagoon 380 or 410.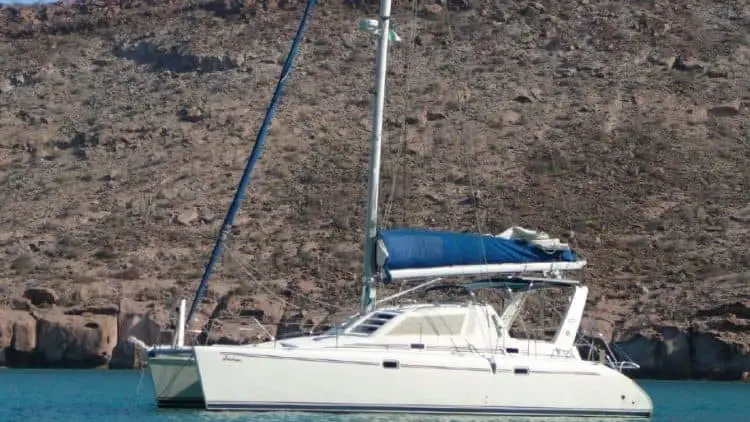 Known for:
I feel this list wouldn't be even halfway complete if I didn't mention the Leopard 38(or 40); this boat is one of the top ships out there; together with Fountaine Pajot and Lagoon, they are the most successful boatbuilders of today.
Bluewater:
The Leopard 38 has managed to create the right balance between performance and cruising/comfort. 
This cat does not have, the very common problem with low bridge deck clearance induced slamming, while at the same time being a very stable platform, this boat, I believe, will take you anywhere you want to go.
Safety:
Interacting with people that live abord their Leopard, I often hear how easy it is to trim the boat and how nice and quick you put a reef in the sail. This can all be done from the cockpit, which reduces the amount of time you need to be in danger from big waves when the seas are big.
The big engines are also a safety factor since they will take you upwind at around 7kts(of course depending on winds and currents, etc.) and gives you the ability to avoid bad weather.
Liveaboard:
Not only is Leopard 38 a comfortable home on the water, but it is also straightforward to maintain and service, something that is very important since you'll be doing a lot of it.
As anybody who has ever lived on a boat knows, 50% of your time will be dedicated to maintenance and repairs, that's just how it ends up being 🙂 But this boat is perfect for that in many ways., firstly there are soo many of them built which means that there is a lot of information and forums where you can ask on how to fix stuff.
Secondly, the spare parts are more likely to exist in the local shipyard, which is a big deal since shipping spares to a remote destination usually is extremely expensive.
Getting the right boat is tricky; if you feel you need more info on how to buy the right boat, check out this Buyers Guide.
Resources
Catamaran Sailing: From Start to Finish (Revised Edition)
Catamarans: The Complete Guide for Cruising Sailors
Cruising Catamarans Made Easy
Are You Looking for a Catamaran under $100 000?
Well, then I would recommend you check out this page, I have actually managed to find some decent blue water capable boats that are pretty cheap.