As an Amazon Associate, we earn from qualifying purchases. We may also earn commissions if you purchase products from other retailers after clicking on a link from our site.
I have been told that good catamarans under $100 000 are impossible to find, and since I'm not a millionäire but I love catamaran sailing, I said, challenge accepted!
The best catamarans under 100k include the Prout Quest, the Gemini 105Mc and 3200, the Dean 365, Tiki 38, and the Prout Snowgoose 37. All these catamarans are good but they are best suited for different types of sailing.
In this article, ill show you some of the most promising cats under 100k; this article could be a starting point for finding yourself an affordable cat. And if you're not attracted by any cats on this list, at the end of the post, you will find factors to consider when buying a cheap cat so that you may do your own assessments of boats that are interesting to you.
Let's go!
Prout Quest
The Prout Quest is a classic catamaran boat from Prout, cruising catamaran boat manufacturers who dominated the market in the 1970s and 1980s. Though these boats are no longer in production, the Prout Quest is a seaworthy catamaran that boasts an enviable reputation.
This boat is suitable for couples or single sailors looking for a liveaboard as it sports a spacious salon. In addition, there's good access to natural light, a functional galley, generous storage, plus the boat is sturdy and excellent for solo sailing. Also, it's pretty gentle and comfortable on a reach or downwind. 
If you want more info on the Prout Quest, check this article out.
The main downside of the Prout Quest is that it doesn't have much headroom. You can get this 33ft (10.05m) pre-owned catamaran for about $55,000.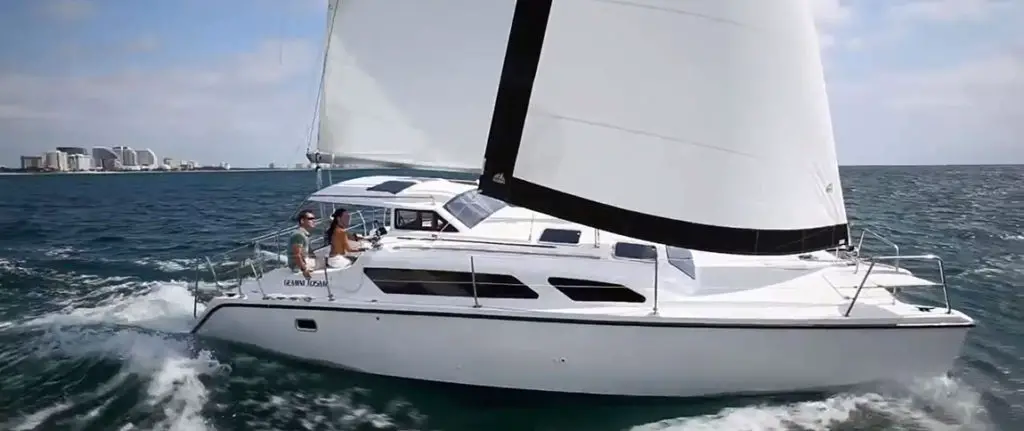 Gemini 105Mc
Gemini catamarans boast a refined manufacturing process that results in attractively designed catamaran boats. They feature a pleasant performance, practical handling, livability, and good value for the money. Gemini 105Mc itself is a popular model with a legendary sailing performance. 
The boat has roomy, light, and airy accommodation areas, while the deck layout and rig provide a stable and safe platform. Gemini 10Mc comes with centerboards and kick-up rudders that allow you to venture into shallow waters and a beam that allows anchoring in a regular slip. 
I have written an entire article on Gemini cats, so if you want more info click this link.
While this boat is no longer in production and has been replaced by the Gemini Legacy 35, you can get pre-owned versions starting from around $89,000.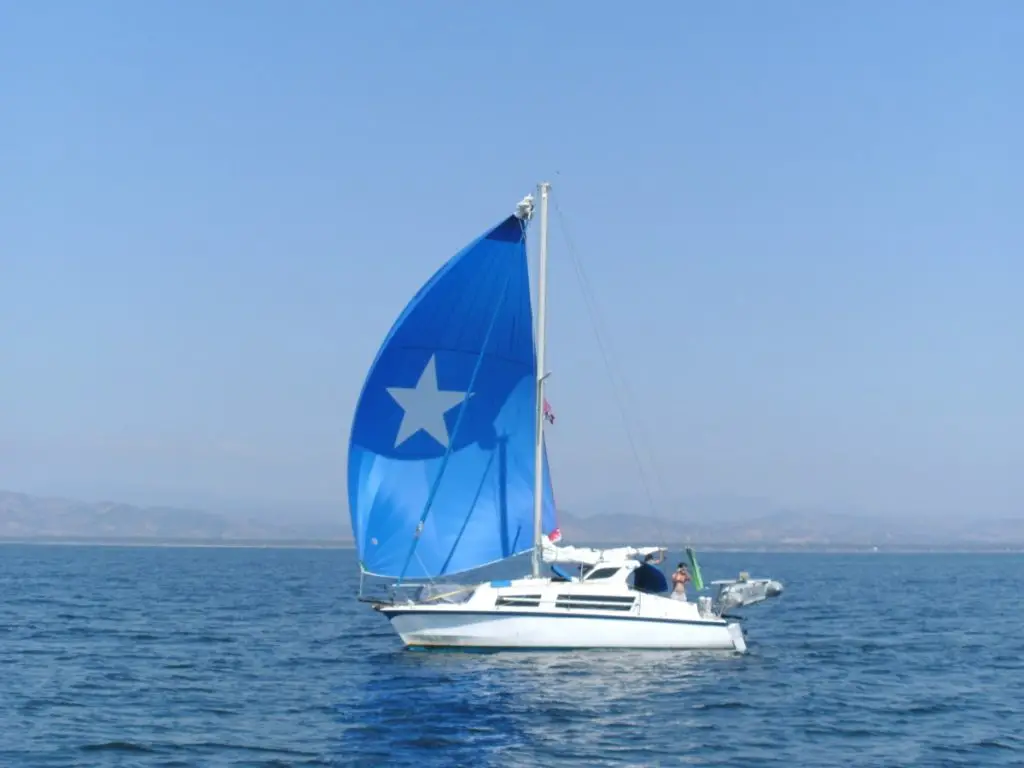 Gemini 3200
For a coastal cruise, the Gemini 3200 delivers a superb sailing performance. The boat features the basic comfort and spacing of a budget catamaran and is pretty easy to sail and motor single-handed. It also comes with centerboards designed to retract without breaking upon hitting an object.  
The Gemini's beam allows it to fit into a standard size slip, thus reducing marina fees while the outboard motor makes for a quieter boat. This light boat performs well downwind or on a broad reach but can be challenging to maneuver cross currents and crosswinds without centerboards. It's also not ideal for bluewater sailing (more info on bluewater cats here).
The Gemini 3200 goes for below $100k.
For a review of the most popular Gemini boats, go here!
Dean 365
Dean 365 catamaran is incredibly spacious and boasts plenty of headroom, making it well-suited for a cruising family. This boat comes with 4 cabins, a big saloon, a huge galley, and generous storage making it safe, stable, and comfortable for open sea cruising and long voyages.
The Dean 365 is also on my list of best cats between 100 and 200k.
High-quality cabinetry characterizes the interior, and a comfy u-shaped dinette is located in the main saloon. There are additional lockers built within the quarter berth floors, creating additional storage space for all your sailing needs. 
Dean 365 is not a fast boat, and its bridgedeck clearance is below average, but its downhill cruising is impressive. This model is rare, but when available, you can get the boat for between $50,000 to $100,000.
Prout Snowgoose 37
The Snowgoose 37 is popular with bluewater cruisers looking for a robust, seaworthy, and budget-friendly catamaran. Though this boat is not a performance catamaran, it's a strong ocean crosser that boasts an unrivaled circumnavigation record. The cat sails pretty well despite her length, performs well in light air, and handles rough weather rather impressively using her canoe sterns.
If you are confused with all the terminology, don't worry, so was I, to get up to speed I would recommend you to either buy the book The Complete Guide for Cruising Sailors (here's a link to amazon) or read my article on catamaran parts.
Because of the aft mast rig and all control lines redirecting back to the cockpit (catamaran parts explained here), the Snowgoose is relatively easy to sail single-handed. The boat is easy to maneuver into a marina and fits nicely into standard berths, further lowering your costs. Even better, the flat keels plus narrow beam makes the Snowgoose easy to beach – and keeps a lid on your maintenance costs.
The Snowgoose 37 has her share of downsides; minimal salon headroom, a slow speed of 6 knots, a low bridgedeck resulting in slamming in rough seas, and a solo engine that renders the boat less maneuverable than twin-engine cats. Still, the boat offers good value for money and you can get one for under 100k.
Tiki 38
Tiki 38 is a James Wharram design catamaran. This reasonably priced bluewater catamaran ensures your safety on the high seas, performs well, and is ideal as a family cruising boat. It has 2 double cabins and single cabins, a navigation station, galley, toilet cum shower, and ample storage space for all your stuff in the bow and stern.
These cats are sleek, light, fast, and easy to handle. They are fun to sail in open water since they are highly maneuverable, and their shallow drafts allow you to explore new places. The boats also feature a large deck and a deckpod with a bunk for shelter during open sea cruising. With $100,000, you can get yourself a Tiki 38.
Crowther Spindrift 40
The Crowther Spindrift 40 is an excellent performance catamaran that you can buy without making a big dent in your pocket. Designed by the renowned Australian designer Lock Crowther, Spindrifts are sleek, fast, and capable of sailing quickly in light winds. They have good bridgedeck clearance, and though slamming occurs in rough seas (more on rough sea sailing here), the boat sails quite smoothly in normal conditions. 
One key thing to note here is that these cats are generally old, so it's important to examine the beams, decks, and boat systems carefully before purchasing one. They also have shorter headroom, plus you have to leave the main cabin and get into the cockpit to enter either of the two hulls. This can be a bit tiring if you are not young or agile.
Another issue is the Spindrift's hulls are pretty narrow, so you need to keep off excess weight to avoid hampering the vessel's sailing performance. On the plus side, the engines are easy to access, which makes your maintenance work more manageable. 
You can sail the Spindrift alone or with a minimal crew as the boat is easy to handle even during heavy weather. What's more, there's great visibility from either of the two helms. In light winds, the cat performs amazingly well, and maneuvering is simple and straightforward. Plus, the boat can fit easily into marina slips and is pleasantly comfortable at anchor. 
The Spindrift is not as spacious as the newer model catamarans, but you can still have guests over as the seating space is more than adequate. And the best part? You can purchase this beautiful boat for less than $100K.
This is also the same boat that the youtube channel Tulas endless summer used to sail.
Another catamaran that fits within the $100K budget is the Shuttleworth Open 35. This 35 foot (10.66m) cat is an open-bridgedeck John Shuttleworth design, built in the US. An excellent performer, the vessel bears the proven ability to cross oceans with great poise and sail in excess of wind speed. 
Large enough to fit a crew of 6, the boat's impressive construction features composite foam, epoxy resin, e-glass, carbon fiber reinforcements, kick-up rudders, and daggerboards on each hull. The other exciting features include flush decks, an open cockpit, rounded bilges, and companionways with steps leading down to the cabins in the hulls. 
I discuss interior layout in one of my other posts here.
Below decks, the accommodation consists of 3 double berths – 2 to port and 1 to starboard. Each hull contains a head with a holding tank, while the galley comes equipped with a stove, refrigerator, and microwave, making the Shuttleworth comfortable to live in. 
This catamaran is a sailor's dream; it can sail, race, and cruise too. And whichever option you go for, the boat's capabilities are sure to impress you as this stylish boat can clock pretty high speeds.   
$80-100,000 and you'll secure a pretty cool boat!
Woods Banshee
The Woods Banshee is a small but powerful cruiser-racer catamaran designed with a 35 foot (10.66m) hull molding. Richard Woods, the boat's designer, opted for a vast beam, a characteristic feature quite unlike other 35-foot sailing catamarans whose beams are typically around 17.5′ (5.33m). At 20.5′ (6.24m), the Banshee's beam is indeed pretty wide. 
But there's a good reason for having an extra-wide beam on this offshore cruising cat. It dramatically increases the vessel's accommodation space, allows for reduced wave interference between the two hulls, and enhances the vessel's stability resulting in minimal heeling. While the Banshee comes fitted with an outdoor engine, the last two features allow the Banshee to deliver a sailing performance similar to that of a larger-sized catamaran. 
This post on catamaran capsize will better your understanding of catamaran stability, so check that out!
The Banshee's high-thrust outboard allows the boat to cruise at between 6-8 knots (11.11-14.82 km/h) while the V-shaped, softly rounded hulls help it move with great ease. You can even withdraw the outboard from the water while under sail whenever there's a need to eliminate drag.  
This light foam-core catamaran has an excellent performance windward thanks to its daggerboards and outboard engine. Furthermore, bridge deck slamming, a common challenge with cruising catamarans in a non-issue with the Banshee.
Without a doubt, the Banshee is one spacious boat. Behind the sizeable sliding hatch is an expansive salon, there's well-spaced accommodation, adequate headroom, and you have access to a large cockpit. Plus, there's extra seating space on the bridgedeck saloon for dining and socializing. The full-sized navigation station boasts ample storage space while the bridgedeck plays host to a master bunk and a collapsible settee that comes in handy at anchor.
The Banshee is a pocket-friendly cruising catamaran that delivers superb performance, and you can get one at around $85,000.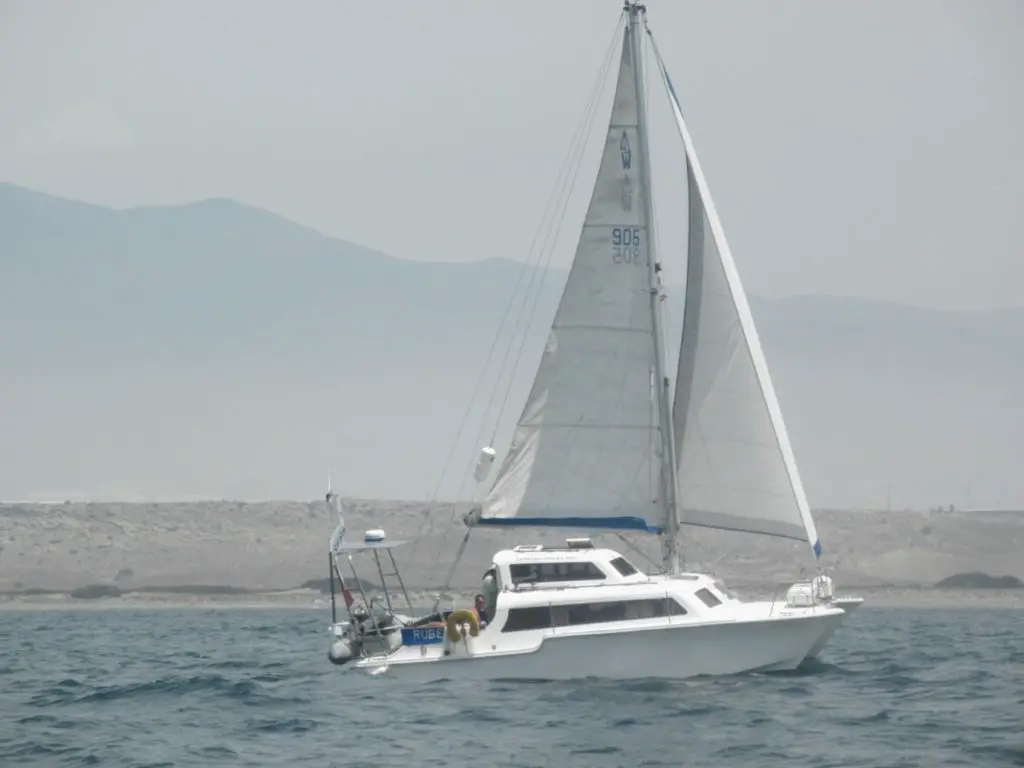 Catalac 10M
Catalac Catamarans are British sailing vessels from the 1980s. These sturdy, well-built cats are designed to handle hostile seas, and the Catalac 10M is among the best family and couple liveaboard cruisers in the Catalac family. Excellent at offering a safe, comfortable, and spacious floating home over an extended period, they have minimal maintenance and operating costs. As a result, these rare but affordable boats are much sought after. 
The Catalac 10M is a 34 foot (10.36m) well-thought-out, quality cat that's as strong as a battleship. Its spacious saloon contains a sizable u-shaped settee plus an expandable rotating table that can accommodate up to 8 people. The interior is well-lit owing to the large windows that also provide panoramic views. It also has ample storage space and spacious countertops. 
Double thick fiberglass makes the boat hulls undeniably strong, and it's no wonder these boats are still crossing oceans today. The boat is exceptionally stable due to the short rig and the hull's hard chine design. If your budget is about $100,000, you can get yourself one of these unique boats.
How To Buy the Best Catamaran
Is there a perfect catamaran? Not exactly. The thing is, selecting the perfect catamaran is a personal choice. And like buying a home, you might need to compromise, customize or sacrifice one thing or the other. Having said that, there are guidelines you need to follow to avoid making painful mistakes.
Want to dig a little deeper and make sure you make the right decision, then check out my buyers guide!
I would also like to recommend two books that have helped me to better understand catamaran characteristics. The first one is called The complete guide for cruising sailors (here's a link to amazon). It is a good basic introduction to hull shapes and the balance between performance and comfort. It also includes a lot of pictures.
If you are more interested in how to sail and manage your catamaran, I have another recommendation for you, this one covers a lot of tips and tricks such as how to prepare your boat for offshore cruising or what to think of in case of capsizing. One thing I don't like about Multihull seamanship is the graphics, they are hand-drawn and feel cheap but the information is great.
Let's explore some of the important factors to consider when making a purchase decision in order to get the best possible catamaran. 
Factors To Consider When Purchasing a Catamaran
When looking to buy a catamaran, there are several crucial factors you need to consider apart from your budget. Below is a brief discussion on each essential factor.
What Is the Intended Use?
How do you plan to use your catamaran? Do you intend to spend most of your time cruising offshore, docked at the marina or anchor, or do you want to live onboard? 
For instance, a spacious Lagoon catamaran might be the perfect luxury liveaboard with creature comforts like a refrigerator and air conditioning, but it could turn out slower underway. This means it would not be an ideal choice for someone interested in long-distance cruising.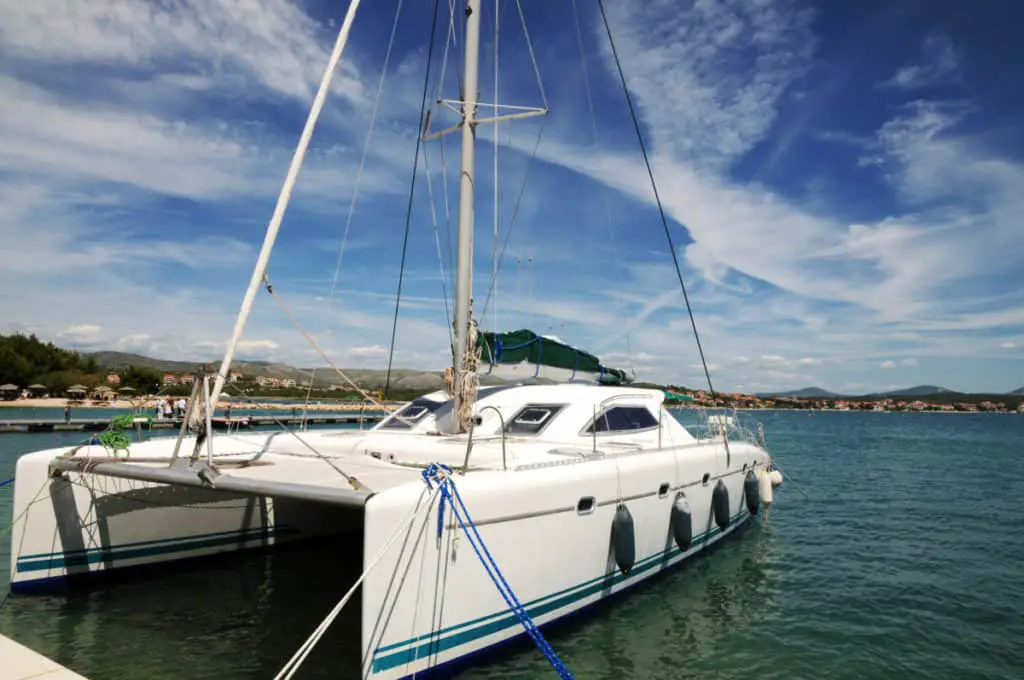 Comfort Versus Performance
Modern catamarans come equipped with luxurious amenities and top-end finishes like Corian countertops. But while these gorgeous extras add to your comfort level, they translate to additional weight which affects your catamaran's cruising performance. For instance, this weight can lead to increased wave slamming in heavy seas, which can be quite uncomfortable.
Comfort, performance, or low price, you only get to pick two (unless you're filthy rich ;))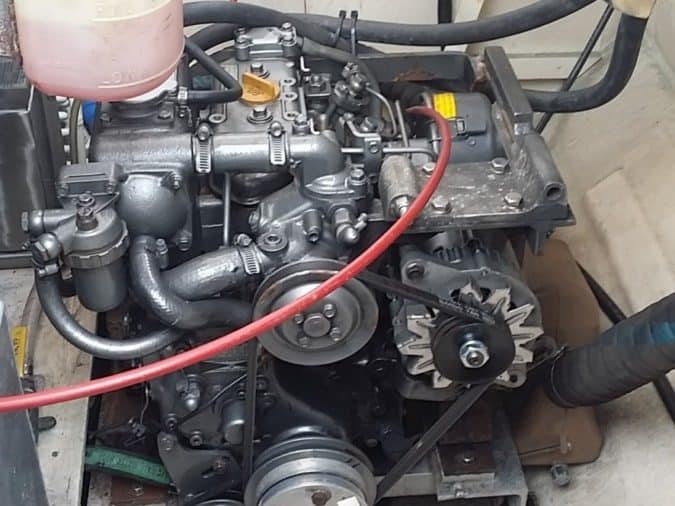 Your Mechanical Skills
When buying a pre-owned boat, it's best to buy one whose owner maintained it in great condition, particularly if you are not good with your hands. This is because your repair and maintenance costs could go through the roof. However, if you are mechanically inclined, you can do the repairs, thus significantly reducing costs.
How much does it really cost to maintain a catamaran?
Your Budget
You will need to set a realistic budget for your new catamaran. Doing so will help cover the cost of buying the boat and allow you to handle other related payments. These include paying for insurance, registration, marina fees, upgrades, maintenance, and repairs.
What are your options when trying to figure out how to afford a cat.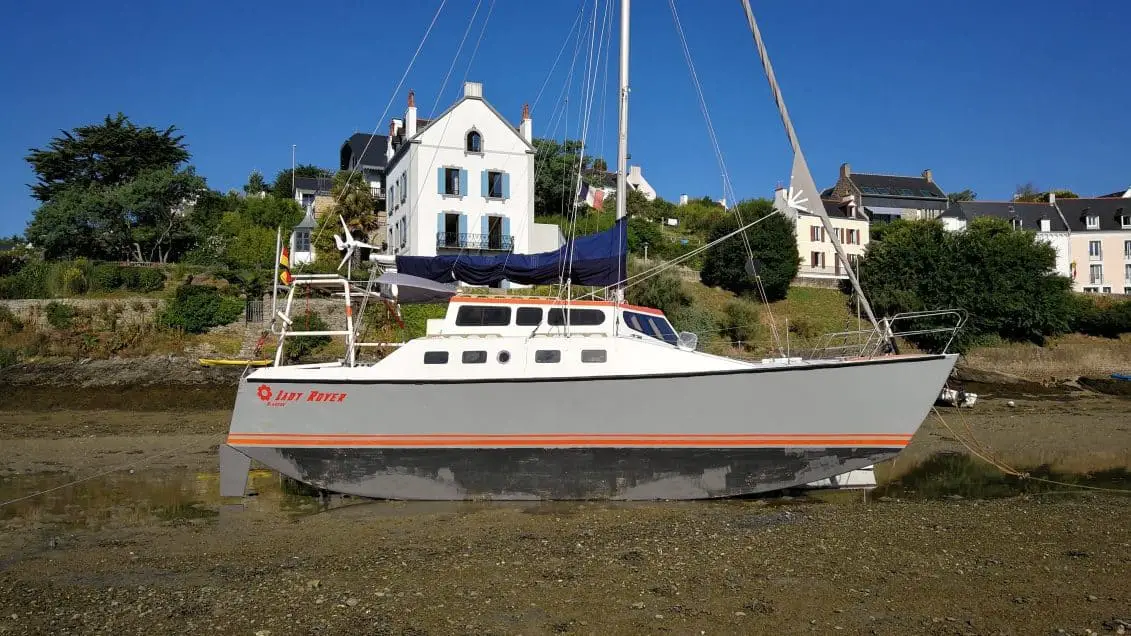 Daggerboards Versus a Fixed Keel
Most cruising cats sport fixed keels. This enables you to get more usable space in the hulls and also makes it easier to beach the boat. The keel is also less expensive to fabricate and adds more buoyancy to your boat. The downside is that you shed a couple of degrees when sailing upwind. On the other hand, catamarans with daggerboards sail faster and tend to make less leeway.  
What is a daggerboard? and which is best; centerboard or daggerboard?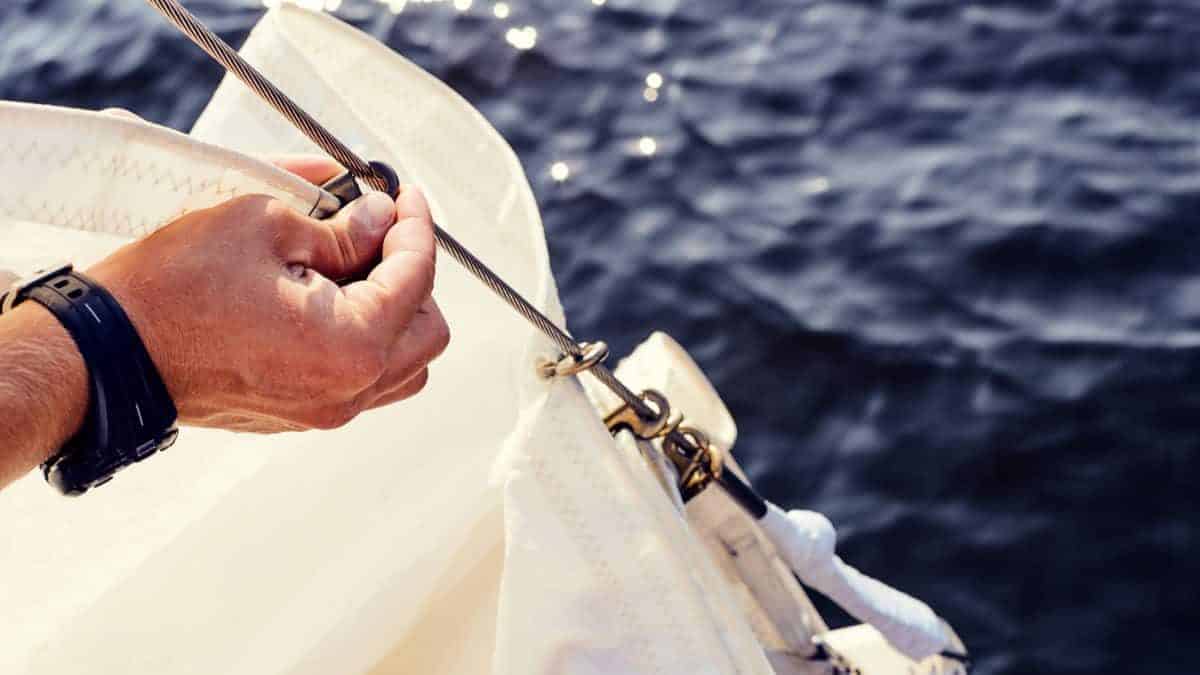 Your Sailing Skills
Catamarans are easy to handle. Besides, you can take a sailing course to improve your skills. Still, you might want to consider going for a catamaran that's rigged for single-handing. Such a boat comes with electric winches and, at times, a self-tacking jib.
How to learn how to sail the cheap and efficient way!
Final Thoughts
Buying a catamaran is a significant investment. Thus, it's essential to do your due diligence first before making a final commitment. Start by doing your research on the kind of boats you're interested in, use this list as a guide to help you make the right choice, then find all the relevant information you can to make an informed decision. 
Sources