In this article, I will list the best Catamarans for beginners sorted into the following categories; Ocean sailing, Cheap sailing, Weekend sailing, Beach catamarans, catamarans for kids, and ends with a discussion of the specific demands for liveaboards.
There is no such thing as a "beginners catamaran," but some boats are better suited for beginners than others. Such a boat should be cheap, easy to handle, and can be repaired on your own. Most boats are not like this, continue reading to understand why!
This article is intended to get you looking in the right direction for the perfect boat for your specific needs.
CHECK OUT BEST CATAMARANS UNDER 200k
Best Beginner Catamarans for Ocean sailing
I have chosen boats around 40ft in length (read this to understand why 40ft is the right size for an offshore catamaran). I have also looked into whether or not the boat is possible to sail singlehanded; I believe this to be an important aspect since sooner or later, parts of the crew will get seasick or in any other way unable to sail the boat. This makes it essential that it is possible to sail without assistance.
Another aspect to consider in this category; is the boat equipped with trampolines or a sold deck? this makes a world of difference when it comes to offshore and big wave sailing. A trampoline will shorten the time it takes from when the bows get buried under a big wave until all water is cleared off the deck, and the boat can sail again; this is very important so that you avoid pitchpoling and capsizing your boat.
READ MORE ON HOW TRAMPOLINES WORK!
The ease of maintenance should not be overlooked on a blue water catamaran, easy access to both engines while underway is an important safety aspect. If for example, you need to go outside and stand on the sugar scoops or hang off the stern (to access the engines), this might compromise safety and even risk a man overboard situation.
Living on a boat, which you will have to if you intend on doing long crossings, requires a lot of space for the crew and a lot of room for food, diesel, equipment, and tools. Having enough space to stand up and cook your food greatly enhances your living standards while sailing.
FOUNTAINE PAJOT LUCIA 40
Lucia 40 is known for being easy to sail; (many argue that this is partly due to the use of a low hanging boom which increases accessibility). On boats that use a flybridge, the boom is situated very high and can make handling difficult.
The visibility on this cat is excellent and thus increases the feeling of being under control since you can keep a 360 outlook on your surroundings.
LAGOON 380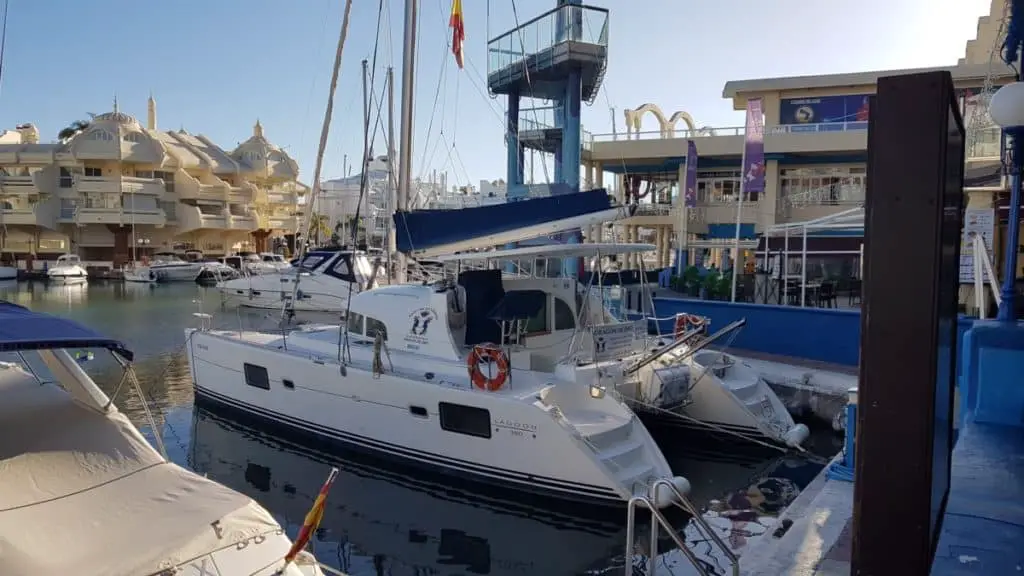 The Lagoon 380 is the world's most common cruising catamaran; over one thousand boats have left the production facilities during its production time. This means it is a tried and true boat with a big community and, therefore, a lot of knowledge and experience that you can learn from.
It is a sturdy ocean crosser, which is still easy to handle due to its small size. The 380 is not a race boat, but it is very comfortable for its size, and it has a decent level of performance.
Since the Lagoon has been in production for so long (from 1999 to 2019 if I am not mistaking), then there are, of course, variations in design and performance depending on what year you choose.
LEOPARD 44
The Leopard 44 is a very sturdy and well-built boat from South Africa; the exciting thing with this model is the forward cockpit. The forward cockpit is accessible through the central area, which means that you no longer have to go out and around to reach the bow; not only is this very practical, it also makes sense out of a safety perspective.
From the forward cockpit, you will have full visibility of what's coming ahead of you, perfect for sunny days where you want to enjoy the excellent weather, but also maintain control over your surroundings.
FOUNTAINE PAJOT SABA 50
The Saba 50 is often spoken about as a fast boat where many sailors attest to regularly achieving speeds above 10kts and sometimes up to 13+. These speeds are attained through using a lighter construction where the cabin and deck are molded into a single part instead of several, bolted together. This design makes the boat lightweight and more robust.
In contrast to many other catamarans, and thanks to the fixed keels, the Saba 50 sails pretty well upwind, 
Best Beginner Catamarans for Weekend Sailing
The demands on a weekend sailing boat differ in many ways from an ocean-going vessel. Since usually coastal weather doesn't include stormy seas and giant waves, the need for a trampoline is reduced, and a solid deck absolutely makes sense! 
Interior space on a coastal cruiser is less of a factor, yes it is nice to stand tall and cook, but most people can fully enjoy a few days of sailing without all the necessities of your house back onshore. Some even argue that this is the beauty of weekend sailing, to come back home and enjoy a warm shower and a big sofa.
Safety should always be the primary concern when sailing, but when the risk of encountering storms is low, and a safe harbor is close, there are some gear and skills that are not as important as during an offshore passage.
Communications can many times be reduced to a single VHF radio since you most often will have cellular reception on your phone, and while sailing close to shore, a life raft might also be of less significance. I want to point out that this is merely a guideline, and it is very much up to the captain of the boat to decide what equipment is necessary and what is not.
Having enough bridge deck clearance is fundamental on an offshore boat since heading upwind and having big waves slam into the boat will tire out the crew and increase wear on the ship. But sailing close to shore, you are more likely to encounter choppy bays and small waves, thus reducing the need for high clearance.
Gemini Legacy 35
The Legacy 35 is an American classic and offers some interesting and useful features. The small draft of only 34 inches opens up for coming really close to shore without damaging the boat. This can be very useful when trying to find your perfect spot that is not already filled with boats.
Since it is also very narrow, the boat can be put on a truck and moved to wherever you want it to go without employing special machines or trucks.
The small size also adds to reduce costs since you will be able to dock in a standard size slip and therefore pay standard slip fees.
Endeavor
The Endeavor is easy to handle and an elegant catamaran that fits the costal cruising mold perfectly. The boat offers lots of inside and outside space to enjoy a day on the water. 
The boat easily sits six people, and each hull offers privacy from the other.
It employs trampolines instead of solid decking, which reduces weight and increases safety.
Catalac 10
This is one of the few boats of its size and price range built with a solid fiberglass hull and not with a balsa core. Since there is no core that can get wet and start to rot, there is little chance of having to do hull repairs unless you wreck your boat on rocks or any other type of notable mishap.
The sloop rig also makes it easier for less physically able sailors to handle the sails, and for a boat of this size, the bridge deck clearance is ok.
Best Beginner Catamarans for Cheap Sailing
In boating, most costs are in relation to the size of your boat. What I mean by this is if you are on a bigger boat, this boat will require bigger sails, sturdier standing rigging, more bottom paint, more space in the marina, and more massive machinery to haul you out of the water. All of this means higher expenses, so a critical factor when trying to sail on a minimum budget is to keep your boat size to a minimum. 
Check out this article on some in-depth information on how to choose the right sized boat.
Another aspect is how much money you will have to spend on repairs. Most larger catamarans utilize a twin-engine system; this means a lot of benefits such as an extra engine if one fails, but it also doubles maintenance cost, and you will also have to repair two engines instead of one, something that sooner or later will happen. If you chose a smaller catamaran, there are options with single engines, such as the 26'Heavenly Twins or Prout Quest 31 listed below.
26 Heavenly Twins
Made contemporary famous by the youtube couple of the channel Sailing Kittiwake the heavenly twins is a small but very cheap boat. Kittiwake claims to have sailed and lived on this boat in the meds for under 700 USD a month, which I would argue is very cheap. You can find more info on how they did their calculations on their website.
The boat in itself is small, and that, of course, comes with some disadvantages, low bridge deck clearance, and a lot of banging heading upwind, the narrow beam making it rolly when wakes start growing.
A cool feature is the aft cabin, which is separate from the main cabin and creates a separate space aft of the cockpit.
Prout Quest 31
Buying the Prout Quest might initially be a little more expensive, but the robustness and standard to which it is built by is argued by many to be of greater importance in the long run. Prouts might be a little slammy going upwind, and they are definitely not the fastest, but if you are on a tight budget but still have big ambitions, then this might be perfect for you.
In comparison to the Heavenly Twins, the Prouts are considered more of a bluewater boat that can handle big seas. I might not be overly confident about that statement, but I believe it is a better fit for offshore adventure then the Heavenly Twins.
Price: USD 39 000
Catalac 8m
Catalac Catamarans have a slightly divided reputation. Some say they are way too small for any big ocean sailing, but some would argue it might be small, but it is so well built you can take it anywhere you want.
And maybe this is the reason why you still can see Catalacs crossing the Atlantic safely.
Compared to many other catamarans, the Catalacs are built with a solid fiberglass core below the waterline; this is great if you're looking for an older boat since the risk of a crack in the fiberglass, making the balsa core rot doesn't exist. 
The Catalac is nothing exciting when it comes to speed, but it does well on safety due to its low mast height and a wide beam. The pricing of a Catalac is usually much cheaper for something of the same age and condition.
Best Beginner Beach Catamarans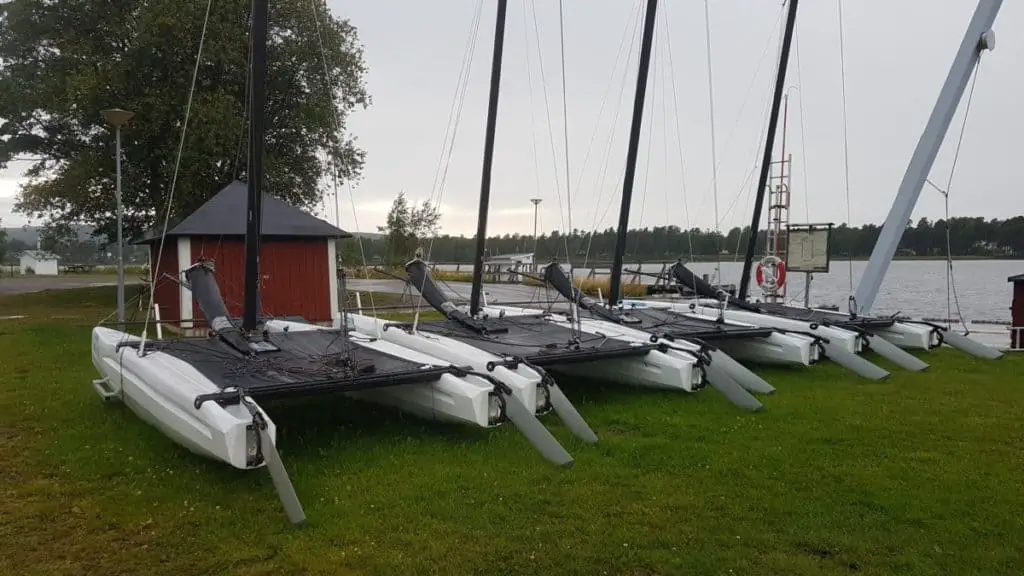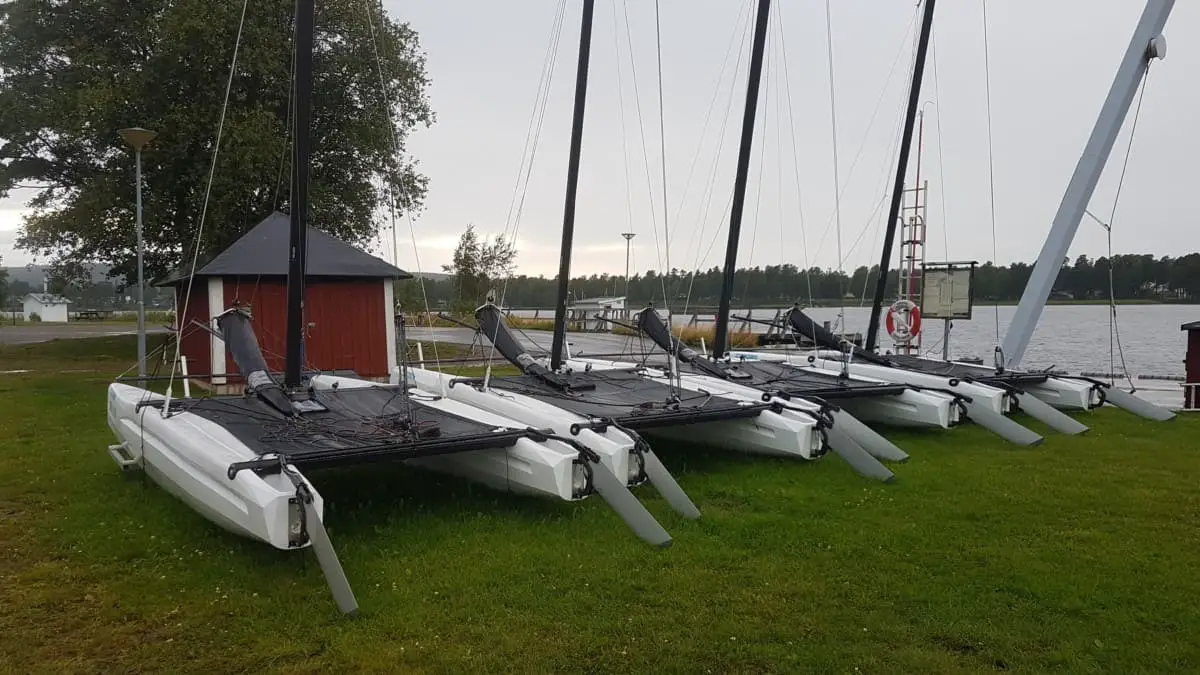 Beach catamarans get their name from how they enter and exit the water, you guessed it! by pushing it off or up the beach. This is possible since the cat is made from lightweight materials, is small, and is configured with two hulls instead of one (a monohull).
Most beach cats consist of two pontoons fixed together by a frame covered with a trampoline instead of a solid deck. Usually, they are easy to assemble and disassemble, making it easy to transport the boat to and from the beach.
Beach Catamarans are very small boats made for water activities/sports rather than transportation as in the case of a "regular" catamaran.
Different types of Beach catamarans
Depending on your goals with the sailing there are different types of beach catamarans to choose from;
Singlehanders are designed to be enjoyed by a single sailor; they are also optimized to be handled safely without assistance. One significant aspect of sailing alone is that you will significantly enhance learning speed since you will have to do everything on your own. The apparent downside is that you will have no one on board to share laughs and ask questions.
Family / Multiperson are, just as the name implies, a vessel made to be sailed by more than one person. It is an enjoyable way to sail with friends and is an excellent way to learn from a more experienced sailor since you can have them on board and let them give you feedback in the moment.
Beach catamarans for cruising are usually slower but offer more space and can relatively comfortable seat, 2-6 crew members making it perfect for a family that wants to enjoy the water in a less intense way than sail racing.
Catamarans for kids are the smallest and lightest of them all. Some even encompass extra safety features as; no sharp edges and increased ease of maneuverability, everything needed for a small child to start sailing safely, and her parents feeling at ease.
Singlehanders 
TopCat K4X 
The TOPCAT k4x is lightweight(115Kg) and, therefore, suitable for beginners. Even though the price might seem high, as far as I can tell, this boat is of high quality and very customizable with a bigger sail area if wanting a little bit more sporty feel. 
The low weight also makes it possible to assemble, disassemble, and right a capsized boat without the need for extra help.
The boat is recommended for kids as young as ten all the way up to grandmas age.
Price: ~USD 9000
K2X
Even though this catamaran is longer than the K4X and allows up to four people on board, it is still possible to sail it singlehanded. The K2X is a fast and reliable boat in the TOPCAT arsenal, and this particular model has increased buoyancy to allow for more people on board. 
Hobie Bravo
The Hobie Bravo is known for being one of the most simple and easy to sailboats there is, just perfect for this list 🙂 
In fact, the boat is so simple that it doesn't even have a boom, only a mast, and two lines. Since it is also a rotomolded construction, which is very solid and robust, you don't have to worry about breaking anything while beaching or docking.
Price: USD 4200
SPECIFICATIONS
Crew: 1-2
Length: 12′ / 3.65 m
Beam: 4′ 5″ / 1.35 m
*Specifications from Hobie.com
Family / Multiperson
Nacra 500
Just as the Hobie Bravo, the Nacra 500 does not use a boom, this makes it easy to assemble and more lightweight. The Nacra employes an automatic rudder system that folds up in case of collision.
With its almost 17ft, this is a somewhat bigger boat and, therefore, a little harder to handle, but on the upside, you will have more buoyancy and able to fit more people.
Price: USD 10 000
SPECIFICATIONS
Length: 5.0 M / 16.4 ft
Beam:  2.44 M / 8.0 ft
Crew Capacity: 1-4 / 1-4
Hobie Getaway
With its 17ft of length, the Getaway is a big catamaran suitable for up to 6 crew and family. The size of this catamaran makes for some excellent features such as extra storage. This cat is all about comfort, stability, and enjoying a day on the water with family and friends.
Price: USD 10 000
SPECIFICATIONS
Crew: 1-6
Length Overall: 17 feet
Beam: 7 feet 8 inches
Catamarans for Kids
A catamaran for kids should be small, easy to handle, stable, and allow the little sailor to make mistakes without risking severe injury. And most importantly, it should be fun to sail! Many parents think it is nice to have your kid on a catamaran where you can also join them in the same boat; this creates a team spirit that will make a strong bond between you and your child.
TOPCAT Chico
Chico is a small beginner catamaran that can be enjoyed by up to three little sailors. Since the hull is flat; it is straightforward to handle in tight spaces, perfect for a beginner wanting to learn in a safe and fun manner. 
Another cool aspect of the chico is that it has been designed to reduce sharp edges so that the kids are not in unnecessary risk of injury.
Hobie Catsy
This cat is easy to sail and easy to assemble, and just like most other Hobie's, it is well built by one of the biggest beach catamaran producers you can find.
Price: USD 2500
SPECIFICATIONS 
Crew: 1/2
Length: 3.10 m / 10′ 2″
Beam: 1.66 m / 5′ 5″