The catamaran of your dreams has just shown up on Yachtworld.com. The only question now is where the money will come from to buy it. To help you navigate the options I have asked 100+ owners of catamarans how they purchased their catamaran and what they learned from it!
You can finance a catamaran from your savings, borrow against home equity, or take out a loan from a bank or specialist boat lender. You could also use your stock portfolio as loan collateral. A third way is to use a management program. Before you choose, listen to these owners' experiences.
In many ways, financing a catamaran is similar to financing a car. The only difference is you may need to borrow more, depending on your choice of catamaran and your down payment. Keep reading as we explore what sailors experienced when they bought their cat.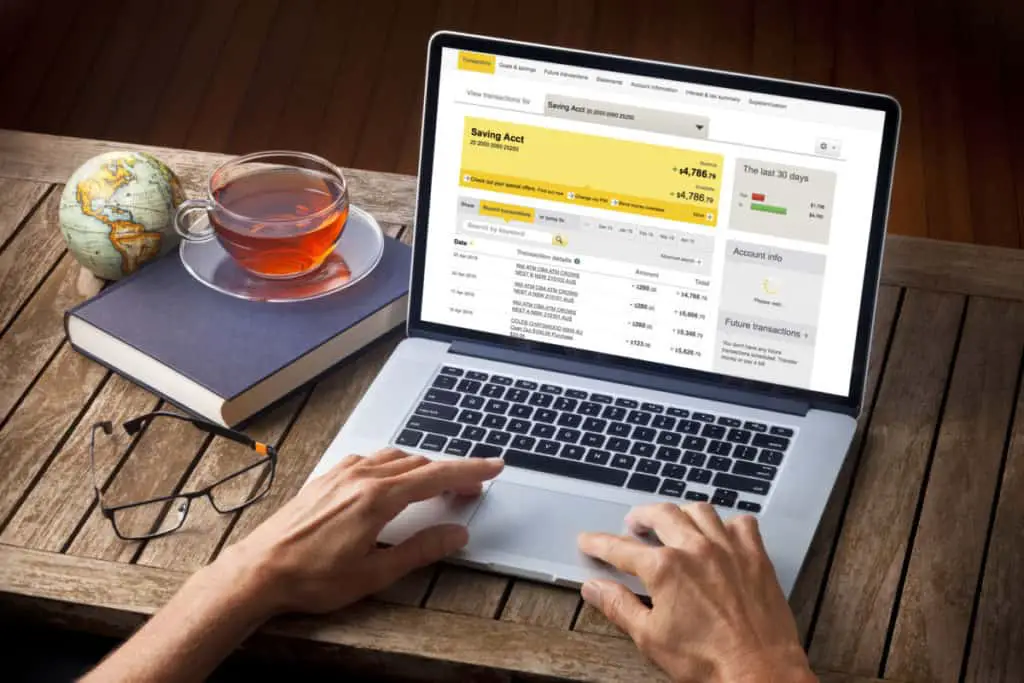 Owners Recommend: Use Your Own Savings
This is the number one recommendation I got, I might not totally agree, but this is what most of the respondents answered (~80%) and the main reason was this:
The lesson to be learned is never go into debt for a depreciating asset like a boat.

Poll respondent #23
One of the better consequences of the COVID-19 pandemic is that the personal saving rate has increased significantly. At least amongst higher income groups. 
So, if you're one of those people who have stashed away more of your money, those savings could be an excellent way to finance your catamaran. But be cautious: you don't want to sink all your cash savings into this. You should ensure you'll have more than enough for contingencies, especially in uncertain times. How much you should keep in cash savings will vary according to your circumstances and who you ask. 
If you want to understand the costs of the liveaboard lifestyle, I suggest that you read this article where I summarize the costs of living aboard a cat.
In general, aiming to keep around twelve months' living expenses is sensible if you're planning on using savings to fund a luxury purchase. That should give you enough leeway if you hit an unexpected financial storm and need to batten down the hatches. 
Saving our butts off to be able to buy it and not use a loan

Respondent #56 and her very straight forwards explanation
If you can do that and still have a lot of excess cash in a savings account, using it to finance your catamaran may make sense. That's because interest rates are so low at the moment, so your savings may not be keeping pace with inflation. Even though borrowing rates are also low, you'll still pay more to borrow than you'll earn on your savings. So, if you look at the lost interest as the cost of using your savings, it works out much cheaper than a loan. Or in other words:
I paid cash. If financing is an absolute necessity to buy your boat, you need to reconsider if you can really afford it.

Poll respondent #36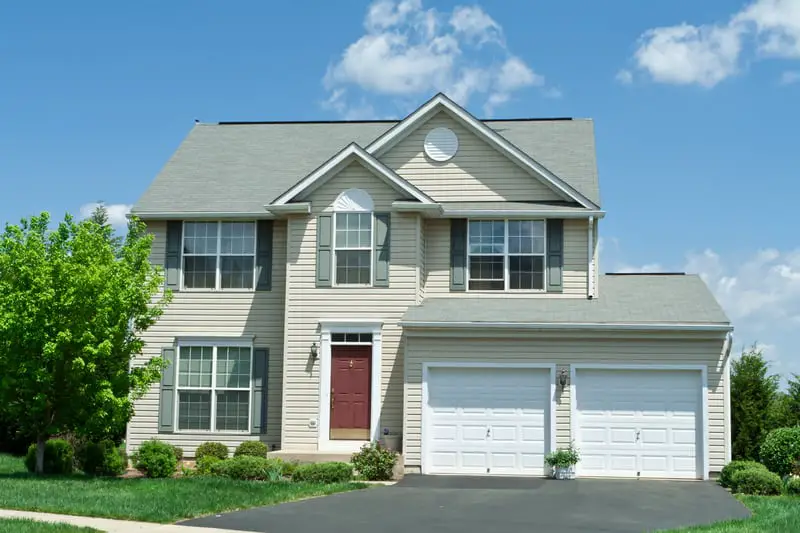 Use the Equity in Your Home
If your home is mortgage-free or you have enough equity, financing your catamaran with a home equity loan can be a relatively cheap option. 
Some respondents considered this option but non actually did go through with it, the main reason seemed to be that instead of owning a house and boat, they sold the house and used the money to buy a boat.

Gabo
Of course, it means your home is collateral for the loan, so you risk losing your home if you fail to make the loan repayments. 
However, because your home is security for the loan, you should get a lower interest rate than you'd get on an unsecured loan. Though you may have to shop around to get the best rates.
With this option, you'll benefit from loan terms that are longer than what is usually given for unsecured loans; you may be able to choose anything from 5 to 30 years, depending on the lender. The term length helps to keep the monthly repayments down.
You should be aware that home equity lenders usually restrict the amount you can borrow. The limit is often to a maximum of 85% of your property's value. That shouldn't be a problem if you don't have an existing mortgage. But if you do, your existing mortgage will reduce the amount you can borrow, and you'll need to check how much you can borrow to ensure it's enough to cover the cost of your catamaran.
Also, bear in mind that many home equity loans come with fees payable on closing. There may be other fees to take into account as well, like appraisal costs.
Still, shop around, and you can find home equity loans with no closing fees at both national and regional banks. It pays to do your research.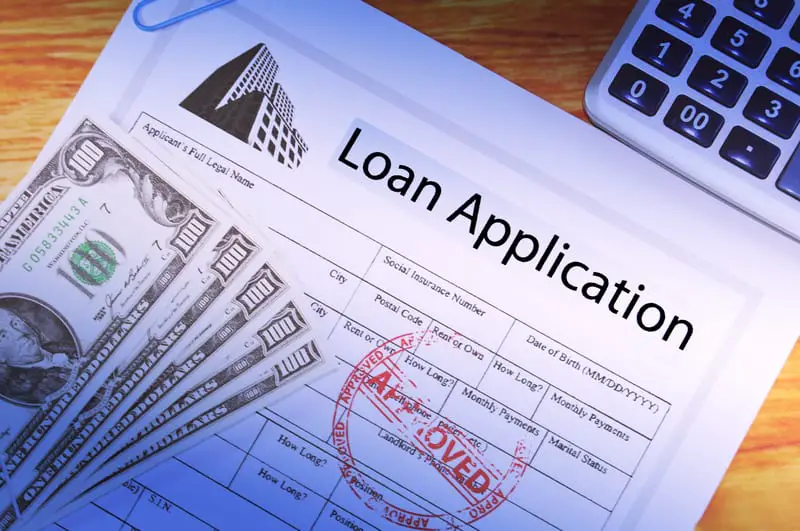 Unsecured Bank Loan
If you don't have enough home equity or are uninterested in securing a catamaran loan against your home, another way to get your dream of catamaran ownership afloat is to go for an unsecured bank loan.
One important thing to consider when deciding if an unsecured loan is the amount you can borrow. Many unsecured loans max out at around $50,000, though $100,000 is available from some lenders.
Another factor to bear in mind is most unsecured loans have a maximum term of five to seven years. So, if you're borrowing a large sum, this option can prove more costly than a secured loan. 
On the plus side, like a home equity loan, unsecured loans have fixed repayments, and you know what your monthly commitment will be from the start.
Another advantage is that you're not using your home as collateral, so it's not at risk if you fail to meet the repayments. Of course, you could end up with a poor credit rating if you miss repayments; thus it's still crucial to make certain you can afford the monthly commitment.
If you go down the unsecured loan route, check your lender's small print for hidden fees. Some lenders charge origination fees, which can add to the overall cost of the loan.
It's also often helpful to have the option to prepay if you want. Yet know that some lenders charge prepayment fees that can effectively tie you into a loan and prevent you from refinancing it should you find a cheaper option. Again, just check the small print before signing on the dotted line.
Boat Loan
An alternative to a standard bank loan to finance your catamaran is a boat loan. These are available from specialist boat lenders and other lenders.
How Does a Boat Loan Differ From a Bank Loan?
With boat loans, you can often use the boat you're buying as collateral. That translates into potentially lower repayments because the lender has security for the loan in the shape of your boat.
Also, the loan terms are often longer than for standard bank loans, reducing the monthly repayment.
Many boat buyers prefer this type of secured loan over one secured on their home. That's understandable since the consequences of losing your boat aren't as dire as losing your home.
The option of a boat loan stirred up a somewhat emotional debate where there seemed to be two sides, one side saying it makes sense since you'll be able to invest the cash you already have:
Line of credit. Pay interest only. Keep your money working for you.

Respondent #87
And the other side presenting an interesting perspective:
I don't think I could ever look at the horizon in my catamaran and fantasize about just keeping on going while flipping the bird to everything behind me with a bank loan on it. Kind of defeats the purpose for me. I would feel like I'm dragging my hook behind me! 

Respondent #78 discussing the emotional aspect of taking a loan
Back to the loans! Some specialist boat loans require a downpayment. Meaning you won't be able to borrow the total cost of the boat. A down payment may range from between 10-20%, and by putting in more capital upfront, you get the benefit of lower repayments.
Be aware, some boat lenders may have conditions around the type and age of the boats they'll finance. There may also be minimum and maximum loan amounts. With some loans, there may also be fees to pay. Always check the lending terms carefully.
Examples of Available Boat Loans
One lender in the boat loan market is Bank of the West, through its Essex Boat Loan arm. Here are the main points to note about its boat loans:
Its minimum loan is $10,000, with a maximum of $500,000.
Interest rates are higher for smaller loans.
There are down payment requirements that vary depending on the loan amount.
It prefers a credit score of at least 700.
There are processing fees to pay.
If you want fee-free options, they are out there if you shop around. For example, look at Truist, previously SunTrust:
It will lend on new or used boats of 30' (9m) or more.
The minimum loan is $100,000.
The maximum term is twenty years if you have a 20% downpayment.
They're one of the lenders that will take your boat as collateral.
If you're not looking to borrow as much as Truist's minimum loan, its online lending arm, Lightstream, fills the gap:
It offers boat loans of between $5,000 and $100,000.
Its maximum loan term is forty-eight months.
There's no restriction on the type or age of boat you can buy.
It doesn't take your catamaran as collateral.
However, your credit score needs to be good to excellent to qualify for a loan.
These are just some examples of the boat loans available. As you can see, lender's terms can differ significantly, so shopping around is vital.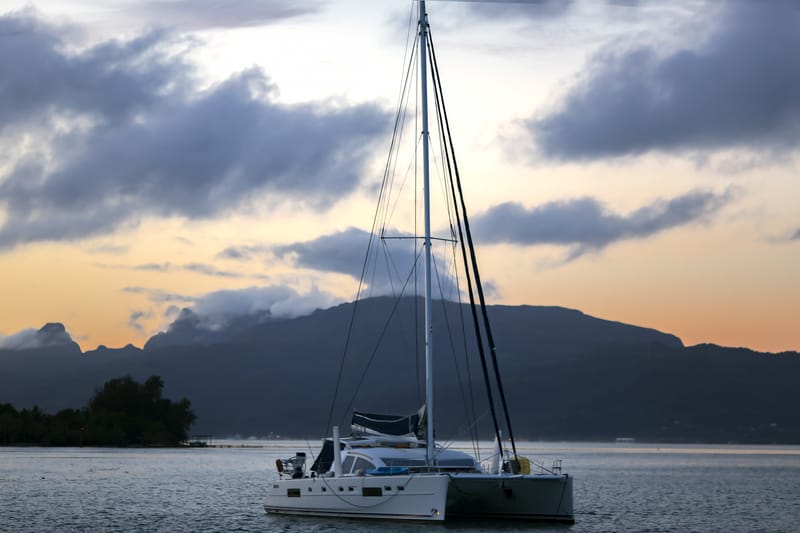 Dealer Loan
If you're buying your boat through a dealer, it's worth exploring what help they provide on the financing front. 
They'll have experience and knowledge of the boat loan market. Plus, the dealer does all the legwork. This saves you the time of researching available options yourself, making it a very convenient way to get finance for your catamaran. It can also be reassuring to have a hand to hold throughout the process.
Stock Portfolio Loan
If you've got a stock portfolio, you might be thinking about liquidating some or all of it to finance your catamaran–certainly a strategy worth looking into. However, if you have a substantial portfolio and want to keep it, consider using it as collateral for a loan. That means your portfolio is security for your loan. (Note: you need a substantial portfolio if you want to finance your catamaran using this type of secured borrowing.)
Some providers allow you to borrow up to 90% of the value of your holdings, but borrowing at such a high loan to value on this type of finance isn't a good idea. That's because if your portfolio value drops, you'll have to reduce your borrowing to maintain the loan-to-value ratio below the provider's maximum. 
If you don't reduce the borrowing, the provider could sell some of your holdings, which means you won't necessarily get the best price. There may also be tax implications from the sale. 
Indeed, this type of borrowing is not without risk, and it won't be suitable for everyone.
If you decide to go for it, it's sensible to limit borrowing to not more than 20% of your portfolio value. This should provide a comfortable buffer to protect against market fluctuations. But remember, even that's not guaranteed.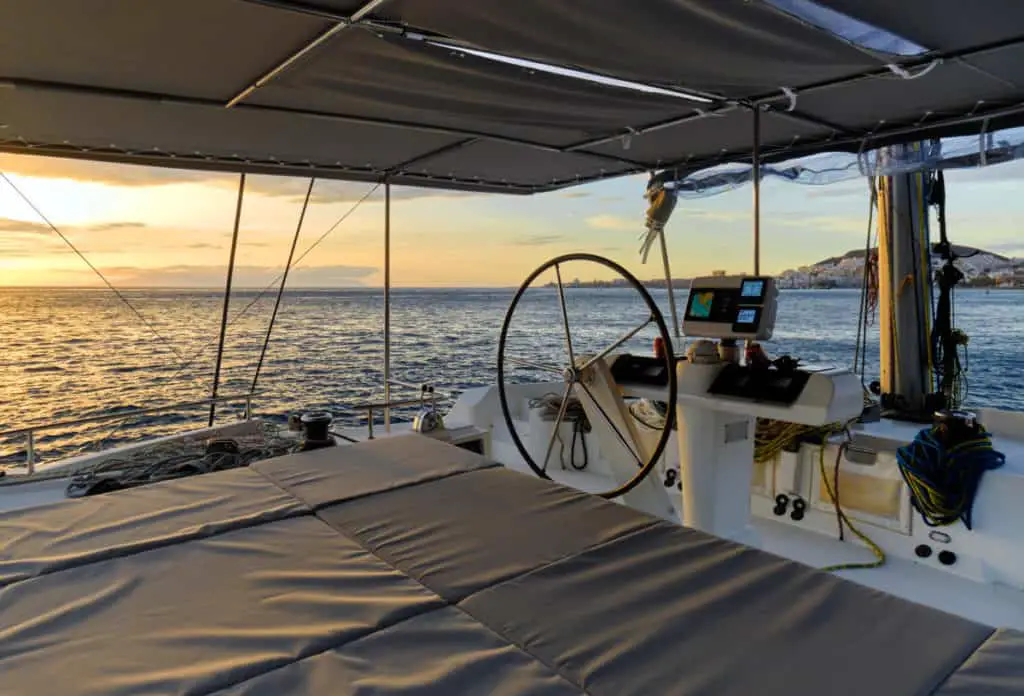 Rent Out Your Catamaran
Renting out your catamaran once you've bought it is another option you can use to help finance the purchase. 
It pays for winter storage and summer dockage, a portion of the boat loan, maintenance. It gets me in the water more even [often]. Great for my taxes. Works for me

Respondent #55
The idea is along the same lines as Airbnb. One site through which you can rent out your catamaran is Get My Boat.  It allows a boat owner to list their catamaran for short-term rental in return for a fee.
There are a couple of ways to do this. The first is for you to captain the boat during the rental period. The second is to offer bareboat charters where you hand over your catamaran for the agreed rental period.
With the first option, you'll need to have the time to captain your catamaran for the whole of each rental period. 
If you don't have that sort of time, the second option might suit you better. However, it does mean letting someone else take over your catamaran for the agreed period. So, you'll want to ensure you have insurance to protect your investment.
Although renting out your catamaran means there'll be times when it won't be available for your own use, it's up to you to accept or reject bookings. So you have some control over when you rent it out and the length of bookings you accept.
You'll still need to maintain your catamaran and clean between rentals. If you do the cleaning yourself, that's more of a time investment for you. But if you pay someone else to clean it, that's an expense that will come out of your rental charges.
However, you can see how you can use this type of scheme to meet all or part of your monthly loan repayments. If you choose to finance your catamaran from your savings, it can provide a way to rebuild those depleted savings fairly quickly.
Whether you captain your catamaran or not, this option for financing your purchase will involve a good deal of your time.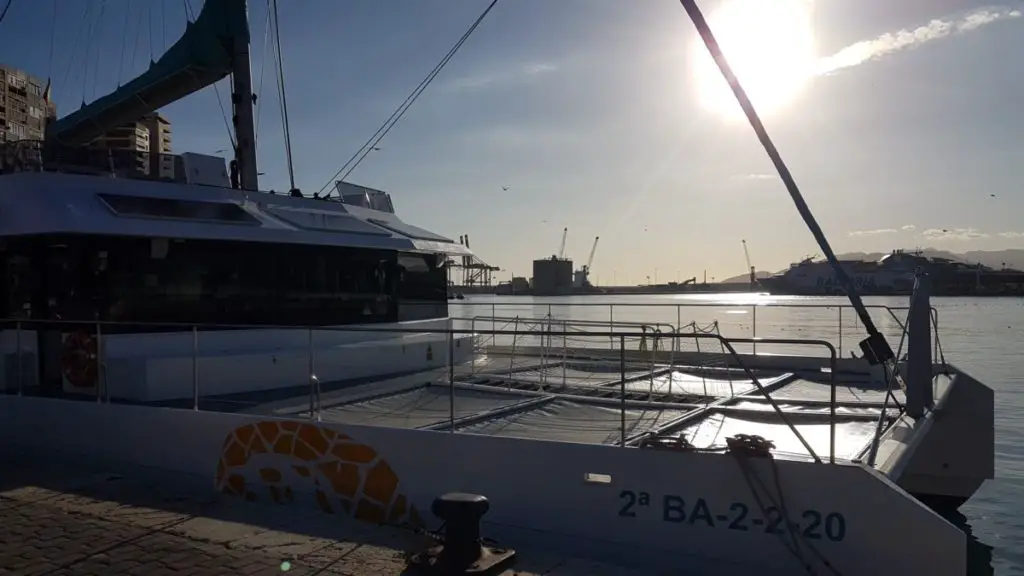 Use an Ownership and Management Program (Chartering)
Around 10% of the respondents said they have good experiences with chartering their cats as a way to stay within budget.
I charter with my boat. Makes the cost make sense

Nathan (#86)
If you're interested in financing your catamaran by renting it out but the time involved is off-putting, this option may be more suitable for you. The idea of an ownership and management program is that you buy your catamaran. Then you allow a company, like Navtours, to charter it out.
That company pays you a fee in return for the use of your boat. And they're responsible for managing charters, marina fees, and maintenance costs.
The downside of this is that you lose some control over when your catamaran is available for your use. Though many companies should let you choose the type of management agreement you want.
For example, Navtours offers two options: One gives you access to your boat for twelve weeks of the year, the other requires you hand your catamaran over for a more limited time, allowing you to use it as you please for most of the year. 
With both options, you can generate an income from your catamaran. That income will be lower under the second option because it'll be out for charter less of the time.
As with renting, you need to be comfortable with other people using your catamaran. However, with a program like this, you'd be entering into a contract for five years. With the last option, it's up to you how long you continue renting out your boat.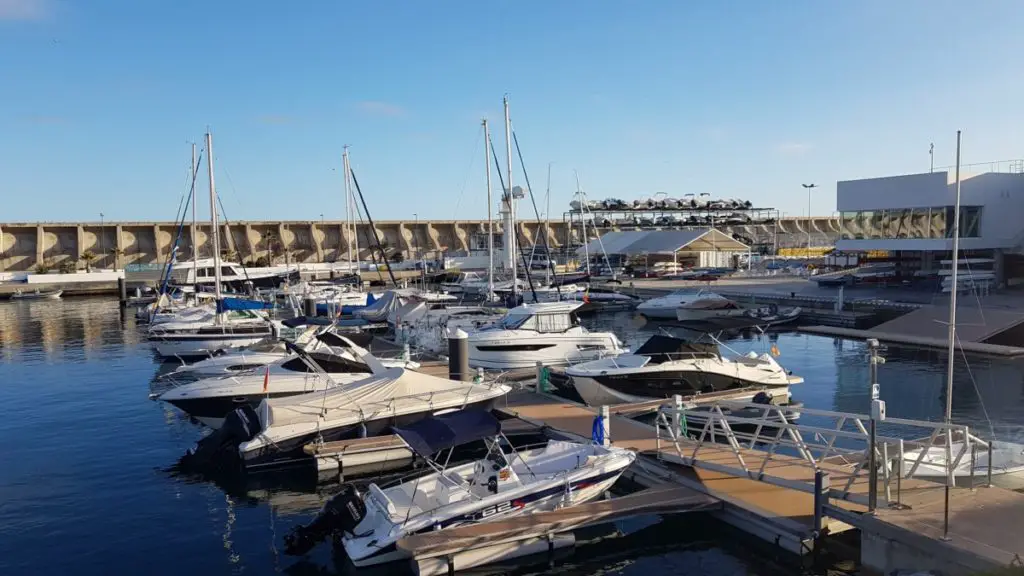 Things To Think About When Financing a Catamaran
However you choose to finance your catamaran, it'll involve a significant outlay. Let's discuss a couple of things you can do if you want to sail through the process smoothly.
What's Your Intended Use?
If you choose to go with a boat loan, make sure that they allow you to do the things that you intend to do, some loans will have geographical limitations as to where you can go.
Some banks restrict your cruising grounds as they don't want their collateral sailing away [for example] to Madagascar.

Scott (#51)
Check Your Credit Score
As you've seen above, if you want a loan to finance your catamaran, you'll need to meet lenders' credit score requirements. 
Knowing your credit score in advance is important because it helps you rule out some lenders that you know will turn you down, saving you time on unnecessary applications. Also, hard lender inquiries on your credit file might hurt your score.
While some lenders ask for at least a good credit score, others may be less stringent. That's why you should shop around. An average or even poor credit score needn't sink your dream of owning a catamaran. If your credit score isn't quite up to scratch, think about ways to improve it. For example, you could pay down debt to reduce your borrowings or to reduce your credit utilization.
Get a Boat Survey
You'll need a survey if you're taking a loan secured on the boat. Though, regardless the way you decide to finance your catamaran, this will be money well spent. Even if you go the unsecured route or finance your catamaran from savings or a home equity loan, a survey will give you peace of mind. 
Proceeding without a professional survey is risky. Remember, the catamaran of your dreams may look okay from the outside, but your untrained eye could miss potentially costly issues–a sure way to capsize your dream of owning a catamaran.
Conclusion
As you can see, if you're looking at how to finance a catamaran, there are several options. Weigh them all up carefully and don't go full steam ahead into anything. Take your time to steer a steady course through the available options to find one that suits you.
Remember, don't use savings if it'll leave you short of cash to deal with life's headwinds. If you're borrowing, shop around for the best rates and terms. In particular, give a wide berth to loans that tie you in with penalties for early repayment. Good luck and happy sailing!
And remember BOAT actually means Break Out Another Thousand! 😉
So what does it cost to maintain a catamaran?
Sources