More than ever before, sailing fans are gaining an interest in catamaran layouts and designs that define performance. Many others are also looking into either buying a cruising catamaran or designing and building one. While building a catamaran is no piece of cake, this article shows you how to create the perfect cruising catamaran layout. 
To create the perfect catamaran layout, carefully consider factors like a good hull design, optimal helm station placement, boat stability, and adequate load-carrying capacity. Excellent galley positioning, ease of handling, and spacious living and sleeping quarters are also crucial. 
The modern cruising catamaran is a far cry from the simple Polynesian double canoe of old. That's because structural innovations and new composite materials have resulted in multihulls with impressive cruising abilities. Keep reading to learn more about exceptional catamaran layouts.  
The Changing Trends in Catamaran Designs
The early cruising catamaran designs resulted in boats that could sail much faster than traditional sailing boats. In addition, they could glide with ease in shallow waters and required less wind and crew. Unfortunately, these cruising cats were heavy, had small, cramped interiors, and boasted somewhat challenging handling abilities. 
Today's cruising catamarans are different. They boast the utmost comfort, high speeds, and the safety of a well-designed cruising yacht. They are also more exciting, visually appealing, deliver the smoothest of rides, and sport more spacious interiors. 
Have a look at the below video showcasing the top ten cruising catamarans:
Features To Look Out for in Catamaran Design Layouts
Cruising catamaran designers understand what most sailors look for in a cruising vessel. They, therefore, design cruising multihulls that address these pertinent issues and more. Some of the features you might want to consider having in your dream boat include the following:
Responsive performance. Outstanding performance allows for pleasurable cruising and ensures your safety since you have more options during difficult weather.
Excellent load-carrying ability. This allows you to have an extended cruising vacation or ocean crossing.
Boat stability. Go for lightweight, robust construction, which results in a lot of buoyancy.
A low center of gravity for smooth rides and enhanced performance. Centering weight around a low center of gravity improves the overall sailing quality, reduces pitching movement and reduces the risk of capsizing.
Adequate bridgedeck clearance to reduce slamming and provide better performance in rough conditions. A high bridgedeck also means less noise and slapping action from the waves hitting the boat bottom, thus ensuring a quieter, smoother ride.
Comfortable sailing. To enjoy a quality life on board, you need comfort while at sea. Thus, elements like gentle movement, no creaks or groans, no bridgedeck slamming, and minimal pitching are essential for quality, peaceful and restful sleep.  
Now that you know what a cutting-edge catamaran features, let's look at how to create the perfect cruising catamaran layout.  
Build a Larger-Sized Catamaran
The early catamarans ranged between 36-42 feet (10.9-12.8m). At the time, this appeared to be a good size in terms of safety and ease of handling. However, the boats were heavy, and the additional drag and displacement adversely affected their performance and windward ability. 
It's now possible to make the new generation catamarans lighter, larger, and more spacious with excellent power-to-weight features. The current trend is larger-sized catamarans in the 45-50 feet (13.7- 15.2) range. Composite engineering and technologically advanced equipment such as furling systems, electric winches, and autopilot make it easier for a smaller crew to sail larger boats with confidence. And to do so without compromising safety or stability. 
Get the Best Catamaran Hull Design
A cruising catamaran's performance depends on three main aspects; its length, the sail area, and the boat's weight. Long boats are generally fast. A light boat with more sail area is also faster than a heavier boat with less sail area. In other words, you can make a multihull faster by making it longer, lighter, or adding more sail.
However, there are exceptions to this rule; a boat with too much sail area is more likely to capsize if there are brisk winds. Also, if the boat's design makes it too light, it'll be unable to handle much punishment, while a hull design that's too slim would make the vessel incapable of carrying any significant loads. But that's not all; if the boat is too long or too large, it'll become grossly exorbitant. Narrow hull shape might also mean smaller cabins.
Nonetheless, these three factors alone are not enough to determine a cruising catamaran's performance. While faster boats boast finer hulls, the wetted surface area tends to increase as fineness increases; thus, fine hulls end up becoming less fast in low wind speeds. Also, very wide hulls mean a reduction in actual performance.
The Prismatic Coefficient (Cp), a measure of how full the ends of the hull get, is the most essential design hull shape factor for any catamaran. A high Cp equals high speeds, although you can still use a lower Cp if you have fine hulls. Nevertheless, the key to a good Catamaran design is a higher Cp for fast sailing. 
To achieve a high Cp, there are several things you can do: 
Fit bulb bows. Unfortunately, the bulb bows tend to slam in a seaway when you do this.
Have an extensive planning aft section. However, this can increase the wetted surface area, WSA and lead to additional challenges. 
Flatten out the hull rocker and add a bustle aft. This helps to add displacement aft.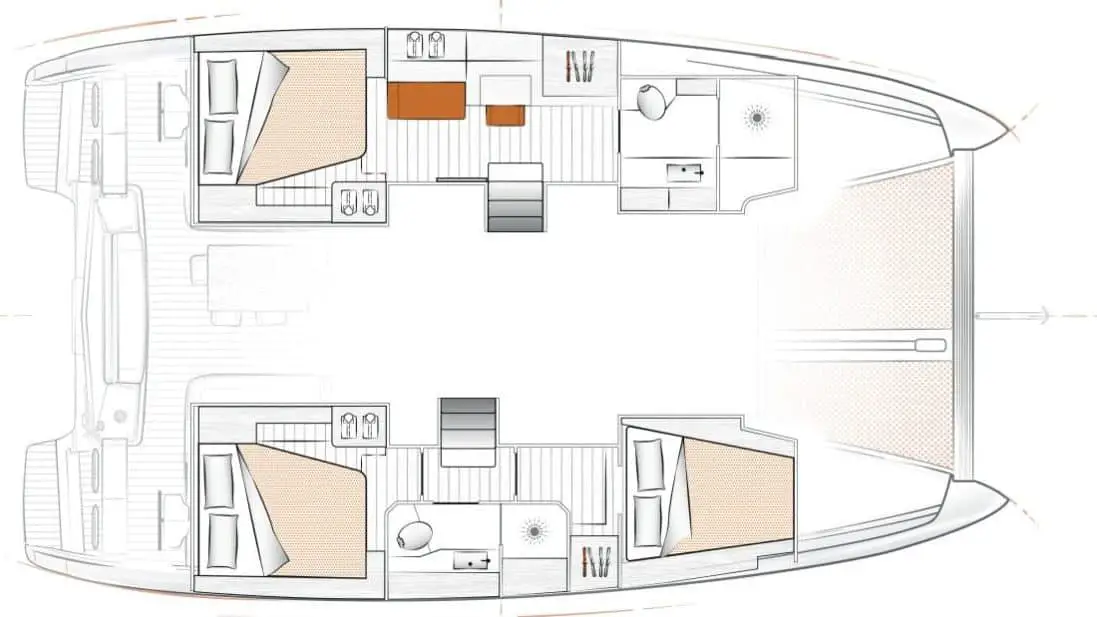 Build Convertible Main Living Spaces
The open cockpit is now a thing of the past. Instead, pioneering designers for catamaran manufacturers like Nautitech, Gunboat, and Catana now replace traditional-style salons, cockpits, and cabins with spacious indoor and outdoor living spaces. The concept involves merging separate saloon and cockpit areas with duplicate lounge spaces and the use of hard-wearing composite materials. 
You can also design the cabin to suit your preferences. You may decide to add a cabin or remove one, add a bathroom, have the forward berth in the hull or on the wing deck.
Pros
The design enhancements boost usable space while opening up the living areas.
It reduces time and costs for interior maintenance and cleaning. 
Large windows bring in more light, increasing visibility. 
Luxurious, spacious, and airy owners' cabins provide more comfortable living space.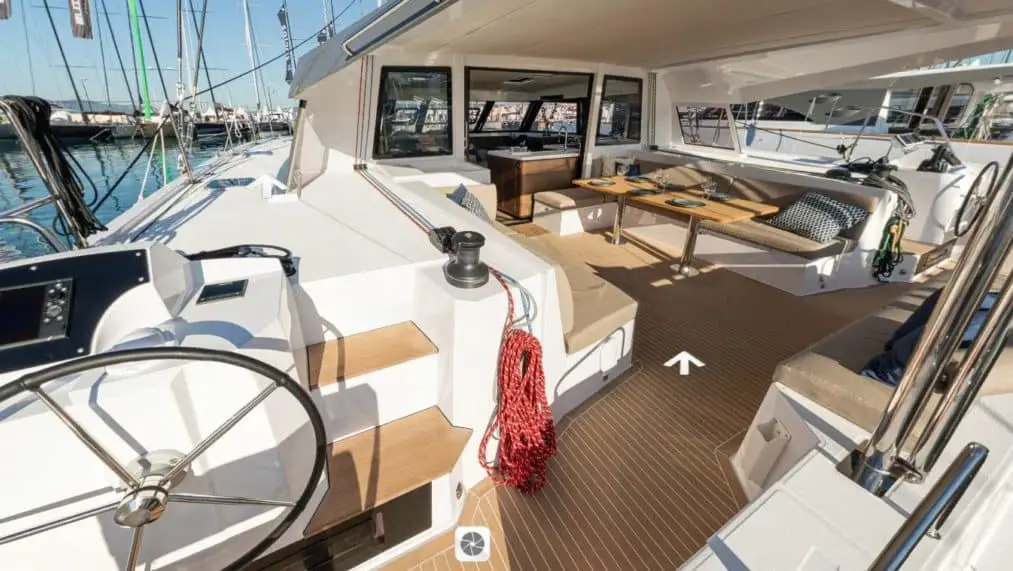 Bulkhead Helm Stations vs. Twin Stern Steering
Many catamaran owners have traditionally preferred bulkhead steering. This helm position remains popular, but twin stern steering positions come with more advantages since they provide greater sails visibility. The twin stern positions are also best suited for racing or day sailing since they often lack adequate protection for extended cruising. 
Exposed helms are not ideal for a long ocean passage. Go for a safe, secure, and well-protected helm station that provides good visibility and comfortable space for long watches. Again, it's best to have all control lines at the helm to establish a static control station. Also, have all push-button-controlled winches, instruments, windlass, and autopilot prominently located inside the cockpit. 
Pros
Twin stern steering positions give you a better view of the sails
You get a better feel for overall sailing conditions.
Cons
Twin stern steering positions lack the necessary protection for extended cruising.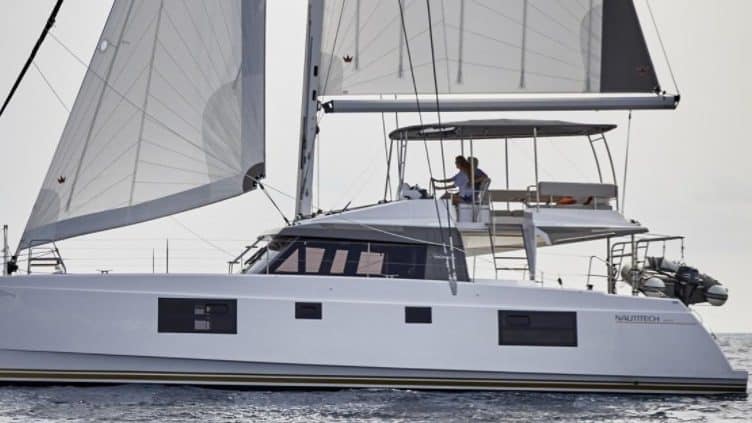 Go for the Flybridge Design
The flybridge design is appealing because it offers excellent visibility, more comfort, and additional entertainment and lounging space for everyone on board. Unfortunately for smaller boats – those below 50 feet (15.24m), there is minimal protection from the elements. As such, you might want to consider adding enclosures to offer protection. The flybridge, thus the helm, remains cut off from the vessel, which makes communicating with the crew a challenge. 
Pros
It provides great visibility.
It offers comfortable spacing. 
Cons
It might be unsafe to move from the cockpit to the flybridge in bad weather.
It isn't easy to communicate with the crew.
Daggerboards vs. Fixed Keels
Average cruising catamarans typically utilize fixed keels while high-performance cats have daggerboards. Fixed keels allow you to beach your catamaran easily, and your hull remains intact if a collision occurs. While you lose some angle when sailing upwind, you gain more interior space in the hulls that you can put to good use.
Daggerboards are essential in a performance cruising catamaran since they guarantee that the boat delivers good upwind sailing, including during difficult situations. During long passages, they allow you to point better upwind though the drawback is that they consume much interior space within the cruising catamaran's hulls.
Since flying on foils (hydrofoils) isn't that practical on cruising catamarans, designers of larger-sized boats have also come up with modified daggerboards. These daggerboards produce lift and prevent leeway, too, thereby improving performance significantly, as seen with the Catana 59's curved daggerboards. These foil-like daggerboards lift the boat ever so slightly upon reaching higher speeds, making it feel less heavy and much faster. 
At the end of the day, calculating the performance of a boat sailing in a wide range of varying seas and winds might not be easy – despite a daggerboard or fixed keel configuration. This is because upwind speed depends not only on the sails' quality but also windage and the height of the bridgedeck beyond the water.
Pros
The design innovations -curved daggerboards and hydrofoils- improve catamaran performance significantly.
Daggerboards enable you to access otherwise inaccessible anchorages.
Cons
Daggerboards take up hull space in the hulls of your vessel.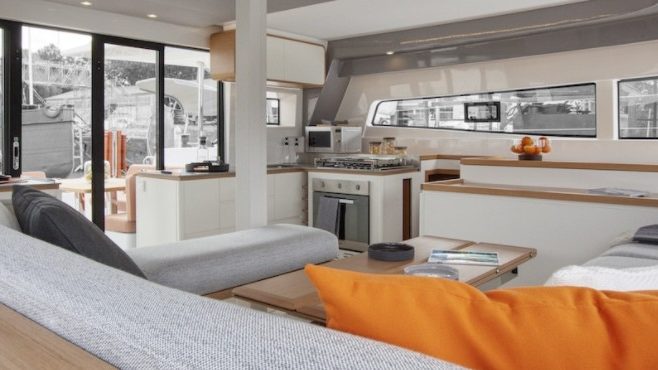 Galley Up vs. Galley Down
Galley layout are becoming more and more important as more people, including families, start sailing regularly. While at sea, your galley needs to be a safe place, well-ventilated, and functional. Everything should be well-thought-out for the sailor's comfort, including handholds to make it safer to move around the boat. 
While the galley location can either be up the bridgedeck or down in the hull, galley up appears to be the most popular trend. This makes the galley the focal point of both the living space and entertainment areas.
If you have a family, this placement is ideal since you make your meals from the galley and get to spend most of your time here. Many cruising families and couples prefer this arrangement and find separating the galley down the hull unappealing. Besides, carrying hot food up and down the staircase is unsafe.
Still, galley down is ideal for charter boats since it offers a private cooking area and uses up hull space efficiently.  
Pros
Having the galley on the bridgedeck is ideal for families and cruising couples.
Placing the galley on a similar level with the serving area and cockpit is safer and less tiring.
There's better ventilation on the bridgedeck, making for comfortable cooking. 
Cons
There's less kitchen privacy galley up.
On smaller catamarans, this layout can impact the size of the saloon seating area significantly.
Production Catamaran vs. Custom
The choice of either a production catamaran or a custom design might seem pretty straightforward. Production catamarans from major brands come backed by proven designs, dependable construction, solid warranties, and many years of experience. The catamarans are easy to service, source for parts, and most – particularly the owner's versions – hold on to their value, making them much easier to resell. 
On their part, custom boats are fantastic in that you can tailor them to your exact needs. However, they might be more challenging to maintain or service. That's because of parts unavailability and lack of construction knowledge.
Choose Quality Construction Materials
The best quality materials to use on your catamaran are both light and robust. While carbon fiber is great, plywood, plywood/epoxy, and strip-cedar are excellent materials too. What's more, they are also affordable, so you don't have to get too hung up on cutting-edge building materials. What matters is build quality; thus, a well-built plywood catamaran boat can last as long as a boat made from more high-tech materials. 
Combining various materials also helps combat some of the issues that plague plywood boats in terms of resale value. At times, the design tends to make the boats appear pretty dated.  
Pros
Plywood and strip-cedar materials are affordable and provide excellent build quality. 
Cons
Plywood boats may have a lower resale value than those built with modern materials.
Consider Ease of Handling
An important factor in handling a cruising catamaran is deck layout. Most cruising catamarans sailed short-handed, so if your boat has one helm, all lines should run back here to allow for a static control station for the entire boat. 
The other essential element is visibility from the helm. The 360 degrees of visibility while maneuvering, docking, or underway is crucial to your boat's safety, as well as life and property. As such, you should be able to view both bows, or at least the pulpits and sterns, while standing at the helm. If not, you may have challenges handling the boat due to blind spots.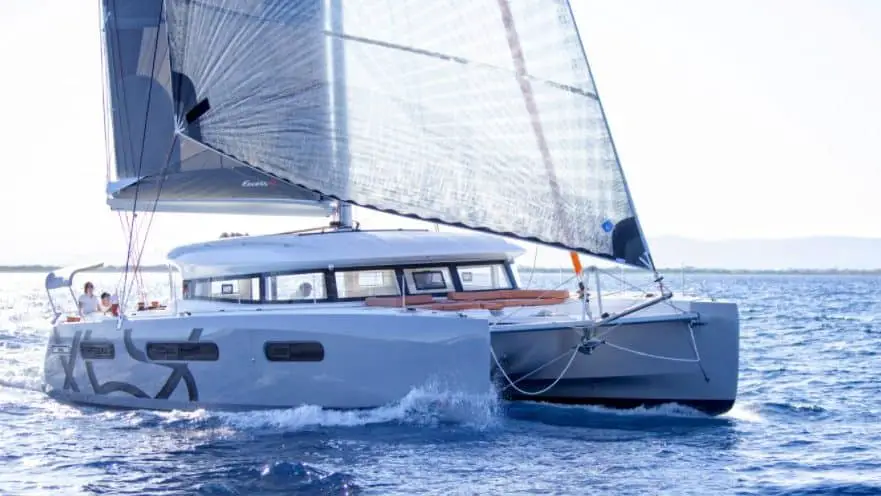 Consider the Load Carrying Capacity
A well-designed catamaran is enjoyable to sail in all weather conditions. It's also much easier to handle than a monohull because of its widely spaced twin engines. But when you immerse extra hull depth, the vessel gets sluggish and moves slower, maneuvering in tight spots or when docking becomes more challenging. Furthermore, the hull submersion reduces bridge deck clearance, leading to hull slamming. 
To allow for adequate load carrying capacity, you need a design that provides a generous displacement. This helps to ensure that you maintain reasonable bridge deck clearance even when fully loaded. It also allows you to avoid digging big holes in the water as you drag your transoms. 
Displacement refers to the amount of buoyancy designed into the hulls, which essentially means that your boat will cruise better if its weight is less than your designed displacement.
Note that an overloaded catamaran not only loses out on performance but eventually, on safety too. To counter this, choose a lightweight catamaran with hulls bearing cored construction and interiors made of lightweight materials.  
Remember, when you go cruising, you will need to carry fuel, extra water, supplies, equipment, and amenities, translating into thousands of extra pounds. Therefore, try and avoid the following design errors to ensure that your catamaran has an adequate load-carrying capacity:
Avoid putting in place too much accommodation space.
Avoid building a heavy boat ‐ use low-tech construction materials.
Avoid installing inboards in a small boat.
Pros
Lightly constructed catamarans perform faster and carry more weight.
Cored construction makes for a strong and stiff catamaran, thus enabling good performance.
Final Thoughts
A well-designed cruising catamaran is a joy to behold. Today's modern technological advancements mean that you can buy or build a light but strong cruising catamaran. And as you can see from this article, there are many excellent cruising catamaran layouts that you can choose from. 
However, whichever layout you decide on needs to fit your sailing needs and purposes to ensure you remain comfortable and safe while at sea. Above all, ensure that you go for a vessel that you can handle with ease in all weather conditions.