Finding the best solo bluewater catamaran is hard, I have been looking for the right balance of lightweight, sturdy, spacious, and compact. But what are the best solo bluewater catamarans on the market?
The ten best solo bluewater catamarans have unique designs, are about 40 feet (12.2m) long, boast an autopilot, all lines to the cockpit, and can provide a safe ocean passage with only one sailor on board. Popular short-handed bluewater cat models include the Manta 42, Dolphin 42, and the FP Belize 43.
Whether you're looking to buy a brand new catamaran or refit an older one, I know one thing, there's a solo sailing boat out there for you. Read on to learn about the best models available on the market today, this article is a synergy of my own knowledge together with the experience of expert sailors.
What To Look For in a Solo Bluewater Catamaran
If you're sailing single-handed (aka shorthanded or solo), you'll want an easy-to-maintain boat that allows you to stay at the helm for the bulk of your trip. Typically, you'll want a catamaran that's about 40 feet in length (and with a beam to length ratio above 53%) too big of a boat, and it will be hard to handle, and too small it becomes unable to sail large waves and strong winds safely. Sail size plays a big part in how easy your reefing and winching will be.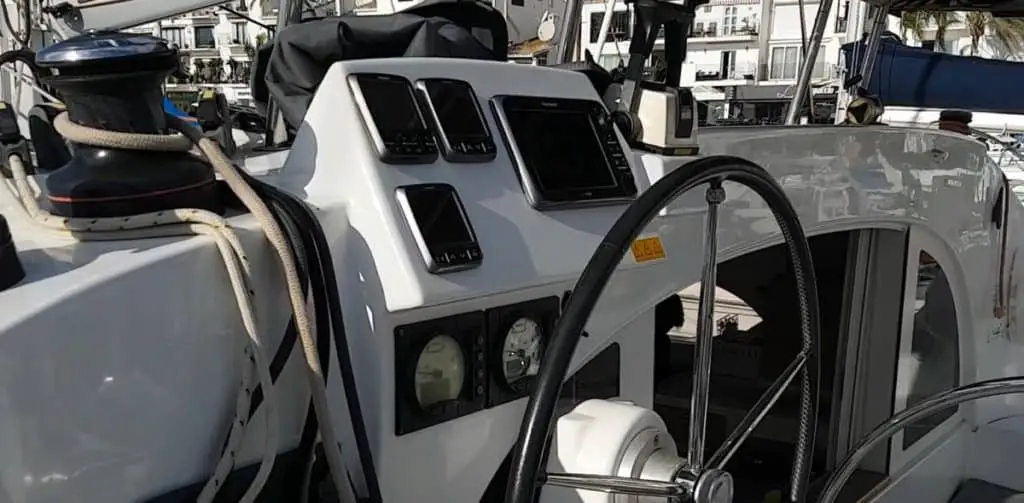 Autopilot
If your boat has an autopilot, which a well-outfitted bluewater boat definitely should, you will have an easier time managing sails and navigation. With autopilot mode enabled, you can cruise along without having to worry about adjusting the course since the autopilot will do this for you. These systems can be standalone or tied into a GPS and make a great asset for single-handed sailors. 
Remember that autopilot works better under power than under sail because of the amount of electric power it needs to work. You can increase performance under sail, however, by trimming correctly for a neutral helm. 
Autopilot functions can sometimes be managed with a remote controller that you can wear on your wrist or a lanyard for added convenience.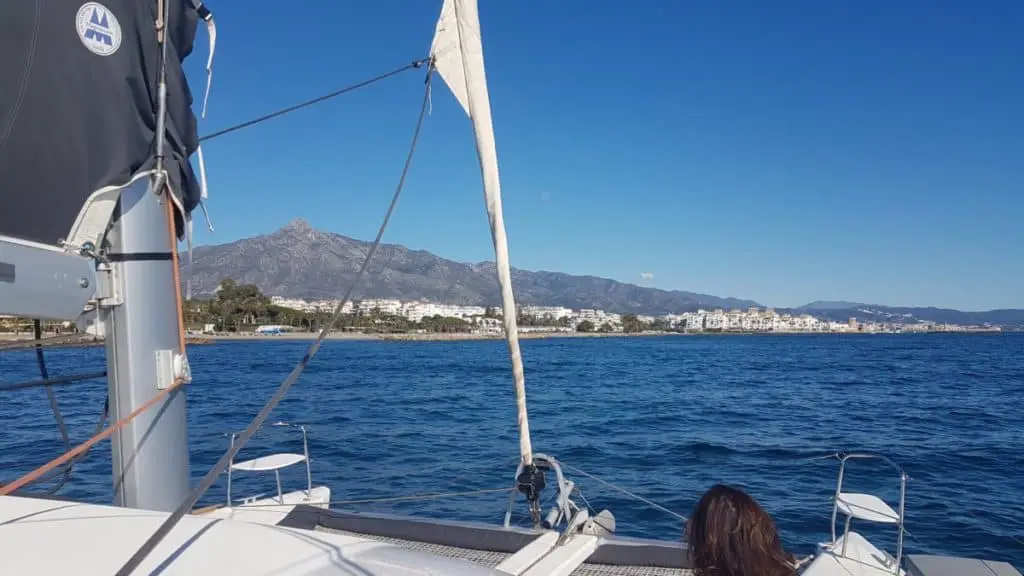 Sails
Having a furling headsail can save you effort on the foredeck, and in-mast or in-boom furling makes the job of mainsail reefing more simple. However, this comes with a tradeoff in performance. 
A slab-reefed main takes longer to reef, but it's easier to handle than others because of the lines led aft. The only thing you need to worry about in this case is adding lazy jacks, which will prevent the main from blocking your vision.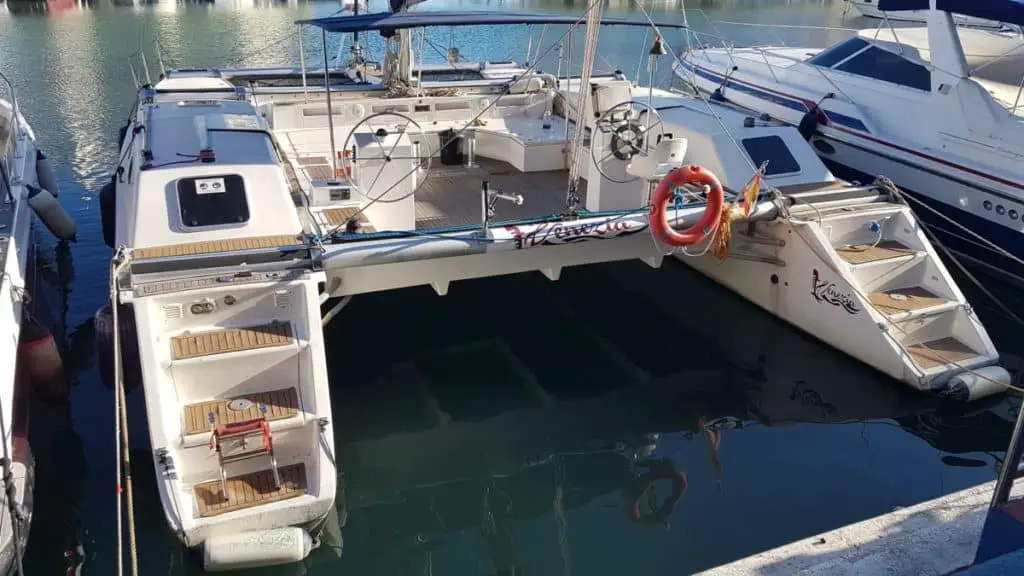 Handling & Safety
One of the riskiest things a solo sailor can do is leave the cockpit, so choosing a ship with quick and easy sail handling is of great importance. This is especially crucial near harbors, where there's likely to be lots of other boat traffic. The best bluewater catamarans for solo sailors will have lines that run into the cockpit so that you don't have to abandon your position at all. 
Even if you don't run all your lines to the cockpit, you should at least take the main halyard back with you to the cockpit. This ensures that you'll be able to stay in control of the boat without having to scramble quickly between stations.
When mooring by yourself, you might find midships cleats valuable in that they provide an anchoring point that keeps your ship from drifting away before it's been completely secured. 
---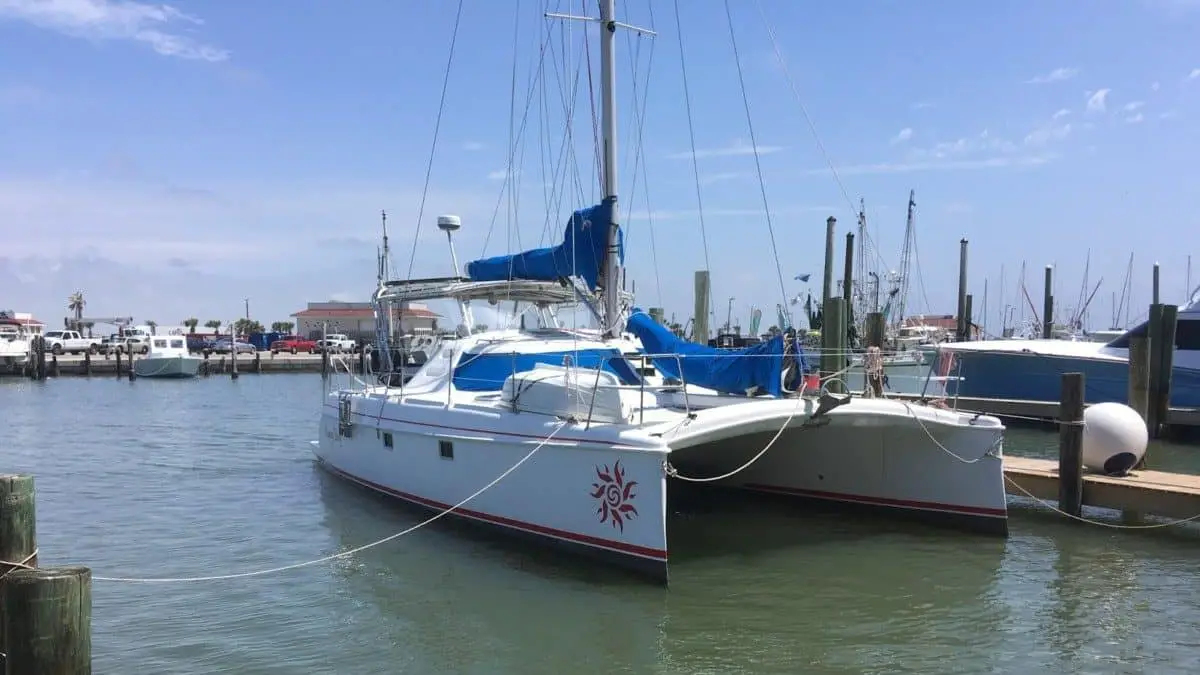 Manta 42
The Manta 42 is a classic multihull catamaran built in the late 1990s to 2000s in Florida. It was designed by French naval architect Eric Lerouge and can be identified by its high bows and curved crossbeam. A Manta 42 is relatively light and has room for added features, like solar panels or dinghies. 
What Makes It a Good Solo Sailing Cat
The Manta 42 is great for single-handed sailing because it's lightweight and easy to handle. It also has pinned aluminum crossbeams rather than conventional aluminum crossbeams, which means that the bows' twisting forces will be absorbed. But note that this can lead to stress cracks in the bow area. 
For more information about the Manta 42, see this video walkthrough:
---
Dolphin 42
The Brazil-made Dolphin 42 comes equipped with a daggerboard for stability, which allows it to point higher. This also reduces the amount of wetted surface and allows you to anchor in shallower water. The Dolphin 42 also has a foam core for reduced weight and a lower chance of developing a wet core.
This catamaran is 41 ft. (12.5 m) long, with a displacement of 24,255 lbs (11,001.88 kg). It has two 60 horsepower engines, six feet (1.83 m) four inches (10.16 cm) of headroom, and comes with a built-in GPS-integrated autopilot system and a fully battened mainsail. Additionally, this ship has several household comforts, like hot water, air conditioning, a TV set, and a computer built-in, as well as a refrigerator. 
What Makes It a Good Solo Sailing Cat
The Dolphin 42 is lightweight, stable, and compact, great for short-handed sailing. Dolphins have been known to perform successful circumnavigations comfortably and safely and are very reliable. However, you should be sure to choose a model that has not had any major modifications to the structure post-production.
---
Privilege 435
The Privilege 435 is a heavier cruiser meant for long-distance trips, designed according to the French tradition of multihull ships. These have been on the market for about 30 years and are made by large producers like Lagoon and Nautitech. The Privilege 435 can be purchased as an owner version or with four cabins and four head/showers. 
This catamaran is low-slung and has low wind resistance. Its windows come with internal shades and optional outdoor shades, but without "eyebrow" overhangs, the saloon can become quite hot in the tropics. Still, this boat is of very high quality and has a solid, stylish finish. 
What Makes It a Good Solo Sailing Cat
The Privilege 435 is a luxurious choice, built for long-distance cruising. This catamaran is well-made, will not give in easily to stress, and has low wind resistance for increased efficiency. If you're looking for a high-end boat with a stylish design, this could be the choice for you. 
---
Fountaine Pajot Belize 43
The Fountaine Pajot Belize 43 is perhaps the most popular catamaran on the market today. It has a full-length owner suite with a clever design that pairs a curvaceous saloon with a wraparound dinette and nav area. The galley comes with wraparound windows, and the outer deck is easy to walk on. 
What Makes It a Good Solo Sailing Cat
The Fountaine Pajot Belize 43 has a foam core, which means it's lightweight and unlikely to develop a wet and soon rotten core. It makes for a great solo sailing boat due to its ease of use, stability, and comfortable design. This catamaran is especially good for long travels due to its comfortable and spacious layout. It would make for a great single-handed sailing trip for a family.
---
Nautitech 44
The Nautitech 44 was one of the first catamarans with an integrated hardtop bimini, one of the many ways this design set the trend for short-handed sailing catamarans. It has two modes, one that allows single-wheel steering at the bulkhead and another that allows twin wheel steering closer to the stern. The Nautitech 44 also has slim hulls, which means more speed.
This ship is produced out of Rochefort sur Mer, a hub for naval architecture and shipbuilding. Nautitech was the first luxury boating company to introduce the concept of open living onboard, combining the saloon and cockpit to make one functional and spacious living area. 
What Makes It a Good Solo Sailing Cat
Because the Nautitech 44 has two modes for steering, it allows each sailor to choose the steering method that best fits their wants and needs. Both modes have their advantages, but many prefer the sailing sensation of the two-wheel approach. This ship's design also allows the saloon door to be left open even in the heavy rain, without fear that water will leak inside.
The combined saloon and cockpit also make for a comfortable trip for the single-handed sailor, allowing you to enjoy your leisure room without leaving your ship's control room. 
---
Lagoon 440
The Lagoon 440 has a lot of volume for a single-handed sailing catamaran and a signature squared-off structure. This ship isn't lightweight, but the saloon is spacious and accommodating to furniture. One version of the Lagoon 440, the flybridge version, is a difficult ship for shorter sailors to operate, simply because of a high boom position.
What Makes It a Good Solo Sailing Cat
The Lagoon 440 is a good solo sailing boat if you're looking to go on a long-distance trip, spending lots of time out at sea. It isn't particularly fast, but it's very stable, easy to use, and has lots of room for furniture and supplies. Several versions of this model are available on the market, all of which have slightly different layouts.
This catamaran is 49 ft. (14.94 m) long, bigger than most solo sailing ships. However, it does come with an autopilot system that makes solo sailing easier, as well as a GPS, radio, and built-in radar detector.
---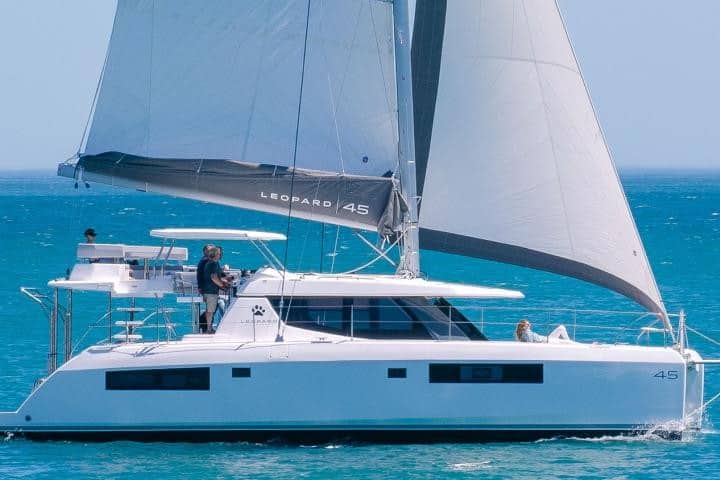 Leopard 45
The Leopard 45 is a South African-made multihull ship on the market since the late 1990s. Most Leopard 45s on the market are four-cabin versions, although a three-cabin version of the ship also exists. It also has a large, open-plan saloon with a large galley and a trademark rear arch. 
See the Leopard 45 in action in the following video:
What Makes It a Good Solo Sailing Boat
The Leopard 45 is a good solo sailing boat because it has a sturdy fractional rig for stability and is easy to use. It also has an open cockpit, which makes circulation easy. And you'll find the engine access points on the outside of the ship, which makes maintenance easier. 
---
Voyage 44
The Voyage 44 is a South African-made catamaran with a rugged design, considered a cost-effective option with superior sailing performance relative to other ships sold at the same price point. This boat has a particularly wide beam, which makes for more stability and more space. However, it also has a very exposed low bridge deck to be aware of.
What Makes It a Good Solo Sailing Cat
The Voyage 44 makes a great single-handed sailing boat because it's so stable with its ultra-wide beam. It makes the ship very easy to steady, even for beginners. While it's not particularly lightweight, it's built with an aerodynamic design, enough so that it can move along at a steady clip.
What is the largest boat one person can sail?
---
Outremer 45
The Outremer 45 is a product of La Grande Motte in the South of France, built with a well-executed, smart design. The hulls and deck are made with vinylester and a divinycell core, and its high-load areas are suited with carbon for extra durability and rigidity. You'll find secure glassing at the joints of the ship rather than glue that could come undone.
The Outremer 45 has a classic multihull structure, small volume, and incredible responsiveness to the helm. It has a high bridge deck clearance, as well as well-proportioned bows. It also has a balanced weight distribution to prevent pitching and encourage steady motion forward. This is a pricier option, but an option with many great features. 
What Makes It a Good Solo Sailing Cat
The Outremer 45 is a good solo sailing ship because it's very compact and easy to manage. Its proportionate design means more stability and less pitching. It's a very light ship, so it's likely to move faster through the water than its competitors.
---
Prout 45
The Prout 45 is built for long distances rather than speed. It's a heavy, sturdy boat that you'll have an easy time guiding without worrying about pitching. 
The Prout 45 has space for a small stateroom in the center of the boat and comes in both owner and four-cabin versions. It has next to no bridge deck clearance due to a "nacelle" that runs along the main deck from end to end. This adds headroom and buoyancy and adds drag that can take away from the experience by slowing you down and creating noise.
If you want to better understand the difference between a solid foredeck and a net, a.k.a. trampoline, then I suggest you read my article comparing the two.
What Makes It a Good Solo Sailing Cat
The Prout 45 has smaller, more manageable sails than other options and allows easy access to the rigging, which runs right into the cockpit. It's a heavier ship and one that's easy to keep stable. It's a great ship for a solo sailor because you can do most of your work right from the cockpit, and it's a sturdy catamaran that's unlikely to pitch.
---
Tips for Single-Handed Sailing
Sailing solo is a great way to get to know your boat and is necessary for many people. The idea is to be able to cruise, whether it be close to coasts or at high seas, without needing a crew on board. It's a challenge, so it's best not to embark on a trip single-handed unless you have a good amount of experience and feel confident doing so. 
Training
Before heading out single-handed, you should test yourself with an inactive crew. Go together when the weather is nice and have them be your backup while you try solo sailing and see how it feels. 
Make sure that you've also physically trained for the level of fitness you'll need to operate the ship, especially if you'll be going out on a longer excursion than you've done in practice. Taking care of a ship is demanding work, and you can quickly burn out if you're not ready for it. 
Preparation 
Prepare yourself thoroughly for the sail, study the route, read sailing guides for every area you'll be in, and make yourself aware of any dangers that may arise. Become aware of possible shelters, and know where you'll be entering and exiting the harbors. It's a great idea to save these locations as waypoints on your GPS, just in case. 
I asked catamaran sailors what their favorite books are, Here is the list: 15 Best Books about Cruising Cats!
A great way to prepare yourself for possible situations is by reading books, I have bought plenty of books and I list some of my favorite on this page. So far I haven't found any good solo bluewater books that I would recommend, but here are two catamaran cruising books that I have read and that I feel comfortable recommending. I suggest you get both of them since they complement each other.
Multihull seamanship is very informative but offers boring graphics, and Cruising guide for sailors is inspirational with beautiful pictures.
When To Go
Make sure you choose a good weather window. Avoid sailing a few hours ahead of a forecast gale at all costs. Instead, seek a time with a reasonable breeze and a calm sea. You can gradually introduce yourself to different weather conditions, but remember not to challenge yourself too much too quickly.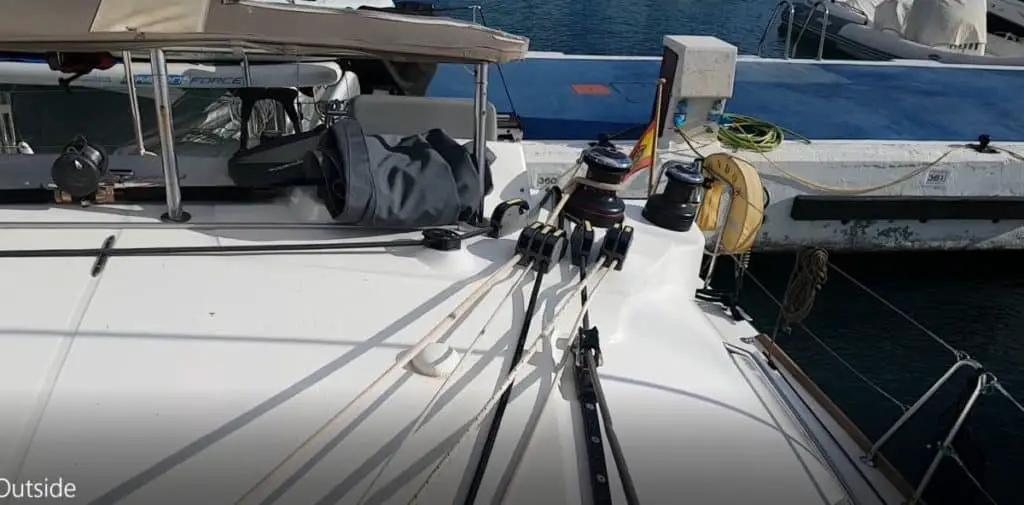 All lines To The Cockpit
The cockpit layout plays a big role in determining whether a catamaran can work for solo sailing. You'll need to see a chartplotter on deck so that you can keep course without needing to go to reference chart tables. Having a visible battery monitor is also important, especially if you're going to use autopilot, which pulls significant power from the battery. 
Don't forget to also bring sunscreen, water, and a compass, which you should have on hand at all times. Having a good communication system available in the cockpit is also a good idea. In case of emergency, you should have a radio that you can use to call for help, as well as flares and binoculars.
Conclusion
The ten best solo bluewater catamarans each offer a positive and unique experience for the sailor, and the best one for you depends on your needs, wants, and preferences. Those looking to make a longer trip will need something different than those looking for speed, but every solo sailor has some common needs, like the need for a stable and easy-to-manage vessel.