When I transitioned to a life of seaborne travel and adventure, it came with several challenges, the first being deciding the type of boat to use. In that process, I came across terms like "blue water sailing" and "catamaran." A few years later, I think I got the hang of it, and today I want to share my knowledge on what exactly a blue water catamaran is!
A bluewater catamaran is a multi-hulled vessel used for extended voyaging that can sail in very rough seas. Offshore catamarans are usually 40ft or longer, very stable, carry heavy loads, and are designed to be very safe.
Some say blue water catamarans make sailing under the most demanding conditions comfortable and safe, but are they right? Read on for detailed explanations of the features that make this boat type an excellent choice for sailors.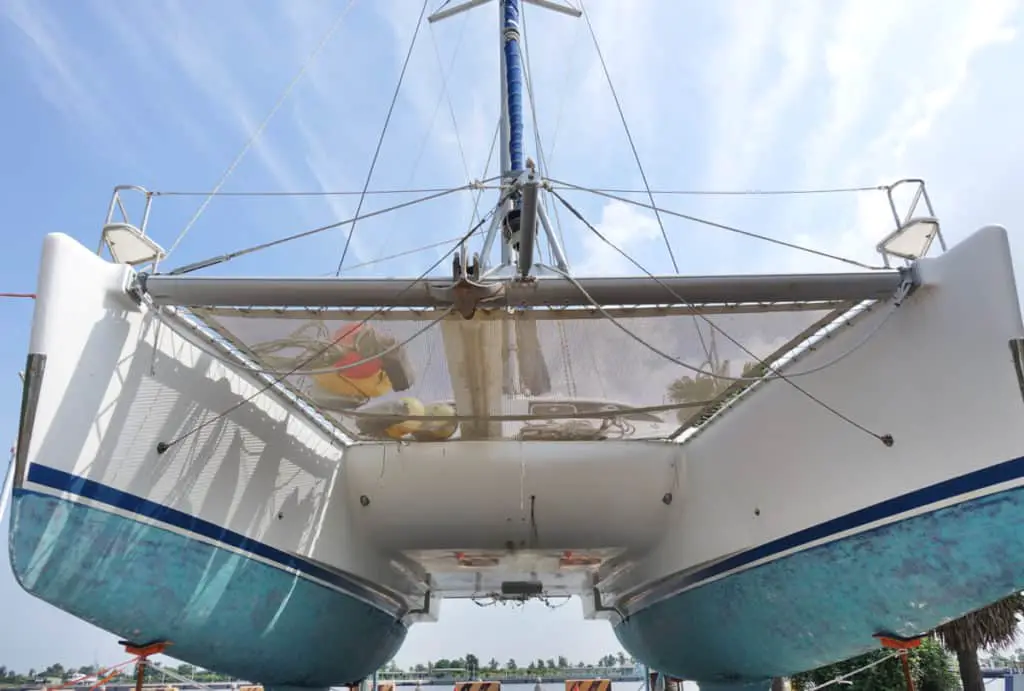 What Is a Catamaran?
A catamaran is a sea vessel constructed from two hulls that lie perpendicular to each other. This type of boat is traditionally used for recreational purposes. However, it is also quite common to use them in the commercial fishing industry.
If you want an in-depth explanation i suggest you read this article.
They are fitted with both sails and a combustion engine, these can run together or separately.
Usually, these vessels will have at least one headsail (generally referred to as a staysail), and one mainsail.
If you feel unfamiliar with some of the boat terminlogy i suggest that you check out my other article called Catamaran part.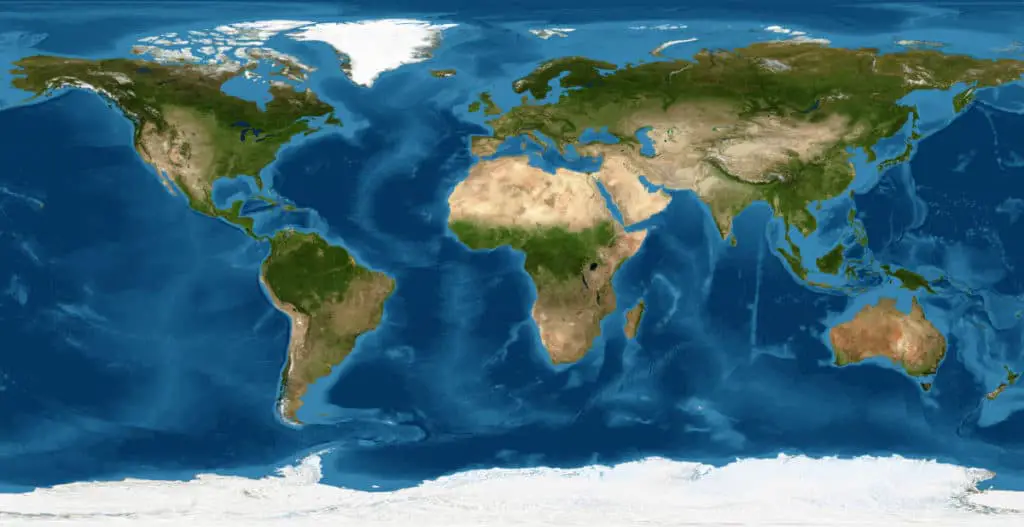 What Is a Blue Water Catamaran?
Bluewater catamarans are generally larger than boats made for coastal sailing. On average, these vessels come in sizes between 30 – 70 ft, offering cargo and passenger space for a few dozen people or more. They feature carbon fiber or fiberglass construction and come in different sizes for various activities. Some of these blue water boats feature flybridges.
A blue water boat is a boat that is optimized for sailing big oceans and doing long ocean passages. This is to be compared to a coastal cruiser which mainly is used for sailing less rough waters and where the need for storage to hold multiday provisions isn't necessary. A bluewater catamaran is also equipped with more advanced technology and offers better protection from the weather. More on this further down in the article.
Why Are They Called Blue Water Cats?
Blue water sailing is a term that refers to the open ocean.  Non-blue water sailing, on the other hand, typically means navigating inland waterways and coastal areas.
The difference between blue and non-blue waters lies within their visibility as well as hazards present in each location. The two types of seas have different types of challenges for sailors, especially when it comes to navigation at night or if you have a storm brewing on the horizon.
Blue water sailing is primarily done on the open seas where there is a lot of room to maneuver and travel long distances without hitting land or running into shallow waters. These types of voyages take place during the day, as well as at night when necessary.  As a result, blue water sailing requires more gear, skills, and sturdier vessels.
Non-blue water sailing typically does not venture out too far from shore and stays within sight of land so that it is possible to find a way back home if need be.
Generally, blue water boats are more powerful (bigger sails and engines), while non-blue water vessels may not need to move at higher speeds, so they feature smaller sails and engines with lower horsepower.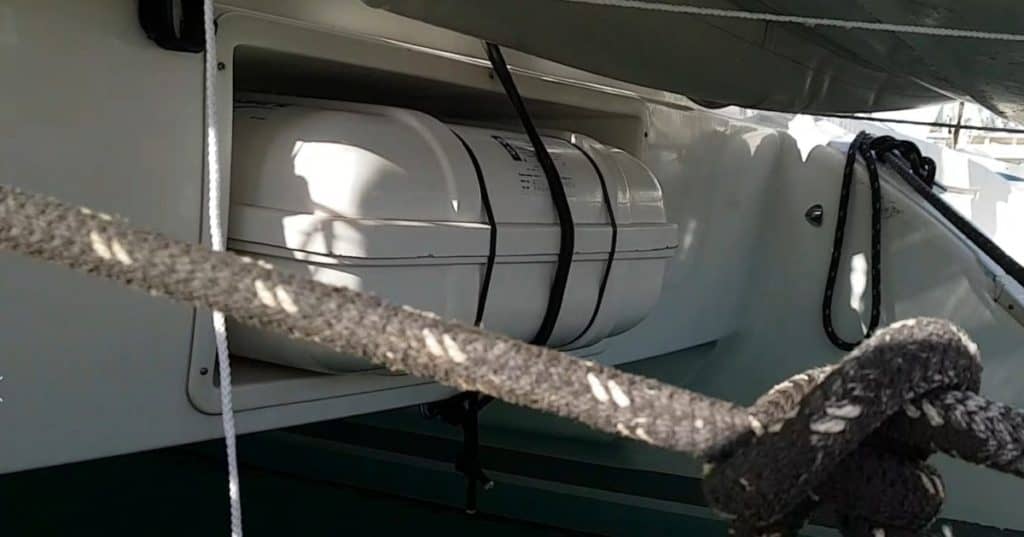 How Is a Blue Water Catamaran Equipped?
A blue water catamaran comes with all the equipment necessary to make your voyage on open water safe and as comfortable as can be.
Here are some of the standard features you'll find in this boat type: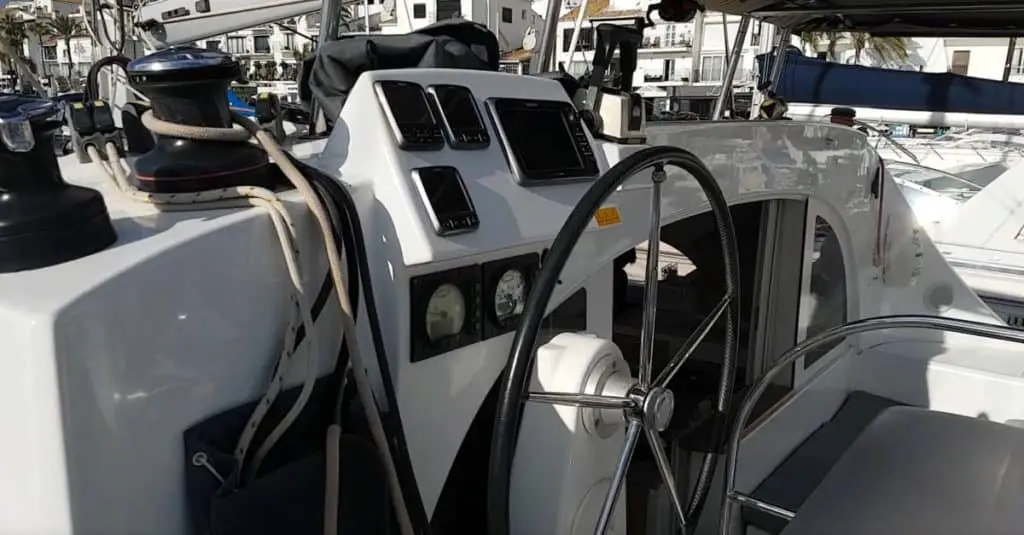 AutoPilot
The autopilot is a critical component of a blue water boat. Cruising without it can arguably be an absolute nightmare. You'd be precisely glued to the helm the entire journey, making it burdensome and uncomfortable. These boats come with in-board pilots whose rams are fixed directly to their rudder segments. 
This is not a "nice" to have feature; it is definitely a "need," Without it, you will tire out the crew and significantly increase the risk of sailor error.
The best catamarans feature durable, easy-to-adjust, and effective pilots that can easily take you on a voyage without breaking down.
Pro tip: carry one extra, sooner or later it will break!
Global Positioning System (GPS)
The GPS is undoubtedly essential equipment on any cruising vessel. Blue water boats come with either bottom of the range GPS, which gives you the exact position, or top of the range GPS, linked with electronic cartography.
Electronic cartography allows you to view charts for the whole world, the boat's position, speed, waypoints, ETA, water depth — to mention but a few — resulting in a much more effortless navigation. For instance, you can use it to avoid rocks when sailing along a coast.
There are many options but usually it is the budget that sets the standard.
A Good Dinghy
A good dinghy is a must-have in a catamaran. You use it to go ashore, bring provisions into the boat, refill water, go diving, or lay an anchor to complete your mooring – it's a versatile piece of equipment that makes cruising easier.
It can be placed at the stern, or under the davits, between the hulls to allow for flexibility and easy access to hard-to-reach places, such as coral beaches.  
Remember! A dinghy is not a life raft, they are designed for different things!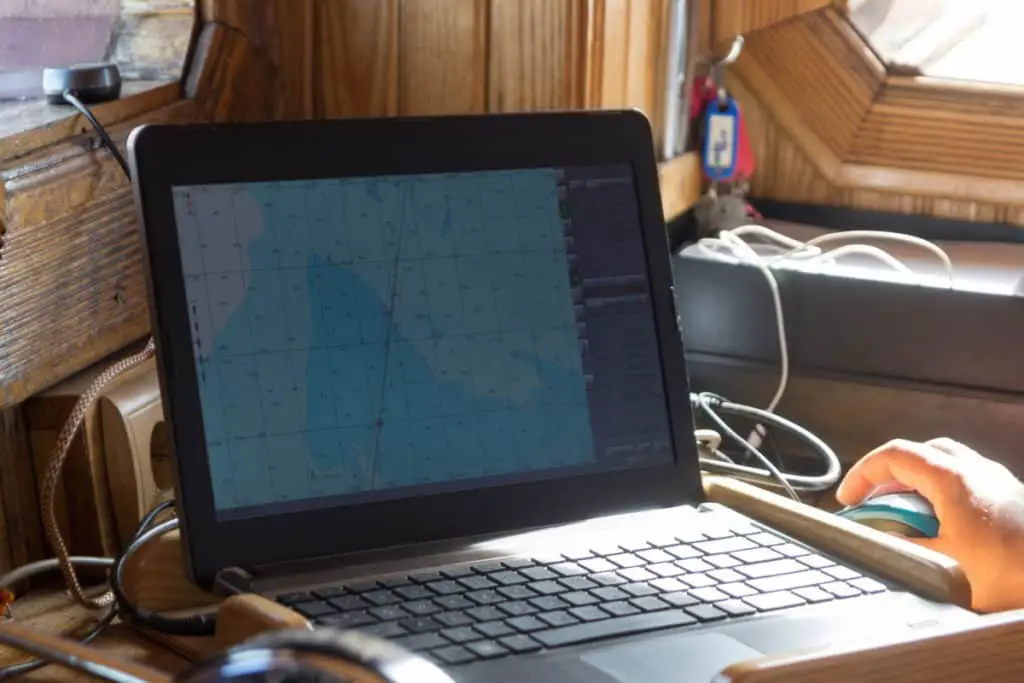 Computer/Navstation
Modern cats come with computers for comfort, convenience, and safety. These devices are used for electronic cartography, receiving weather data, and as support for the logbook. 
You can use them to process digital photos and send or receive emails – you can still keep in touch with clients and friends as you enjoy the therapeutic sea. Besides, you can store music and watch movies during the journey – the applications are endless!
Radar
A marine radar scanner is a critical offshore device and a must-have on a blue water catamaran. It's used to detect obstacles, other sea vessels, to mention but a few. It produces radio waves, which travel around the water surrounding the boat up to the horizon. It then detects if the waves have been reflected, showing you whether there's an object on your course. This information is essential since you need it to avoid a collision.
It will also show you where the closest squall is and what direction it is headin giving you enough time to reef your sails.
Power Source
A catamaran's engine and appliances must be supplied with energy – a no-brainer. A cat generally comes with two starter batteries: one for each engine and one or two more for its equipment. These batteries are charged by the engines. However, you must run the engine for several hours daily to keep them charged.
Instead of that, most sailors use solar panels or wind generators. A technology that is becoming more and more common is using the propeller to generate energy.
Many cruisers also have a standalone generator for charging batteries and supplying power to on board electronics.
What To Look For in a Blue Water Catamaran
When buying a cat, it's critical to identify the one that best suits your needs. Regardless of whether you plan to use it for fishing, racing, or voyaging, here are some of the critical factors you should consider:
The Hull
The key considerations here should be strength and durability. Fiberglass is generally the main material type used in hull construction. Fiberglass is the most preferred since it's strong and durable. The difference lies in the hull core, usually the core is either some organic material such as balsa, or it could be a synthetic such as plastic foam.
The balsa is cheap, but if there is a water intrusion, it will start to rot, and structural integrity may suffer. The foam sandwich type is usually unaffected by water intrusion but tends to be more expensive.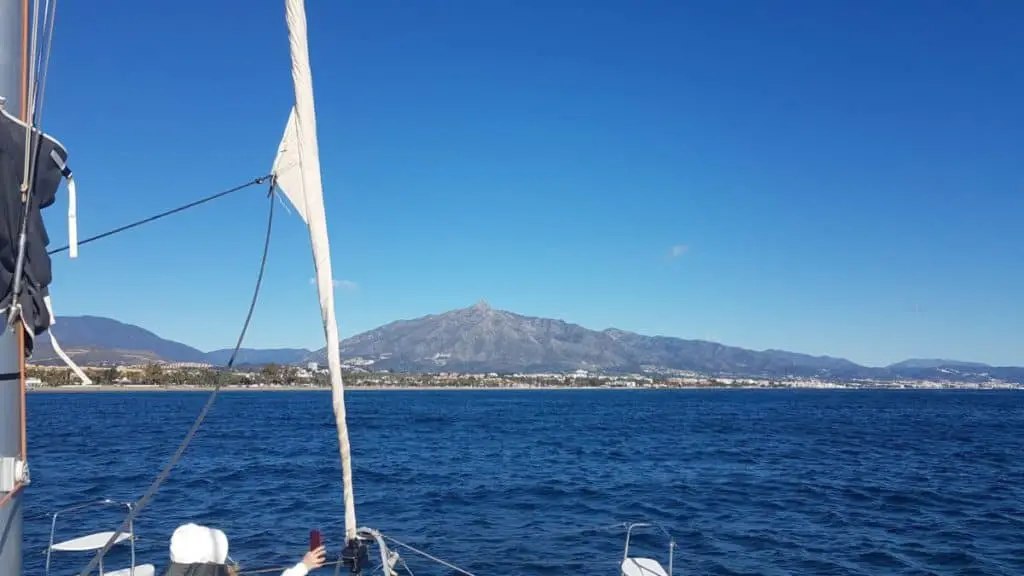 The Sailplane
It would be better to pick a catamaran with an easy-to-handle sailplane. The primary issue here is manageability – the staysail should be easy to replace using a hanked-on storm jib during stormy weather. Also, even though you have a crew on board, the sails should be set up for shorthanded sailing, so the helmsman doesn't have to wake up the crew every time adjustments need to be made.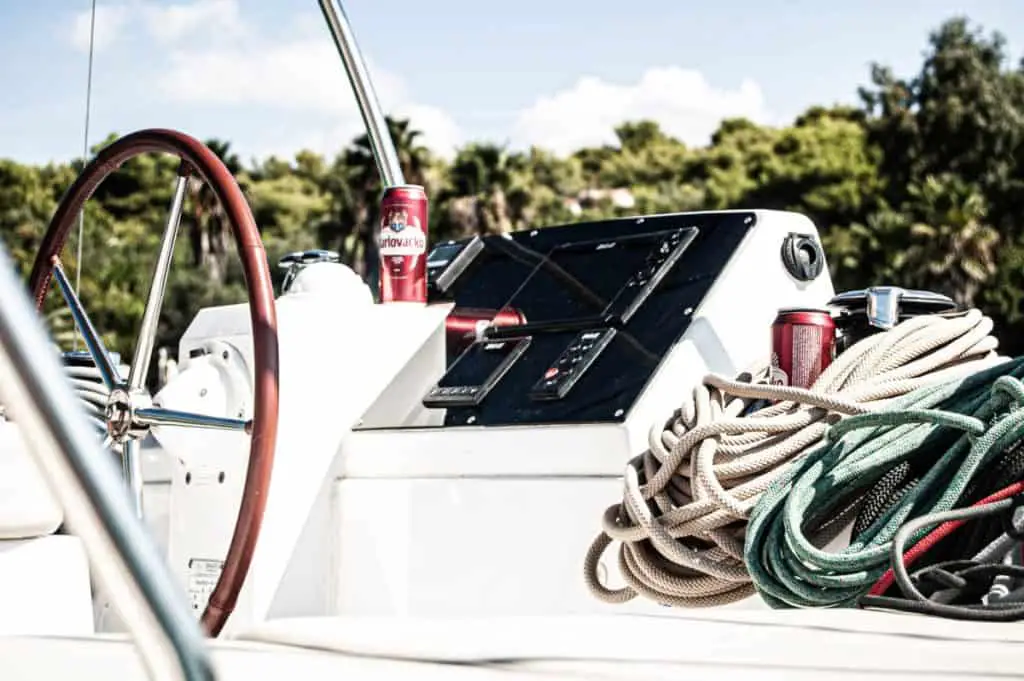 Cockpits
The cockpit should be a priority consideration when choosing a catamaran for offshore adventure.
Aft cockpits are generally better than center since they're lower and better protected, making them safer. Besides, an aft and centered cockpit suffer less impact from boat motion.  
Flybridge helms are great looking and awesome for coastal sailing, but for safe offshore passages, they offer many safety issues that, if you want to, can read all about in another one of my articles.
Heavy or Light Displacement
The opinions of sailors on the displacement type vary based on the tradeoffs of either option. On the one hand, a heavy displacement hull with long overhangs and a full keel provides a more comfortable ride in rougher conditions but performs poorly in lighter conditions.  
On the other hand, light displacement is limited in stowage. Most notably, too much load affects its displacement ratio, compromising performance. However, it comes in handy when you need to manage heavy going.
When talking about catamarans one should mention that "heavy displacement on a cat" is not the same as "heavy displacement on a monohull". The cat will still be very light in comparison to the monohull, but when comparing a catamaran with another catamaran "heavy" vs "light" makes sense.
Water Supply
During your journey, you'll definitely need sufficient fresh water for washing, cooking, and drinking. Because of that, you should look for the water storage capacity of your sailboat.
As a rule of thumb, you should look for a cat with sufficient water storage for your crew, plus a 20% allowance. To put it into context, a couple on a transatlantic passage would need two imperial gallons daily, plus a 20% contingency allowance.
Suppose the couple goes on a three-week adventure. In that case, they'll need a minimum of 50 gallons of fresh water. Blue water cats ideally have double that capacity, usually split into two tanks. If one gets contaminated, they can use the second one.
Tip: It's prudent to rig a system that catches rainwater when the boat is underway or anchored. You can also use a reverse osmosis watermaker. However, it shouldn't be the sole source of water. These watermakers can break down, causing a lot of inconveniences.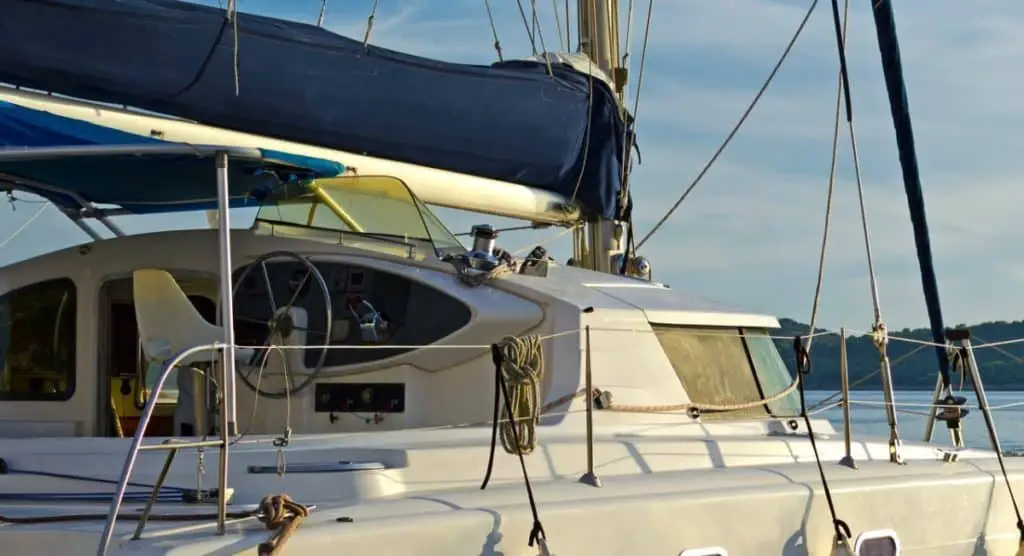 Protection From the Elements
However much you may wish to cruise in sunny, calm, dry weather to have an uninterrupted view of marine life during your journey, chances are you'll encounter some rain, wind, or flying spray. Therefore, it's better to pick a catamaran that comes with a well-protected helm to shelter you and your crew from the elements. Depending on your preference, the dodger can be a canvas construction around a collapsible frame or a rigid structure.
Too much sun can also cause discomfort and damage your skin, so you should ensure the sailboat comes with a bimini top cover.
What Are the Best Blue Water Catamarans?
There are so many awesome blue water catamarans I could make an entire website about them, but here I have listed two interesting examples that could act as a jumping-off point to your future research.
The Lagoon 55 is a luxurious cat designed by Marc Van Peteghem, a renowned French Naval architect. This boat is spacious – it can be arranged with up to six double cabins and comes with a more extensive flybridge. Its transom's surfaces aren't just a way to access this vessel; they can be converted to a living area. This boat also comes with a dedicated forward cockpit connected to the saloon by a drop-down window.
The Elba 45 is an incredible catamaran. Designed to replace the Helia 44, this boat has done the job perfectly. It comes with high-speed, efficient motoring, and remarkable performance. Its fixed stub keels and aft-raked bows deliver top-notch windward performance.
To improve safety, this sailboat's keels are glued into a designed recess in the hulls. Because of that, none of the keel bolts can rip out and put you in danger in the event the Elba 45 gets grounded or collides with an obstacle.
Besides, this boat features a low-profile lounging space, a pronounced reverse sheer that minimizes the bulk of windows to create useful space below, and high topsides and bows.
If these are out of your range or not interesting I suggest you check out some of my other articles:
Frequently Asked Questions On Blue Water Cats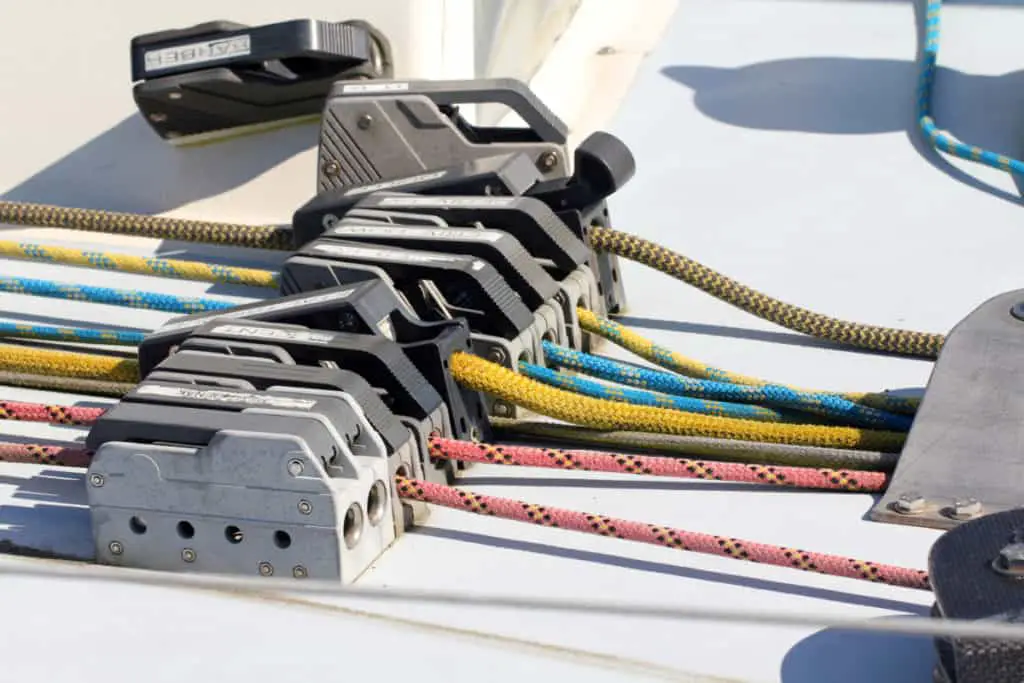 Can One Person Solo a Blue Water Catamaran?
Blue water cats (and cats in general) can be sailed shorthanded if they are set up correctly, this setup includes all lines to the cockpit, roller furling mainsail, and autopilot. The skill of the sailor is also essential for safe single-handed sailing.
Tip: Take extra precautions when sailing offshore such as adding an emergency position indicating radio beacon (EPIRB) or including additional radar reflectors on board.
Also, before sailing a blue water cat, check the relevant state and federal regulations. For instance, most states require sailors to complete safety courses before sailing, while others require you to obtain a license.
I have a dream of solo sailing my cat around the world, if you want to know how this can be done I suggest you read some of my other articles:
Can I Cross Oceans Using a Blue Water Catamaran?
Crossing an ocean with a blue water catamaran is one of the safest ways to do it! This is due to their excellent stability, safety, and crew space on board. They are inherently more stable than any other type of boat due to their exceptional buoyancy and roll inertia from their unique hull design.
This means that these catamarans will seldom capsize in extreme conditions but give good protection against the weather or damage caused by strong wind gusts. They also have less side motion, so even though waves may break over the deck during bad weather, there's no risk of people sliding off, creating a man-over-board situation.
What Is a Good Size Catamaran For Crossing Oceans?
The perfect sized catamaran for sailing big oceans is around 40ft; it is small enough to be sailed by one person but big enough to provide safety and speed. Of course, there are many variables to consider.
Want to know more? Read Best sized Catamaran for Ocean Sailing and Liveaboard
Wrapping Up
Indeed, a blue water catamaran is the best companion for anyone going on a long adventure on the sea. Its fiberglass construction, twin hulls, expansive deck and interior space, and natural redundancy design makes for a safe advenure.
I hope this was useful, take care and live the adventure!