As an Amazon Associate, we earn from qualifying purchases. We may also earn commissions if you purchase products from other retailers after clicking on a link from our site.
When it comes to a freeing, exciting living experience, there's no better place to go than Australia. The country is filled with safe, picturesque marinas that could accommodate any type of lifestyle. However, when you have more than a dozen equally dreamy locations to choose from, the process might get a little overwhelming.
Here are the best liveaboard marinas in Australia:
Hope Harbor
Calypso bay Marina
Hervey Bay
Bayview Harbor
Mariner's Cove Marina
In this guide, I'll take you through some of the best locations in Australia that accommodate a liveaboard lifestyle. Between the breathtaking scenery and the different atmospheres each of these alternatives offer, I'm sure that by the end of this read, you'll have found the next place you'll want to call "home."
Here´s a good article if you're still unsure about what type of boat is the best boat liveaboard.
Full disclosure: This article is based on interviews with liveaboards and information from various offline and online sources.
1. Hope Harbor (Gold Coast)
Hope Harbor is one of the most picturesque marinas in the world. 
Located in the suburbs of the Golden Coast, the harbor is rich in history and culture. Known for its extensive sugar and arrowroot plantations, the marina still carries on a quaint, peaceful atmosphere even to this day.
This harbor isn't the best location for those looking to experience a lively, loud lifestyle. However, due to its strategic location, all of Queensland's busiest attractions are just a short car ride away. 
The marina is spacious and able to accommodate even superyachts, meaning you won't have to worry about clusters or lack of privacy while residing there. The location is often described as a "safe haven" due to the peace and quiet it provides for visitors and residents alike, but this doesn't mean you'll have to miss out on the necessary amenities.
Hope harbor is filled with restaurants, little shops, and even theme parks, which means that your evening's entertainment will always be a short walk away. Many additional facilities and community centers are being built on the island as we speak in an effort to turn it into the ideal living space.
However, if you're planning on residing in the area during April and May, I'm afraid you're out of luck. 
During these months there's an international Boat Show being held in town, which means that the marina will be closed for liveaboard purposes. However, through the rest of the year, there are no restrictions regarding new residents, so as long as you can make the trip, I'd highly recommend paying Hope harbor a visit.
---
2. Calypso Bay Marina (Gold Coast)
Calypso Bay Marina is renowned for its strategic geographical location, which places it right in the middle of the primary navigation channel that connects Moreton Bay and Broadwater. This means that while residing on Calypso Bay Marina, you'll have quick and easy access to some of the most coveted coastal hotspots. 
No matter if you prefer the peacefulness of the Gold Coast or the liveliness of Brisbane, you'll be able to have both just a car ride away. 
Think of all the choices you'll have when deciding on your evening's entertainment!
Calypso Bay Marina is one of the latest to allow liveaboards, but if you're looking for long-term occupancy, it's likely not the best choice for you. On the other hand, those looking for a short-term residence might find this picturesque, spacious bay a perfect fit for their lifestyle.
This marina is yet another ideal option for those looking for some peace and quiet. 
There's no better location when it comes to escaping the city's noise and clutter. Calypso Bay is situated pretty far away from the usual tourist attractions and party boats, meaning you won't have to worry about loud music and chatter disrupting your good night's sleep under the stars.
As with many other marinas in the area, Calypso bay is still in development, so the location is bound to improve and get better with time. However, for those too eager to wait for bigger supermarkets and better restaurants to be built, I'd highly urge you to pay the marina a visit as soon as possible. I assure you you won't be disappointed.
---
3. Hervey Bay
Those looking for a spacious, breathtaking marina to reside in won't find a better Australian marina than Hervey bay. The location is able to accommodate vessels of up to 9 m (29.5 ft) while still maintaining distance and a sense of privacy between residents.
Hervey Bay is also one of the most secure alternatives on the list, making it ideal for those worrying about their physical safety while enjoying the great outdoors. The whole area is surrounded by gates, within which you'll be able to find everything you'll need.
With so many facilities and services at your disposal 24/7, you'll feel like you're living in a separate town where most silence-seeking residents won't even feel the need to cross the gates for days on end.
Herve Bay is also an excellent location for those who only have access to smaller vessels that don't include basic amenities such as showers, toilets, and laundry. 
For your convenience, these facilities are provided just a minute walk away from the bay.
However, the marina offers much more than just the fulfillment of your basic necessities. From car parks to restaurants and souvenir shops, everything you'd want to have within your living space will be easily accessible to you.
---
4. Bayview Harbor (Gold Coast)
Bayview Harbor is yet another breathtaking marina that offers its residents some much-needed peace and quiet. Coincidentally, it's also one of the oldest marinas on the Gold Coast, and its popularity among travelers is growing with each passing day. 
However, if you're on the lookout for an adventurous and exciting atmosphere, I wouldn't recommend Bayview Harbor as a long-term residency. 
Although the marina has been used for years as a liveaboard location, the shore doesn't offer much entertainment-wise. However, when it comes to enjoying a peaceful night under the starry sky, I can't think of a better alternative than this safe haven.
Additionally, the area provides a stunning, highly-reviewed hotel which can often be a lifesaver during colder months. Therefore, I'd highly urge you to pay this quaint location a visit no matter the weather or season, as its scenery and rich history will leave you speechless.
---
5. Mariner's Cove Marina (Gold Coast)
I couldn't make a "Best Liveaboard Marinas in Australia" guide and not include the iconic Mariner's Cove Marina. The bay's geographical location and clear waters have quickly turned into a favorite among locals and visitors alike.
Mariner's Cove Marina is the liveliest and most vibrant out of all options mentioned on this list. The location is ideal for those looking for new adventures, as the town's endless attractions are bound to keep you busy for months on end.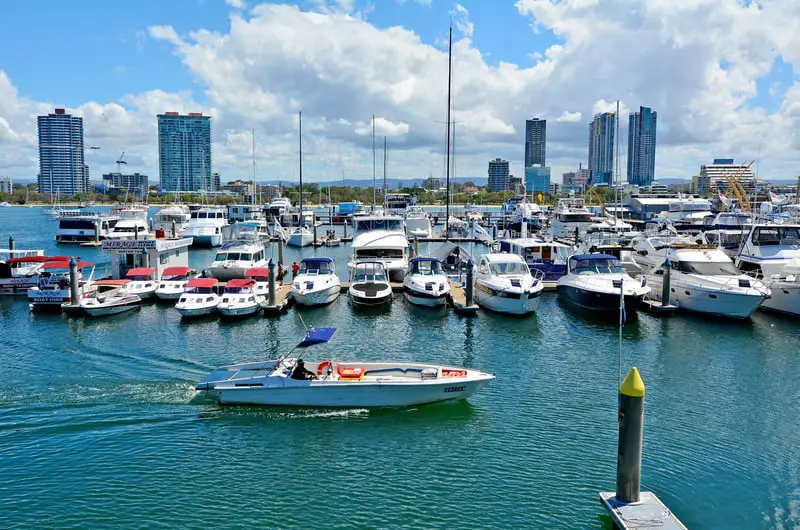 From shopping in high-fashion boutiques to visiting indoor skiing facilities, there's no shortage of exciting and entertaining ways to pass your time on this gorgeous Gold Coast marina.
If you have yet to decide on a marina, then here are 11 spots around the world to live on a boat.