Sailing enthusiasts looking for a home on the water will most likely opt to buy a catamaran. These increasingly popular yachts are light, stable, easy to handle, and sail fast too, but catamarans make for pretty expensive toys, whether buying new, used, or chartering one. Why are catamarans so expensive?
Catamarans are expensive because they are high quality, easy to sail, very safe, extremely spacious and require a lot of building material. Further increasing the price are factors such as high demand and location.
Catamarans, or cats as they are fondly referred to, are excellent for both fast sailing and cruising. Unfortunately, as their popularity soars, so do their prices. Let's explore in greater detail what makes catamarans so expensive, as this article shows you:
More information about catamarans
What makes them so expensive
What factors to consider when buying one
How to get the best deal
Let's dive in.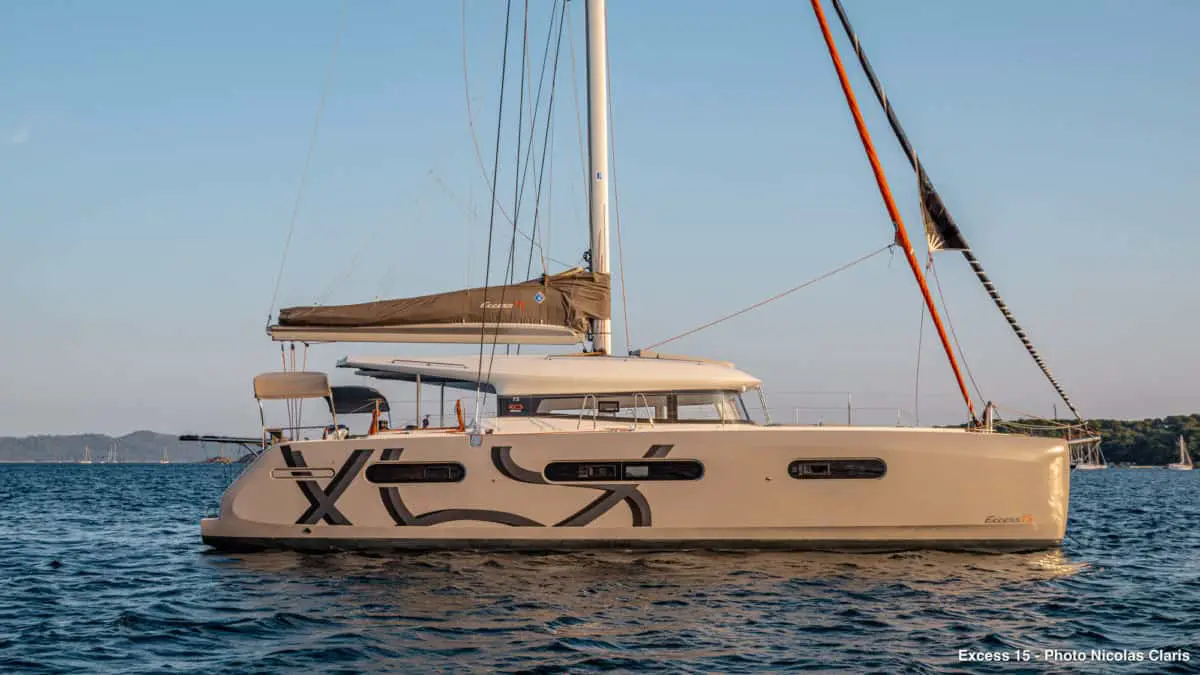 They Are High-Quality Boats With Advanced Engineering
When it comes to buying a catamaran, you are spoilt for choice since there's a wide array of models to choose from. Besides, a modern, spacious, high-quality vessel featuring the latest high-end technology holds great appeal to any aspiring boat owner. 
Most luxurious cats come equipped with the latest tech equipment and extra options, including auto-pilot, GPS, AC, chart plotters, and entertainment gear.
Better yet, catamaran manufacturers usher in new models with significant innovations in catamaran design each year, which means that the top-of-the-range vessels showcase new ways of building, configuring, and equipping cats. 
Cats Are Easy To Handle
It's pretty easy to sail a catamaran. These vessels boast superb designs that make them easy to handle and everything is thoughtfully laid out. For instance, the helm station placement makes for clear sightlines while sailing, and since all lines head back here, it is much easier for one person to single-handedly sail the boats. 
The boats also cruise fast, especially on downwind runs and broad reaches.
These multihulls are also easier to dock and maneuver since you have two engines and two rudders. There's no need for expensive equipment such as bow thrusters.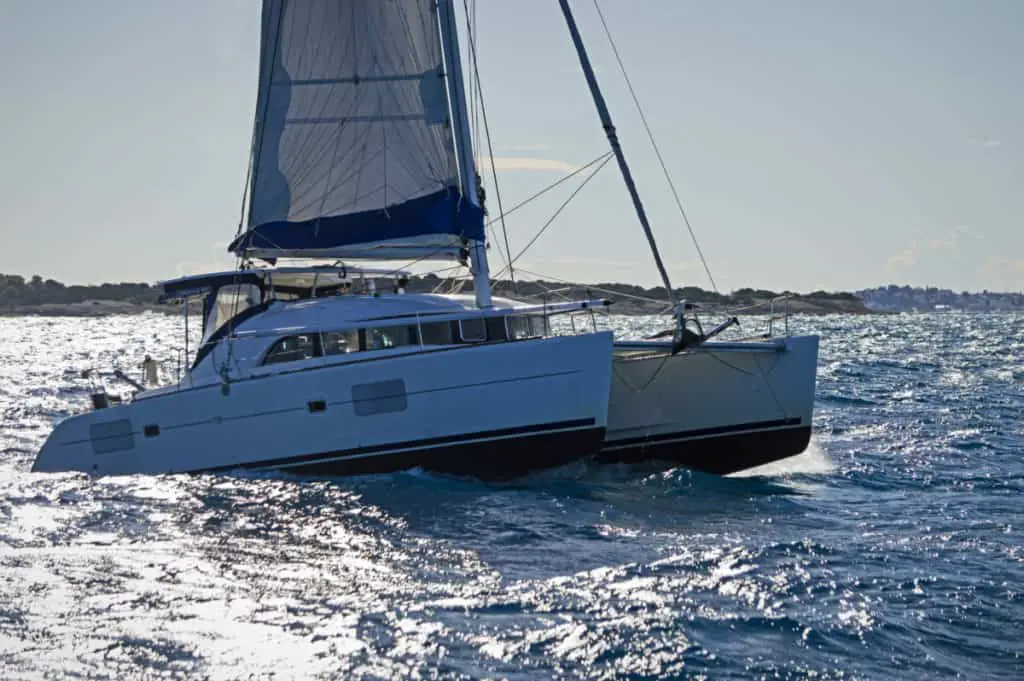 Catamarans Are Highly Stable
If you are planning a sailing vacation for the family, including the grandparents, a catamaran is a sure way to go. Catamaran boats are not prone to wave action, and they do not heel like monohulls, so it's easier for people who are not quite steady on their feet to walk either around the deck or within the yacht while underway.
Due to their inherent stability, catamarans reduce the unpleasant effects of sea motion, which makes cooking easier and more enjoyable on board a sailing catamaran or while at anchor. Your family, friends, and guests can enjoy dining and relaxing with friends tremendously onboard the catamaran. And, in most cases, most of your stuff will stay in place even in rough weather.
Lastly, given that production catamarans don't come with a heavy keel, they have inbuilt buoyancy, making them almost impossible to sink.
Mythbusting: Why Catamarans Don't Capsize!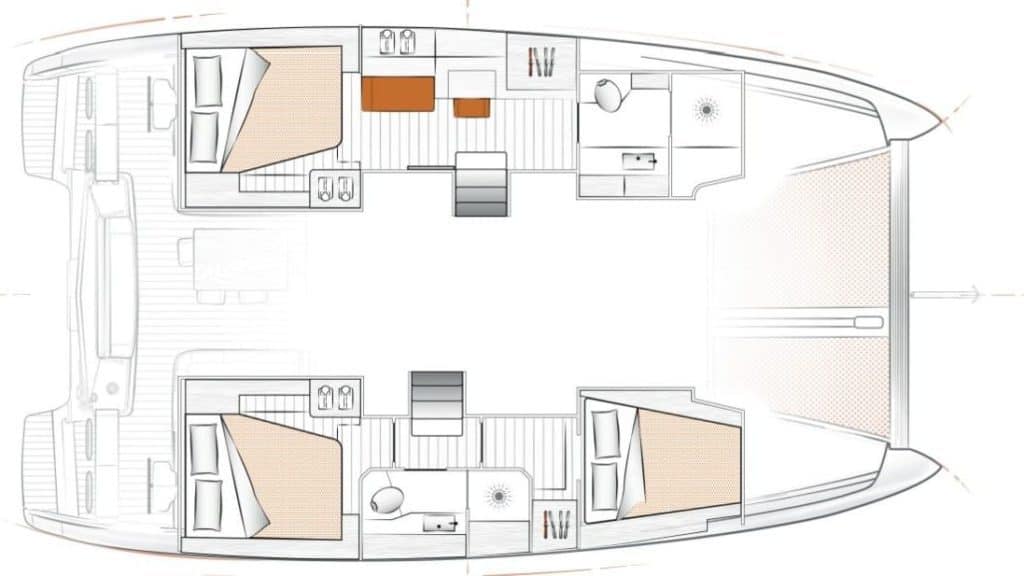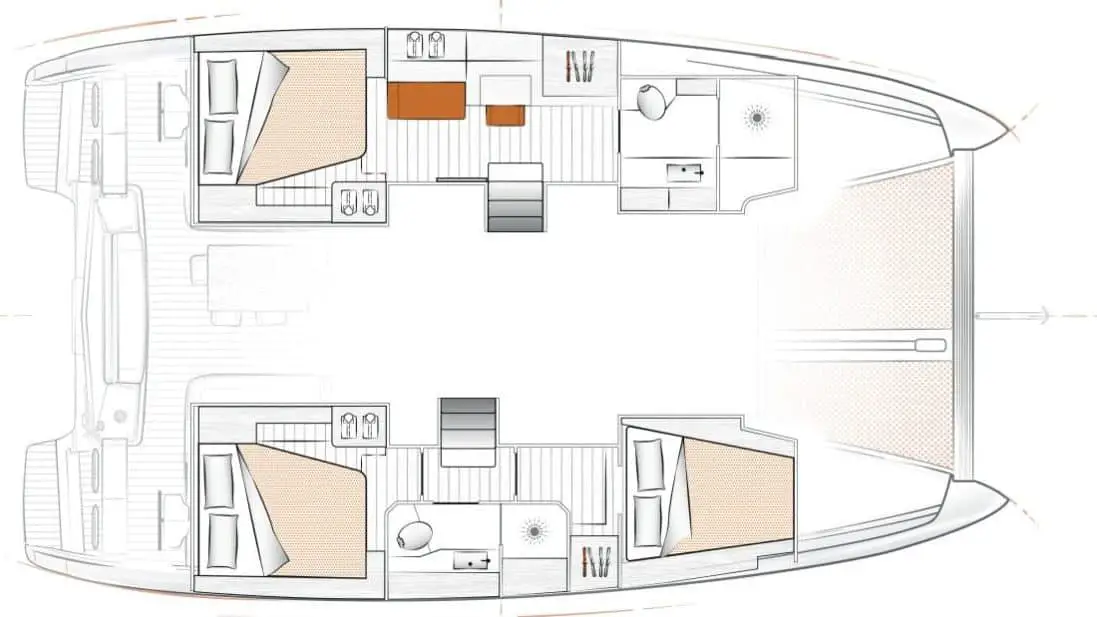 Catamarans Are Spacious
Catamarans are more spacious than classic monohulls, as they boast extra bedrooms, bathrooms, and living areas which are all roomy but translate to additional cost items. They also provide more living space in the cockpit, cabin, galley, and main salon than you'd find on equally-priced monohulls. 
Often situated at the same level as the main deck, the massive salon saves both crew and guests from squeezing through the narrow ladders that characterize monohull layouts. The flybridge deck also adds extra space for relaxing and entertaining, not to mention the sea breeze that makes it such an awesome place to hang out.
What's more, even within small-sized catamarans, there's stand-up headroom in every cabin. For people looking to spend more time at sea, these boats present a convenient and more cost-effective way of fitting ample living space into a vessel. 
Cats Offer More Privacy
Because catamaran layouts provide greater separation between the accommodation space and the main living area, they allow for more privacy, which is key when you have young ones on board as it makes it easier for them to sleep without any disturbance from the main living quarters. 
The other thing is that with multihulls, there are two blocks of living quarters located well apart, making them extremely convenient for those times when you have guests sailing with you.   
Catamarans Double Up on Some Equipment
The cost of building a catamaran usually works out higher than the cost of building a monohull. And since the boats contain large surface areas, they consume more material which translates to higher building costs. It all boils down to volumes, materials, and surface areas.
These vessels comprise multiple duplicate systems and equipment such as two hulls, two sail drives, two decks, and two engines. And don't forget the surface area taken up by the cockpit, under the bridge deck, and cabins. 
All these areas consume materials that require laying up, bonding and finishing, further increasing the costs.
Unfortunately, the high costs don't end with acquiring the catamaran by a long shot. These multihulls are also pretty expensive to maintain. For starters, you will be servicing two engines, not one. Cats also take up lots of docking space in marinas, making them cost almost twice more to dock. 
Besides, some yacht clubs are unsuitable for catamarans. Land transportation and storage, if ever required, can also be expensive.  
They Employ Special Building Materials
Most ultra-high-performance catamarans utilize exotic and costly building materials such as carbon hulls, rigs, high-end sails, and curved daggerboards. They also consist of composite rigging and hulls finished with epoxy, making for lighter and faster boats at a steeper cost. 
Because cats are somewhat sensitive to weight, these materials have higher strength-to-weight ratios, making them even pricier. 
Still, that's not to say you can't build a catamaran with more affordable materials like balsa core, polyester resin, and plywood bulkheads. You could also use aluminum posts, plastic windows, thin fiberglass tables, cheaper cabinetry, and canvas biminis instead of hardtops if looking to own a lighter boat. 
But you'd only be factoring in the weight and disregarding quality. Ultimately, you'd pay less money upfront but at the expense of a less durable, comfortable, and more expensive boat to maintain.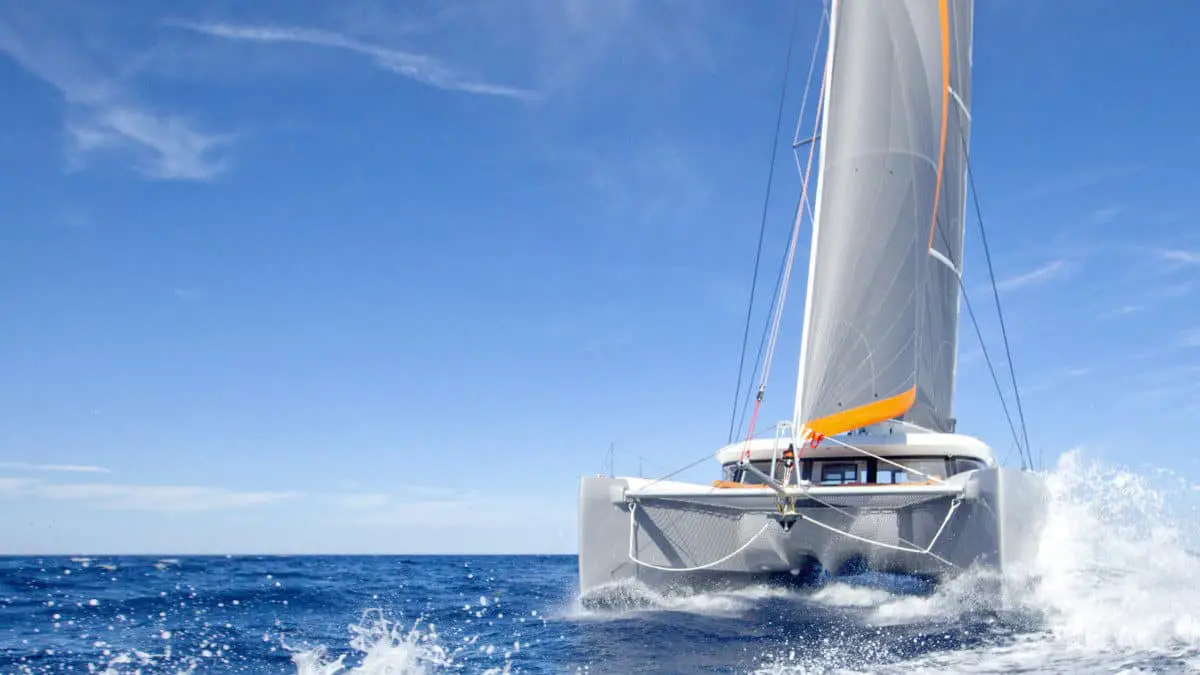 Catamarans Make Excellent Sailing Vessels
Some modern catamarans sport either raised or flybridge helms, which allows for panoramic visibility from the helm station. What's more, the galley, main salon, and cockpit all lie on the same level above the waterline. You get a better view and your life aboard the yacht is more exciting and memorable.
Furthermore, with most living space above the waterline, you enjoy better airflow. With this natural ventilation, there's less need for air conditioning, especially during daylight hours.
Catamarans are also relatively fuel-efficient, especially during fair weather, because low-loaded sharp hulls offer less resistance than single ballast-keeled single hulls.
They Have Superb Load Carrying Abilities
Catamarans have excellent load-carrying abilities. That being said, you need to carefully weigh whether you want a racing boat or a cruiser. To move fast, a boat needs to be light, so before a race, you empty the boat of extra sails and empty the tanks. A cruising sailor, on the other hand, tends to carry a lot of stuff for the voyage ahead, which will hamper your speed.
Therefore, the best-designed cruising cat is one that considers how much a boat will weigh after the buyer installs a dive compressor, generator, air conditioner, or any other necessary equipment.

Gabo of CatamaranFreedom.com
They Are Considered Prestigious To Own
Some boat owners argue that catamarans are pricey not because they are expensive to build but rather, they are prestigious to own. Since they are highly regarded, there's a massive demand for them, which enables them to command a premium price. Besides, customers expect to pay a high price to own one of these high-end boats.
Next, we look at what you ought to consider when buying a catamaran.
What To Consider When Buying a Catamaran
What should you consider when buying a catamaran? Of course, you need to be able to afford it, but what about maintenance costs? What season is the best time to buy? We take a look at all of these concerns in this section.
Affordability
A high-quality, 40+ feet (12.1m) catamaran can set you back upwards of $500,000. As such, most people cannot afford to buy the style, size, or quality of catamaran they need or desire. Besides, you wouldn't want to spend most of your life's saving on a boat, which is why sailing companies primarily sell used catamarans.  
If you plan to keep sailing for a couple of years, it's best to invest in a new catamaran. Otherwise, for short sailing stints, you are better off chartering one or buying a used catamaran that you are prepared to do some work on. 
Used cats are more affordable since they sell for much less than new ones but offer the same sailing experience. There are also amazing deals to be had when buying used, meaning you can get a lightly used, 1-4-year-old pre-owned cat in superb condition at a great price. 
A key point to note here is that market competition is what drives prices in the boat market. This is an open market, so if you have your eye on a catamaran that's in high demand but limited supply, this will reflect on the cost. Therefore, you will end up paying a steep price for that particular model.
Additional Costs
The journey of buying your catamaran does not end with purchasing the boat as there are additional costs involved in owning one. These include:
The survey or due diligence costs
Haul-out costs
Registration 
Annual insurance
Sales tax
Import duty
Take a look at the below video for further details on this:
Annual Maintenance Costs
Annual maintenance costs are an essential consideration because you will want to keep your boat in tip-top condition. However, for a new boat, the initial five or so years pose very minimal maintenance needs. 
But if you buy a used boat, factor in the costs to repair, refit, or outfit the boat to your standards, because you might need to replace the engines, sails, or standing rig. You may also need to install equipment such as a generator or washing machine.
In general, after year five, annual maintenance and refit costs start rising. So if you buy a used boat, go for one whose previous owner accorded it excellent care, as it will cost much less to maintain over time.
Favorable Buying Seasons
Did you know there are times when catamarans become less expensive? During certain times in the year, and depending on your location, you can get catamaran sailboats at much lower prices than usual. This means that if you are planning on buying one, you can save up for it. You can even get yourself a luxury yacht or your dream boat!
Take advantage of boat shows to get great deals. For instance, on the east coast of the United States, big sailboat shows are hosted during the months of September to November, and many sailors flock to Annapolis, Newport, and Fort Lauderdale. What's more, manufacturers have special offers, great discounts, extra options, and even free equipment, such as a chart plotter or an autopilot on the house!
For pre-owned cats newer than five years, the Caribbean phase-out season offers the best buying opportunity. Big charter companies phase out their catamarans in the period between July and September. The boats come fitted with advanced technological equipment, and you are likely to find many Leopard Catamarans in this market. 
Just make sure to arm yourself with a good surveyor and broker with intimate knowledge of your preferred model and the charter yacht market in general.
One thing to note here is that the West Coast doesn't offer much in terms of good catamaran deals. Besides, buying a boat from here means that you will incur further costs due to delivery charges.
Your Research
When you visit a boat shop ready to buy a boat, be careful not to let overzealous salespeople push you into buying something you had not planned for. Always conduct your own research so that you are well informed about your choices and have all the relevant facts at hand. Learn the lingo as well so that you don't get confused. 
You will most likely encounter the following terms, so it's a good idea to know what they mean:
Base price: In most cases, this price doesn't include the cost of essential items such as the air conditioner, electronics, bimini, and cockpit cushions.
Sail-away price: This covers most or all essential items.
Asking price: The price a boat seller places on their boat, which might be open to further negotiation.
Offer price: The price a potential buyer offers for a boat.
True market value: This depends on market dynamics as well as the boat's condition. You can also have your broker make a comparison between the boat on offer and other similar models sold in the current market, and base your offer on this value.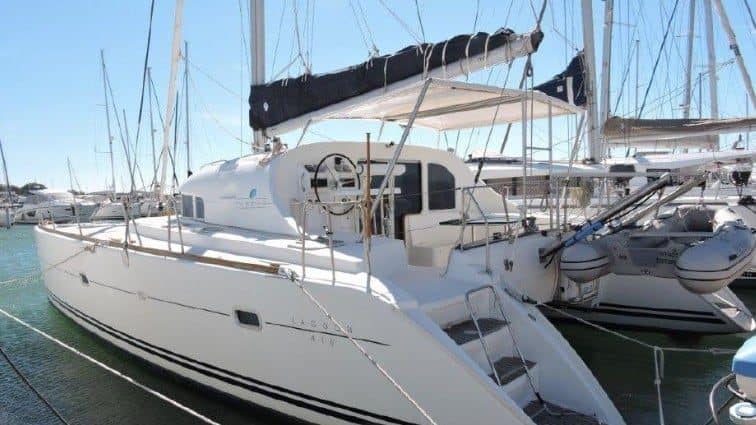 How To Get the Best Deal When Buying a Catamaran
Buying a catamaran is a significant investment, and there are numerous things to consider. Therefore, you want to do your due diligence to ensure that you get the most bang for your buck. In order to get the best deal when buying your catamaran, keep the following crucial points in mind:
Find a yacht broker who can guide and support you through the entire process of identifying and buying your ideal catamaran.
Learn as much as you can about catamaran boats, whether you plan on chartering the yacht, being a live-aboard, or docking it for your own use.
If you are on a budget, focus on your specific needs while ignoring most of the standard must-have features. In other words, don't get hung up on the bells and whistles.
Consider getting a pre-owned cruising cat. While most older designs are less spacious and lack high-tech amenities, they are more affordable and might deliver better sailing performance than new cats.
Final Thoughts
Catamarans are exceptionally well-made sailing vessels that command a premium price mainly due to their excellent build, layout, performance, and high demand. Sailing in any boat is a dream for many, but being on board a catamaran is a memorable experience altogether. Plus, you can never go wrong with dining under the stars with a panoramic view of the ocean.
So, go ahead, choose a catamaran that meets your needs and fits your budget, and get ready to go on a sailing vacation that you'll never forget.