Lagoon is a leading catamaran manufacturer famous for its luxury products and state-of-the-art boats. However, if you're considering purchasing a cruising catamaran, you may get overwhelmed by the vast selection of boats on the market, and you might be left to wonder if Lagoon catamarans are worth the money, especially after the big "bulkhead-issues" debate started by Youtube channel Parlay Revival.
Lagoon catamarans are great if you're looking for spacious interiors and exteriors and have a large family to consider. They're perfect for parties, and the sturdy construction and luxurious looks are favorable. However, they are known for having bulkhead issues (L450) and are sometimes critiqued for poor build quality.
In this article, I will explore the pros and cons of Lagoon catamarans, describe the most popular Lagoon cats' features in detail, and offer some useful tips on choosing the right cat for your needs.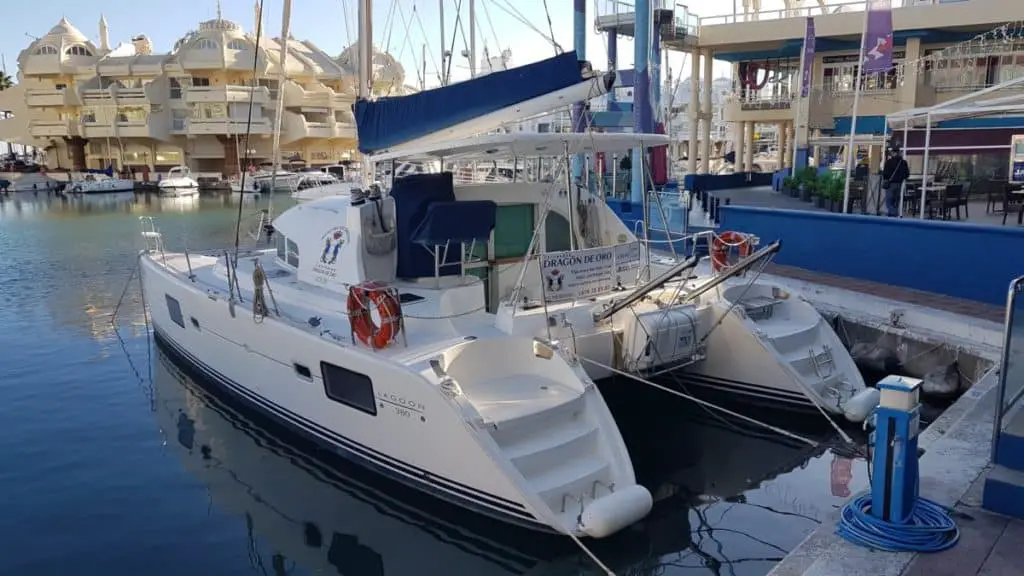 The Pros of Lagoon Catamarans
Lagoon has been building catamarans for almost 40 years, and with nearly 6,000 vessels under their belt, it's safe to say they know what they're doing. They have nine different sailing models, meaning you have even more choice than ever. 
Let's take a look at what sets Lagoon apart from the rest. 
They're Spacious 
Lagoon catamarans are famous for being large and spacious, making them a perfect choice for big families and gatherings. Most Lagoon models have 3 or 4 cabins with lots of storage space and roomy sleeping arrangements.
The galleys feature under-counter fridges and nestled microwave ovens, creating a safe and even more spacious accommodation. Dining tables, freezers, and bench seats easily fit in the big galleys to create a homey feel.
Most models also feature large flybridges with enough room to offer navigation and relaxation at the same time.
Lagoon cats' saloons and cabins are famous for being friendly to tall sailors. Most of them feature double-berth accommodations with individual showers and head compartments.
They Are Bulit Strong (Most…)
One of the biggest advantages of Lagoon cats is their sturdy construction. Made of balsa wood covered with fiberglass layers through vacuum infusion molding, the furniture in the interior and exterior constructions are strong and lightweight. 
Plus, all parts of the boats are well-finished with vinyl ester resin to avoid osmosis.
The interior is also a combination of luxury and long service life with core-mat sandwich or solid glass and Alpi wood laminates.
They use dry layering instead of wet layering, leading to more resistance and precise positioning. Plus, the dry technology allows for the use of less resin, making the designs more lightweight.
Every corner has perfect seals to avoid any leakage or cracks, and the infusion technology makes sure the construction is soundproof, durable, and rigid.
BUT! And this is a big but, there have been some issues with the Lagoon 450 bulkheads, the issue involves some very poorly constructed main bulkheads which tends to break and once broken it will transfer the loads to other smaller bulkheads. This starts a chain reaction that in the end weakens the boat's structural integrity to the point where I would question its seaworthiness.
If you want to better understand this problem I suggest you check out this video from parlay revival.
They Boast Spacious and Clean Decks
Another strength of Lagoon cats is their exterior spaces. Like the interiors, the decks are spacious and wide, with many storage compartments and lockers with trampolines and sunbathing areas.
There are sliding doors between the exterior and interior spaces that can provide extra room for big gatherings, and all parts on the flybridges are easily accessible.
In some models, the stairs directly go to the cockpit, leading to more safety, too.
A few weeks ago a went on a day trip on a Lagoon 380, the boat is quite small with its 38ft, but Lagoon really utilize every centimeter and the boat feels huge.
Lagoon Has a Huge Owners Community
Since there are so many Lagoons sailing around the world, getting an experienced sailor to answer your model-specific questions is never hard. This, I believe, is one of the largest benefits of having a Lagoon, since sooner or later you will have to do repairs, it is a comfort to know there will be people around you that can help you out.
They're Luxurious
Luxury is the word intended to come to mind when thinking of Lagoon catamarans. All the sturdiness, rigidness, and durability come wrapped under a rich layer of anti-UV finishes.
The interiors are very well-lit, with big windows at eye level offering panoramic views, making it seem like an exclusive hotel room rather than a boat's cockpit. 
Most of the boats have U-shaped seating areas and pleasant furnishing, and the Alpi wood finish gives everything a sleek, elegant look, combining comfort and sophistication.
They're Safe
Lagoon cats are all well thought out for safety considerations, with handrails all over the place for safe movements even in bad weather conditions. The decks are wide and clutter-free, and the running rigging is suitable for short-handed sailing.
They all conform to the Conformitè Europëenne (CE) standards for the unsinkability of multihulls. Everything in the living space is waterproof, and all the wiring is high quality and reliable.
If you are looking for some serious offshore cruising there will be things you will have to change on every boat so that it fits your specific needs, if you want to know more about offshore cruising I suggest you read some other articles I wrote called:
Cons of Lagoon Catamarans
As with any product on the market, nothing is perfect. Lagoon catamarans may exceed in luxury and safety, but there are some areas that customers find they are lacking. 
Below are some of the areas that may leave you opting for another catamaran manufacturer.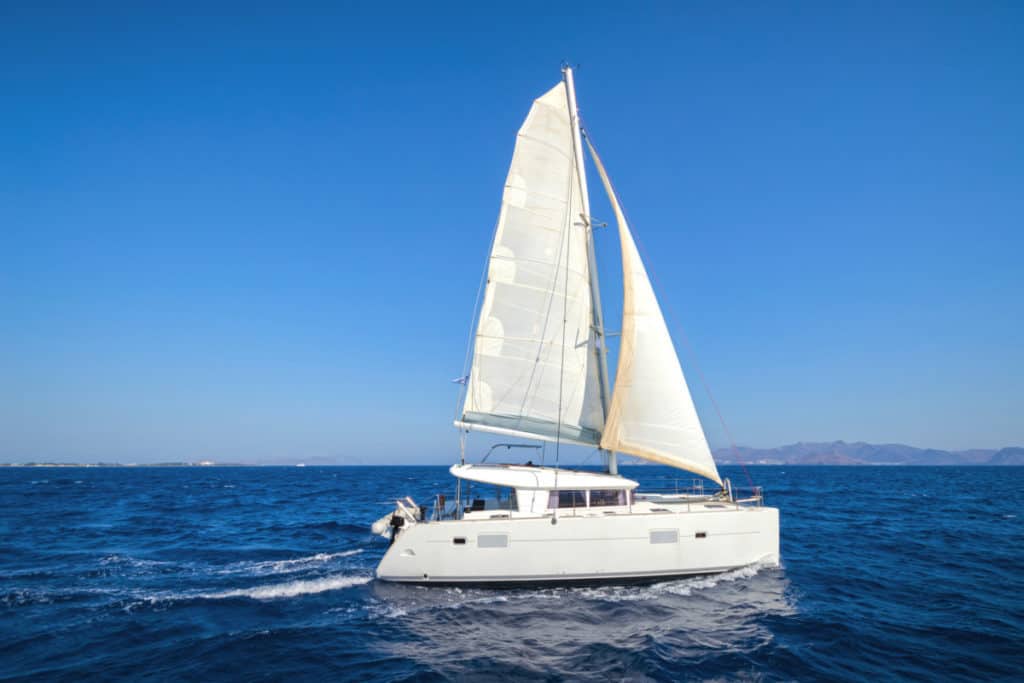 They're Bulky
Although Lagoon has tried hard to reduce weight, some experts still consider them to be bulky. For example, some models, like the Lagoon 440, are among one of the heaviest models on the market. Some call it a "condomaran" to refer to its lowered performance due to its large size.
However, the company has tried to address this issue by making more compact models while allowing for more volume.
They Can Be Costly
Lagoon cats' high costs are probably the most significant drawback compared to other big names with similar features. Their hefty prices may be a real turn-off for some sailing enthusiasts. But with their large selection of boats from different models and specs, they have a boat for every budget.
Expect to pay a little bit more just because of the name.
They're Not Very Fast 
These wide spacious catamarans come at the cost of speed. However, newer models have addressed the issue and perform reasonably well both upwind and downwind. 
Lagoon catamarans will never be Gunboat or an outremer so if your looking for exciting and fast sailing this is probably not the right boat for you.
But, If you don't have much sailing skill and want to make sure you have some extra margins of safety Lagoon cats might be the best choice for you.
The Tall Rig Can Be an Issue in Ports and under Bridges
Some models, such as Lagoon 52, have tall rigs to increase windward efficiency and improve the performance in the wind. However, the tall rig can be a problem under bridges.
Popular Lagoon Models
Lagoon has constantly been trying to address their most common issues with newer models and to beat their previous models, even if they were wildly popular. 
This sense of competition has led to plenty of innovations. For example, it launched its Lagoon 420 in 2006 as the first catamaran in the world with hybrid propulsion.
Below are some of the most popular Lagoon cats in its history, starting with the best seller and working down in terms of units sold. If buying new is not an option, some of these older models may be just what you're looking for.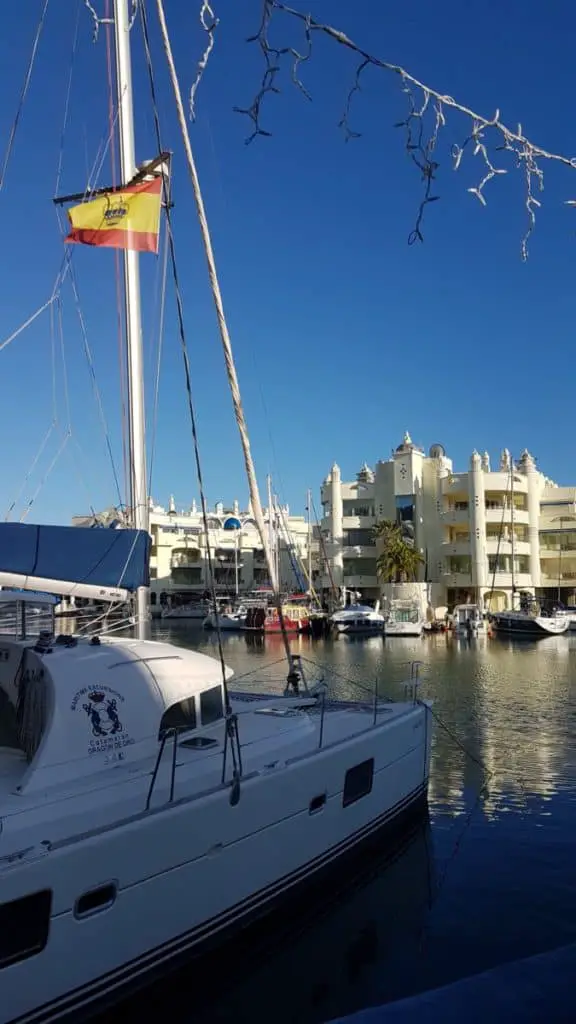 Lagoon 380
The Lagoon 380 is the top seller catamaran globally, although the company has discontinued it.
As mentioned before, I sailed an L380 just a few weeks ago, and here is a short description of that cat.
The L380 has four cabins with two bathrooms, is 11.5 m (38 ft) long, and has two engines. Its most praised feature is its comfortable, simple, and convenient accommodations with oodles of overhead clearance, spacious galleys, and large cabins.
Although it's slow, it gets the job done because it's easy to control and performs well enough in poor water and weather conditions. It's also easy to dock because of its small size, and the two engines make it highly maneuverable.
The 380 is said to reach up to nine knots in good weather with a decent breeze, (we maxed out at 6kts during my sail) – an acceptable speed for cruising catamarans. It sails up to six knots to windward, which is not impressive but not surprising. Though it hobby horses in medium to high waves, it can be managed by putting the weight in the center of the boat.
It also features Lagoon's signature vertically-positioned windows that provide maximum space in the cabin while at the same time allowing a lot of light inside.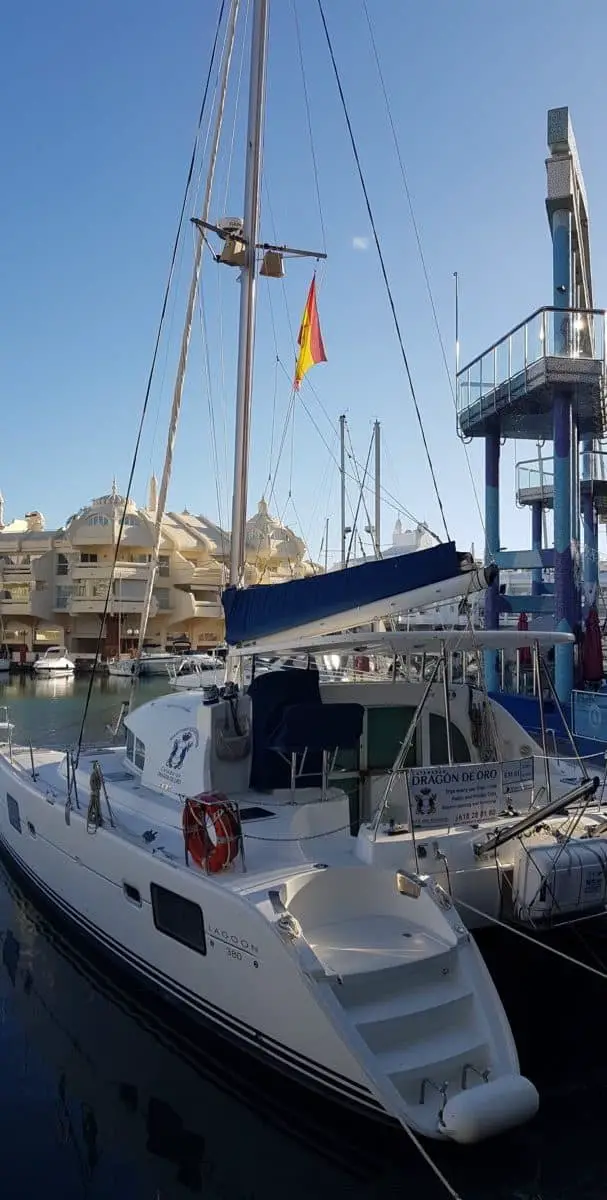 That said, it's not lightweight, which shouldn't come as a surprise given its bulky construction. Below the waterline, it features solid fiberglass and a mix of balsa wood and foam.
Although the interior looks cozy and spacious, the furniture finish wears pretty quickly because it's not the highest quality. And like other Lagoon's older models, the top bimini is soft, which you can replace with a hard one if you can't take care of it.
All in all, the 380 is good value for money and stands up well to frequent, private cruising. It's a classic catamaran that delivers more than what it promises.  
For a more detailed review of the cat, watch the YouTube video below:
Lagoon 400
The 400 is another highly successful Lagoon model produced between 2009 and 2017. The 400 S2 was a refresh introduced in 2012.
Like most Lagoon models, the 400 also suffers from being heavy, struggling in lighter airs. It belongs to the company's third-generation boats that favored comfort over speed and performance.
That said, it's easy to maneuver and performs well in a breeze. In lighter winds of under ten knots, you can perform well if you fly the larger sails by the bowsprit.
It features a mainsail with a square top that boosts the sail area and makes her tack well. The rig is also easy to handle because all the line sheets come back to the helm with one manual winch.
The deck is clean and clutter-free so that you can get around the boat safely. The flush decks are wide with recessed hashes, and the bow lockers can accommodate all the lines, sails, and fenders.
This model has many different variants on the market in terms of living space. There are three or four cabins with different head configurations, and the refreshed model (the 400 S2) added cupboards aft and made space for a freezer by moving the electrical panel from the galley to the nav station in the saloon.
For a more detailed review of the 400, you can watch the YouTube video below:
Lagoon 40
The 40 is one of the most reasonably-priced Lagoon cats that combines luxury, comfort, and performance, making it another top seller. Compared to the 400, it's lighter and has a wider mast. Plus, the company shed 800 kg (1763.7 lb) of its weight compared to its predecessor, the Lagoon 39.
Watch this YouTube video to see more of the Lagoon 39:
Although space isn't a rarity on lagoon cats, the 40 is the best in its class space-wise. The bigger windows and the more angular look are pretty easy on the eye with the signature Lagoon look on the inside. However, it has a more streamlined appearance due to its stretched windows.
Its performance is impressive upwind, and the square-top mainsail makes it sail well in a breeze. Still, it needs a bit of wind to get going fast because it doesn't perform well in light airs. 
It's also easy to handle short-handed because you can handle all the sheets and lines from the helm. However, the saloon's roof doesn't have ventilation, making the area down below stuffy. 
There are three or four-cabin options with two to four heads, and the other parts of the saloon and galley are standard lagoon layouts with plenty of storage space.
Check out this YouTube video for a detailed review of the Lagoon 40:
Lagoon 450F
The Lagoon 450F (F: Flybridge version) is fourth in line in terms of the units sold. It's one of the two versions of the 450 series, the other one being 450S. Although it doesn't boast high performance, it sails well upwind.
Compared to its predecessor, the 440, it's quite an improvement in terms of luxury and comfort. The flybridge is easily accessible from the down below, and it has a new basking lounge.
The elegant, luxurious interior is big enough for up to 12 people to sleep in, with four bathrooms, four to six cabins, and eight to 12 berths.
The 450S, which is not even a performance cat, does surprisingly well in different weather conditions, and the boom is lower than the 450F, increasing performance due to reducing the rig inertia. It also prevents the cat from hobby horsing, leading to faster and more stable rides.
One of this model's winning features is its semi-raised helm station that doesn't stand out from the rest of the boat. It gives the cat a pleasing look and makes the helm more easily accessible.
This YouTube video shows a walkthrough of this model:
Lagoon 55
The Lagoon 55 is Lagoon's latest model, launched in March 2021 with Lagoon's characteristic sleek look. Generous living space, an outdoor galley, a forward cockpit, and a roomy flybridge featuring a dining table are the new design's features.
It also has internal overhead windows that take the sky-watching experience to the next level. It comes with several three to five cabin layouts, and the internal furniture comes with a walnut wood finish.
Check out this YouTube video to get an exclusive look into the new beauty:
Tips for Choosing a Catamaran
Choosing the catamaran that suits your needs can be confusing and overwhelming. After all, you're putting a considerable amount of money into the purchase, and you want it to be a long-time investment.
Here's what i consider when looking for a cat, and maybe it will be useful for you as well:
Consider Your Needs, Skills, and Budget
If you've chosen a catamaran over a monohull, you know the advantages of the former over the latter. For example, it's more stable, better for big families, and offers more visibility due to raised helms.
For a deep dive into the differences I suggest some of my other articles:
But, in choosing the right cat, you should dig deeper. The first thing you should consider is your budget, as a tight budget will significantly narrow down your options. Plus, you should consider additional costs for insurance, taxes, marina fees, and maintenance. Unfortunately, this may take some Lagoon models off the table. 
How much does it cost to live aboard a catamaran? real numbers from liveaboards! Read this!
Although, you could opt for second-hand, well-maintained cats if you're short on budget. The best-selling Lagoon models described above are all available in used markets, and you should have no problems reselling them in the future because of their popularity.
If you need the catamaran for short-term getaways, your choice will differ from what you need for long-term living aboard. Are you going to sail around the world or spend most of your time at anchor? These factors determine the type of catamaran in terms of performance, space, and comfort.
Want to see some good examples of offshore capable cats? Check this out!
Since Lagoon is known for its spacious interiors and luxurious finishes, it might be worth spending a little more if you're planning on longer journeys. 
If you don't have great sailing skills (yet), you should opt for a smaller cat set up for solo sailing.
Inspect Everything
Before you buy the boat, inspect every little corner to make sure it's safe and secure, and pay attention to all structural details such as main and support bulkheads, standing and running rigging, etc.
Pro-tip; if you entertain frequently or have a big family, you need to think of both space and privacy. 
What about fixed vs. removable furniture? Is it important for you to move everything outside when entertaining? Even round and square furniture can prove to be a nuisance in different situations.
The amount of light, airflow and ventilation, and ceiling height are also important considerations. If you're tall, you don't want to be crouching all the time when you're inside.
When buying new, you should have no issues getting all the little details your need on your Lagoon catamaran. However, if you purchase second-hand, you may need to compromise on certain amenities to account for the lower cost. 
How Much Weight Can You Carry?
Boats have certain limitations in terms of the allowed payload, and excess weight will affect your catamaran's performance. With full water and fuel tanks, there's a fixed amount of gear you can take on board. 
Does the cat offer emergency water or fuel storage on deck? Lightweight cats sometimes have more wiggle room for adding extra gear and provisions.
The galley layout also plays a major role, especially if you travel with your family. Can you live with the current size of the galley, and is there room to add appliances such as a microwave, ice maker, or coffee machine?  
Think about where you'll be preparing food, putting the dishes to dry, or laying out plates to serve. How much space do you need for cooking?
In general, Lagoon cats are known to offer plenty of room inside, and most of the kitchens come with plenty of optional extras to make your time aboard as stress-free as possible. 
Do Your Homework
Finally, never jump into buying the first catamaran that catches your eye. Shop around online and offline, considering every little detail. Talk to experts and perform "sea trials" if possible. 
Some companies let you try the boat by staying on it for a few days. This way, you'll get a real feel of what it's like.
It's also possible to work with a broker who can help you search for and negotiate when buying new and used catamarans. 
I have put together a few buyers guide that could help you on your journey towards a good buy!
Final Thoughts
If you're considering getting a cruising catamaran, Lagoon is one of the brands i would recommend looking intp. It's famous for its luxuriously spacious interiors, sturdy and safe construction, and easily accessible and manageable decks.
Since there are a lot of Lagoons roaming the planet there is also a huge community and help is never far away.
However, the Lagoon models aren't the best performers, especially in upwind due to their bulkiness. Although you can find them at various prices, they can be too steep for some budgets. If you don't mind the lower speed, you can find some used ones at reasonable prices.