Catamarans and trawlers are two vessels ideal for your sailing adventure. But while they are both great boats, they have different characteristics and therefore are more or less suited for specific tasks. So what are the differences between the two, and which one should you opt for?
Catamarans are double-hulled yachts that come in both sail and power editions (two diesel engines). Trawlers are single-hulled displacement boats powered by one diesel engine. Trawlers have better loading capabilities but cats are faster and more stable.
For anyone not very familiar with boats or sailing, it can be challenging to decide on the best-suited boat for your sailing needs. Fortunately, in this article, we explore the differences between catamarans and trawlers as well their pros and cons. Stick around to get all the information you need to choose your ideal sailing companion.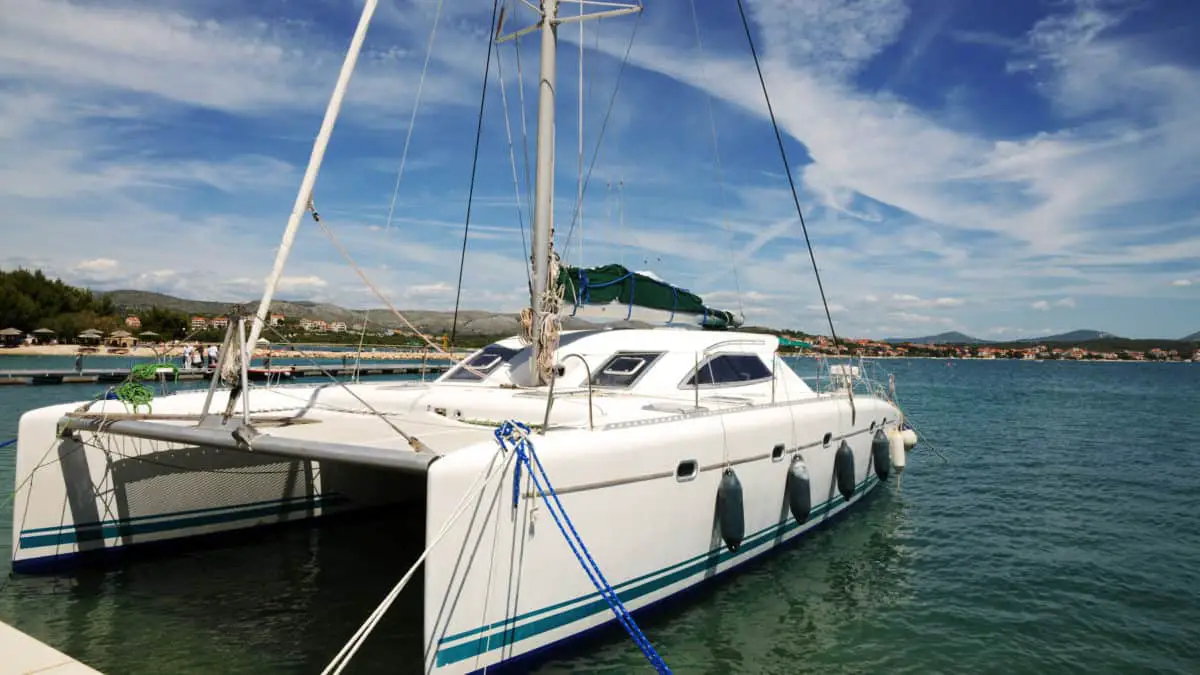 What Are Catamarans?
Catamarans are sailing vessels with double hulls and a deck in between (known as the bridgedeck) connecting the two hulls. These sail or engine-powered boats are quite popular with leisure and sport boaters because of their elegant style, sleek designs, superb performance, versatility, and comfort.
Catamarans come in all shapes and sizes, from the tiniest beach cats you can lift with a friend or giant 70ft luxury ships worth millions of dollars.
These boats date back to the early centuries. They started off as simple fishing rafts made from bound tree trunks and were favored vessels throughout Polynesia and Micronesia. The modern catamaran is a modification of this unique, ancient design. By the 20th century, catamarans were full-fledged yachts, competing in races against mono-hulled boats. 
Catamarans: The Pros
Let's have a look at some of the advantages of catamaran boats.
Catamarans Deliver a Superb Performance
Catamarans are pretty fast. This is because their water length is double that of traditional monohulls. They are also light in weight since they lack lead keels – which typically weigh hundreds of kilograms. Cruising cats average around 10 knots (18.52km/hr or 18,520m/hr) with top speeds of about 15 knots (27.7km/hr or 27,700m/hr). 
How fast can a catamaran sail?
While the structural design of most charter catamarans tends to focus more on space than speed, modern performance catamarans are quite the opposite. The latter can cruise 25 – 50% faster than similar-sized monohulls.
Their excellent performance is one of the main reasons why these boats are so appealing. Still, heavy loads tend to weigh them down. Thus, an overloaded cat will be much slower.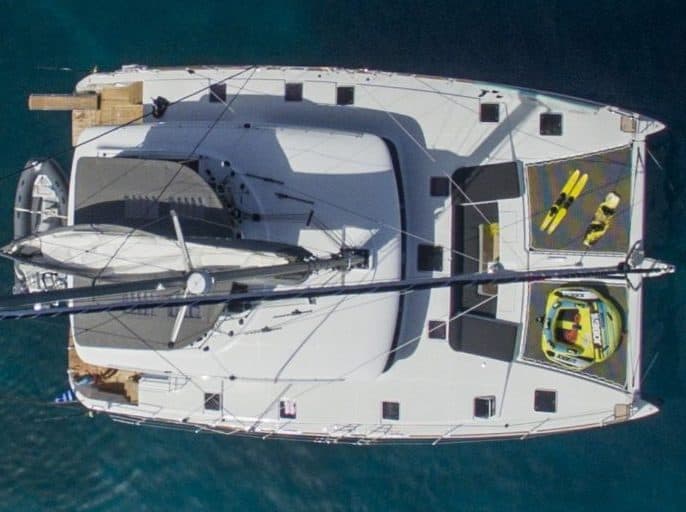 Catamarans Are Very Stable
Catamarans are stable flat platforms both offshore and at anchor. A cat's stability comes from its wide beam since, unlike a monohull, it doesn't have a ballasted keel. The cat's flat plane and natural stability make it highly suitable for a family looking to enjoy their holidays in maximum comfort. It is also ideal for scuba diving holidays since divers can gear up, enter or exit from the water with ease. 
Additionally, by minimizing the level of wave-induced motion, the twin hulls boost the catamaran's balance and stability. What this means is that you are less likely to suffer motion sickness on board a cat.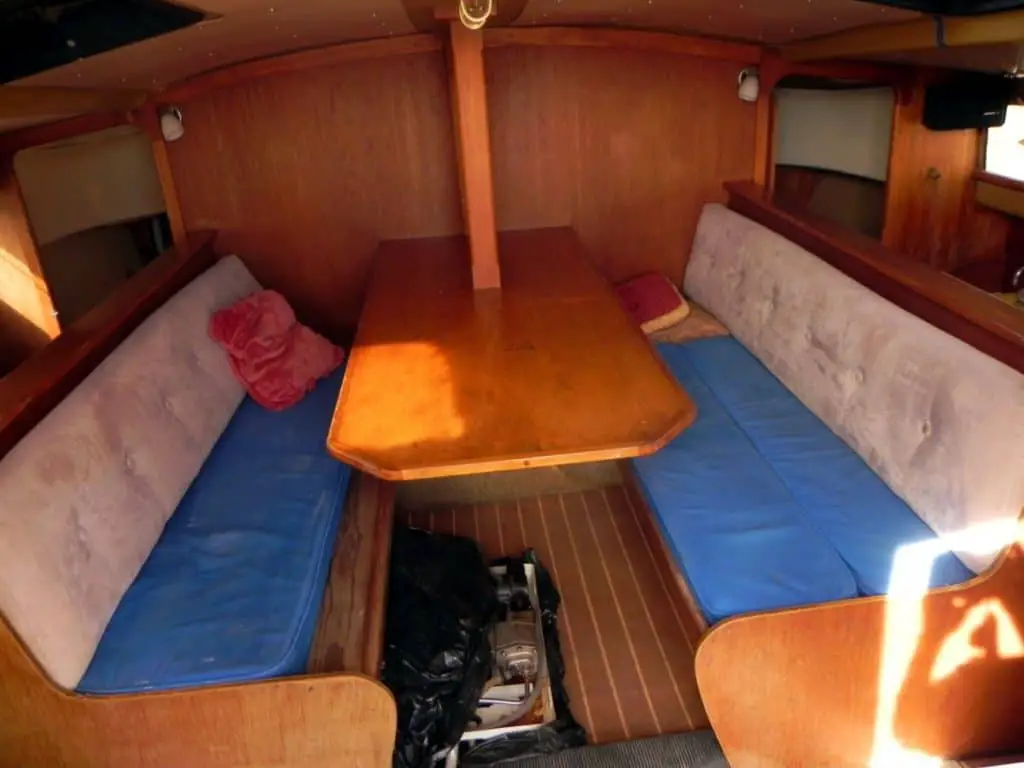 Catamarans Have Lots of Space
Catamarans are spacious boats. The space between the two hulls provides ample living room to fit a dining area, lounge, and a spacious kitchen for preparing your meals. The yacht's back and front regions also offer additional lounging areas. With the varied relaxation areas, you get lots of privacy onboard a catamaran.
Double hulls translate to additional privacy since the cabins are separate. Furthermore, each hull typically comes with its own separate entrance. This feature makes catamarans well-suited for couples, families, or groups of friends. They also find the ample deck space and overall comfort quite appealing.
Larger families will also find a catamaran very convenient. While the cabins' size varies depending on the catamaran model, they are generally spacious and comfortable.  
What's the perfect boat layout for you?
Catamarans Are Comfortable
Catamarans do not heel. Their wide stance on the water reduces heeling, wave-induced motion, and may also contribute to reduced wakes. What this means is that cats are pretty comfortable both while underway and at anchor. You can take a stroll on deck with ease and enjoy a drink without worrying about spilling its contents on yourself. 
These features make cats ideal for families with young ones or elderly grandparents who might not be too steady on their feet.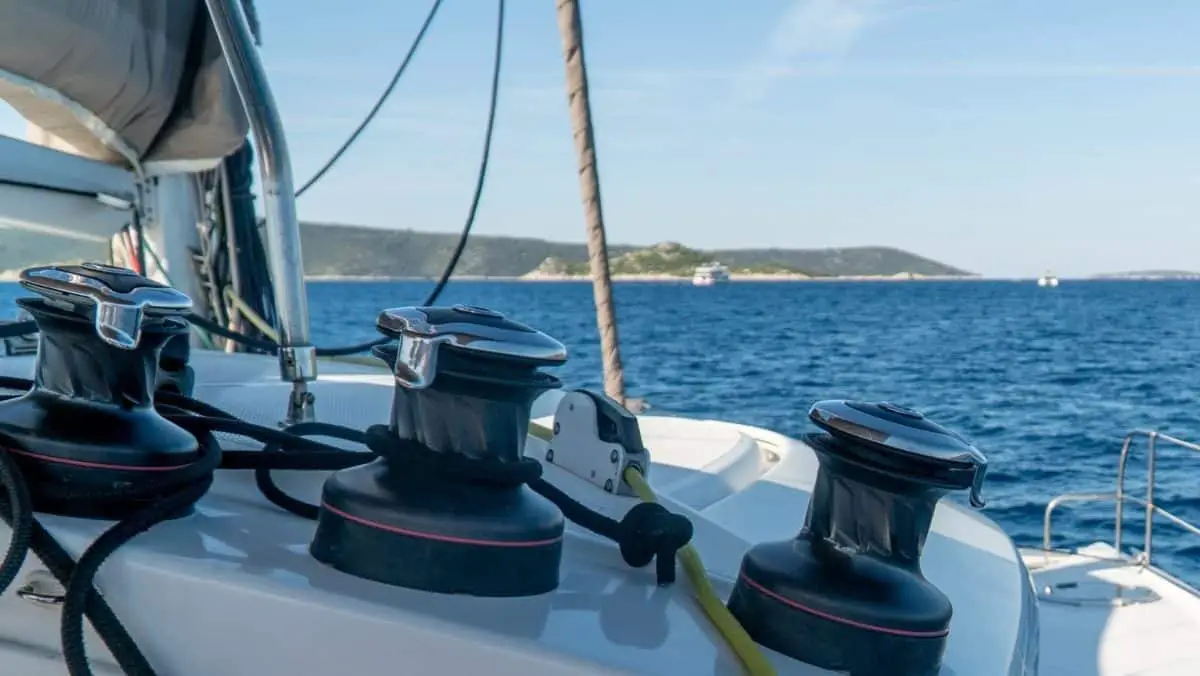 Catamarans Are Easy To Handle
Balanced hulls and twin engines make catamaran vessels significantly easier to operate than monohull yachts. Manoeuvering into narrow marinas becomes simpler and more straightforward too. This fluid maneuverability allows those with sailing experience to sail a catamaran single-handedly.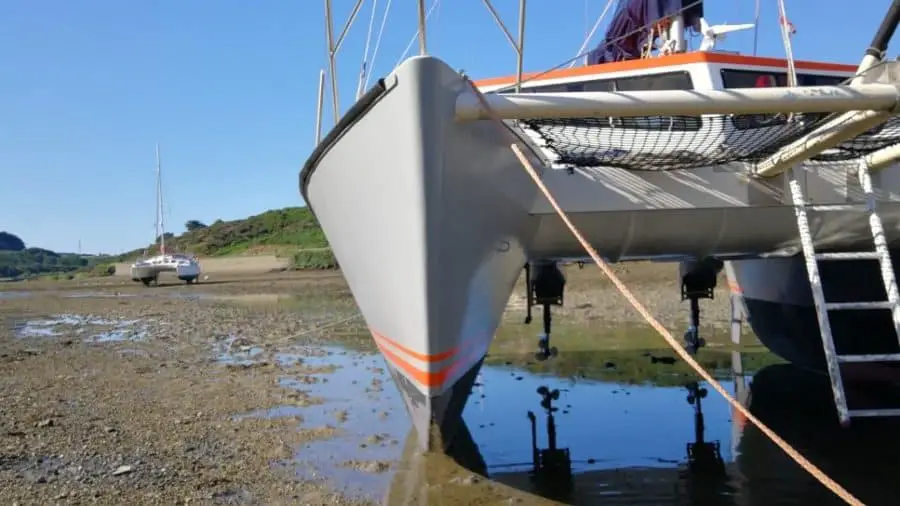 Catamarans Can Get Into Shallow Waters
When compared to monohulls, catamaran vessels have lesser volume, lighter displacement, and shallower draft. With less of the boat below the water, it means that you can pull the boat into shallow water without worry. This enables you to anchor much closer to the shore, where it's safer, better protected, and more comfortable for anchoring.
Most catamarans can even go all up unto the beach!
Catamarans Use Less Fuel
A catamaran's twin-hull design causes it to have low hydrodynamic resistance. As a result, the boats tend to use less fuel because they don't require much sail or motor power to get them moving forward. This makes catamarans more economical to run. 
Catamarans Are Extremely Safe
It's almost impossible for a catamaran to sink. The thing is, modern cruising catamarans consist of lightweight builds of foam construction, making the boats virtually unsinkable. This feature alone accords any sailor a high level of offshore safety, not to mention peace of mind. 
Catamarans: The Cons
Catamarans are great vessels, but they have their downsides. Let's have a look at a couple of them. 
Catamarans Are Expensive
Buying or chartering a catamaran is expensive. At times, the rates could go up by more than double the cost of similar-sized yachts. However, cats provide great value for money due to their unrivaled comfort, space, and flexibility. As such, when going for a sailing holiday, it makes great economic sense to opt for a catamaran.  
Cats are also expensive to maintain. Two engines, two hulls, two rudders, multiple sails, and rigging translate to high maintenance and repair costs as there's always something that needs fixing.  
Why are catamarans so expensive?
Catamarans Have High Marina Fees
Due to their great width, the rates charged in most marinas often go as high as 150% more than those for sailboats of a similar length. It's also more challenging to find space in the marinas since cats require double spaces – try finding 2 empty slips right next to each other in a crowded marina. Worse still, some docks are not able to accommodate large-sized catamarans.
Note that catamarans are highly popular vessels, hence marina slots are usually limited due to the high demand. So, in the face of this serious challenge with space availability, it's advisable to book the marina long before you come. 
Catamarans Don't Sail Upwind As Well
Catamarans find it difficult to sail too close to the wind. And some don't point to the wind as well as monohulls, so they sail with a larger angle. Fortunately, most cats can sail pretty fast when on a reach. Therefore if you happen to fall a couple of degrees off, you can catch up with a monohull if you speed up. This is despite having to cover more ground. 
How to sail a catamaran upwind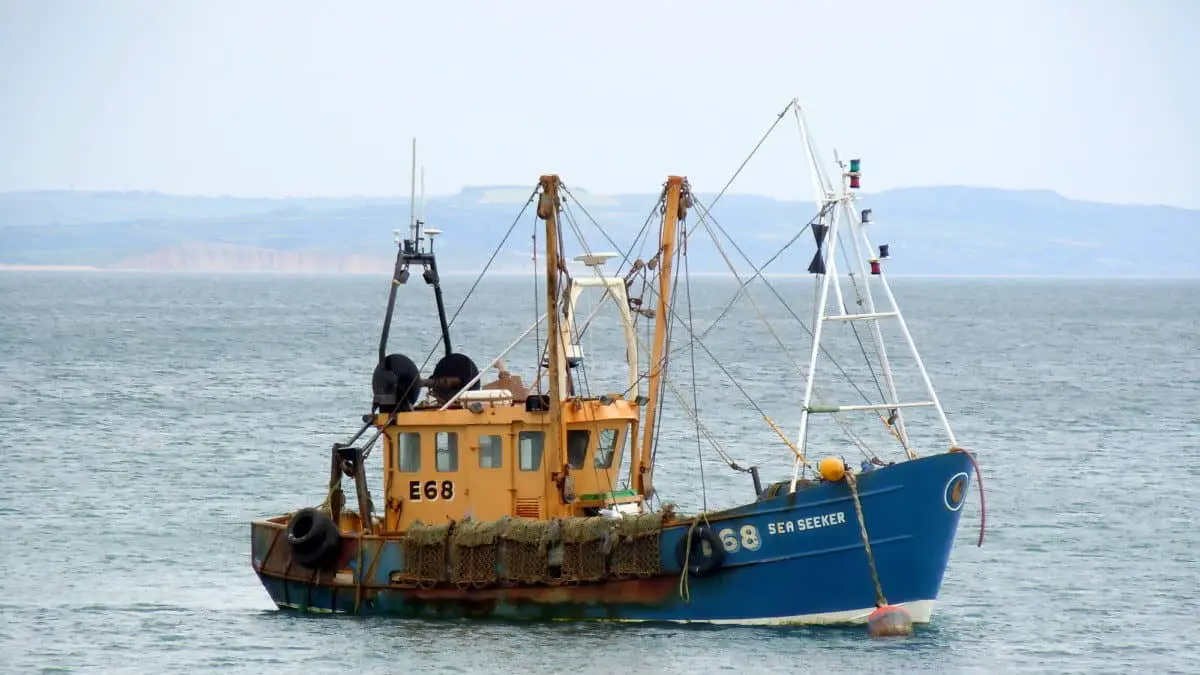 What Are Trawlers?
Trawlers are unique powerboats built for long-range leisurely cruising. They are also known as cruising or recreational trawlers. Many boaters live aboard these vessels for a long time as they move from one port to another. Trawlers originated from vessels used as commercial fishing trawlers; hence fishing trawlers and trawler yachts form the main types of trawler boats.
Fishing trawlers are the most common kind of trawlers. Built for fishing, they are popular with fishermen who use them to drag huge trawls (fishing nets) through the waters, capturing fish. However, they run at slow speeds to accommodate these fishing nets dragging across the water.  
Recreational trawlers appeal to sailors who enjoy going on long-distance cruises but at a much-reduced pace. During winter, many retirees sail south down the intercoastal waterway and head back for the summer. And since speed is not the focus here, trawlers cruise at a slow and leisurely pace to their regional or worldwide destination. 
Also, trawlers are versatile boats suitable for a wide range of activities such as day or night cruising, offshore boating, fishing, and sailing.
Cruising trawlers have well-laid out private staterooms, full galleys, and spacious saloons. These boats typically range between 35 and 60 feet (11 and 18 m), and most come with a single-engine, a displacement hull, and a raised pilothouse or deckhouse. However, it's possible to find trawlers that sport two engines.
Trawlers: The Pros
Here are some benefits of using trawlers: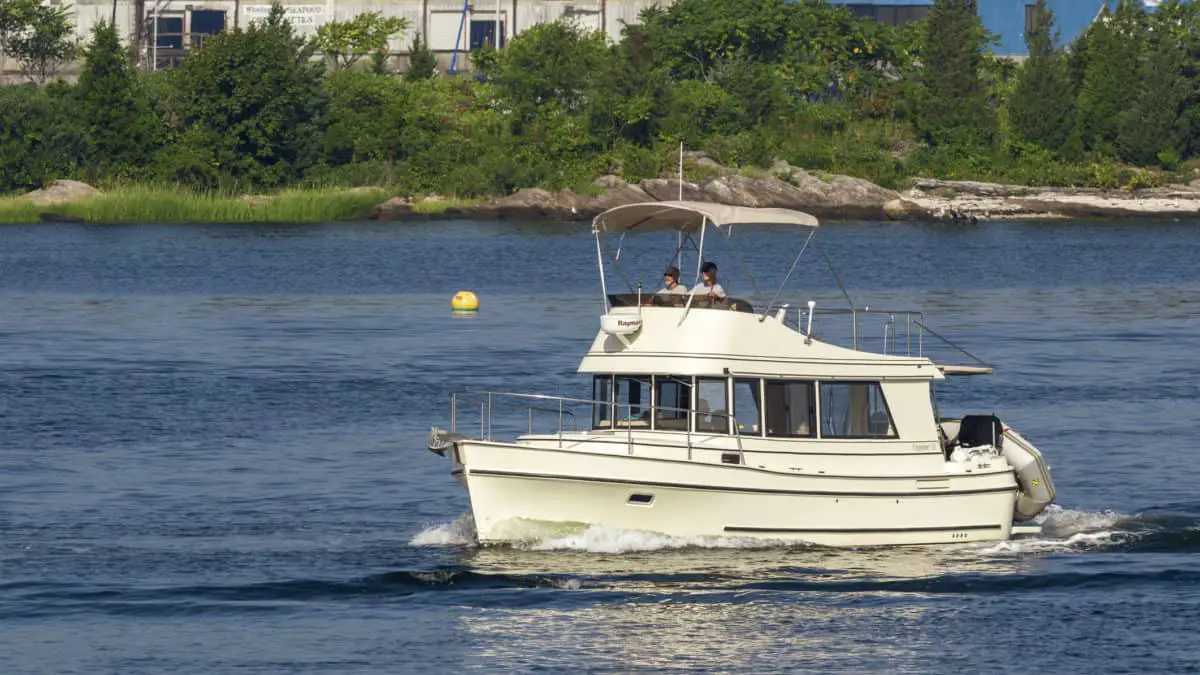 Trawlers Are Comfortable
Recreational trawlers are built for a comfortable and luxurious life on board. To this effect, they come equipped with fine staterooms and other creature comforts. The boats are super comfortable during calm conditions though they tend to roll from side to side in choppy seas. 
Trawlers Have Big Living Spaces
Trawlers make superb family yachts and are excellent for entertaining guests. Below deck, they play host to large living areas that include a pilothouse, accommodation, a freezer hold, and big open galleys with ample headroom. The large windows brighten the interior while making it easy for parents to keep an eye on the kids while they play. 
The boats also have lots of counter space, which means preparing meals for your family and friends is super easy. On the deck, the enormous flybridge offers unobstructed views and additional seating. 
Due to their massive size, trawlers can comfortably fit 2 to 8 people for several days. What's more, they can even make a permanent home.
Trawlers Have Considerable Storage Space 
There's no need to pack light on board a trawler boat since the available storage space is more than adequate. In addition to the standard closets, cabinets, and under-seat storage areas, trawlers also come with an enormous engine room that's great for storing your spare parts. 
There's also extra room to store your stuff in the bow locker, beneath the top deck seats, and underneath the steering station.  
Trawlers Have Two Helm Stations
Trawlers boast two helm stations: one in the interior and the other placed on the outside. The flybridge presents a favorable steering location, but during foul weather, you have the option of steering the boat from inside, away from the elements. The flybridge also enables you to catch spectacular views of the water when underway.
Trawlers Have Strong Weight Carrying Abilities
Unlike catamarans, which are pretty sensitive to weight, trawlers are designed to handle lots of weight. You can thus load up your boat without worrying about dampening its performance. In fact, you can even tow a large dinghy with trawlers.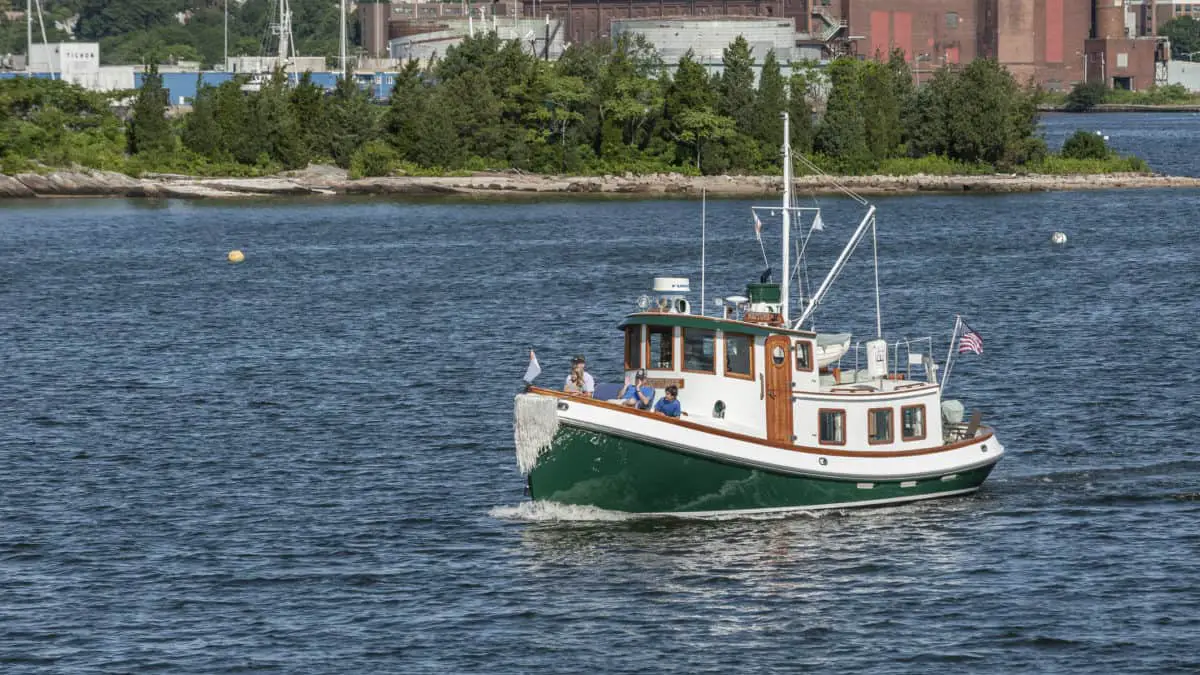 Trawlers Are Economical
Because trawlers have a large fuel capacity and a small, fuel-efficient engine, they can cruise for long distances without any need for refueling. This feature, along with the slower speeds of a displacement hull, allows these vessels to have greater range and fuel economy than other powerboats.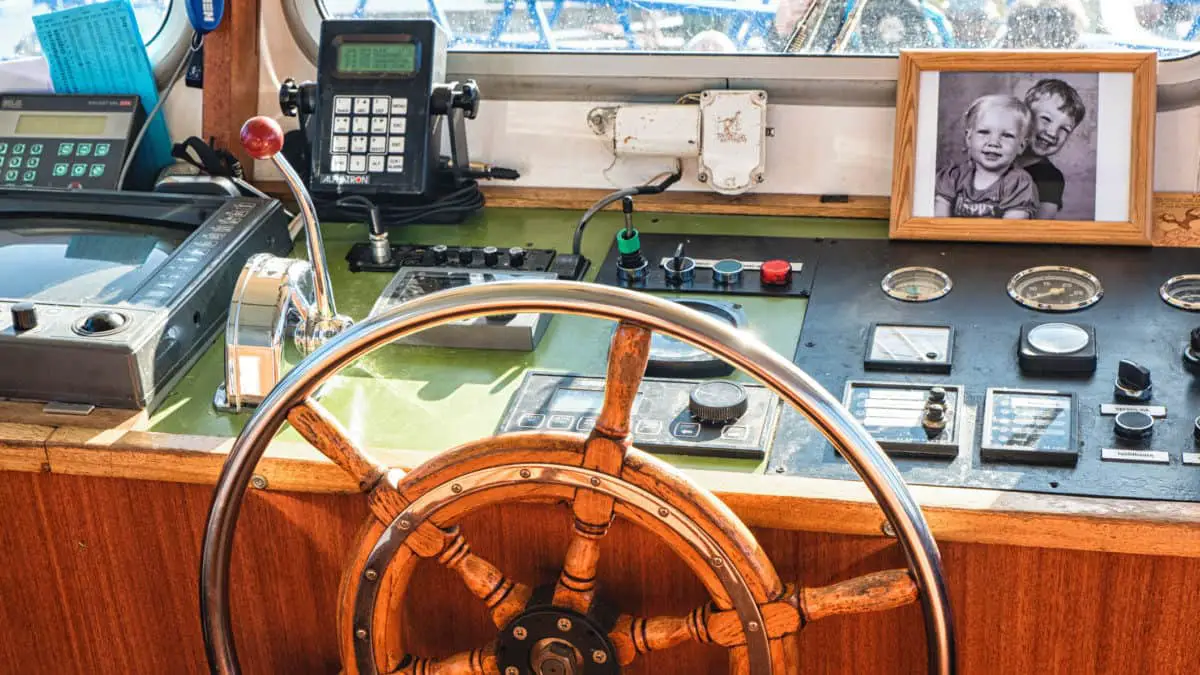 Trawlers Are Easy To Operate
Trawlers contain displacement hulls designed to enable them to navigate smoothly and efficiently through the seawater. The hulls have a rounded bottom while the boat's bow and stern form a teardrop shape. The hull design affects the boat's capability, and a ballasted full-displacement hull is best suited for rough waters. But for faster cruising, a trawler with a semi-displacement hull is the better choice.
A user-friendly learning curve makes the trawler an ideal choice for navigating bay areas and large water bodies. And since the boats rely on engine power, you can run them in any weather. Besides, if you are worried about sailing during the night, you need not be since with a trawler, you can sail safely from the inside helm.
Another exciting feature is the trawler's shallow draft which allows you to fit your boat into marina slips with ease. It also means easy access to remote anchorages. 
Trawlers: The Cons
Trawlers have their disadvantages too. Let's take a look.
Trawlers Are Not That Fast
Unlike catamarans, trawlers do not have incredible speeds. Instead, they sail slowly – but steadily. The boats deliver cruising speeds ranging between 7 and 9 knots (13 to 17km/hr or 13,000 to 17,000m/hr) but can attain maximum speeds of up to 12 knots (22km/hr or 22,000m/hr). As such, you always need to pay attention to the weather forecast since your trawler might not be able to outrun a storm. 
Again, a trawler designed with a full-displacement hull offers the stability required to combat rough seas, but at the expense of speed. Therefore, such trawlers cruise rather slowly.
Trawlers Have High Maintenance Costs
Cruising trawlers are like tiny homes, and given their numerous luxurious amenities, it is best to maintain them the same way you'd maintain your home. This means ensuring regular upkeep for the boat's plumbing and electrical systems as well as the HVAC system. 
Keeping a trawler's tanks full can be a significant expense too due to fluctuating and unpredictable gas prices. Furthermore, extensive and continuous use makes trawlers prone to much higher repair and maintenance fees than other vessels.
Trawlers Heel in Choppy Waters
Unlike catamarans, which do not heel, trawlers tend to roll from one side to the other quite a bit. This happens both while underway and at anchor. This can be pretty uncomfortable, especially when you are trying to get a good night's rest. It can also make it more challenging to control the boat in rough weather.
Trawler engines can get a little noisy, too, which can make your nights a little uncomfortable as well.
Which One Should You Go For?
Should you go for a catamaran or a trawler? There is no simple way to answer this question as both are excellent sea-faring vessels capable of delivering a satisfactory cruising adventure. Moreover, the right boat choice for you will depend on the intended use as well as your personal preference. 
For instance, if you are planning to go on long-distance voyages that include ocean crossings, then the obvious choice would be a catamaran. However, if you have no plans to cross major oceans but still want to give your big family a long cruising vacation – or an overnight trip – then a trawler would be your best bet.  
Final Words
Catamarans make ideal yachts for avid sailors and families interested in a relaxing and comfortable cruising vacation. Their greatest appeal comes from the generous spacing, stability, and comfy living quarters of these luxurious yachts.  
On the other hand, trawlers are incredibly roomy, stable, and offer you all your usual home comforts, making them well-suited for an extended vacation or trip. Their large fuel capacity and fair cruising speeds also make them ideal for long-distance cruising.
While both boats have their pros and cons, going for either one will most likely depend on your budget, your cruising plans, or your personal preference.